Well. Here we are again.
Every year this game feels like more and more like rolling over a bodybag with a steamroller and calling it a murder, because that's essentially the resistance Rutgers has been able to muster.
This matchup has happened every season for the past five years and Ohio State has outscored the Scarlet Knights 271-27 for an average margin of victory of about 54-5 and I can absolutely guarantee you that it's going to be worse than that today. Shit, the Buckeyes be up 49 points at halftime if they don't come out sleepy.
It borders on embarrassing that we even have to play this game against a disastrous program that's been in shambles since it joined the Big Ten.
Rutgers' existence in the Big Ten is the single strongest argument for the SEC's continued scheduling of cupcake November games because if we play Rutgers as a November tune up, what's the problem with scheduling Gardner-Webb? The only difference is the 
Runnin' Bulldogs might come out with a pulse, and we haven't seen that in five years from Rutgers.
And it's not like the Scarlet Knights have been a particular asset in terms of other sports, either, finishing dead last damn close to most of the time (and quite literally in 2016-17).
There's no reason why this game should be played today. This won't be a football game, it will be a snuff film. If the NCAA really valued player safety, they'd intervene and stop the fight before it starts.
It's not too late.
11/16 SLATE

| TIME (ET) | GAME | FAVORITE | TELEVISION |
| --- | --- | --- | --- |
| 12:00 | MICHIGAN STATE @ #15 MICHIGAN | MICH (-13.5) | FOX |
| 12:00 | INDIANA @ #9 PENN STATE | PSU (-14.5) | ABC |
| 12:00 | #5 ALABAMA @ MISSISSIPPI STATE | BAMA (-19) | ABC |
| 12:00 | #11 FLORIDA @ MISSOURI | UF (-7.5) | CBS |
| 2:30 | #23 NAVY @ #16 NOTRE DAME | ND (-7.5) | NBC |
| 3:30 | #18 MEMPHIS @ HOUSTON | MEM (-10.5) | ESPN2 |
| 3:30 | WAKE FOREST @ #3 CLEMSON | CLEM (-34) | ABC |
| 3:30 | #4 GEORGIA @ #12 AUBURN | UGA (-3) | CBS |
| 3:30 | #19 TEXAS @ IOWA STATE | ISU (-7) | FS1 |
| 4:00 | #8 MINNESOTA @ #20 IOWA | IOWA (-3) | FOX |
| 7:30 | #10 OKLAHOMA @ #13 BAYLOR | OKLA (-10.5) | ABC |
| 8:00 | UCLA @ #7 UTAH | UTAH (-21.5) | FOX |
Word of the Day: Debase.
 THAT 11W PREGAME FIX.
 MURDER, GRAPHED. My loyal readers are no doubt aware of my affinity for radar charts. Earlier this week, I brought you this one for the Buckeyes, that's basically just a large circle (which is good!).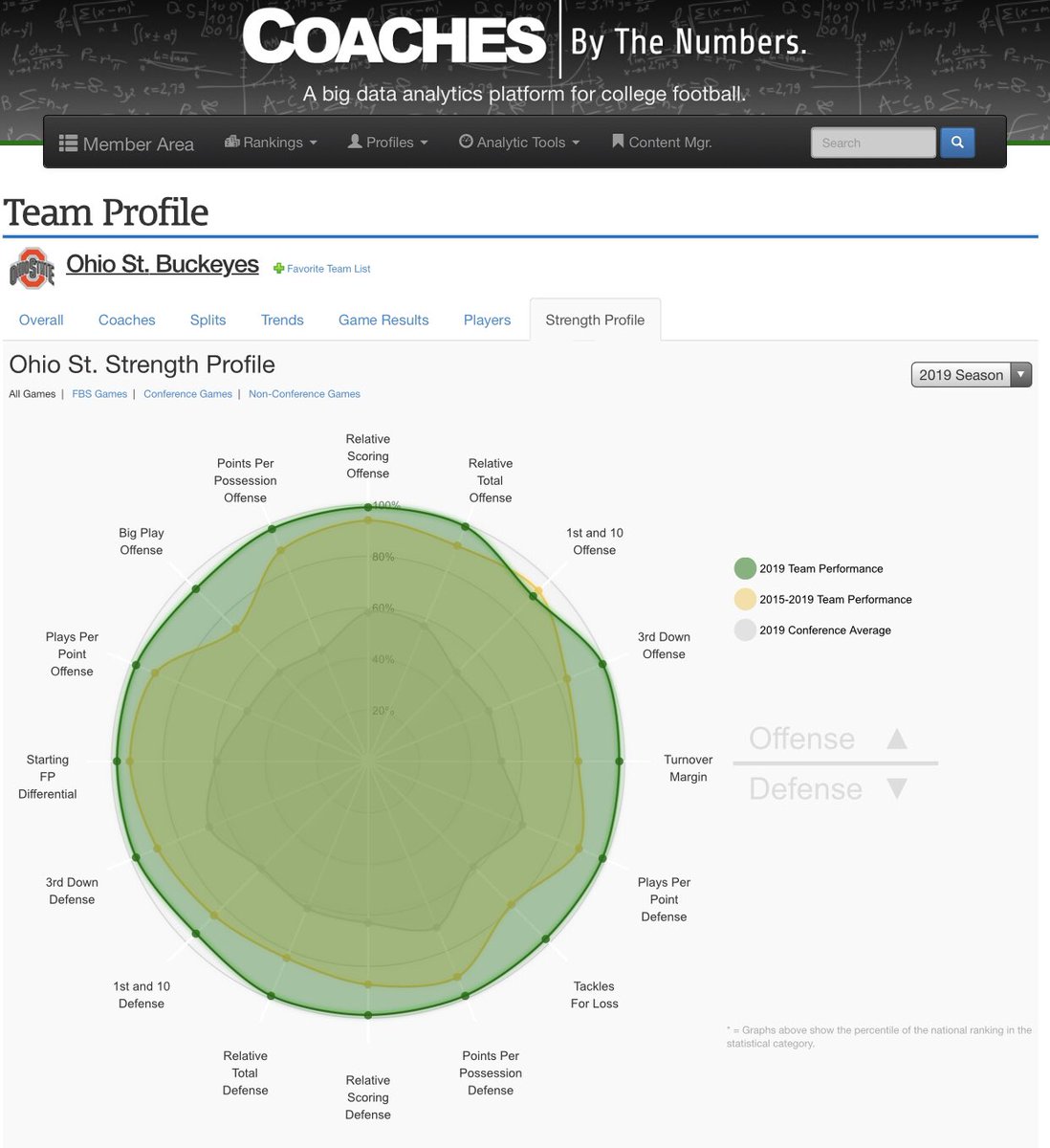 And here is the team that will be sharing the field with that today: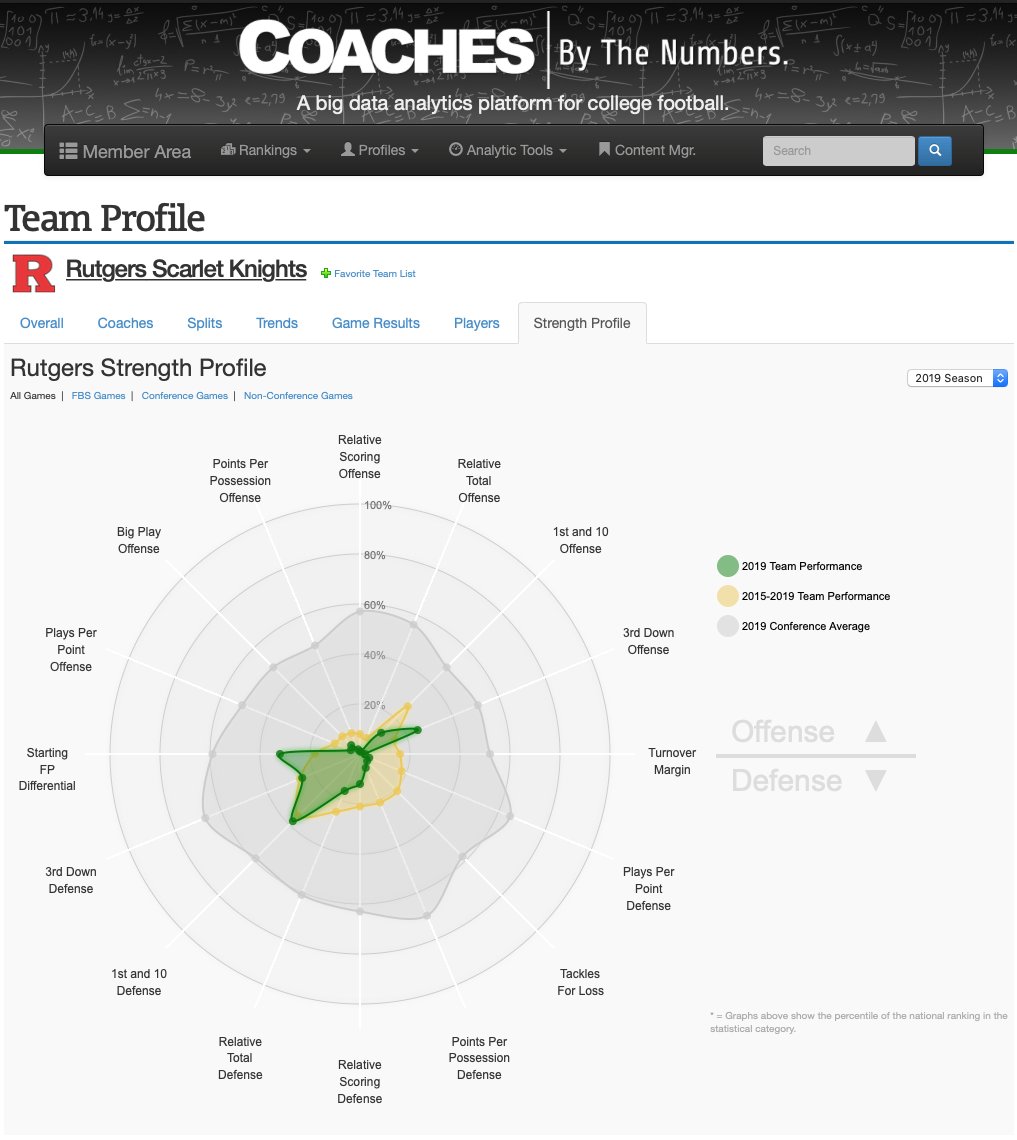 To be absolutely fair, their biggest strength is Ohio State's biggest weakness! I'm sure they'll exploit it all game.
 APPREHENSIVELY OPTIMISTIC. Last week, I went 6-4 to bring my season record to 37-44-1, which is dangerously close to "pretty bad" territory when I've been living in "lol that's atrocious" territory since week one. So needless to say, I'm cautiously optimistic entering this week.
The picks:
INDIANA +14.5 AGAINST PENN STATE. I think Indiana is a much better team than anyone seems to be giving them credit for. I could see them pulling off the upset today, but at the very least I think they lose by two touchdowns or less. Numbers admittedly aren't on my side here, but I'm riding with Indiana.
ALABAMA -19 AGAINST MISSISSIPPI STATE. I almost went with the OVER 61 here, because I like that as well, but I think Bama cruises in this game. They might give up some points (hence why I like the over) but after last week, knowing they need to make a statement going forward, they're going carpet bomb Mississippi State, regardless of who plays quarterback.
MISSOURI +7.5 AGAINST FLORIDA. I wouldn't be shocked if Missouri pulled the upset in this one. This is their biggest game of the year and they get Kelly Bryant back. Plus, we're going to have pretty frigid and windy weather, and I'm not convinced Florida is ready to play in that.
WISCONSIN -14 AGAINST NEBRASKA. This is a "don't overthink this" play. Nebraska is bad and Wisconsin is three touchdowns better, regardless of how it looked last week.
NORTHWESTERN VS. UMASS UNDER 56.5. This game is hilarious because Umass is so bad on both sides of the ball that Northwestern (!!!) is favored by 40 points, and I think they might cover! I honestly just don't think UMass is going to score in this game, and I don't think Northwestern is going to score more than eight touchdowns by itself either.
WAKE FOREST VS. CLEMSON OVER 59.5 TOTAL POINTS. I like Wake to cover in this game as well, because I think they'll score some points, but Clemson is an absolute buzzsaw right now so I'd rather play the over, as I'm pretty confident the Tigers are going to put up well over 40. If the Deacs can get anything more than two touchdowns, I'll feel good.
AUBURN +3 AGAINST GEORGIA. Georgia is the more talented team here, and that's usually the team I pick in close games like this. But the Bulldogs have played some of the most uninspiring football I've ever seen from a team stacked with five-star prospects (mostly because I have blotted Ohio State's 2015 season from my memory). I think Auburn springs the upset today.
OHIO STATE -52 AGAINST RUTGERS. It's hilarious that I'm so confident in laying 52 points, but here we are. I'm not sure I can fathom a scenario where Ohio State scores fewer than 70 points today, and it's almost equally impossible to fathom a scenario where Rutgers scores more than once. This line is huge, but I think Ohio State covers it by multiple touchdowns. I also like the first half -34.5 line.
MINNESOTA +3 AGAINST IOWA. This is downright disrespectful. Minnesota is the better team and they proved it against Penn State last week. I get that weird shit happens in Kinnick, but I honestly think Minnesota is better in almost every aspect of the game. And if you're going to give me the better team, plus points, I'll take it with glee.
UCLA +21.5 AGAINST UTAH. I just think this is too many points. Utah is for sure the better team here, but UCLA has been lowkey rolling since sine like, the middle of the third quarter against Washington State. I think they'll score a few touchdowns, and Utah isn't exactly the team that's going to put up a ton of points.
 NOT STICKING TO SPORTS. Hours after criticizing city leaders about an unsolved murder, an activist was found fatally shot... Dog crashes a wedding and helps solve his master's murder... Inside the world of college football headhunters... 34-year-old Army combat veteran is ready for record-breaking start as an Arizona State wrestler...