Before arriving in Columbus in the spring, Justin Fields had never even considered making the safe play. With speed that has him cracking 4.4-second times in the 40-yard dash, a 6-foot-3, 223-pound frame and the lower-body strength of a running back, he spent most of his life understanding that if he wanted to extend a play, he almost always could.
That was especially true while playing for Harrison High School in Georgia.
"I was pretty much the biggest guy on the field, so I could pretty much make a play on every play," Fields said on Tuesday.
Even as a freshman at Georgia, Fields says he "wasn't thinking about throwing the ball away." When he enrolled at Ohio State, the process of getting Fields to make smarter decisions as a quarterback began. Both head coach Ryan Day and quarterbacks coach Mike Yurcich focused heavily on that aspect of his game, understanding that they're dealing with somebody who already has all the physical attributes anybody could ask for and now needs to fully develop the rest of the package.
"I would say throwing the ball away was pretty much kind of a big thing I focused on this year and just trying to improve on that and getting better at it and continue to make the best decisions for the team, really," Fields said.
Fields has said Day sometimes compliments him after practices on his passes thrown away more than touchdown tosses. 
"He's done a great job of staying within our schemes, staying within the system, staying within himself," Yurcich said.
Through eight games, Ohio State's coaches haven't asked him to do too much. 
While Dwayne Haskins never threw for fewer than 225 yards in a game that he started, Fields has only thrown for more than 225 yards once, and it was a 234-yard game against Florida Atlantic. Most of his throws have come to open receivers, which has led to a ridiculous 24-to-1 touchdown-to-interception ratio.
"His ability to be unselfish is to me what has given him so much success right now is taking care of that football and putting the team first," Yurcich said. "Because if you're that talented, man, you see that small window, you think you can get it in there. 'Somebody's covered? Eh not really. I can do it.' So his ability to understand those situations and to manage that I think has given him the amount of success that he's had."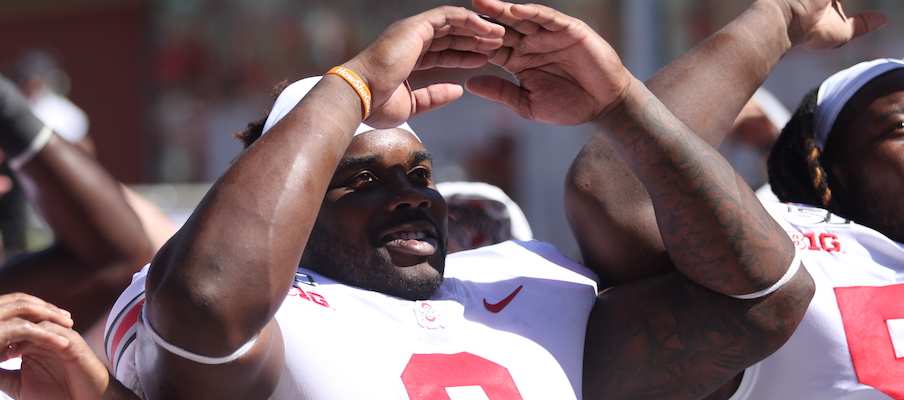 A stronger brotherhood?
Jashon Cornell has been around Columbus for plenty of time. So long, in fact, that he didn't want to commit to Chase Young being the best player he'd ever seen come through the Woody Hayes Athletic Center.
The fifth-year senior has been around for Nick Bosa, Denzel Ward, Joey Bosa, Braxton Miller, Ezekiel Elliott, Michael Thomas and Marshon Lattimore. He's seen Dwayne Haskins, Billy Price, Malik Hooker, Curtis Samuel, Taylor Decker, Darron Lee, Eli Apple and Tyquan Lewis line up for the Buckeyes as his teammates. No shortage of greatness.
With that much experience, he's also been a part of multiple different locker room cultures led by two different head coaches and many assistant coaches. He's seen players come and go, and he thinks what the Buckeyes have right now feels different.
"Previous years, I feel like we were so stiff. This year, we're just letting it loose," Cornell said. "We're letting the bullets fly, and I feel like we're just having a lot of fun out there. We're enjoying playing with each other. What we have in the locker room now, it's really different. The love that we have for each other and the love we have for our brothers, we just want to go out there and have fun and play ball. And I feel like that's one thing we're doing this year from previous years is we're letting it loose."
Per Cornell, there's not frequent arguing or players getting down on each other in the locker room.
"That's one thing that we're not doing that we did in previous years," Cornell said. "We're not playing selfish. We're not playing for (ourselves). We're playing for each other, and I feel like this is just a brotherhood now. Like, a really strong brotherhood. Not saying that we haven't had brotherhoods before, but the bond that we have with one another is really different this year."
In his fifth year in the program, Cornell would know.
Defense motivated by Maryland's 51 points
Nobody expects Ohio State will play a semblance of a close game on Saturday. But, to be fair, nobody thought Maryland would come one completed pass away from upsetting the Buckeyes a year ago. 
With the way Ohio State has played through its first eight games, it's far less believable that Maryland will be able to keep it tight than it was last year. But what happened in the Buckeyes' 52-51 overtime win a year ago remains in the minds of their players.
"We didn't watch any of last year's film because we feel like they're a different team, but also we feel like we're a different team as well," Jordan Fuller said on Wednesday. "We just remember last year."
That means they remember Maryland's 51 points, they remember Anthony McFarland Jr.'s 298 yards and three touchdowns and they remember the Terrapins' 535 yards.
"It drives us a lot," Cornell said. "Maryland's a great program, it's a great team. We've got to go out there and give them their best game because last year they gave us their best game."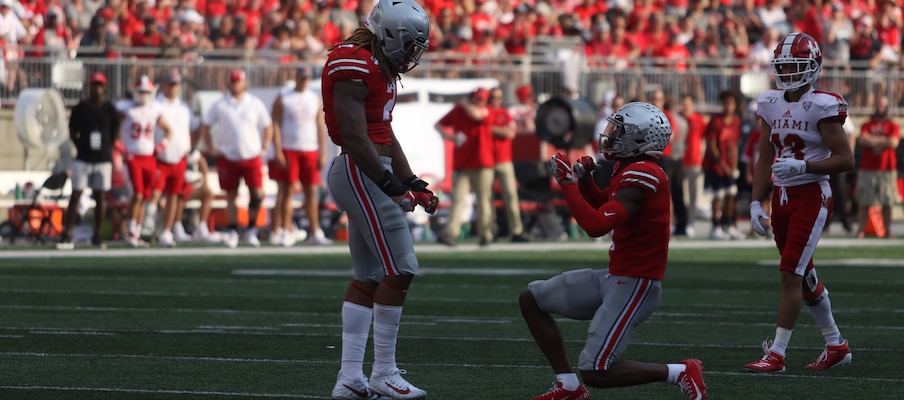 For most players on the defense, it would be difficult to forget.
Ohio State returned nine starters on that side of the ball, including both defensive ends, a defensive tackle, all three linebackers, two cornerbacks and its safety. Jordan Fuller, who had four tackles versus the Terrapins a year ago, called the one-point win "probably one of the most stressful games" for the defense in a season filled with games that could be defined with the word "stressful."
With a rejuvenated defense that ranks No. 1 in the country in multiple major statistical categories, Ohio State will enter Saturday expected to keep Maryland largely in check, and the players are certainly not lacking motivation to make that happen after what happened a season ago.
"I think they know how dangerous the running game is," Day said. "It was only a year ago they played against them. Ran for 300 yards. They know that. I don't think they're proud of that. They want to do a better job this time around, for sure."
Already scouting LSU?
Seemingly every few weeks, Day gets asked about Joe Burrow, the former Buckeyes quarterback now leading the Heisman Trophy race at LSU.
On Tuesday, it was no different. With the Tigers preparing for Alabama, a reporter wondered whether the presence of Burrow would give Day a rooting interest in Saturday's game.
"I've enjoyed watching Joe on TV, but also even watching his film, seeing what they're doing throwing the ball," Day said. "He's doing a great job leading. You can tell he's doing a great job preparing. He is going to finish the year the right way. You can tell they're in a good place."
Wait a second. Watching his film? Well, well, well.
Should it be a surprise that Day is watching Burrow's tape? Not at all. It's only natural for the No. 1 team in the College Football Playoff rankings to be keeping an eye on the other teams in the top four, even though most coaches don't like to publicly discuss that during the season. 
With every passing week, the possibility of an Ohio State-LSU showdown becomes an even more realistic possibility. This weekend's game against Alabama will go a long way toward determining whether it could happen. 
Who doesn't want a Burrow-Buckeyes matchup in December – or even January?
Munford says he's healthy
When asked how healthy he was on Wednesday, Thayer Munford didn't hesitate.
"It is a sliding scale, but right now I feel 10 out of 10," Munford said.
The way Munford operates, it should be no surprise that he gave that answer. He has always fought through pain to get on the field as often as possible. Yet, despite his words, it's hard to know just how he actually feels as the Buckeyes enter the final stretch of the regular season.
Munford has battled multiple nagging injuries in the past couple years, including a back injury that forced him to have surgery and kept him out of last season's Rose Bowl and this year's spring practices.
He had started every game until Ohio State's matchup with Northwestern, when he came off the bench behind Nicholas Petit-Frere and played 14 snaps after being listed as a game-time decision. The following week, he started against Wisconsin and had a rough performance, especially in the first half when pass blocking.
"I basically had to take some medicine, suck it up and fight through it," Munford said. "During warmups against Northwestern, I wasn't fully ready. But Wisconsin, I felt OK until I actually played."
Wisconsin's pass-rushers had a few too many hurries against Munford, who said he spent the off week working to develop more patience in his pass sets.
With no more weeks off for the remainder of the regular season and four – or, more likely, five – weekends in a row with games, it'll be key for the Buckeyes to have a healthy Munford to protect the blind side of Fields. Right now, he says he's fine, and the challenge will be to keep him that way.