Keandre Jones will play one more game at Ohio Stadium on Saturday.
The former Ohio State linebacker, who transferred to Maryland in January after three years in Columbus, will be back in the Shoe this weekend – but this time playing against the Buckeyes – as the scarlet and gray host the Terrapins for this year's game between the Big Ten East foes.
It's a game Jones has been looking forward to all year long.
"I've had this game marked since I transferred from Ohio State," Jones said. "Nothing personal. I'm still friends with a lot of those guys. The relationship is still good between all of us. And I'm excited, anxious to get out there. Being in front of the Ohio State fans, too, it's a great opportunity for me, to my career, finishing up where I started."
After playing only sparingly on defense in his three seasons at Ohio State, in which he never started a game for the Buckeyes, Jones has been one of Maryland's most productive defensive players this season. A starting outside linebacker in the Terrapins' 3-4 defense, Jones has recorded 45 total tackles and leads the team with 11 total tackles and six sacks this season. He has also recorded three pass breakups and a forced fumble.
Beyond his play on the field, Maryland head coach Mike Locksley has also been impressed with the character that Jones – who was known for his positive energy and work ethic during his Ohio State career – has brought to College Park.
"I think Keandre, the one thing that he's shown throughout his career – and I've known him since eighth grade, ninth grade having recruited him – is he's been really mature beyond his years," Locksley said in his press conference at Maryland this week. "The leadership he's brought to this program, obviously I think is a direct reflection of what he's learned or the experiences he's had at a place like Ohio State, and so it's been great to have that here in our locker room, and for our younger players to utilize him as a resource for how you approach the game, how you approach practice, how you approach school and all the areas that you need to."
Jones played only 53 defensive snaps for the Buckeyes in 2018 and 70 defensive snaps in 2017, and had he chosen to stay at Ohio State for his senior year, there's no guarantee that his role with the Buckeyes would have increased. With Malik Harrison, Pete Werner, Tuf Borland and Baron Browning back from last year as the Buckeyes' top four linebackers, Jones faced the possibility of being stuck behind them on the depth chart once again.
Jones said this week, though, that his decision to leave Ohio State wasn't simply motivated by playing time. A native of Olney, Maryland, just a half-hour drive away from College Park, Jones transferred to his home-state school because he wanted to be closer to his family – particularly his mother, Lauren Middleton.
"I have family and friends here that support and love me and at the end of the day, I felt that it was in my best interest to come back home and finish my senior year here," Jones said. "I have a single mother and just having her at the game, that's a big bonus for me so she can see my senior year and see me finish up here."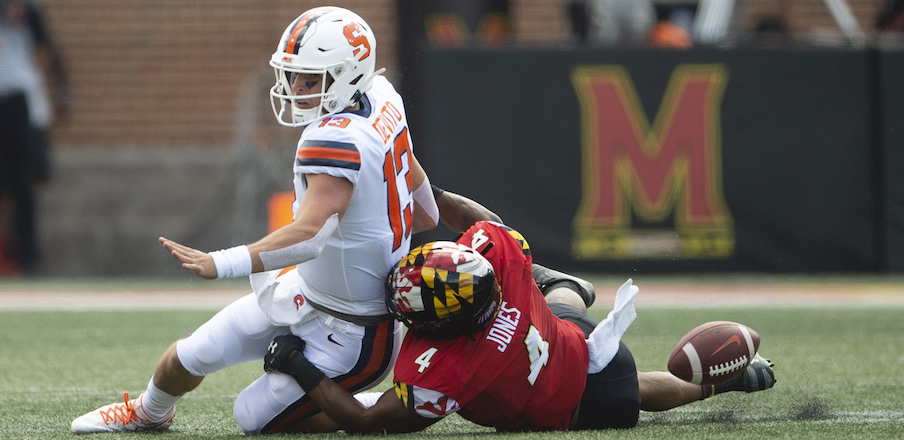 Jones would love to lead Maryland to its first-ever win over the Buckeyes on Saturday, but he says he still has "nothing but love" for Ohio State. He's still in a group chat with several Ohio State players, and believes the three years he spent with the Buckeyes helped put him in a position to succeed with the Terrapins this year.
"It made me into the man I am today and the student and athlete I am today," Jones said of his time at Ohio State.
"I've had this game marked since I transferred from Ohio State." – Keandre Jones on returning to Ohio Stadium this week
Even though he's now playing elsewhere in the Big Ten East, Jones still has plenty of supporters in the Ohio State football program, including Ohio State head coach Ryan Day.
"It's great to see him playing with a lot of passion and effort," Day said this week. "Nothing but respect for he and his family. Had an opportunity to go closer to home, and so we supported that the best we could. Certainly didn't want to see him leave, but we also understand, and I'm glad that things are working out for him."
Buckeyes safety Jordan Fuller, who arrived at Ohio State with Jones as a member of the 2016 recruiting class, said he and Jones still keep in touch regularly and he's excited for the opportunity to see him again on Saturday.
"Whether it's seeing something funny on Instagram, we'll send it to each other, or just checking in and stuff like that, but yeah, that was one of my best friends when he was here," Fuller said. "So it definitely sucked to have him leave, but it's going to be really good to see him on Saturday."
Jones is excited for the opportunity to catch up with his former teammates, too, and he's happy for the success that the Buckeyes have had this year. In the days leading up to this week's game, though, Jones has tried to keep his focus on doing his job for the Terrapins.
"All I can do is focus on what I have here, which is the University of Maryland and making sure we handle our business and continue to play hard and aggressive and get prepared for them, because it's a big game for us Saturday and we're just looking forward to the opportunity," Jones said.