After a 63-20 win over Syracuse in its second game of the season, Maryland was 2-0 and ranked in the AP Top 25 as the 21st-best team in college football.
Since then, the Terrapins have won just one game and lost six.
With the exception of its 20-17 loss to Temple and 34-28 loss to Indiana, Maryland hasn't played many close games this year. All three of the Terrapins' wins – against Howard, Syracuse and Rutgers – have been by at least 41 points, but four of their six losses – against Penn State, Purdue, Minnesota and Michigan – have been by at least 26 points.
This week's game isn't expected to be close either, and certainly not in Maryland's favor, as Ohio State opened as a 44-point favorite for this week's game.
While Maryland played Ohio State much closer than expected last year, taking the Buckeyes to overtime before Ohio State escaped College Park with a 52-51 win, a game like that seems much less likely against an Ohio State team that has won each of its first eight games by 24 or more points and currently has the top-ranked defense in the country.
On paper, there's nothing that suggests the Terps should pose any real threat when they come to Ohio Stadium on Saturday. That said, there are some interesting facts about the Terrapins you should know – including some ties that they have to the Buckeyes' roster.
Equally mediocre on both sides of the ball
Maryland's statistical performance on offense and defense has been nearly identical through its first nine games of the season.
Offensively, Maryland ranks 77th nationally with 5.68 yards gained per play. Defensively, Maryland ranks 77th nationally with 5.76 yards allowed per play. The Terrapins rank 86th in yards gained per game (384.4) and 85th in yards allowed per game (413.8).
For the season as a whole, Maryland has scored 266 points and allowed 270. The Terrapins' 29.6 points per game rank 64th nationally, while their 30 points allowed per game are tied for 86th.
All of those numbers indicate that Maryland is an average-at-best team on both sides of the ball – especially considering that they all remain inflated by the Terrapins' season-opening 79-0 win over Howard, a Football Championship Subdivision opponent, in which they gained 623 yards and allowed just 68.
Since then, the Terrapins have allowed at least 300 yards in all eight of their games against Football Bowl Subdivision teams – Ohio State, conversely, hasn't allowed an opponent to gain 300 yards all year – while their offense has been held to just 210 and 233 yards in its last two games.
Keandre returns to Columbus
While Maryland's defense has been unspectacular this season, one of its bright spots has been the play of senior linebacker Keandre Jones, a graduate transfer who is finishing his career at his home-state school after playing his first three collegiate seasons at Ohio State.
After three years as a backup linebacker who never started a game for the Buckeyes, Jones – who arrived at Ohio State as the No. 98 overall prospect in the recruiting class of 2016 after starring at Good Counsel High School in Olney, Maryland – has finally had the opportunity to show what he can do with the Terrapins this year.
Playing as a strongside linebacker who also often lines up on the edge in pass-rushing situations, Jones ranks third on the Terrapins with 45 total tackles, leads the team with 11 tackles for loss and six sacks this season and has also recorded three pass breakups and a forced fumble.
Now, he'll have the opportunity to play one last game in the Shoe against many of his former Buckeye teammates when the Terrapins come to Columbus this weekend.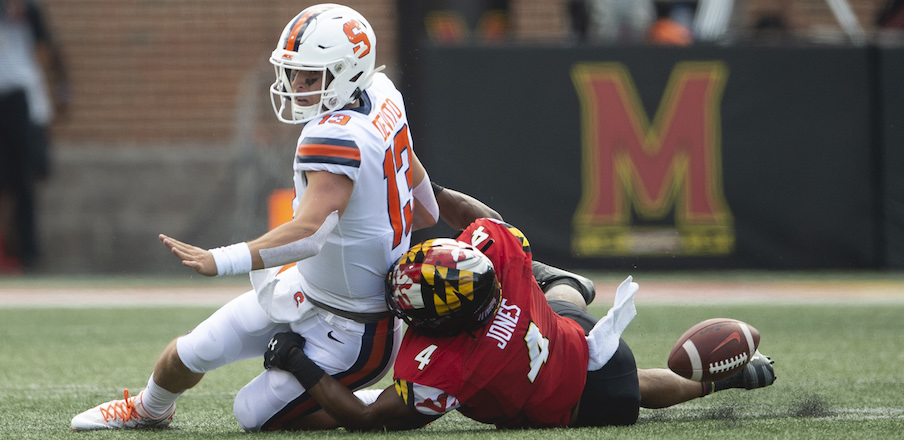 Familiar faces for Chase
For Ohio State superstar defensive end Chase Young, Jones won't be the only familiar face he'll see in this week's game. Maryland's roster also includes 12 players from DeMatha Catholic High School, the same Hyattsville, Maryland football powerhouse where Young spent his final two years of high school.
Young's fellow Stags include some of Maryland's best players, like running back Anthony McFarland, nose tackle Oluwaseun Oluwatimi and safety Nick Cross. Right guard Terrance Davis and right tackle Marcus Minor, among the starting offensive linemen who will be tasked with slowing down Young on Saturday, are also among the Terrapins from DeMatha.
Elijah Brooks, Young's head coach at DeMatha, is also now at Maryland in his first season as the Terrapins' running backs coach. 
Plugging the Leake
If you're an Ohio State defensive player or a Buckeyes fan, you might still be having nightmares about McFarland after he ran for a whopping 298 yards and two touchdowns against Ohio State's porous defense last season.
So far this season, though, McFarland hasn't come close to having another performance like that. With just 438 rushing yards on 90 carries for the season – in part because he has been plagued by an ankle injury – McFarland, who entered the season with expectations of being one of the Big Ten's top running backs this year, hasn't even been the leading rusher on his own team.
That's been Javon Leake, who looks to be the biggest threat Ohio State will face Saturday on both Maryland's offense and special teams.
Leake leads the Terrapins with 581 yards on just 75 carries – an average of 7.75 yards per carry, which ranks as the best mark in the entire Big Ten – and is tied with McFarland for the team lead of seven rushing touchdowns. 
Additionally, Leake has been one of the best kickoff returners in the entire country, with 595 yards and two touchdowns – including a 97-yard return for Maryland's only points in its 38-7 loss to Michigan on Saturday – on 20 returns this year.
Michigan opened the game with a 97-yard kick return TD.

Javon Leake just matched it to put Maryland on the board.@ny_king20 | @TerpsFootball pic.twitter.com/vWRYm5htmC

— Big Ten Network (@BigTenNetwork) November 2, 2019
Including runs, receptions and returns, Leake leads the entire Big Ten this season with 10 all-purpose plays of 30-plus yards, so the Buckeyes will need to be aware of his big-play ability and prevent him from getting the space to hit a home run.
Only one field goal all year
No team in the Football Bowl Subdivision has made fewer field goals this season than Maryland, which has made just one field goal all season long.
The Terrapins have also attempted the fewest field goals in the country (four), but their 25 percent conversion rate on field goal attempts is the lowest in the nation.
Joseph Petrino's first made field goal of the entire season came in Maryland's eighth game of the year against Minnesota, when he kicked the ball through the uprights from 31 yards out. He missed his first two field goal attempts of the season – a 42-yard kick against Temple and a 29-yard kick that was blocked by Rutgers – and had another miss from 37 yards out against the Wolverines on Saturday, when he also whiffed a tackle on a 97-yard kickoff return touchdown by Michigan's Giles Jackson.
Petrino has also missed two of his 37 extra point attempts this year.
In 2018, Petrino was much more reliable, making 12 of 14 field goal attempts and 40 of 41 extra points. This year, though, he's been the least productive kicker in the FBS.