Football is back.
I really think we've made it, y'all. NFL preseason started last night, fall camp starts today, and the college football season is just around the corner.
Be sure you're following Dan, Colin, Taylor and @11W as we keep you updated on this glorious day.
ICYMI
Word of the Day: Football.
 OVERRATED? Hell yeah, it's Getting Mad at Meaningless Rankings season, y'all!
The Buckeyes debuted at No. 5 in the preseason coaches poll yesterday, which seemed fair and good to me all things considered, but it was too high for Stewart Mandel of The Athletic ($), who has Ohio State among his five most overrated teams in the coaches poll.
No. 5 Ohio State. I'd be willing to say Ohio State remains one of the five most talented teams in the country. But anointing the Buckeyes as one of the five best teams in the country requires putting a whole lot of faith in a quarterback, Justin Fields, who for all his recruiting hype, got little more than situational reps as a freshman for Georgia and looked very much like a work in progress this spring.
So basically, all he said is that he's in wait-and-see mode about Justin Fields because he hasn't played a competitive snap. That's totally fair, actually. You can put your pitchforks down.
Hilariously though, Michigan actually made the same list and Mandel was uh... less kind. In fact, he properly ethered them with his online words.
No. 7 Michigan. I don't know what else to say at this point. The Wolverines weren't competitive against the three Top 10 teams they faced last season, losing to Ohio State and Florida by a combined score of 103-54. Jim Harbaugh is 1-9 against Top 10 teams at Michigan. But sure, absolutely, go ahead and rank the Wolverines seventh in the country. What could go wrong?
Show me the lie.
 MICHIGAN IS... GOOD? Urban Meyer tossed on his analyst hat again yesterday for another appearance on The Herd with Colin Cowherd. This time, the legendary Buckeye coach offered some praise for the rivals to the north.
Yes, I said praise.
Meyer complimented the Wolverine offensive line, Ed Warinner, and the scheme changes, suggesting that this could be Michigan's best offense.
.@ColinCowherd: Is this the year Jim Harbaugh and Michigan finally breakthrough?@OSUCoachMeyer on his former rivals' upcoming season... pic.twitter.com/sGQKdGeRTo

— Herd w/Colin Cowherd (@TheHerd) August 1, 2019
Here's are Meyer's full comments transcribed, for those of you who prefer to read instead of listen:
"This will be the best offensive line they've had, yeah. They have an excellent coach in (Ed) Warinner and the guys that are back, they're big. I noticed the sizes of those guys, I remember them last year, and they were much better last year. And most of them, I think four of the five of them are back. That's been their weakness on offense.

However, they're changing. Here's what they have: They have three legitimate, high draft picks at receiver that have just not been given those opportunities. They brought in a new coordinator to do that. It remains on how they're going to transition from a pro-style  to a spread. Will it be a true spread? And that often takes time. That takes time to grow, and will coach Harbaugh allow them the time to grow?

It's ironic that this could be their best offense, yet they lose some really, really good players on defense," Meyer said. "But they're always going to be good on defense."
Perhaps Urban Meyer is a Kyle Jones reader?
I have no doubts Michigan's offense will be better this season than it's been since Jim Harbaugh arrived, but that's such a low bar.
The past four years they've been running an offense from 1995 which basically involves 25 telegraphed carries to an average-at-best running back behind a lackluster offensive line and a fullback while legitimately talented receivers and tight ends rot outside/block.
That's what they have to improve upon with this revamped offense. If they can't do that, fire everyone.
I think the most incredible part of this video is that Meyer managed to do that entire segment breaking down the Wolverine offense without saying the school's name even a single time.
Y'all think he can get away with that the entire year?
 FULL CIRCLE. Maybe Dre'Mont Jones' life is just a circle that keeps leading back to Hall of Fame field in Canton, Ohio, because in my opinion, that's the easiest explanation for this:
In high school, I had my first game/scrimmage on the Hall of Fame field against Canton McKinley. Fast forward years later, tonight, Im about to have my first NFL game on the same damn field. Funny how life is sometimes. Truly a blessing to be back in Ohio.

— Dre'Mont Jones (@TheOfficial_80) August 1, 2019
That's very odd to hear, because there were certainly times last night where Dre'Mont made it look like he was playing against high schoolers again.
DreMont Jones shooting the opposite a-gap and flushing Benkert for a #Broncos sack. (Shoutout to Shamarko Thomas for clobbering the RB and cleaning up) pic.twitter.com/ZPwR1UQndU

— Ross O'Keefe (@RossOKeefe2) August 2, 2019
Turns out you can't sleep on the #Broncos Dre'Mont Jones. pic.twitter.com/rAwFqAOZqk

— Joe Rowles (@JoRo_NFL) August 2, 2019
.@TheOfficial_80 with the pressure.@AlcaTreyIsland8 with the PICK!#PFHOF19 | #DENvsATL pic.twitter.com/4f7LKMRaft

— Denver Broncos (@Broncos) August 2, 2019
 GET DUMPED THEN, CANCER. It looks like cancer's taken a big one to the chin these past few months, courtesy of the Buckeye Nation.
OH MY GOODNESS! More than $1 Million Dollars Raised from February to July! Never before have we hit that benchmark before football begins! THANK YOU to all of our Fundraising Partners, Sponsors, Volunteers and Event Supporters! Lets keep raising the bar! #GOBUCKS #BEATCANCER pic.twitter.com/FU6VRbyCU8

— BuckeyeCruise (@BuckeyeCruise) August 1, 2019
Between the work done at the James and the money raised by things like BuckeyeThon and the Buckeye Cruise, it looks like cancer's fighting a battle it ain't gonna win in the long run.
 SHIRT GAME: STILL STRONG. I knew from his freshman season when he confidently rolled up to the hotel draped in freedom and carrying a batman shirt on a hanger – presumably to protect it from wrinkles – that Joe Burrow possessed an unmatched swagger.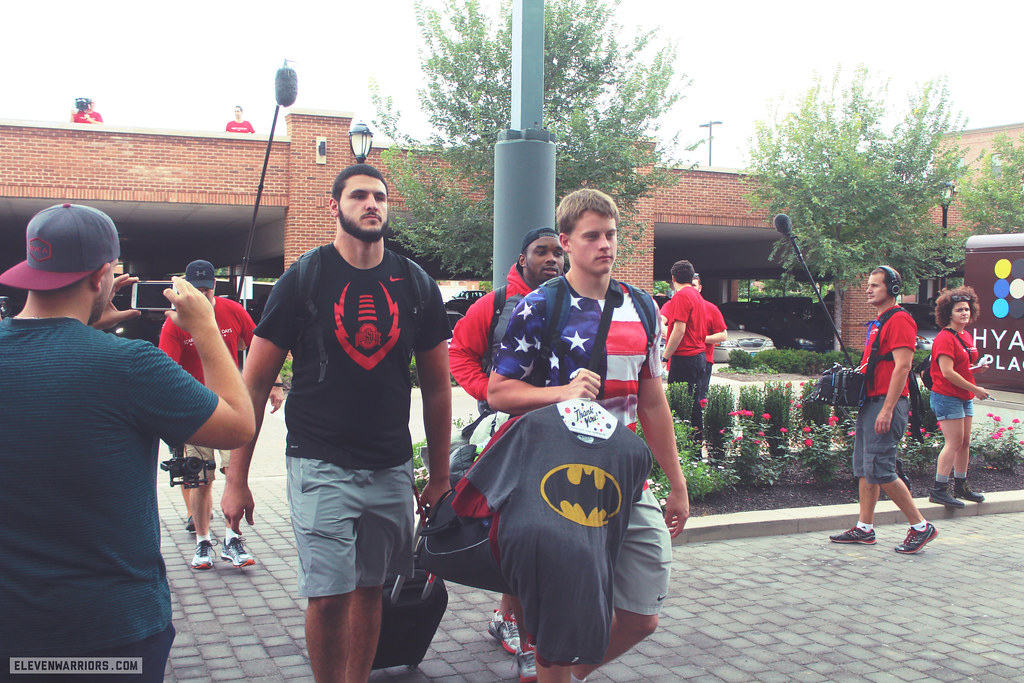 Legend has it that as long as he was in Columbus, Joe Burrow never wore a bad shirt. Not even once.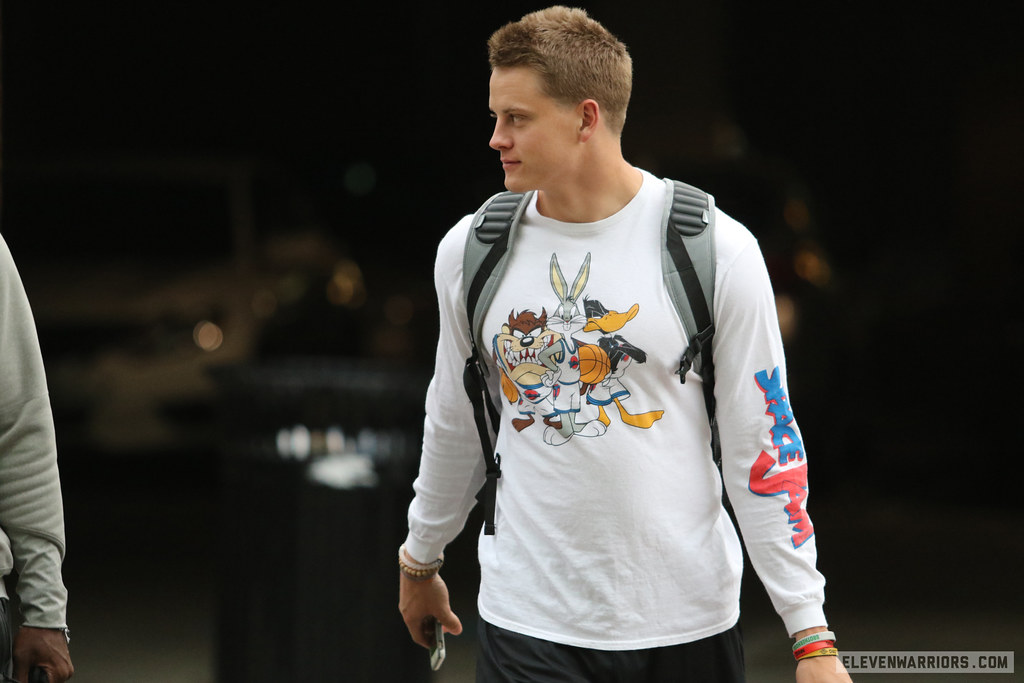 But as a side effect of the Buckeyes signing and starting the greatest passer in program history last season, we now have to admire Burrow's suave choice in graphic t-shirts from afar.
But you better believe I'm admiring.
God bless Joe Burrow. Tigers fans better properly appreciate the legend they've been blessed with.
 NOT STICKING TO SPORTS. The official names for residents of each of the 50 states... How companies use color to get you to buy their stuff... Ohio State's Wexner Medical center begins using spray-on skin for burns and other skin issues... Furnishing college dorm rooms is big business thanks to social media pressure...