I successfully survive Nashville and immediately learn that France has invented – and weaponized – what looks to be the Green Goblin.
WATCH: An armed "flying soldier" was on display in the air during the traditional Bastille Day military parade in Paris this weekend. pic.twitter.com/nnKVzcBZR0

— NBC News (@NBCNews) July 14, 2019
Thankfully, this doesn't even crack the top-10 in terms of Spider-Man villains I want absolutely no part of in real life. If Carnage materializes, I'm getting off the damn planet.
ICYMI
Word of the Day: Proselytize.
 SOMETHING CERTAIN. When you're replacing your head coach, starting quarterback, top three receivers, and 4/5ths of your offensive line, you need something certain to lean on.
That certainty is allegedly J.K. Dobbins, but the thing is, nobody really knows what the hell to expect from him, either.
I mean, he set school records his freshman year then got outrushed by eight Big Ten quarterbacks the next season. He hasn't really been the pinnacle of consistency.
But the Buckeyes are going to ride him this season, and he's going to have to perform because he doesn't really get a choice.
From Tony Gerdeman of The Ozone: 
Healthy and hungry, JK Dobbins is determined not to go through another season like last year. Not because he doesn't want to deal with the media's questions again, but because his team needs him to be the guy he was in his first 100 carries.

With a new head coach, new quarterback, four new starters on the offensive line, and three senior captain receivers gone, the workhorse running back needs to be there to carry his team while everyone gets acclimated.

This is something that head coach Ryan Day and position coach Tony Alford have explained to him throughout the offseason.

"He's one of the guys that has to play good," Day said. "You just hit a major pressure point right there. I mean, he has to play good for us, especially in the first six games of the year.
I just wanna see him snap some ankles again. So purely selfishly, I vote he does whatever it takes to get that borderline-erotic highlight tape back on my blogging machine.
 THE GOAT IS BACK. Demario McCall's been the subject of a number of Pulitzer-worthy photographs the past few years, but folks, we have ourselves a few more.
Just a little 4 wheeling with the boys. pic.twitter.com/Zr2rbQQEvF

— Master W. Teague III (@MasterTeagueIII) July 14, 2019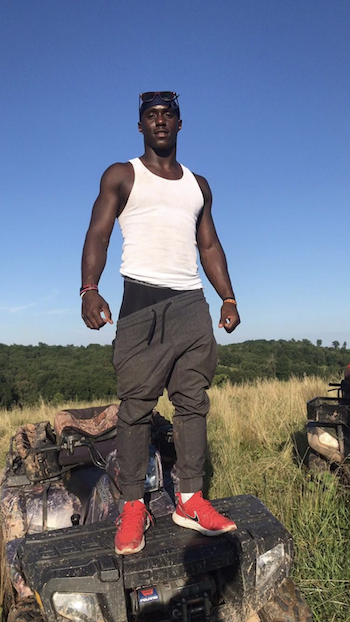 And as if that wasn't enough, our guy is now a proper fisherman. 
Priceless!! @DemarioMccall went fishing for the 1st time. Its gonna bite me!! @ToteNation pic.twitter.com/xKK1C5eLbu

— Coach Tony Alford (@CoachTonyAlford) July 14, 2019
What a hell of a way to kickoff a Heisman Trophy season.
 KOSTA ON THE MOVE. It's been one hell of an offseason for the former Basketbucks in the NBA with D'Angelo Russell, Mike Conley and Evan Turner all on the move, but you can add one more to that tally.
Free agent big man Kosta Koufos has received preliminary interest from Detroit, Sacramento, Toronto and Milwaukee, league sources tell Yahoo Sports. The veteran, noted for his defense and rim protection, could be a later signing.

— Chris Haynes (@ChrisBHaynes) July 14, 2019
I think my biggest realization here is that you can make an entire starting lineup of former Ohio State players on NBA active rosters, and it wouldn't be bad!
Conley and D-Lo at guard, E.T. and KBD on the wings and Koufos down low. Shit, I'll take it.
 NO FREAKS? Of all the subjective and arbitrary offseason lists that have ever been listed, the one I roll heaviest with is undoubtably Bruce Feldman's annual freaks list.
Each offseason, Feldman undertakes the extremely scientific task of ranking the freakiest athletes in College Football. Jerome Baker (coincidentally my pick for a former Buckeye I would least like to be hunted by in a "most dangerous game" scenario) cracked the list in 2017, and both Parris Campbell and Nick Bosa made it last season.
This year, I figured the list was basically invented for the 6-foot-5, 255 lb. defensive end who's so affectionately called "The Predator." At the very least, I expected Chase Young in the top 10, and J.K. Dobbins to make the list somewhere.
I was extremely, very wrong. Somehow, no Buckeye even cracked the list.
Young looks like he was assembled in a lab and Dobbins was literally rated as the best athlete coming out of high school, but the biggest snub is probably a dude that hasn't even played a snap at Ohio State yet.
Behold, Zach Harrison:
This is my favorite photograph ever taken of Zach Harrison doing football. pic.twitter.com/Gn7bMhZJxi

— Kevin Harrish (@Kevinish) December 19, 2018
Freshman or not, if a 6-foot-6, 245-pound defensive end who runs a 4.47 second 40-yard-dash, mossed kids as a receiver and anchored his high school team's 4x100 meter relay team doesn't make this list, what are we even doing?
 WATCH LIST SZN. With Feldman's Freaks behind us, Subjective Lists Season is all but dead. We're now in the late stage of the offseason: Watch List Season.
For both of you living and dying by these riveting preseason compilations, here's your full calendar of the release dates.
Here is the 2019 Preseason Watch List Calendar ... 16 lists over 10 weekdays from July 15-26. pic.twitter.com/bVY0EE3weT

— NCFAA (@ncfaa) May 16, 2019
I'm not a big watch list guy myself, but I definitely see the value about having something to get angry about online in mid July. So I'm going to do my job and post about them.
 NOT STICKING TO SPORTS. An absurd case of mistaken identity... Bare knuckle boxing is attempting to become the next MMA... A year inside Brooklyn's homicide squad... The camera that went to the moon and changed how we see it... The college that became a prison... How small farms are surviving by Airbnb...