You gotta love a day when a Michigan team gets worse and an Ohio team gets better with one simple move.
ICYMI
Word of the Day: Inconnu.
 BETTER OFF ELSEWHERE. According to Tate Martell's own timeline, there's a solid chance the Buckeye coaching staff had already told him that it would be in his best interest to transfer before he publicly claimed that he would not transfer and would win Ohio State's starting quarterback job.
It also sounds like he had no intentions of going anywhere if that conversation never happened, and even considered staying after it did.
From Andrea Adelson of ESPN:
But when he arrived in Columbus, Ohio, Martell had J.T. Barrett and Dwayne Haskins in line ahead of him. Martell waited his turn, believing 2019 would be his year. Then Urban Meyer stepped down. Martell says he was told toward the end of the season he would be better off finding another school. Shortly after former No. 1 overall recruit Justin Fields announced he was transferring to Ohio State, Martell told the world he would transfer himself.

"Ohio State, that was my dream school," Martell said during an interview this spring. "I was sick to my stomach. There was almost a point where I was like, 'I'm going to roll the dice anyway' because I wanted to be there.

"After being there for two years and not playing, I couldn't risk it anymore. There's a point where you love your teammates, you love everything about the school and the people there, but you have to start thinking about yourself and not doing it because these are my teammates. They all understood, and they weren't upset at all.

"The good thing that happened was that I was told, so I wasn't in a bad situation. So that's the only thing I can say that was good about the situation is I wasn't lied to."
As much grief as I've given Tate online these past few months, I'm sure it ain't easy to hear that there's no longer a role for you at your dream school, especially when you thought you were about to be the starting quarterback.
It's a rough situation, but I'm glad he was given enough time to find a new program, I'm glad he was given immediate eligibility, and I'm glad he got to live out his dream of being a Buckeye, even if it was off the bench.
Hell, he's even eternalized in the record books, given that his single-game completion percentage record mathematically cannot be broken. Say what you want, but he'll have that forever.
 HOLTMANN UNSHOCKED. Media folks are generally pretty good at anticipating news and preparing to cover it (no, Taylor does not write those 600-word commitment pieces in 13 seconds).
But pretty much everyone – my lazy ass included – was caught with their pants down yesterday when the Cleveland Cavaliers hired Michigan head coach John Beilein. I woke up around 8:40 to a Woj Bomb notification on my phone and quickly beckoned my cat to fetch my computer so I could post.
It honestly didn't even cross my mind that this hire was a possibility, but Chris Holtmann is apparently a much better speculator than I.
From Joe Scalzo of the Canton Rep:
"It did not actually surprise me significantly," said Holtmann, who spoke at Monday's Hall of Fame Luncheon Club meeting at Tozzi's on 12th. "I felt like potentially there could be something like that (an NBA job) in the future for him, if he chose to do that."

Holtmann wouldn't be surprised if Beilein succeeds in Cleveland, either.

"John's a tremendous coach," Holtmann said. "I think he's as innovative and creative as any coach at any level. He's won wherever he's been and he's done it the right way. If that's what he wanted, it's good for him."
The rest of the world – especially the Wolverine faithful – seemed properly stunned, which led to some absolute poetry on the Michigan corners of the interwebs.
let's check in on the mgoboard pic.twitter.com/mNmwAwHzFV

— Ace Anbender (@AceAnbender) May 13, 2019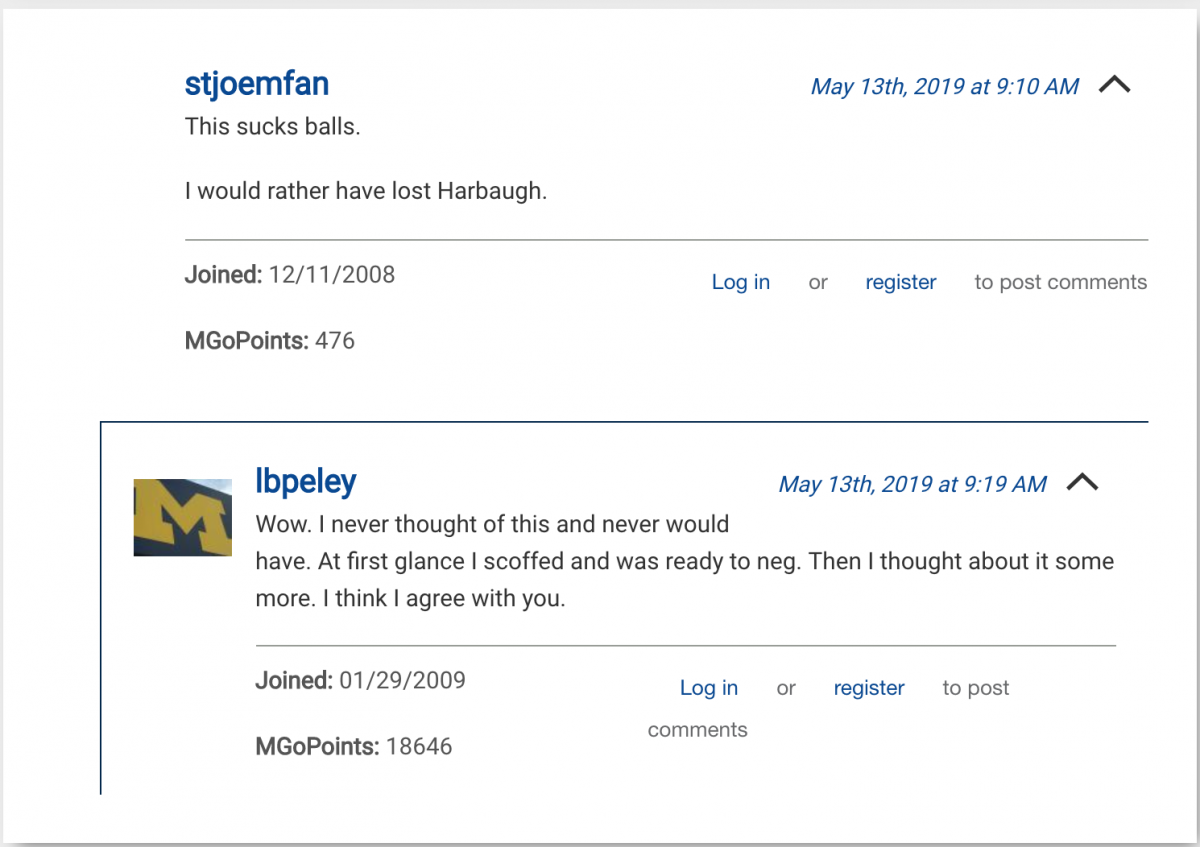 As far as a replacement, who the hell knows? Michigan fans are already betting their entire self-worth on hiring Billy Donovan, which I think is about as likely as Tennessee hiring Jon Gruden last year.
Regardless, Holtmann is pretty convinced the rivals to the north will be fine no matter what.
When asked how Beilein's departure will affect the Big Ten, Holtmann said, "Listen, they'll hire an outstanding coach. It's an outstanding basketball job. John certainly did some amazing things there that really elevated the program and, again, he did it the right way. But it's a really good basketball job. I'm assuming they've got a plan in place."
I'm not all that convinced it's going to be fine. This isn't the same as Ohio State replacing Thad Matta, Beilein is the best thing that's ever happened to that program, and he was still at his peak. Feel free to hit me with a crying Jordan when this is wrong, but I think it's extremely unlikely they hire anyone even comparable to Beilein.
At least they still have softball!
 INSTANT CLASSIC. If y'all need some 15-year-old football to fill the empty offseason void in the your heart, here's a deep rewind of one of the most legendary games in Ohio State history.
#1 Miami
#2 Ohio State

The 2003 Fiesta Bowl was an instant classic and deserves a deep rewind! pic.twitter.com/oqzUk8QP0Q

— SB Nation (@SBNation) May 13, 2019
I've watched this too many times to count. My sister got me the DVD of the game for my ninth birthday, and I probably watched it once a week, because I was the sad kid that wanted to watch an old football game alone in my room instead of play with my friends.
Now I just write about old football games alone in my room instead of having friends. At least I get paid now.
 MORE NOONERS COMETH. Brace yourself for a whole slew of Ohio State noon games in the coming football seasons, because if the Buckeyes' game is one Fox, there's a solid chance it'll be slated for noon.
Fox will have its best game of the day will be at noon every Saturday.

— Andrew Marchand (@AndrewMarchand) May 13, 2019
Even aside from my deep-seeded love for noon kickoffs – which is absolutely the correct time to play a football game – this is just a fantastic idea, from a football watcher's perspective.
This essentially guarantees at least one good game in every Saturday time slot. CBS's best game is typically in the afternoon, ESPN/ABC's best game is almost always at night, so it makes all the sense in the world for Fox's best game to be at noon.
 somehow made it even less likely that I leave my living room on a fall Saturday. Those devious bastards.
 THE BAD TAKE CANNON FIRES! I usually wait until the end of December to bomb on folks' bad takes, but I just can't sit on this one for that long.
Dwayne Haskins was just a first-round pick and officially inked a contract worth a very lot of money last week. A newly minted millionaire, Haskins purchased himself a brand new Bentley, which is apparently a war crime according to Washington Redskins sports talker, Eric "EB" Bicke.
The take is from Eric "EB" Bickel of The Sports Junkies on 106.7 The Fan:
"It just harkens me back to the RGIII era of the slogans and the logos," EB said. "It just gives you that feeling that this kid thinks he's already arrived, and he hasn't even completed one NFL hand-off yet, let alone throwing a pass, let alone complete a touchdown, won an NFL game. He's done nothing!"

"I just think it's a red flag because it makes it seem like you think you've already made it, when in fact the real trials and tribulations are about to begin. You haven't done anything yet!"

"I know I sound like a fuddy-duddy, but it's just a little bit of a red flag. Let's complete a pass, let's win a game in the league before we go out and buy maybe the most ostentatious car you could possibly imagine."
Imagine being angry and aghast that a millionaire would buy a car. More than that, imagine thinking a Bentley is "the most ostentatious car you could possibly imagine."
 LINK LOCKER.  A first look inside Notre Dame Cathedral since the devastating fire...  The rise of hyphenated last names in professional sports... The humble receipt gets a brilliant redesign... Australian man finds a 624g gold nugget worth $37,000 while walking his dog... How can we live longer but stay younger?... High school teacher ran a college cheating business out of his fraternity... Sailing the treacherous waters of Alaska with toddlers as your crew...