THIS. IS. MARCH.
I'm not going to say I'm necessarily proud that Ohio State has to win a battle between teams that are 8-12 in conference play in order to make the NCAA Tournament, but you best believe I'm going to tune in and smile when the good guys score.
I know there's a ton of apathy surrounding this hoops team, and I get it. They aren't going to win any hardware, have won just six games since Christmas, and legitimately might not make the Tournament if they lose today.
But the thing is, I really like March Madness, and if a play-in game against a bad Indiana team is as close as the Buckeyes are going to get to that must-win March feeling, I'm gonna take it in stride.
Plus, it sure would feel great for Chris Holtmann and his band of misfits to end up in the NCAA Tournament two years in a row while Sean Miller and his five-star guard and miss the Big Dance for a second-straight year.
Get dumped then, Hoosiers.
ICYMI
Word of the Day: Beamish.
 THE NEXT OBJ? The Browns just got Odell Beckham Jr., but some lucky team in the draft has a chance to nab the next OBJ in Parris Campbell, at least according to Chris Simms of NBS Sports.
Simms makes an extremely valid point that you don't see a ton of diversity in Parris' film since he only ran like three routes consistently, but that doesn't really bother him.
Ohio State has to call plays to make use of his skillset. If you have a receiver that can dust an entire defense on a shallow cross, you'd be stupid not run as many shallow crosses as you can. You're not going to have him running many out routes to the sideline, even though he could probably do that.
Simms notes that even if he didn't run a ton of diverse routes, he's shown the ability as a route runner, and that's really all you need. Pair that with his speed and he's lethal.
Then again, Simms' No. 1 wide receiver was D.K. Metcalf, who he said should go in the top-10 or 12 picks and called a "can't-miss" prospect. If that's sincerely his opinion on a receiver who has worse lateral quickness than Tom Brady, maybe we shouldn't be trusting his Parris Campbell opinions either.
 BRUTUS TOPS THE B1G. Ohio State's Big Ten Tournament hasn't started yet, but Brutus is already claiming some hardware, earning a nod from the Chicago Tribune as the conference's top mascot.
From Tim Bannon and Phil Rosenthal of the Chicago Tribune:
Appropriateness: Buckeye is the state tree of Ohio, and state residents are often referred to as Buckeyes, whether they like it or not.

Creativity: Not everybody looks good with the fruit of a tree as its head, but Brutus pulls it off. The getup has come a long way from the goofy papier-mache head that debuted in 1965.

Nickname: Brutus got his name in a 1965 Columbus Dispatch "name the Buckeye" contest — and it's just right.

Creepy factor: 4. The buckeye head is a bit disarming, but the cute little ballcap softens the blow.

Overall: Sometimes you feel like a nut. Those big eyes, that soft, round head and a fashionable rugby shirt. What's not to like?
I agree with and appreciate Brutus' spot at the top, however I will not stand for the slander of classic Brutus. He may have been a "goofy papier-mache head," but that goofy papier-mache head still would have placed no lower than third on this list.
I think the biggest oversight here is Purdue Pete slipping all the way to No. 6. I'm sure getting a 9 in the "creepy factor" category hurt his overall score quite a bit, but it's an endearing creepiness. If anything, it should get him points.
 MIKE WEBER TRAINING WITH THE BEST. If you've got sights on becoming a starting NFL running back, it probably makes sense to train alongside some starting NFL running backs.
Mike Weber thought so, training with LeVeon Bell and Dalvin Cook in Miami on Tuesday afternoon.
Before the New York Jets agreed to sign free agent running back LeVeon Bell of the Pittsburgh Steelers for four years and $52.5 million, he spent his Tuesday afternoon in Miami training with former Ohio State running back Mike Weber. pic.twitter.com/D3v5AYNkyd

— Garrett Stepien (@GarrettStepien) March 13, 2019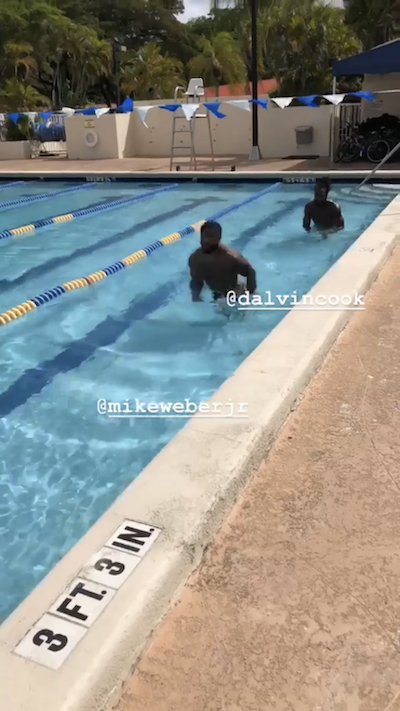 I've been saying this for weeks now, but I really think Mike Weber is about to be one of the biggest steals in the draft. He was one of the fastest, strongest and most physically impressive backs at the combine in a position where you need a rare combination of size and speed.
I'd be willing to bet that splitting carries with J.K. Dobbins for two years hurt his draft stock significantly, but he's absolutely got the tools. If he was Ohio State's bell cow back for three seasons, he might be considered the top back in the class.
 KYLER DUCKS THE MEASURING TAPE. If the various reports are to be believed, Kyler Murray is just a few weeks from becoming the No. 1 overall pick in the NFL Draft and he's doing everything he can to preserve his draft stock.
Apparently, that includes ducking height measurements at his pro day.
Kyler Murray only weighs in at his pro day. No height measurement. Weighs in at 205.

— Andrew Groover (@APGroover) March 13, 2019
I recognize that this conspiracy theory is even more absurd than Mark Titus' theory back in 2016 that Denzel Valentine was faking his injury, but I'm slowly becoming a Kyler Murray height truther.
There's just no reason to do this unless you've got something to hide, especially when your height has been one of the biggest NFL draft storylines. The fact that he refused to have his height measured at his pro day tells me he is very, very happy with the NFL Combine height of 5-10.
And honestly, it's probably even more concerning that he didn't run the 40-yard dash, given that his dual-threat ability is what sets him apart.
But I guess if you know you're about to be the No. 1 overall pick barring anything drastic happening, you can play it safe punt away your pro day.
 B1G LEGEND MICHAEL JORDAN. I'm continually amazed by what people don't recognize as terrible ideas. Like, for example, putting a Big Ten basketball jersey on a statue of noted Big Ten legend Michael Jordan.
Shout out to the Big Ten dressing up Michael Jordan to make MJ rep the B1G. Lololol pic.twitter.com/cm2juhiEBN

— Michael Felder (@InTheBleachers) March 13, 2019
You'll be absolutely shocked to learn that Chicagoans were pretty much universally unstoked by this to the point that the Big Ten deleted a Tweet using a picture of the jersey'd statue because it got ratio'd to hell with fiery comments and replies.
If anything good comes of this, it will be a fantastic and totally unfiltered response from His Airness himself.
 LINK LOCKER. Ohio BMV has charged more than $3 million in mandatory fees for a service it no longer performs... Inside the sordid world of "Meth Tumblr"... The secrets of the world's greatest art thief... The epic hunt for a lost World War II aircraft carrier... Inside the shadowy but totally legal world of high-priced college consultants...