It's not exactly accurate to say that NFL free agency begins on Wednesday, because the transaction wires have already been abuzz with activity for the past two days.
Since the window for NFL teams to begin negotiating with prospective free agents began on Monday at noon, many of the top players on the free-agent market have already agreed to new contracts. There have also been several high-profile trades negotiated in the past few days, including the Oakland Raiders' deal with the Pittsburgh Steelers for Antonio Brown and the Cleveland Browns' deal with the New York Giants for Odell Beckham Jr., two of the top receivers in the league.
None of those moves can be made official, however, until the new NFL league year begins on Wednesday at 4 p.m., which is when free agency will officially be open for business and players can actually sign contracts with new teams.
The first former Ohio State player in line to sign with a new team on Wednesday appears to be former Denver Broncos cornerback Bradley Roby, who agreed to a one-year, $10 million deal with the Houston Texans on Tuesday, according to a report by NFL Network's James Palmer. Roby told 9News' Mike Klis that he accepted the deal with the Texans over a three-year offer from the Steelers and a one-year offer from the San Francisco 49ers, as well as interest from the Browns, with the goal of landing a bigger deal when he returns to the free-agent market in 2020.
Two other Buckeyes are avoiding free agency by reaching agreements with their current NFL teams: Johnathan Hankins re-signed with the Raiders on a two-year deal reportedly worth $8.5 million, while the Steelers announced Tuesday that Ryan Shazier will remain under contract for 2019 even though he will be unable to play as he continues his recovery from a spinal injury.
Five other former Ohio State players who were on NFL teams last season are set to become unrestricted free agents on Wednesday, and each of them are still looking to land new deals, whether that means returning to their current teams or landing a new deal on the open market.
A look at those Buckeyes who are still looking for new NFL homes, and will hope to strike deals in the coming days or weeks (listed alphabetically):
Jeff Heuerman, TE

A third-round pick in the 2015 NFL draft, Heuerman is coming off his best NFL season to date, catching 31 passes for 281 yards and two touchdowns in 11 games in 2018 before his season ended early due to broken ribs and a bruised lung.
Heuerman has been with the Broncos for each of his first four NFL seasons, but has been hampered by injuries – he also missed his entire rookie year with a torn ACL – which could limit his market value as he hits free agency for the first time.
Broncos general manager John Elway told Klis last month that the Broncos would like to re-sign Heuerman (at which time he also indicated the Broncos did not expect Roby back).
"We thought that he started playing – he had a decent year last year till he broke the ribs," Elway said. "Obviously, the issue with Jeff is he's been injured a lot in his first four years so that's the only concern that we have. Other than that we'd love to have him back."
Mike Nugent, K

Nugent, who has been with four different NFL teams over the past three seasons, kicked in just three games for the Raiders last year – making all six of his field goal attempts and four of five extra point attempts – before being placed on injured reserve with a hip injury.
At 37 years old, Nugent isn't going to be on the top of the list for any team looking to add a kicker at this point. He hasn't played a full 16-game season since 2015, and his last three kicking roles – with the Dallas Cowboys, Chicago Bears and Raiders – have all come as a replacement for injured starters.
That likely means that Nugent will left waiting for some time to land a contract, and it's possible his NFL career could be over. His best chance of kicking in the league again in 2019, though, will likely be if a team suddenly find itself in need of a kicker this summer of fall due to an injury or poor performance.
Tyvis Powell, DB

Powell is coming off his most productive NFL season in 2018, in which he appeared in seven games for the 49ers (while playing for new Ohio State co-defensive coordinator and secondary coach Jeff Hafley), made his first career start and recorded six tackles and one forced fumble.
Having been in the NFL for only three seasons, Powell is a restricted free agent, giving the 49ers the ability to use a one-year tender to re-sign him or force another team to give them draft-pick compensation to sign him at the same price. As of Wednesday morning, however, the 49ers had not placed a tender on Powell, which will make him an unrestricted free agent if they do not do so before 4 p.m., giving him the option to sign with any team that might be interested.
Powell commented Tuesday night on Twitter that he would be interested in returning to Ohio and joining the Browns, who he previously spent part of the 2017 offseason with:
Tell John Dorsey to hit my line lol https://t.co/cg2tklIBcM

— Tyvis Powell (@1Tyvis) March 13, 2019
John Simon, DE

After joining the New England Patriots in the middle of last season and finishing the year with a Super Bowl win, Simon is set to hit the free-agent market once again.
Simon isn't likely to command a big contract on the open market, but he was a solid role player for the Patriots last season, appearing in 14 total games (regular season and postseason) with three starts and recording 21 total tackles and 2.5 sacks, as well as a pass deflection in the championship-clinching game against the Los Angeles Rams.
Simon told ESPN's Mike Reiss last month that he would welcome a return to the Patriots.
"There's been some talks, and things look promising," Simon told ESPN.com. "I'm not going to comment on a lot of that stuff right now, but I enjoyed my time playing for Bill [Belichick]. I think he's a great coach and I'd definitely love to play for him again."
NFL Network's Ian Rapoport reported Wednesday morning that the Patriots are expected to bring back Simon and a deal could be finalized by the end of the day.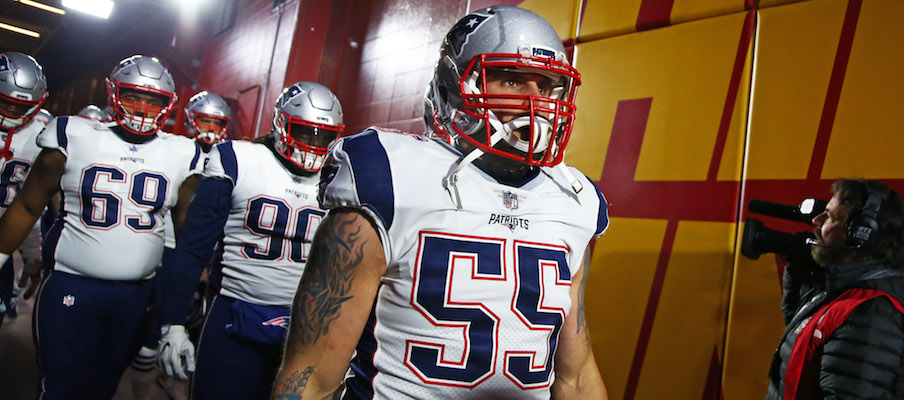 Rod Smith, RB

Smith's career at Ohio State ended unceremoniously, as he was dismissed from the Buckeyes after failing a drug test in 2014, but he's bounced back to have a solid career in the NFL. After a brief stint with the Seattle Seahawks, he signed with the Cowboys in the middle of the 2015 season and has been with them ever since.
While he's primarily been a backup to fellow former Ohio State running back Ezekiel Elliott, he has rushed for 359 yards and five touchdowns on 99 carries and caught 28 passes for 262 yards and a score over the past two years.
As he hits free agency for the first time, he hasn't played enough to command a big market, but he's shown in limited action that he can at least be a solid backup running back, which should lead to a contract somewhere if not a return to Dallas.