Rod Smith is coming off of his most successful season on the football field since high school.
After running only two carries for five yards and catching only two passes in his first two seasons of trying to make it in the NFL, Smith finally had his opportunity to break through for the Dallas Cowboys this past season, rushing 55 times for 232 yards and four touchdowns and catching 19 passes for 202 yards and another touchdown – better production than the once highly touted recruit out of Fort Wayne, Indiana, ever had in any of his seasons at Ohio State.
Smith, who was ultimately dismissed from the Buckeyes as a fifth-year senior in 2014 – midway through their national championship season – after failing a drug test, acknowledged that his career at Ohio State didn't go the way anyone had hoped. Off-field mistakes helped keep Smith buried on the running back depth chart throughout his Ohio State career, which he finished with less with 550 career rushing yards and 100 career receiving yards as a result.
Having learned his lesson from what went wrong with the Buckeyes, however, Smith believes he is in a better place now than he has ever been before.
"A lot of stuff that happened (at Ohio State), it forced me to grow up," Smith said last week while in Columbus for the Midwest Sports Spectacular. "It started off rocky, but I'm back on track right now, and I'm having a blast.
"Going through the ups and downs on and off the field, it's tough, but you keep that mindset focused on what goals you're trying to accomplish and anything is possible. You just can't let no one or let yourself down, so got to go out there and just have that attack mentality at everything you do."
Now, three years into his career in the NFL, Smith's talent has finally started to shine through, as he has also contributed as a blocker and special teamer in addition to his carries and catches.
"Just a good feeling to go out there and really, really help the team," Smith said. "You do a lot in practice, your teammates know what you're capable of but to go out there and put it on the field on Sundays, it's a wonderful feeling. I haven't had one of these feelings since high school. But it's wonderful. I'm loving this ride I'm on right now, and definitely looking forward to what's in store."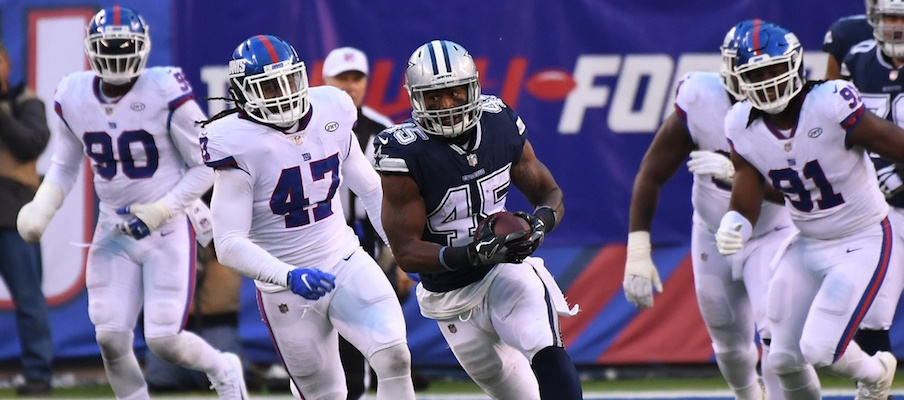 Smith isn't the only former Ohio State running back now playing for the Cowboys, nor the only one who has had his share of off-field issues. Ezekiel Elliott, who typically sits ahead of Smith on the Cowboys' running back depth chart like he did in Smith's final two seasons at Ohio State, was suspended by the NFL for six games last season – opening the door for Smith to earn more playing time – after the league determined that Elliott committed acts of domestic violence against his former girlfriend, violating the league's personal conduct policy. Elliott, who never faced criminal charges for domestic violence and has repeatedly denied the league's findings, also made headlines for multiple additional off-field incidents.
Smith said he hasn't given Elliott any specific advice on how to live his life, but said the former Buckeye teammates have supported each other as they navigate their careers as Cowboys.
"For me, I just try to be in his corner. I've been in his corner since he came out of high school," Smith said. "I know Zeke a little bit more than anybody … we know each other in and out. So when you got a guy like that, or you got somebody on your team like that or in your room, it helps you. If I'm down one day, he picks me up. If he's down one day, I try to pick him up. But we're there for each other. We're there for each other. It's more of a brotherhood thing we got going on."
With Elliott firmly entrenched as the Cowboys' starting running back as long as he can avoid further off-field troubles, Smith will have to continue to battle for playing time in order to see the field on a regular basis in 2018. Having likely performed well enough in 2017 to at least solidify his roster spot for next season, though, Smith said his primary goal is to help the Cowboys have as much team success as possible.
"I want to go out there and compete for a Super Bowl," Smith said. "This whole offseason, going into next year, that's what I'm all about. That's what the Dallas Cowboys are all about. We're just going to rest up and just get back to grinding, ready to compete next year."
Despite the way things ended at Ohio State, Smith says he still tries to get back to Columbus when he can; his younger brother, Rondale, is currently a running back at Westerville North High School. Rod said he still watches Ohio State games on a regular basis, and keeps in touch with many of his former Buckeye teammates through text messages and social media.
"A lot of guys that was freshmen when I was a senior, they're seniors now," Smith said. "So it's good to see them grow up and getting ready to start this next chapter in their lives."
Smith said it is exciting to watch Ohio State's current stable of running backs, led by J.K. Dobbins and Mike Weber, continue to keep the Buckeyes' tradition at that position strong, and he expects them to have professional football careers of their own.
"You always look at your old position group and you see who's going to be the next, who's going to be this, and for the most part, the stuff that I've watched, they handle their own," Smith said. "They've definitely got the NFL in their future."
Drawing from his own experience at Ohio State, however, he said his advice to the current Buckeyes would be to "stay off the bad list."
"There's a lot of stuff you can get side-tracked in this world … you got to understand and know what you're trying to accomplish in life," Smith said. "Keep hitting them books, and whenever your time comes, when it comes, take advantage."