That game was an absolute roller coaster.
For a solid 97 percent of the game, I thought Ohio State was cooked. But then when Musa Jallow tied it and Ohio State got rights to the last shot after a turnover, I convinced myself they were actually going to do it.
But let me tell you, an airballed would-be game-winner snapped me back into reality real quick.
In my humblest of opinions, I think the Buckeyes should try to score more than 20 points in the first half against Indiana, because the whole "refuse to make a shot in the first 10 minutes" thing hasn't really yielded fantastic results.
ICYMI
Word of the Day: Vagary.
 SECRET SOCIETY OF SUPER CFB FRIENDS. As an extremely online full-time writer of sports words, I like to think myself fairly well-versed in my knowledge college football things.
But somehow, I had absolutely no idea the NCAA secretly assembles a squad of about 30 of the top upcoming draft-eligible players for an invite-only symposium at the NFL combine.
From Adam Rittenburg of ESPN:
Did anyone spot Tua, Fromm, Taylor, Delpit and Etienne around town? Probably not. Did they know the NCAA brings in a group of top college players to this event every year? It's unlikely.

It's also by design. The NCAA's Elite Football Symposium, launched in 2017, provides high-profile college players information they need for the NFL transition, while shielding them from the combine spotlight. Held at NCAA headquarters, located several hundred yards from the hub of combine activity, the event puts players through three days of meetings about agents, money management, NFL contracts, scouting, social media and branding, and other topics.

...

Players are advised to not venture far from their hotel. They are asked to stay off social media, and to not wear team-issued gear when attending combine workouts at Lucas Oil Stadium. Most didn't even visit their ex-teammates participating in the combine.

...

Although some players know about the program from teammates who participated, others have little knowledge. "I had no clue what it was or what it was about," said Michigan quarterback Shea Patterson, who attended the 2018 symposium.
The secrecy around this is fascinatingly absurd to me. I swear the NCAA picks the most random things to throw enormous amounts of effort behind. But honestly, as long as they're going to do it, I wish they'd go all in on the secrecy and make each player wear a costume reminiscent of The Masked Singer every time they leave their hotel that weekend.
The full list of attendees is never public – because God forbid, right? – but we know from Ohio State's Twitter account that Chase Young and J.K. Dobbins attended this year's edition. And Dobbins gave our Dan Hope an extremely enlightening quote describing his experience:
"Just NFL things and combine things and stuff like that. Just some financial stuff."
There you have it.
 TOWEL GANG OR DIE. During his four years at Ohio State, Joey Lane scored just 33 more points than I did, but he's leaving as one of the most beloved and appreciated players in recent memory.
It's because for four years, he's shown nothing but love and commitment to his teammates, his coaches and his university. And also, he's worked his absolute ass off, knowing well the work would never be rewarded with meaningful playing time.
You rarely saw him on the court, but he had a role on the team, and he was damn good at it.
From my former roommate Colin Gay of The Lantern:
According to Lane's mother Nancy, one of Joey's former coaches told him, "Know your role and be the best at it you can be."

From that moment forward, Lane embraced that role.

Morphing into whatever opponent the Buckeyes will next see, he began to lead the scout team — preparing the team for its upcoming opponent in practice and allowing him the opportunity to get out of his shell, shooting really deep shots or even posting up in the paint.

"Throughout my four years, I've been Denzel Valentine, I've been Carsen Edwards, I've been anyone that you can imagine," Lane said.

...

When he recruits, Lane said he does not try and push Ohio State on the high school players. Instead, he said he talks about how special of a place he thinks Ohio State is.

"I love Ohio State. I would sell my soul for Ohio State, and that's what I try and do to these kids," Lane said.

Holtmann said Lane has been a tremendous recruiter for the Buckeyes, calling him a great advocate for the university, having the ability to successfully convey the message of the program to recruits and their families.
In the piece – which you should all read in its entirety (Colin isn't paying me to say that but I certainly wouldn't be opposed) – Joey said he grew up wanting to be like Aaron Craft.
It's crazy to think that there's probably some kid sitting at the end of the bench, but after reading that I'd say there's a good chance Craft would want his newborn son to be like Joey. And I'm not just talking about his jump shot.
 A NEW DAY. Ryan Day's first role is to win like, 90 percent of his football games. He's well aware of that.
But Day's also stepping into the role where he's essentially the head of a very large family. And as someone whose entire life revolves around family, he's ready for that as well.
From Todd Jones of Alumni Magazine:
"I understand what the expectations are, and I wouldn't want it any other way," says Day, who was named Meyer's successor December 4 and officially took over January 2. "We have the resources that we need. We have the people. You feel the support and how they're going to do everything that they can to help the program do well and succeed. Now you just go about the business of building the atmosphere that you want as a leader and lean on the support and resources that we have here."

Meyer has repeatedly called Day an elite coach because his football acumen is complemented by astute leadership and an engaging personality. Those traits impressed athletic director Gene Smith when Day went 3–0 as interim head coach at the start of the 2018 season while Meyer served a three-game suspension. His holistic coaching style left a positive mark on Dwayne Haskins that goes beyond the records the quarterback racked up last season while becoming a Heisman Trophy finalist under Day's tutelage.

"He does a great job of making you feel like you're a part of his family," says Haskins, who is entering this year's NFL draft. "You feel like you're his son."

...

Day says he's been preparing to be a head coach all his life, a confident statement that doesn't come off as cocky. His profile is higher, but his day-to-day challenge is fundamental: Cultivate a familial atmosphere that will help top talent flourish.

"The connection of the players and staff is really important," Day says. "It's like anything else in life, if you love the people you're working with, then you'll do anything for them. If people believe that you'll help them, then they'll give you the best version of themselves. I want people to walk through the doors of the football facility with excitement every day and come to work with energy knowing that there's a great relationship here between the players and the coaches, and between the coaches and the coaches, and that this is an environment where we love these kids."
I've been Team Ryan Day since I first talked to him a little over two years ago, back when most people on the beat still thought Kevin Wilson was the primary offensive coordinator and it was really easy to talk to Day in a small group.
The way he talked, it was extremely clear that he was an offensive genius, an excellent teacher, and an extremely likable and kind human. I knew immediately he was going to be a fantastic head coach some day, I just could not imagine a scenario where it would be at Ohio State so soon. I'm cautiously stoked it worked out how it did.
(As an aside, I get a very similar vibe from Jeff Hafley, but if his first head coaching job is at Ohio State, then something has gone very, very wrong somewhere) 
 BRACKETEERING. While I remain a Joe Lunardi loyalist, I've switched my official NCAA bracket prognosticating terminology from ESPN's "Bracketology" to Fox Sports' "Bracketeering," simply because it sounds awesome.
But again, sticking with my guy Lunardi, you'll probably see Ohio State's NCAA Tournament chances as either pretty grim or fairly bright, and that outlook depends almost entirely on your perceptions of Indiana basketball.
Because here's what Lunardi's got for us over at ESPN: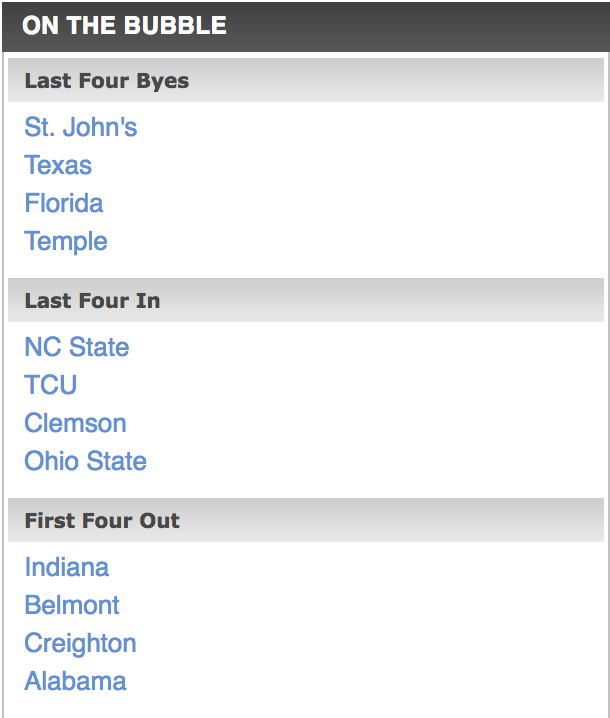 So basically, Thursday afternoon's contest is a play-in game for both teams, especially since NC State and Clemson play each other in the first round too.
If Kaleb Wesson is playing, give me Chris Holtmann's squad by 3 on a neutral court. Get dumped then, Archie Miller. If Wesson's not playing, well then Ahrens help us all.
My honest take is that it's absolutely outrageous that Belmont isn't going to make the tournament but some combination of Indiana, Ohio State, NC State and Clemson will. The Fighting Audio Engineers went 26-5 and won a regular season conference title and they're getting left out in favor of some teams backing their way in the field to lose in the first round.
If I had to pick one team of that bunch to make an Elite 8 run, I'm riding with the team that averages 87 points a game, not the one that's failed to score more than 20 points in the first half in three-straight games.
 BASKETBUCKS GONE PRO. I'm going to continue this thing where I offset emotionally challenging information about Ohio State basketball with some good things about former Buckeye basketball players.
And this time, it isn't even limited to the NBA!
First off, Mike Conley is probably the NBA Player of the Week, because I have no idea who else it would be.
.@mconley11, Week of March 4-10:

3-0 record (Portland, Utah, Orlando)
31.3 points (15.3 4Q PPG)
.574 FG / .556 3P / .786 FT
3.7 rebounds
7.7 assists
1.33 steals pic.twitter.com/2UleweoKFX

— Grizzlies PR (@GrizzliesPR) March 11, 2019
And late in the year, Keita Bates-Diop is finally getting some playing time, and doing some good things with it.
KBD has more points in the past two games (30) than he had the rest of the season combined (17). https://t.co/oG4m5aEm9V

— Colin Hass-Hill (@chasshill) March 11, 2019
And now we go to Belgium, where Jae'Sean Tate and Trevor Thompson took home some hardware in Antwerp.
Got me one... @antwerpgiants #cupchamp ...won not done pic.twitter.com/6uzZHFqdhc

— O_T8TE (@o_tate_) March 10, 2019
Just wait until the Buckeyes mess around and win the Big Ten Title. Don't let Justin Ahrens get hot. Don't let him.
 LINK LOCKER. Man almost swallowed by a whale can't wait to get back in water... Doctor delivers end-of-life news via robot, leaving family frustrated... Museums confront their crowded storage spaces filled with works that may never be shown... Plans for a monument to Silicon Valley, in Silicon Valley... The story behind the world's first movie produced by a blind person..