Chris Holtmann didn't need to think twice.
Late in the second half of Ohio State's game against Wisconsin on Sunday, an official approached him and asked him to address the crowd at the Schottenstein Center. A fan had thrown a small basketball onto the court, and with the game tightening, the referees wanted to ensure that wouldn't happen again.
"So I said, 'If you're asking me to get on the microphone, I certainly will,'" Holtmann said after the Buckeyes' 73-67 loss to the Badgers.
Holtmann did what the official asked, and then added a bit of his own flair.
"Please keep everything off the court, but keep yelling loud," Holtmann told the crowd at the Schottenstein Center, yelling into the public-address announcer's microphone.
Everyone standing in the arena obliged.
With the crowd behind them, the Buckeyes completed a 27-5 run to end regulation, coming back from a 22-point deficit with 7:14 remaining to tie the game. C.J. Jackson, who led the team with 22 points, had a chance to win the game, but missed a 3-pointer with three seconds remaining, sending the game to overtime.
Holtmann said he entrusted the senior point guard with the last shot due to his aggression and confidence in the second half.
"He had a pretty clean look there on the dribble-up 3," Holtmann said. "I would've loved for that to go down."
Wisconsin pulled away in overtime, eventually winning by six points and holding Ohio State to just four points in the five-minute period.
In a sense, "good losses" don't exist. Ohio State desperately needs another win to secure a berth into the NCAA tournament, and a victory against No. 21 Wisconsin would have punctuated the team's resume that has dwindled the past couple months. Holtmann would certainly prefer to avoid losing under any circumstance.
"I mean, losing is brutal," Holtmann said. "It's miserable. It's miserable. You don't sleep. You don't eat."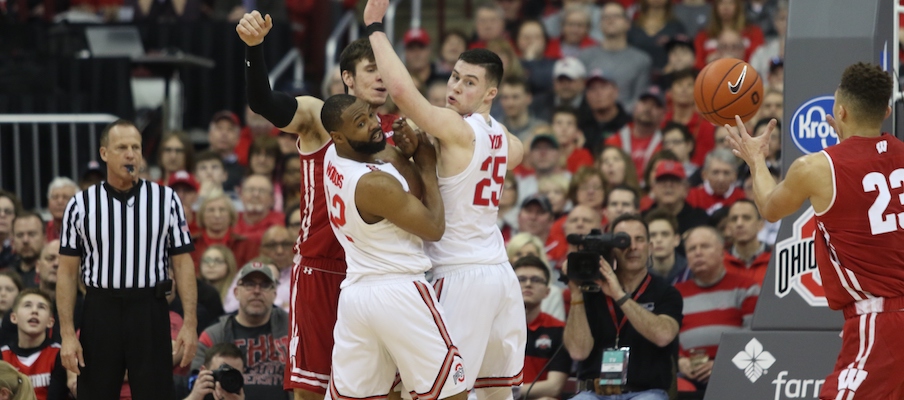 But the fight Ohio State showed in the final seven minutes had been a long time coming.
Without the suspended Kaleb Wesson, the team looked hopeless in the prior two games, limping through a pair of blowout losses without showing any semblance of answers on either side of the court, but especially on offense.
The Buckeyes had a significant victory by beating Iowa by 20 points a couple weeks ago in one of their best performances the entire season. Since then, seemingly nothing positive has happened. Purdue stomped Ohio State, winning by 35 points in a game that appeared over well before the first half ended. The Buckeyes then headed to Evanston, Illinois, where Northwestern, the lowest seed in the Big Ten Tournament, beat them by 18 points.
"Contrary to maybe what other people thought, I thought we showed some fight at Northwestern," Holtmann said. "I did not think that at Purdue. I did not. But I thought we did at Northwestern, particularly in the second half, I really did. I left that saying, 'Hey, we showed a little spirit.' I did not think that at all at Purdue. I thought it was better against Northwestern, and then I thought today being at home and having some energy behind you helped us."
In the final seven minutes of Sunday's game, Ohio State caught fire, hitting 11-of-18 shots.
During the late-game run to tie the game, Jackson scored 12 of his 22 points and Keyshawn Woods had seven of his nine points. Both have maneuvered their way through plenty of struggles this season, but Holtmann turned to them to get the game back in Ohio State's favor.
"What I said was we were just going to roll with our two seniors, really, two of our three seniors, and kind of see where that took us," Holtmann said. "And I thought those guys spearheaded our comeback in a lot of ways."
Wisconsin made just 3-of-14 shots in the final three minutes of regulation.
"I think that just goes to show when we are clicking offensively and defensively what we can be," Jackson said.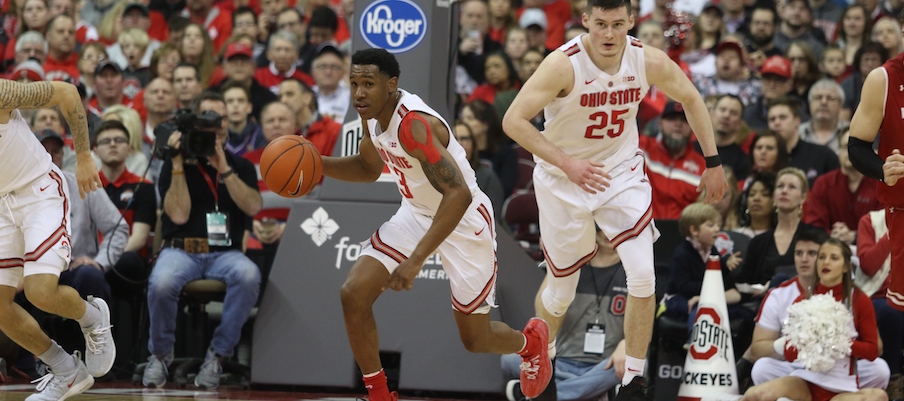 The team's problem, of course, comes when a 27-5 run in the final seven minutes of the game doesn't lead to a win.
The Ohio State team that put together such a splendid seven minutes looked nothing like the group that got smoked in West Lafayette, Indiana, and Evanston, Illinois. But no one needs to go back that far to see the lackluster version of the Buckeyes.
Ohio State opened Sunday's game with 11 misses in a row, not making a shot until Duane Washington Jr. scored the first points after five minutes and 59 minutes of action. It entered halftime trailing, 26-16, and began the second half without much energy.
Wisconsin had an 18-5 run to open the second half, extending its lead to 23 points just four minutes into the half.
"The biggest thing was just effort," Jackson said. "Nothing offensively or X's and O's-wise what we were doing wrong. We just went out there and had no effort. Against a team like that, a really good team playing for something, it's not going to get it done."
Holtmann certainly wasn't pleased, either.
"I was really disappointed with how we came out in the second half, and I made that clear in the timeout," Holtmann said. "I just was really disappointed with our body language, and some of that was our youth, and some of that was just, I don't know. But man did they show some serious guts there in the second half."
If Ohio State didn't need those guts that Holtmann noted, it might have won the game. But as has been the case with this team the entire season, the Buckeyes experienced one of their frequent game-changing ruts.
Kaleb Wesson might be back for the Big Ten tournament; Holtmann indicated he'd have the answer by Tuesday. But whether he does or does not return for Thursday's game against Indiana (12:30 p.m., BTN), Ohio State needs to play like it did in the final seven minutes on Sunday to have a chance to advance.
"The reality is we just have to find a way to play well," Holtmann said. "We did that for stretches against a good team. We really did. We're going to have to figure out a way to do that more and longer and see where that takes us.
"If we're not good enough, we're not good enough. But we're going to fight like hell to get there."