Chris Chugunov thought about walking away from football after leaving West Virginia last spring.
Describing his transfer process as "complicated," Chugunov hadn't signed with a new school as last summer progressed and the season approached, and he considered whether it was time to move on from the sport even though he still had two remaining seasons of collegiate eligibility.
That all changed, however, when Chugunov received a call from Ryan Day, then Ohio State's offensive coordinator and quarterbacks coach.
Suddenly, Chugunov had the opportunity to join one of the top college football programs in the country, and he couldn't pass that up.
Chugunov, who joined the Buckeyes just weeks before the start of the season last August, has no delusions about where he stands on Ohio State's quarterback depth chart. While Justin Fields and Matthew Baldwin are vying for the starting quarterback job, Chugunov is in line to be the third-string quarterback – even though he is a fifth-year senior while Fields and Baldwin are both second-year players.
He's OK with that.
"Just being here and playing at this level, you have to compete every day, but that's not something I think about often," Chugunov said Friday while meeting with the media for the first time since his arrival at Ohio State. "Honestly, when they call my name and say, 'Hey, Chugs, hop in, take some reps,' I'm just like, 'All right, let's just play ball.' That's pretty much the only thing that really goes through my mind."
So why did Chugunov transfer to Ohio State, knowing that he would likely never see significant playing time for the Buckeyes? For one, he wanted to have the opportunity to play alongside some of the best players in college football, while he also built what he describes as a "really good relationship" with Day, who is now the Buckeyes' head coach.
Chugunov also made his decision to Ohio State because of the academic opportunities at the university. He is currently pursuing a master's degree in sports management, and is considering the possibility of going to law school – he is scheduled to take the LSAT later this month – with an eye toward becoming an attorney or sports agent.
"I came here for a lot of reasons, both on the field and off the field," Chugunov said. "The relationship I had with Coach Day, the opportunities that Ohio State provides for off the field, Real Life Wednesdays, the internships, obviously the master's program I'm in. And I just like throwing the football."
Chugunov got one brief opportunity to play for the Buckeyes in their second game of last season against Rutgers. With Ohio State winning big and Dwayne Haskins already pulled from the game, Chugunov checked into the game for four snaps after a hard hit temporarily knocked Tate Martell out of the game. Given that he had only been on the team for less than a month at that point, Chugunov acknowledged that he wasn't expecting to have the opportunity to play at all.
"It was a cool experience I didn't expect to really be able to do last season, with the position I was in having showed up here at the end of camp and all that stuff," Chugunov said. "But it was awesome."
"I came here for a lot of reasons, both on the field and off the field." – Chris Chugunov on his decision to transfer to Ohio State
Even though he now has a season of experience with the Buckeyes under his belt, Chugunov isn't likely to see much more playing time than that this season unless Fields or Baldwin is injured.
Still, Chugunov is an important player on the Buckeyes' quarterback depth chart, given that they currently have only three scholarship quarterbacks and four total quarterbacks, with walk-on Danny Vanatsky rounding out the roster. Cardale Jones was in line to be Ohio State's third-string quarterback in 2014 before Braxton Miller and J.T. Barrett went down with injuries, so it's certainly possible a situation could arise where the Buckeyes need Chugunov to play.
Chugunov is the only quarterback on Ohio State's roster who has ever started a collegiate game – he appeared in five games for West Virginia in 2017, starting two – and the graduate transfer is the Buckeyes' only upperclassman at the position.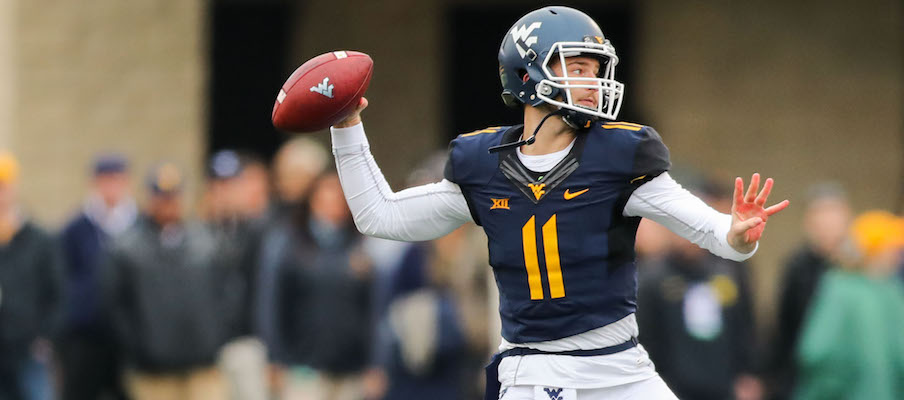 Chugunov said he and Day have talked about his importance to the team's quarterback depth, so he knows he needs to be ready to play just in case.
"I've sat down with Coach Day multiple times, and we've talked about the position I'm in and the value it has for the team and the role I play, so I've embraced it and I just come out here to work out every day," Chugunov said.
Even if no playing time comes Chugunov's way this season, however, he will be grateful that he had the opportunity to be part of the Ohio State football program while using his scholarship to position himself for his post-collegiate future.
"Playing with some of the best players in the country, working on my education off the field and working on my craft on the field, it's been awesome. It's been a great experience," Chugunov said. "I'm going to compete every day, and also excel off the field and set myself up for when football's over. But while I'm here, I just do whatever they ask me to do."