A loss to Rutgers was not something I had in mind for Ohio State's 2018-19 Final Four run, but I guess we needed to add some drama somewhere.
ICYMI
Word of the Day: Balter.
 RUTHLESS RYAN. I think it's safe to say Ryan Day has had an eventful first few days on the job.
Ryan Day has been in charge of the Ohio State football program for less than a week.

With the way hes gone right after Michigan so far, he seems like a more ruthless version of Urban Meyer. https://t.co/BG5S6PZ8Jn

— Tom Orr (@TomOrr4) January 8, 2019
I have a friend who was concerned that Ryan Day was too kind to be a successful head coach at a place like Ohio State. He was worried that he wouldn't make tough personnel decisions and such because he comes off as so nice.
He's been on the job for less than a week and he's already axed almost his entire defensive staff, poached two coaches from his arch rival, and brought in a five-star quarterback to compete against a guy who's been there for more than two seasons.
I don't think that's going to be an issue.
 DAMON ARNETTE'S DECISION. We're still waiting on NFL decisions from Ohio State's corners Damon Arnette and Kendall Sheffield.
To be honest, I've been working under the assumption that both were NFL bound, but this Tweet from Cris Carter has me second-guessing about Arnette.
Waiting on @da3_ysn NFL decision

— Cris Carter (@criscarter80) January 9, 2019
This could be nothing, but K.J. Hill specifically mentioned Cris Carter in his decision to come back, so I'm thinking there's a chance Carter's pushing Arnette in that direction as well.
There's also a strong chance they're waiting to see who the cornerbacks coach will be.
I know this isn't a popular #take in Buckeyeland, but I like Arnette. I think he's solid, versatile, has a ton of experience and is one of the best tackling cornerbacks on the roster. I'd welcome him back.
 BUCKEYES OWN BOWLS. If it's seemed to you that the Buckeyes always play in a meaningful, top-tier bowl game, it's probably because they do.
Since the start of the BCS system, the Buckeyes have made a BCS or a New Years Six bowl game an absurd 16 times – more than any other team.
And one of the just four times they didn't was because they were on a bowl ban in a season where they went undefeated and would have been the Big Ten Champion.
But they didn't just make it to those bowls, they dominated once they got there.
Reddit user CFB Brickmason put together a chart illustrating appearances, win and win percentage for BCS and New Year's Six bowl games. And as you can see, Ohio State sits alone at the top, with Bama in a distant second as the only program that really even comes close.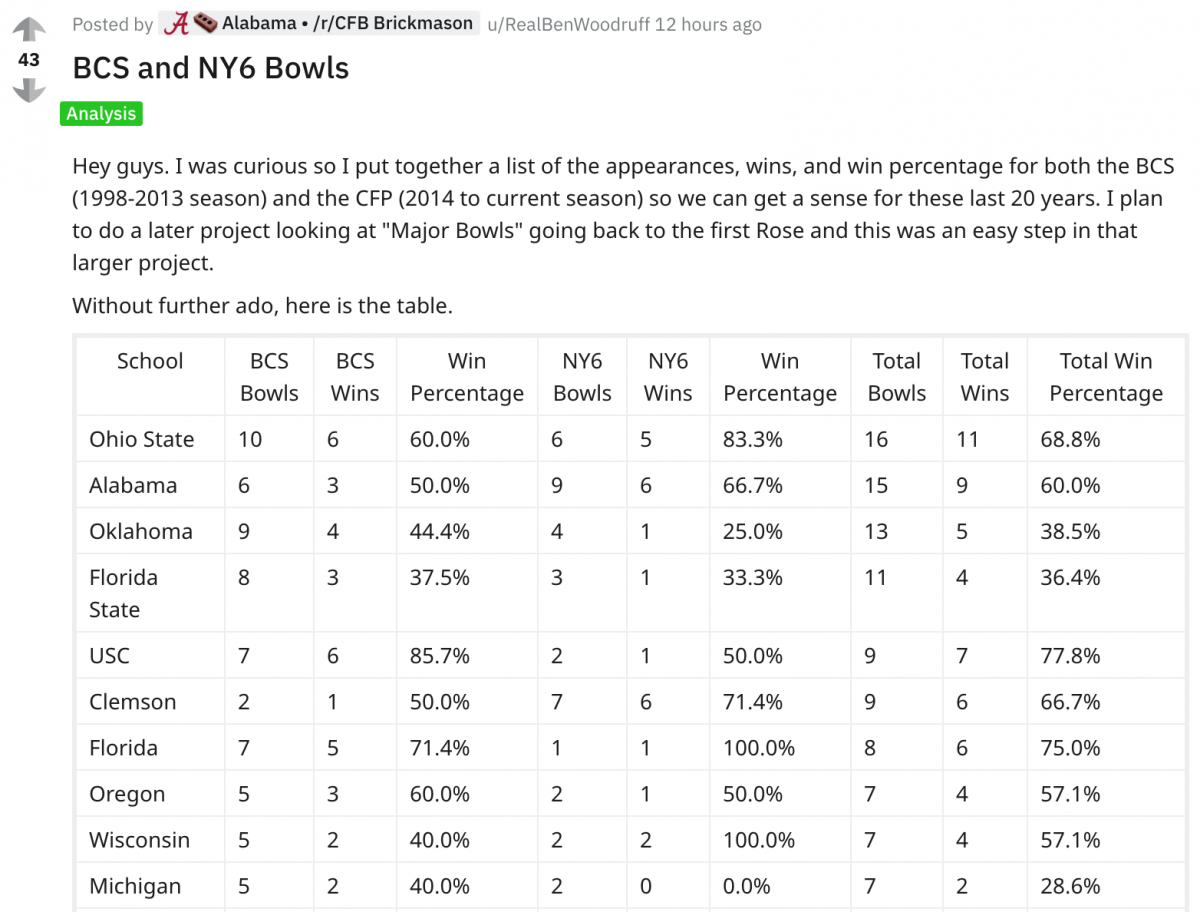 I'm going to tattoo this chart to my left pec to flash to Buckeye fans every time I hear someone complain that the team isn't good enough. Ohio State has been literally the most dominant and consistent team of the last 20 years by a pretty comfortable margin. Calm down and enjoy it.
That said, I ain't going to refuse a few more nattys if Ryan Day wants to deliver.
 TIERED TARGETING COMING? I'm pleased to inform you that the most obvious improvement to the targeting rule has the support of the American Football Coaches Association.
From Adam Rittenberg of ESPN:
Todd Berry, the executive director of the American Football Coaches Association, said Wednesday that the FBS coaches in their annual meeting unanimously supported a model that would assign Targeting 1 or Targeting 2 to a player who makes forcible contact with the crown of his helmet. Targeting 1 fouls would result in a 15-yard penalty but no ejection or suspension. Targeting 2 fouls would result in an automatic ejection and potential suspension.

...

Berry referred to flagrant fouls in basketball, where fouls are split into Flagrant 1 and Flagrant 2, as a potential model for college football's targeting rule.

"Targeting 1 would carry a 15-yard penalty, meaning that there was no malicious intent here," Berry said. "We recognize this was not something where they're trying to hurt or maim someone else. Targeting 2 would be that of malicious intent, the one we're all trying to get rid of. And, to further that, our coaches have suggested if you have multiple Targeting 2 penalties over the course of the year, we would like to see that individual be even more severely punished than a one-game suspension. We need to eliminate those people from the game if we can't eliminate the act."

...

"I don't think we're getting light on targeting," Berry said. "If anything, we're becoming harsher in a sense because we're asking for those ones that we know are targeting. We're saying, 'Hey, we want these people eliminated for longer periods of time until they can learn, and if they can't learn, they need to be eliminated from the game.'"
I think it's hilarious that it took this long to come up with this when there's a model for it in basically every other sport. Yellow and red cards in soccer, the flagrant fouls in basketball, leveled penalties is hockey, etc.
In any case, I'm glad they're finally talking about the change. I've heard one opinion that this is just going to lead to more frustration of refs botching the review and ejecting players that don't need to be ejected.
That's absolutely going to happen, but my counterpoint is that if the rule was left as is, those players would have been gone anyway, so it definitely wouldn't make things any worse.
 COACHES RANK BUCKS 3. The coaches poll is no better than the second-best completely irrelevant poll, but it's at least a little bit noteworthy that it has the Buckeyes at No. 3 behind only the two teams that played for the national title.
Here's how the whole thing shakes out.
| RANK | TEAM | RECORD | POINTS |
| --- | --- | --- | --- |
| 1 | Clemson | 15-0 | 1600 |
| 2 | Alabama | 14-1 | 1536 |
| 3 | Ohio State | 13-1 | 1437 |
| 4 | Oklahoma | 12-2 | 1415 |
| 5 | Notre Dame | 12-1 | 1316 |
| 6 | Florida | 10-3 | 1192 |
| 7 | Louisiana State | 10-3 | 1186 |
| 8 | Georgia | 11-3 | 1147 |
| 9 | Texas | 10-4 | 1093 |
| 10 | Washington State | 11-2 | 1007 |
| 11 | Kentucky | 10-3 | 945 |
| 12 | Central Florida | 12-1 | 876 |
| 13 | Washington | 10-4 | 807 |
| 14 | Michigan | 10-3 | 780 |
| 15 | Syracuse | 10-3 | 720 |
| 16 | Texas A&M | 9-4 | 625 |
| 17 | Penn State | 9-4 | 581 |
| 18 | Fresno State | 12-2 | 497 |
| 19 | Northwestern | 9-5 | 375 |
| 20 | Army | 11-2 | 333 |
| 21 | Utah State | 11-2 | 252 |
| 22 | West Virginia | 8-4 | 235 |
| 23 | Cincinnati | 11-2 | 186 |
| 24 | Boise State | 10-3 | 165 |
| 25 | Mississippi State | – | 107 |
I'm not about to suggest that this poll really matters on its own, but this and the AP Poll are probably good indicators about the general perception regarding the Buckeyes.
And in an era where playoff teams are picked almost completely on perception, it's good to be in the public's good graces.
 KYLER MURRAY ENTERING THE NFL DRAFT? When I watched Oklahoma lose to Alabama in the College Football Playoff semifinal, I assumed I was watching Kyler Murray's last football game ever.
After all, he has a guaranteed $4.6 million waiting for him if he decides to play baseball, which is a safer sport he can play for longer with much less stress on his body.
But it's looking like that may not be the case.
From Susan Slusser of the San Francisco Chronicle:
The A's expect Heisman Trophy winner Kyler Murray, the team's top pick in June, to declare for the NFL draft Sunday, multiple sources told The Chronicle on Wednesday.

Declaring for the draft does not guarantee that Murray, an outfielder whom Oakland selected ninth overall, will decide to reject his $4.66 million deal with the A's outright, but it certainly increases the chances that Oklahoma's quarterback will decide to go pro in football rather than baseball.

According to a source, Murray declaring for the draft is not considered to be contractually significant.

Should Murray, 21, opt to enter the NFL draft, the real question will come Feb. 15 when A's position players report to Mesa, Ariz. — Murray has an invite to big-league camp. He still could opt to be in the A's camp, but the NFL scouting combine begins Feb. 26 and any high-round hopeful would be expected to attend. That's when Murray would have to make a decision between football and baseball. One source told The Chronicle that Murray, a possible first-round NFL pick, is leaning toward football.
Hey, maybe he just genuinely likes football better. Tough to blame him, I know which sport I prefer to watch.
And who am I to tell someone how and where to make their millions of dollars?
 LINK LOCKER. Meet the short-order cooks so good Waffle House officially calls them "Rockstars"... How cartographers for the U.S. Military inadvertently created a house of horrors in South Africa... Scammers are tricking people into buying puppies that don't exist... Paris' first nudist diner is closing its doors... Teens allegedly start fight with 28-year-old mother after being told they're too old for McDonald's PlayPlace...