I'm happy to report that Ohio State's newest coach appears to be a great quote.
#OKState OC Mike Yurcich on why he grew a beard: "It turns my wife on."
Reporter: "That's a good reason."
Yurcich: "It's the best reason."

— Nathan Ruiz (@NathanSRuiz) August 25, 2016
ICYMI
Word of the Day: Susurrus.
 AL WASHINGTON TO OHIO STATE? On his first official day as Ohio State head coach, Ryan Day made his first hire, bringing in Mike Yurcich from Oklahoma State as passing game coordinator and quarterbacks coach.
It's a move I heartily endorse, but Day ain't done forming his staff yet, and it's looking like he might be stealing from the folks up north for his next addition.
Weeks to follow could go a long way in determining direction of #OhioState #Michigan post-Urban Meyer. While it looks like Day is trying to improve staff, Harbaugh seems content w/ status quo...And he has assistant OSU might be interested in (and is currently "liking" OSU tweets)

— Keith Britton (@KeithBritton86) January 2, 2019
This is the "like" the Tweet was referring to: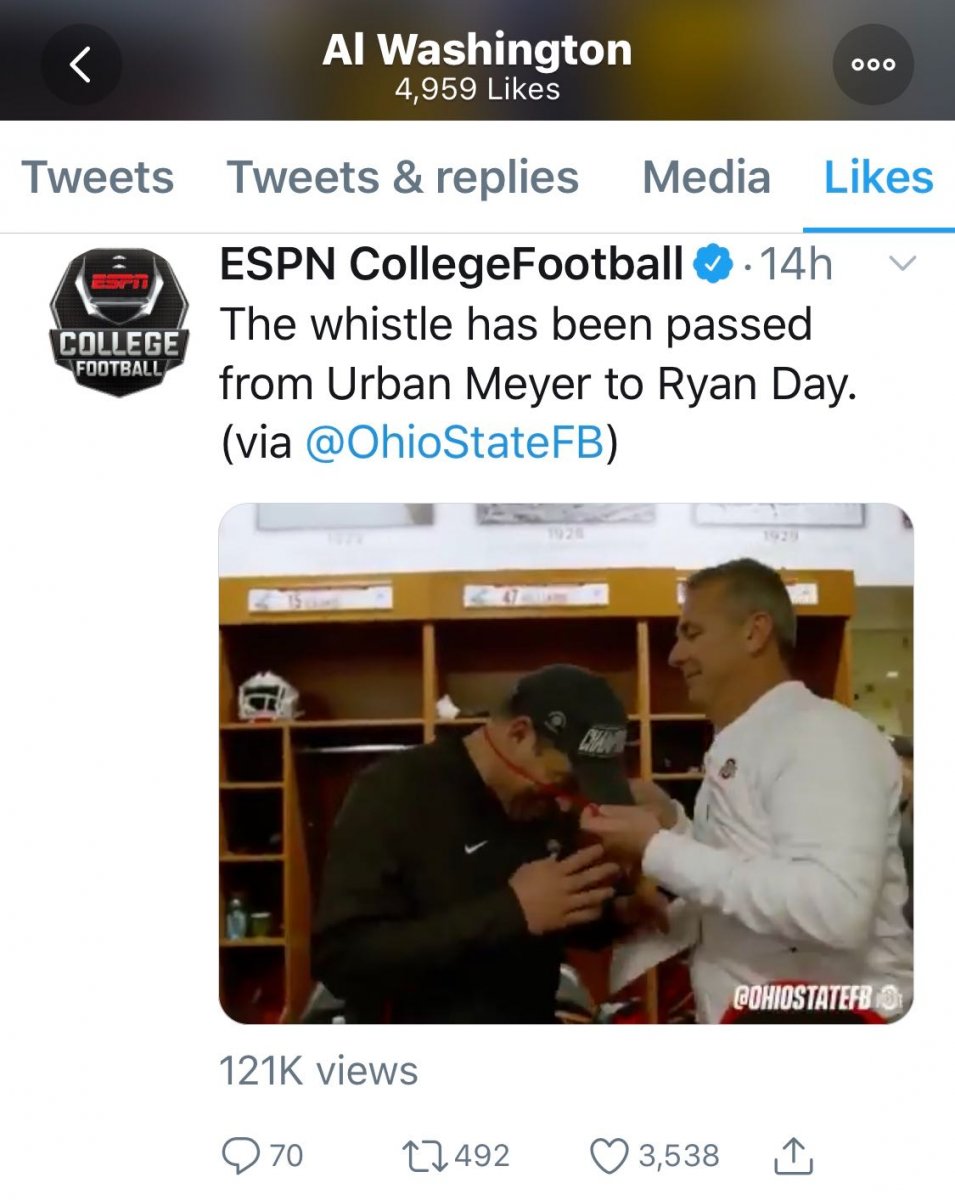 So best-case scenario for Michigan, one of their coaches is out here liking Tweets about a dude who went 7-0 against their team handing things off to a dude who engineered the offense that dropped 62 on them.
If it does happen, Washington would be a fantastic addition, especially as a recruiter, and it would make complete sense, given that he's from Columbus and worked with Day at Boston College.
Plus, I'm all aboard any move that simultaneously makes Ohio State better and Michigan worse.
 BELICHICK PRAISES URBAN. Noted Urban Meyer fan Bill Belichick had some pleasant things to say about his pal following Meyer's final game at Ohio State.
From NBCSports.com:
Belichick hasn't drafted a player coached by Meyer since 2014, when he dipped into the pool of available Florida Gators twice to take first-round defensive lineman Dominique Easley and sixth-round offensive lineman Jon Halapio. 

But on Wednesday, one day after Meyer's final game coaching Ohio State -- Meyer is stepping down, citing health reasons -- Belichick praised the Buckeyes boss.

"Go back a long way with Urban," Belichick said. "Talk to him multiple times every season. Have great respect and appreciation for what he's done -- the national championships and the programs that he's built . . .

"Great man. Has had tremendous success. Has been a good friend. Have great admiration for what he's done."
Belichick might have missed his chance to take over for Meyer, but I'm sure Ryan Day could make room for him on the staff.
 IT'S (ALMOST) A FAKE! Count me as one of the many, many people who had no idea what Washington was thinking when they decided to punt the ball down 11 with under five minutes left to play.
Turns out, Washington didn't really want to punt.
On his decision to punt while down 28-17 and under four to play, Petersen hinted he had a fake called, but Ohio State's return team was lined up well to stop it. pic.twitter.com/22M55xL1Yt

— Eleven Warriors (@11W) January 2, 2019
I mean, sure, but maybe Ohio State was totally prepared for the fake punt because actually punting it was just an atrocious decision if you were playing to win the game.
It's not like the Buckeyes had some fantastic intel or were tipped off by the formation, they – along with everyone else watching the game – just couldn't believe Washington was dumb enough to actually punt it away.
Though, to be fair, Washington did force Ohio State to punt it right back a few plays later.
 FIND YOURSELF IN THE ROSE BOWL. If by some chance you made the pilgrimage to the Rose Bowl this week and forgot to take photographs to prove it, this tool has got you covered.
Just find your seat and zoom in on your face, with remarkable clarity and precision.
Even if you weren't there and have nobody to find, it's still an amazing 365-degree look at one of the most iconic venues in sports.
 ONE OF THESE THINGS IS NOT LIKE THE OTHER. This seems like a perfectly normal photograph with nothing terribly out-of-the-ordinary going on at all.
Texas came out strong in the 1st half

Longhorns lead Bulldogs, 20-7 pic.twitter.com/imDlgGprR6

— Bleacher Report CFB (@BR_CFB) January 2, 2019
But upon closer inspection, peep number 8.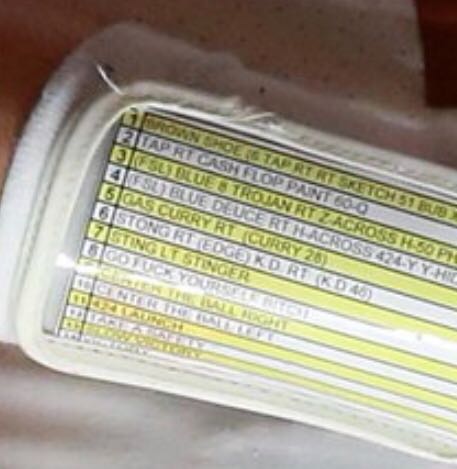 I'm not sure what that play was, but I'm positive Georgia didn't stop it.
 LINK LOCKER. In Mexico, a mayor is killed within hours of taking office... Why gout is making a comeback... The grocery store where stars are born... Why airlines overbook flights... How fake food became a $90 million industry in Japan...