PASADENA, Calif. – Mike Weber stood alongside his Ohio State's teammates to sing "Carmen Ohio" with a backward-turned Cotton Bowl championship hat last year. His left arm around Liam McCullough on the farthest right edge of the team, he didn't belt out a single word of the song while looking into the stands. He had tears falling down his cheeks.
Less than a half hour later, with red eyes and a sullen face, Weber sat in his locker with his pads still on and said he didn't know what was coming next. He could leave for the NFL draft, but he had accrued just 626 rushing yards during an injury plagued redshirt sophomore campaign that left him disappointed and unsettled. Weber, who had just five rushes for 18 yards in the bowl game, didn't know what he was going to do.
The post-Rose Bowl victory version of Weber had no uncertainty. He had made his decision to forgo his final year of eligibility and enter the 2019 NFL draft a long, long time ago.
Weber bounced around the field after Ohio State's 28-23 victory against Washington with a gigantic smile on his face. Even when most of the team had already headed back to the locker room and he began to walk that way with Robert Landers, he peeked back toward the stage, saw a couple teammates and raced back. He didn't want the moment to end.
"I kind of knew it would be my last year at the beginning of the season," Weber said in the locker room after the game. "What made me do it was just a lot of toll on my body, want to help my family in any way I can. I feel like it's the right time right now. I feel like it was a good decision."
No regrets. No indecisiveness this time. He announced the Rose Bowl would be his last game in college on Dec. 16, but he had no intentions of skipping it. He wanted to play. Turns out it was a good decision. He impressed onlookers, putting together one of his better performances of the season.
Entering the Rose Bowl, Weber needed 142 yards for his second career 1,000-yard season.
He took his first carry of the game nine yards, picking up a first down. His second carry went for 14 yards and a first down. Third carry? Ten yards and a first down. His fourth carry of the game – and of the second drive – came on a 4th-and-1 situation. Naturally, he picked up the first down, once again, this time bouncing it outside and racing down the sidelines for a 19-yard gain that set Ohio State up for its first touchdown of the game.
By the end of the half, Weber had 86 yards on 12 rushes. He wanted to crack the mark, which would have given Ohio State its first pair of 1,000-yard running backs since 1975, when Heisman Trophy-winning Archie Griffin and Pete Johnson achieved the feat.
"I was trying to go for 1,000 yards," Weber said. "The second half, I only got the ball a couple times. I did what I could. I ran it as hard as I could to set up some touchdowns and help my team win. Like I said, it's a great feeling."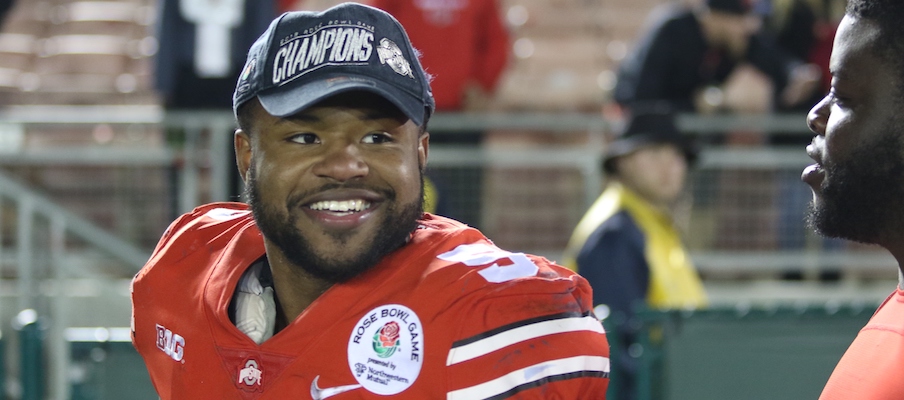 Weber had just one-fourth of his first-half carries in his second half despite his early success, running only three times for 10 yards. He ended the game with 15 rushes for a team-high 96 yards, an average of 6.4 yards per carry.
After the game, Weber said he had two goals in mind: make a statement and win the game. He did both and made some money from NFL teams in the process.
"It's surreal right now," Weber said. "I don't know how to feel right now. I feel good right now. Just thinking about a lot of stuff I've been through being here from beginning to finish, it felt really good."
Weber's up-and-down career began with a redshirt year sitting behind Ezekiel Elliott. The next season, he put together what looked like the beginning of a three-year starter's career, tallying 1,096 yards and becoming Big Ten freshman of the year.
He, along with most other people, anticipated him sliding into an even more important role as a redshirt sophomore. But he battled a hamstring injury early in the season, which allowed J.K. Dobbins to assert himself as a true freshman. Carrying the ball more than five times in just seven games, Weber had 626 yards and scored 10 times, becoming the de-facto red-zone back at times.
Weber returned this season to split carries with Dobbins once again. He racked up 954 yards on 172 rushes and scored five touchdowns, picking up 13-plus carries in eight games.
Tuesday night, everything ended. He knew his career was coming to a close, and he was finally content with that.
"Very bittersweet," Weber said. "Made sure I shook a lot of fans' hands. Played as hard as I could. Did everything I could to leave my mark here, and I hope I did."
Soon after the bowl games in each of his first three seasons at Ohio State, Weber turned his attention to the next year. The next challenges as a Buckeye in the backfield. This time, they don't exist. Urban Meyer and Tony Alford won't be accounting for his every move, ensuring their running back prepares himself for the next season.
Every next move, next step, next workout, will be up to Weber. So, what's next?
"Celebrate with my team, get on the plane tomorrow and start training," Weber said.
He's waited for a chance to make it in the NFL for his entire life. Weber thought it might come last year, but it didn't come to fruition.
The opportunity he's hoped for has finally arrived, and he doesn't want to squander it.
"It's a dream I had as a 5-year old child," Weber said. "Just growing up watching NFL games and making guys my idols, I have a shot to be someone's idol some day."