Holy hell, they've done it.
For the first time in 635 days, the Cleveland Browns have won a football game. And folks, The Land is Alive and those fridges are open.
Cleveland, the @Browns won. The fridges are open. Go celebrate with a Bud Light. Youve earned it. pic.twitter.com/RvjJ0WvpyO

— Bud Light (@budlight) September 21, 2018
OPEN THOSE FRIDGES @BUDLIGHT

— Cleveland Browns (@Browns) September 21, 2018
Shirtless JR has returned

(via @TheRealJRSmith) pic.twitter.com/Oz8eTuOny8

— Bleacher Report (@BleacherReport) September 21, 2018
When they finally open up those bud light fridges. #DillyDilly #Brownswin #budlight pic.twitter.com/AY5t7nHuNJ

— Laces Or Faces (@LacesOrFaces) September 21, 2018
If anybody finds my estranged father, politely return him to his loving cats. They are concerned for his safety.
ICYMI
Word of the Day: Aberration.
 ALL IS FORGIVEN. Around this time last year, Baker Mayfield might have been the most hated man in the state of Ohio after his flag planting stunt.
Now, he's decidedly not.
Mayfield entered the game in the second quarter and led the Browns back from a 14-0 deficit to a 21-17 victory, and back into the good graces of the state of Ohio.
Hey bud-
Bet they forgive you for planting the flag now-
Congrats @bakermayfield #OUDNA

— Lincoln Riley (@LincolnRiley) September 21, 2018
A #take: There was never anything wrong with Baker Mayfield's flag planting. In fact, it was extremely good and exactly what I would want a player on my team to do.
If role were reversed and any given Buckeye did that at Oklahoma, we would have had t-shirts printing before the end of the day.
 GUAPO'S CRAZY DAY. Nobody's ever had a day like Carlos Hyde had yesterday.
Guapo spent the day at the the hospital awaiting the birth of his first child all the way up until game time.
According to a couple of team sources, #Browns RB Carlos Hyde is expecting the birth of his child any minute now. Hes expected to come straight to the stadium from hospital in time to play. Im told labor was induced last night, so a potentially long & joyful day for the Hydes.

— Omar Ruiz (@OmarDRuiz) September 20, 2018
Hyde arrived in time to play, and scored both of the team's two touchdowns to help lead the Browns to their first victory in 635 days, and had an extremely fitting touchdown celebration.
.@elguapo's off to the hospital to welcome his son into the world!

So his TD celebration was very appropriate pic.twitter.com/ot1joNFaan

— Cleveland Browns (@Browns) September 21, 2018
After the game, Hyde immediately returned to the hospital where his wife – who watched the game – was just about to give birth.
Chased after Carlos Hyde who was running out here to the hospital. His wife is about to give birth. He said she watched the game and wants him by her side. Baby's name will be Carlos Jr. It's their first. #browns

— Dianna Russini (@diannaESPN) September 21, 2018
To top it off, it was also his 28th birthday.
 D-LINE GONNA BE ALRIGHT. Ohio State will be missing the best player in college football at least this week and likely longer as Nick Bosa had surgery on Thursday for a core muscle injury.
And folks, he's pretty irreplaceable.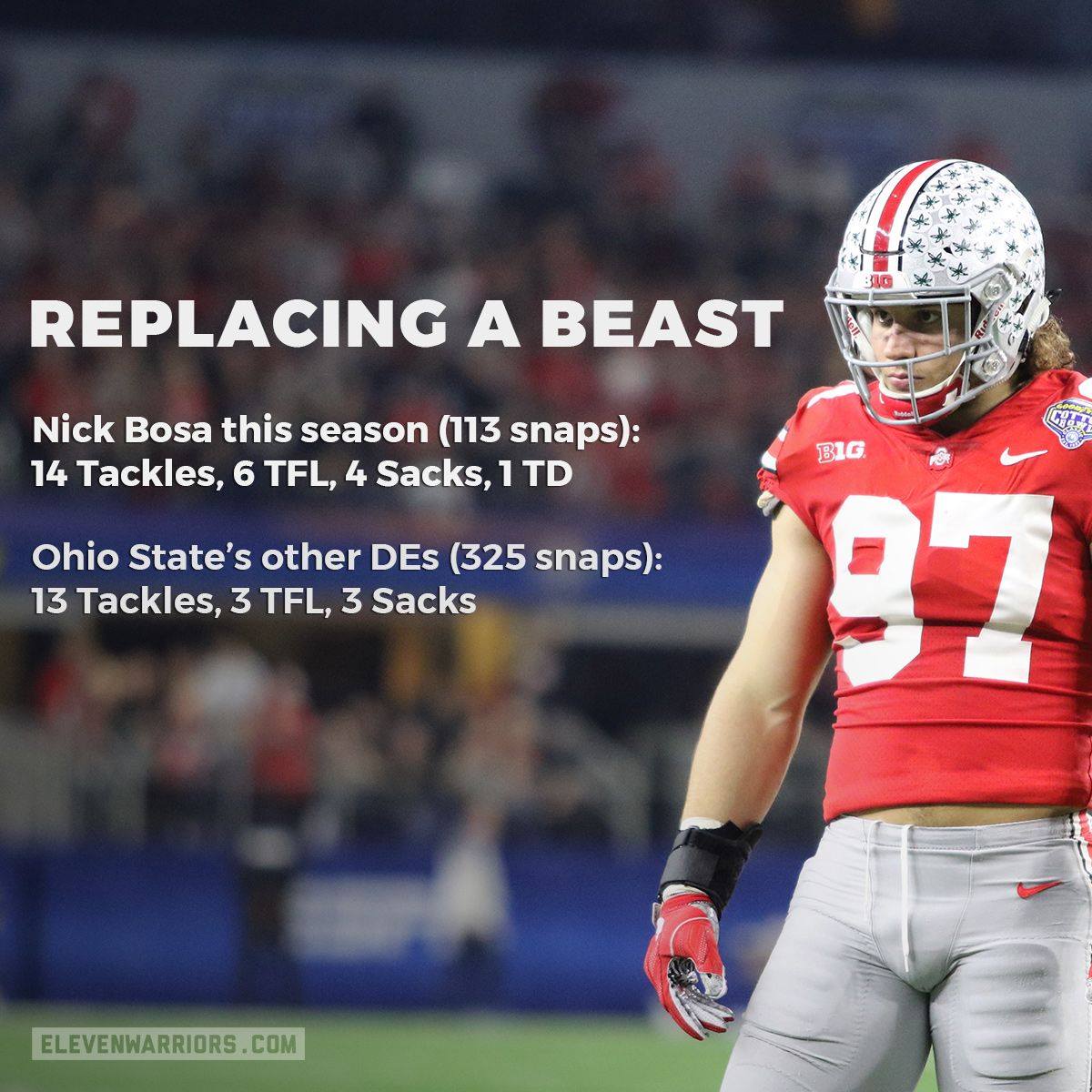 Basically, he has more production than Chase Young, Jonathon Cooper, Tyreke Smith, Jashon Cornell and Tyler Friday combined through three games, in almost a third of the snaps.
There's no way to spin it, it's a huge loss, but if there's any position the Buckeyes have talent to pick up the slack, it's the defensive line. And even without Bosa, it still might be the best defensive line in the country.
From Colin Gay of The Lantern:
Even without Bosa, Cooper thinks there is a reputation to uphold.

"We watch defensive lines across the nation, see how they're doing and stuff, we see how, like, their pass rushing, their stopping the run and stuff like that and we try to raise our game, just to show that we are the best," Cooper said. "We're confident in ourselves that we are the best."

Players like Young, Cooper, Jones and Smith are going to try and combine to match the production that Bosa brings every Saturday. That does not mean the expectation is for one of them to step up and become a replication of what the preseason All-American has done this year.

"Nick Bosa is Nick Bosa," Cooper said. "He's always going to be Nick Bosa."
It's not like this confidence is coming from nowhere – the defensive line dominated the entire second half against a top-15 team on the road after Bosa left with an injury.
Losing Bosa's a huge deal, but they'll be fine.
 MIKE VRABEL MIC'D UP. Mike Vrabel got his first win as an NFL head coach on Sunday, even without his starting quarterback, top tight end and starting left tackle.
Thankfully, for our listening pleasure, he was mic'd up.
Mike Vrabel (@CoachVrabel50) wired for his first @NFL win.

"Play smart, instinctive and reckless." #TitanUp

: @nflnetwork Mic'd Up pic.twitter.com/ELqmnDS4eD

— Tennessee Titans (@Titans) September 20, 2018
It's easy to see why his players want to play for him.
 GOOD TRY, GOOD EFFORT, RICK. I'm generally not one to blast people for their online spelling and grammar gaffes, for reasons that I'm sure are obvious to you, but this one is just egregious.
Rick misspelled his own name in his brand new Twitter cover photo. pic.twitter.com/pBeaTte3A8

— Mark Ennis (@MarkEnnis) September 20, 2018
I've published too many errors to count, but I've never spelled my own name wrong on a Twitter banner that was presumably months in the making.
You have to feel for Rick, though. You hate to see such a quality individual mocked online like that.
 LINK LOCKER. Spiders are "having a party" in a terrifying 1,000-foot web... Golf digest helps free golf-course artist imprisoned 27 years for murder he didn't commit... Justin Bieber is worth $265 million but refuses to get a prenup... El Chapo's twin daughters had a decadent Barbie-themed birthday party... J.R. Smith releases children's book...