On June 28, St. Xavier's Paris Johnson Jr. tweeted out a picture, a screenshot and three of the most powerful words he's ever written: "I'm staying home!!"
With scholarship offers on the table from Division I colleges across the nation – including the likes of Alabama, Clemson, Georgia and Notre Dame – Johnson chose Ohio State.
"It is amazing to receive an opportunity to play for your home state team," Johnson told Eleven Warriors upon his commitment. "They have an impressive tradition and culture."
But a little over a month after committing to Ohio State, Johnson's college of choice saw its football program's tradition and culture fall under a seemingly never-ending shadow of controversy. When the college football community received word of Ohio State head coach Urban Meyer's three-game suspension in relation to the way he dealt with former wide receivers coach Zach Smith, Johnson says many other top-level programs reached out to him in an attempt to sway him from Columbus.
But as coaches and recruiters rushed in to coerce him into decommitting, the 6-foot-7, 285-pound offensive tackle reacted in a way he's all too familiar with: he stood his ground.
"I chose to keep my decision because I trust the Ohio State coaching staff and they treat me like family."– Paris Johnson Jr.
"I chose to keep my decision because I trust the Ohio State coaching staff and they treat me like family," Johnson said. "(Meyer) was important in my recruitment process because I liked the culture he established of striving to fully develop our genetic potential, as students and athletes. They also have a strong tradition of success."
Johnson's last visit to Ohio State came on Sept. 8, when the Buckeyes trampled Rutgers by a 52-3 final. That day, Meyer wasn't on the sidelines. Whenever Johnson returns to Ohio Stadium, his future teammates will have their leader back with them – Meyer returns this Saturday against Tulane.
"I am very excited he is back. He is a great coach, and even better person," Johnson said.
Currently, according to 247Sports, Johnson is the nation's No. 8 ranked recruit at any position and the state's top recruit. His composite five-star rating and pledge to Ohio State has aided the Buckeyes in developing the country's No. 3-ranked 2020 recruiting class.
When the time comes, Johnson will be joined in Columbus by fellow 2020 offensive lineman commits Luke Wypler (Montvale, N.J.) and Jake Wray (Marietta, Ga.). Johnson says he's also talking to several other potential Ohio State commits, trying to convince them to join him as a Buckeye.
With Johnson protecting its quarterback, St. Xavier sits at 2-2 overall with wins over Lakota West and Walnut Hills. The Bombers' two losses have come at the hands of Colerain and Cathedral (Ind.).
Still, even with two early losses, St. Xavier is nowhere near being out of state playoff contention. The top eight teams in each region reach Week 11. In terms of playoff points, the Bombers sit at No. 11 in Division I, Region 4. But their next three opponents are Archbishop Moeller, Elder and La Salle – three teams with a combined record of 9-3, meaning a huge opportunity to pick up playoff points with victories.
"I believe we have one of the most talented group of players in the region. When we come together as a unit, we are a powerful team," Johnson said. "My highlight of the year so far has been seeing my development on the field and weight room from last year to this year. It has been incredible."
And like any other great player, Johnson knows what his strengths are and understands he has areas where he can better himself.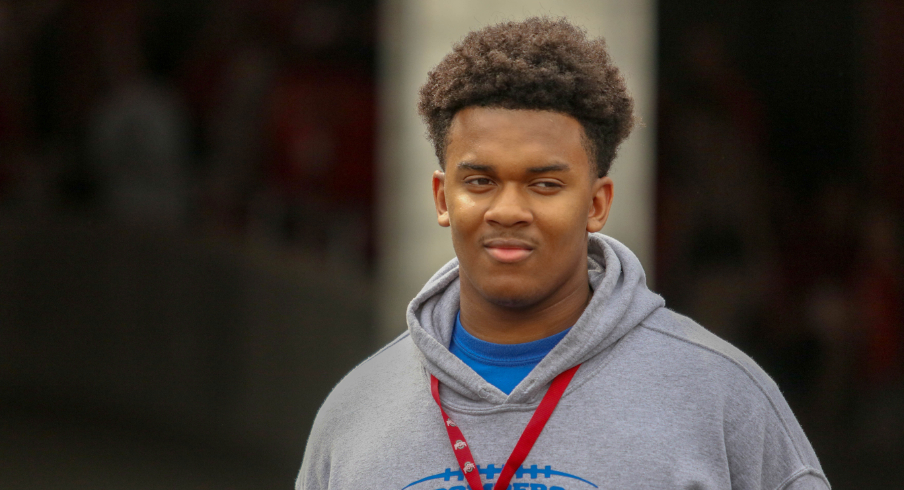 "I can move and redirect quickly on pass blocking and in the run game. I don't stop until my guy is on the other side of the field or on the ground," he said. "Personally, I need to continue to develop my skills at the second and third levels, blocking against smaller, shiftier guys."
St. Xavier hosts Archbishop Moeller at 7:30 p.m. Friday night. While Johnson will be playing to win, no matter the outcome, he'll be watching Ohio State on Saturday as he has all season long – specifically the big guys up front.
After all, before he knows it, he'll be one of those big guys donning scarlet and grey.
"I believe Ohio State has the best offensive line in college football, and it helps that Dwayne Haskins is also a great quarterback," he said. "I am most looking forward to getting to work with my brothers on the field and weight room."