It was far from pretty, but the Bucks are 3-0 with a top-15 win under their belt, and now one of the top coaches in all of college football reclaims his throne in Buckeye kingdom.
Also, I'll be thinking about this forever:
Still enjoying the fact that @TheOfficial_80 went vintage Marshawn Lynch on this pick six. pic.twitter.com/W8YVVPTjcn

— Eleven Warriors (@11W) September 16, 2018
ICYMI
Word of the Day: Churlish.
 MISSION ACCOMPLISHED. Ryan Day's task was clear when he took over as acting Ohio State head coach – get the team to 3-0, then hand the keys back to Urban Meyer.
A few weeks later, Day accomplished his mission. The Buckeyes are 3-0, and Meyer is back in the drivers seat.
From Doug Lesmerises of Cleveland.com:
Having tied Alexander Lilley for 23rd on Ohio State's list of coaching victories, 3-0 Ryan Day could drop the mic on his head coaching career and vow at age 39 to dedicate himself to a life of coordinator-dom to protect his perfect record as a head coach.

Will you consider retiring, Ryan Day?

"Sure," Day said Saturday night.

...

"I do feel a little bit of relief right now after that game and, you know, the past few weeks," Day said. "But I got so much help from these players and from the coaching staff, (coordinators) Kevin Wilson and Greg Schiano.

"What Greg Schiano has done for me in the last month is something I'll never forget. He is the classiest person I've ever been around in the coaching profession. The way he's handled himself, helping me along the way, counseling me on day-to-day stuff. And just the way the defense played today, I couldn't have been happier for him and that defense. So, yeah, a little bit of relief, but still got a long way to go here."
I'll be honest, things ran so smoothly with Day at the helm, there were times I forgot Ohio State was rolling with an interim coach. Everything seemed normal, and Day seemed to enjoy being in that position.
That said, I'll gladly welcome back one of just four active head coaches to ever win a national title.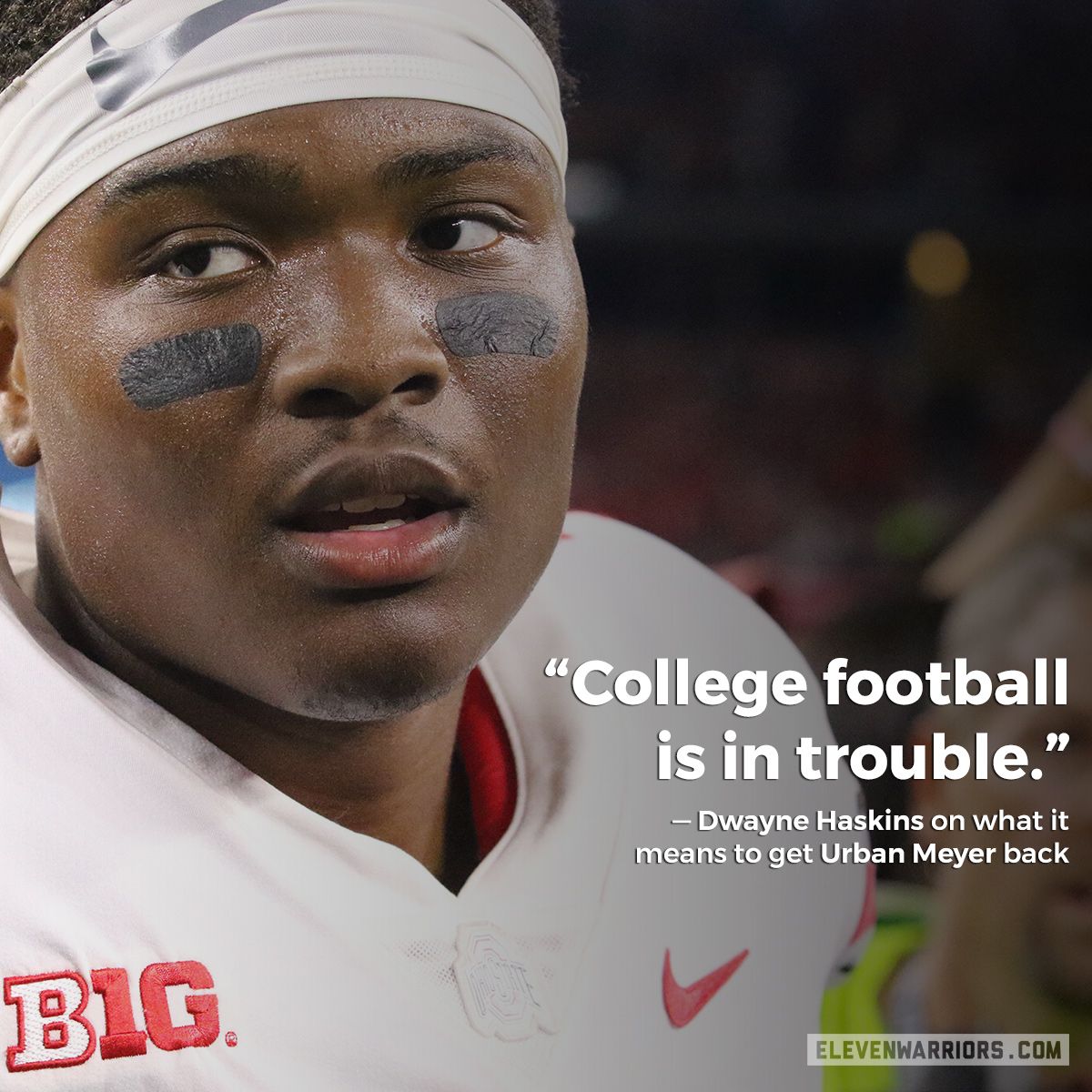 OUTCOACHED AND OUTSCHEMED? Ohio State notched a top-15 win over one of the 
There was a lot in that TCU/OSU game. Havent watched film yet but initial impression was Ohio State got outcoached, outschemed and, for 2.5 quarters, outplayed. Then TCU mistakes (mental/physical) plus bevy of 5 stars broke TCUs back. Out-talented still usually carries the day https://t.co/7ous7zx0K1

— Chris B. Brown (@smartfootball) September 16, 2018
This #take gives me such a weird feeling, because I think he's mostly right, but it's not like Ohio State was completely unprepared and relied solely on the skill of its players to win the game – I lived through the 2015 season, I know what that looks like.
Gary Patterson was ready for this game, had an absolutely perfect game plan, and managed to keep things much closer for much longer than anybody with such a talent disparity should. I tip the cap there.
But the Buckeyes still put up 40 points and over 500 yards of total offense on the defensive guru while not turning the ball over once and forcing three turnovers on the other end. I get where he's coming from, but you don't beat a top-15 team by two scores by being completely outcoached and outschemed for most of the game.
Ohio State's got some stuff to work on and made some mistakes to allow the game to be closer than it should, but that take just seems a little off-base.
 BIG TEN'S GIGANTIC DEFECATION. Reiterating from last week, I really don't care how atrocious the Big Ten is across the board if the Buckeyes cake walk through the conference and punch a ticket to the College Football Playoff.
That said, holy hell, get it together. This is just embarrassing.
From Fox research: The Big Ten lost seven non-conference games today to unranked teams. It's the first time that has happened since the AP poll started in 1936

— robert smith (@Robert26Smith) September 16, 2018
Honestly, I'm surprised it wasn't worse.
I wouldn't have even blinked if you would have told me Northern Iowa dumped Iowa, Miami (OH) blasted Minnesota, or Ball State drilled Indiana. And for a hot second, I thought Kent State was going to run with Penn State.
But like I said, as long as Ohio State obliterates the carrion that is the Big Ten Conference, there shouldn't be an issue. Nobody's going to doubt an undefeated Buckeye team's talent, especially after they handled TCU.
 GAME-CLINCHING TARGETING. San Diego State found a glitch in the NCAA's targeting rule, and used it to win a game against Arizona State.
Down seven with seconds to go, the Sun Devils appeared to complete a hail mary despite an absolutely reckless hit from San Diego State, which would have given them the ball at the two-yard line with six seconds remaining.
THAT JUST HAPPENED. This Arizona State pass was ruled incomplete after review. pic.twitter.com/YsC4kzEROV

— CBS Sports (@CBSSports) September 16, 2018
After review though, not only was the defender ejected for targeting, but the pass was ruled incomplete because the hit successfully dislodged the ball. Instead of one last shot from the two-yard line, Arizona State was awarded a 15-yard penalty, and got the ball at the 35.
So effectively, the defensive back won his team the game by using his body as a missile aimed at the head of a defenseless receiver. It's like Luis Suarez's game-saving handball in the 2010 World Cup, but more violent.
San Diego State's response to the events: Shade.
You play to win the game.

We did.#Win22 | #OneCityOneTeam pic.twitter.com/8CF5bvV2G4

— SDSU Football (@SDSUFootball) September 16, 2018
 HOPSON STILL HAS HOPS. Ohio State's all-time leading scorer on the hardwood, Dennis Hopson, wants you all to know he's still got hops, even at age 53.
For all you nonbelievers. 53yrs old and still climbing. pic.twitter.com/eDIkrzAJir

— Dennis Hopson (@DennisHopson) September 16, 2018
As someone who has never given any real consideration to the idea of actually living for 53 years, I find this especially impressive.
 LINK LOCKER. Wealthy parents are hiring super nannies to care for them, too... The Waffle House Index, explained by the man who created it... Fake mariachis open fire in Mexico City plaza... Georgia charter school wants to beat students and bully their parents... The postal inspector who took down America's first organized crime ring...