Leading up to Saturday night's matchup with No. 15 TCU, the talk focused on how Dwayne Haskins would handle a consistently dirty pocket and how Ohio State might respond if forced to face its first real adversity of the season. 
It wasn't always pretty but Haskins and the Buckeyes passed both tests thanks to a 27-7 run to close the game after the Horned Frogs took a 21-13 lead with 10:43 left in the third quarter. 
Credit Gary Patterson and company for proving a worthy adversary and while a lot went right for the Buckeyes as the offense churned out 526 yards behind Haskins, J.K. Dobbins and another solid effort from Brian Hartline's receiving corps, the defense again struggled to limit big plays, Nick Bosa went down with what's been called a lower abdominal strain and the offense had just one touchdown in four trips to the red zone. 
When the dust settled in AT&T Stadium, the Buckeyes prevailed 40-28 in Ryan Day's final game as acting head coach improving to 3-0 on the young season with Urban Meyer set to return to full-time head coaching duties today. 
Before we jump to what it means to have Meyer fully back and turn our focus to Tulane, here are Five Things from last night's victory over the Horned Frogs. 
---
DWAYNE TRAIN ROLLS ON

Yes, Dwayne Haskins faced some crowded pockets in Ann Arbor in relief of J.T. Barrett last November but there were still some unknowns – at least for me – on how Haskins would respond to continuous pressure as The Man in a big game. 
With TCU bringing the house early and often, Haskins stood up to the challenge completing 24 of 38 throws for 344 yards and two touchdowns, adding a 5-yard jaunt to paydirt sealing the deal in Arlington. 
The 344 passing yards were the seventh-most in a single-game in school history. 
Haskins also made it three straight games with at least 20 completions (Barrett had 4 in 2017 and 3 in 2014 just for perspective) and his completion percentage stands at 72.5% on the young season. 
With his two touchdown tosses he now has 11 through three games against just one interception. 
While the numbers are certainly eye-popping, it's his physical gifts and decision-making that stand out. Haskins was smooth in a amoeba-like pocket last night as he dealt with continuous low snaps and pressure but never threw a pick and only took one sack while smartly throwing away a handful of footballs. 
Hell of a night from a confident kid who just gives off an aura of invincibility.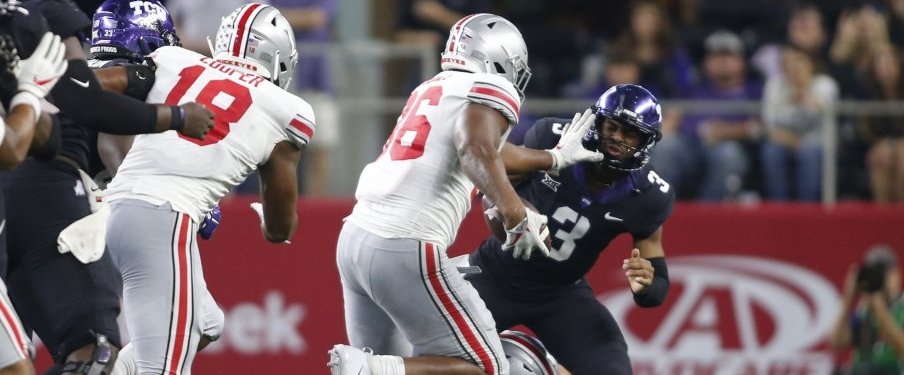 DRE DAY

Nick Bosa rightfully gets the bulk of the hype among Ohio State's elite defensive linemen but there's no question Dre'Mont Jones is a beast is his own right. 
The sometimes-overlooked defensive tackle was dominant all night, and specifically after Bosa went down with injury on the first series of the second half. 
Jones finished with six stops, two TFL, a sack, a pick six and a PBU and that doesn't even tell the full story as he just missed another pick six on Ohio State's third defensive series of the game. 
Jones set up camp in TCU's backfield as not only did two of his tackles go for lost yardage but two more resulted in a 1-yard rush and no gain. 
His pick six via a quick burst into the backfield before hijacking of a shovel pass gave Ohio State's the lead for good at 26-21 with 5:54 left in the third quarter.
Jones' sack also came at a critical time, pushing the Horned Frogs from the OSU 28 to the 40-yard line three possessions later as the Buckeyes nursed the 40-28 margin. 
Just a tremendously clutch effort. 
OHIO STATE USES J.K., HAS A GOOD DAY 

J.K. Dobbins, back home in Texas after a meh showing against USC in the Cotton Bowl, enjoyed a season-high 18 carries and responded with season-highs in yards (121) and yards per carry (6.7) in a determined performance. 
The LaGrange, Texas product had only two yards on his first four carries but finished with eight carries of 10+ yards and was a key factor in Ohio State's game-sealing scoring drive. 
After TCU had cut OSU's lead to 33-28 with just over a minute left in the third quarter, Dobbins keyed an 8-play, 75-yard touchdown drive with five carries for 43 yards including an 11-yarder to the Horned Frogs 5-yard line setting up Haskins' touchdown run. 
On the drive, Dobbins had runs of 18, 9, 11 and 5 yards, flashing the footwork and balance that led him to 1,403 yards on 7.2 per carry a season ago. 
Through three games, Dobbins is quietly averaging 89.3 yards per outing on almost six yards a pop. Yes, those numbers are below last year's totals (100.2 ypg, 7.2 ypc) but it feels like Dobbins is just getting warmed up.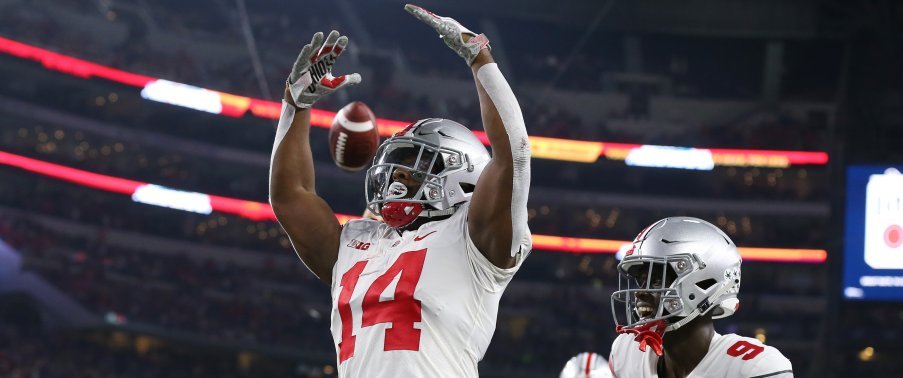 TURN ON YOUR HARTLINE

Brian Hartline's receiving corps is doing work after years of production issues under his predecessor. 
For the third straight contest, the Buckeyes had a different leading wide receiver as K.J. Hill took his turn at the top following a six-catch, 95-yard effort highlighted by a 24-yard touchdown grab putting Ohio State in front, 33-21, with 2:57 left in the third quarter. Through three games, Hill leads the Buckeyes with 17 grabs for 202 yards, good for an 11.9 yard average which is notably 2.1 yards higher than last season. 
Last week it was Johnnie Dixon pacing Zone Six with four catches for 89 yards and a pair of scores. In the season-opener, it was Terry McLaurin leading the way with four grabs for 121 yards and two trips the end zone. 
At various points over the last few years, it felt like the fact Ohio State rotated at least six guys meant it didn't have anyone capable of separating from the rest of the pack. Now it feels like the wide receiving corps indeed has a plethora of weapons as Hartline continues to improve their technical skills. 
Austin Mack, while he did drop ~25 balls on the night, still managed four receptions for 84 yards and stands as Ohio State's second-leading pass catcher on the season (12) and third-leading receiver in yards (173). 
Dixon (4-for-39) and McLaurin (3-for-29) were also factors against the Horned Frogs and McLaurin currently leads the squad with three touchdowns and 25.1 yards per catch. 
Oh, and H-back Parris Campbell did what he does best taking a short toss and turning it into a 63-yard touchdown which cut TCU's lead to 21-19 midway through the third quarter. 
Overall, it's hard to believe just how rightfully maligned this exact same group of receivers was last season when you look at how effective they've been through the first segment of 2018. 
THE THIN RED LINE

While Jordan Fuller continues to do his job at an elite level (8 tackles, 0.5 TFL, PBU) at one safety spot, Greg Schiano and Alex Grinch have yet to find even a serviceable companion to place alongside him in the back line of Ohio State's defense. 
Already off to rough starts, the tandem of Isaiah Pryor and Jahsen Wint were again liabilities last night. 
Yes, it takes more than one man to turn a particular play into a dumpster fire but Pryor certainly played a key role in turning a Darius Anderson carry into a 93-yard touchdown as his lack of elite speed was highlighted by taking a bad angle. Hey, sometimes stuff happens but Pryor's struggles to help contain big rushing plays aren't new after a few similar examples against Oregon State. 
Wint has also struggled to contain big plays and last night he got spun around in coverage and failed to locate the football as a 51-yard Shawn Robinson throw found the arms of TreVontae Hights, who had gotten behind Wint on a post route trimming Ohio State's lead to 33-28 late in the third quarter. 
A few weeks ago Schiano noted redshirt freshman Shaun Wade would see more time in the secondary and he has, but most of it has come as the nickel or dime. Is it time to give Wade a serious look alongside Fuller? Sure feels like it can't hurt.
Eleven Warriors is committed to smart, timely and exhaustive coverage of Ohio State athletics. Unlike other outlets, we choose not to put up a paywall. We want to keep our journalism as open as we can.
As an independent media organization, we count on the generosity of our readers to help us achieve this mission. If you enjoy our coverage, please consider becoming a 12th Warrior or supporting us in other ways.
Thank you for your continued support.