Folks, tomorrow is the day. After a torturous few weeks, Buckeye football is at hand.
ICYMI:
Word of the Day: Blatherskite.
 ZACH SMITH DENIES SEXUAL RELATIONS. Zach Smith has been relatively quiet throughout the entire investigation, but he's no longer shying away from telling the world how he feels.
On Monday, he went on a Twitter tangent, criticizing members of the media, questioning Ohio State's investigation and denouncing domestic violence allegations. And on Tuesday, Smith spoke with USA Today to give his side of some of Brett McMurphy's reports, claiming he never had sexual relations with Ohio State staff, and that the sex toys were a gag gift for a friend. 
From A.J. Perez of USAToday.com:
"I have never had sexual relations with anyone I worked with," Smith said. "That's my No. 1 rule in life. Not one human. Nobody."

The OSU report also cited salacious accusations that were originally reported by Stadium, including that Smith had sent sexually explicit photos of himself from the White House during the football team's 2015 visit, and that he had sex toys mailed to the football office.

Smith denied sending the photos, and of the sex toys said, "I ordered it as a gag gift for a bachelor party for my best friend who was getting married."
First off, that's a perplexing "No. 1 rule in life." I can't say it would even make my top-50 important rules to live by, but I guess that's just not an issue I deal with much in my life.
Anyway, if everything Zach is saying is true, I'd be pissed about Brett McMurphy's report too. It's reckless at best, and defamatory at its worst. 
I do wonder if that's what Zach told Ohio State investigators when they learned of the things in McMurphy's report. Because if he did, that's something I would have expected to see in the released findings.
Though Zach doesn't seem to view Ohio State or the investigation as a whole in a very positive light, calling them "spineless."
"He never protected me," Smith said in a telephone interview with USA TODAY Sports. "Urban knew the truth. That's what's lost in all this: the truth. Everything he's said negatively about me, that's all on Ohio State. That's all from the pressure they put on him to keep his job because they are spineless. That's why they fired Jim Tressel. They are absolutely spineless and that probably come from the board, the president – all of them."
One thing he didn't deny was the 2014 visit to a Miami strip club. And actually, Texas Tom isn't denying it either. But in typical Tom fashion, he doesn't really seem to want to talk about it.
I asked Tom Herman to comment on the recent story linking him to Zach Smith. Herman said his wife knew where he was. Hes willing to cooperate with the NCAA if necessary. He made it clear he understands his responsibility at Texas. Preparing for Maryland right now.

— Anwar Richardson (@AnwarRichardson) August 30, 2018
It still blows my mind that the founder of MENSA would allow himself to be dragged into this mess.
 "EMBARRASSED" TRUSTEE RESIGNS. In stark contrast to Zach Smith's comments calling the university, the board and the president "spineless" for their punishment of Urban Meyer, trustee Jeffrey Wadsworth announced his resignation from the board because he felt the punishment was too light.
Wadsworth said he was "embarrassed" by the decision and he left the board because of it.
From Marc Tracy of New York Times:
"I didn't feel that I'd seen high-integrity behavior," Mr. Wadsworth said of Mr. Meyer.

He said he was the "lone voice" of dissent in advocating a harsher punishment but declined to specify what he had proposed or to speak in great detail about the closed-door negotiations, saying he wanted to respect the confidential words of board members.

"Most people were concerned about whether it was a several-game suspension or not," he said.

"To me," he added, "there was something altogether wrong about reducing it to a couple of games."

...

"You read the report," Mr. Wadsworth said, "and there's seven or eight things about emails, memory loss, hearing things five times, and to me, that raised an issue of standards, values — not how many games someone should be suspended for."
It's worth noting that according to a report, Wadsworth was one of the trustees who left the deliberations early. It's possible that even at that point, he had his mind made up that he was resigning from the board.
 URBAN MEYER DIDN'T DELETE TEXTS? Urban Meyer has been facing a huge amount of criticism based on documents revealing conversations between Meyer and Brian Voltolini that seem to indicate he deleted old text messages to keep them from being accessed by the media or anybody else.
But Meyer's lead attorney says that's not the case.
The lead attorney for @OSUCoachMeyer told me he neither deleted txt messages nor changed any setting on his phone in the wake of the investigation which led to his suspension. Will be part of our overall story on latest developments, etc. in Friday paper.

— Tim May (@TIM_MAYsports) August 30, 2018
I am genuinely curious to hear what the attorney has to say, because if he didn't delete old text messages, why were investigators unable to read messages older than one year? Surely Meyer has owned a cell phone longer than a year.
I keep thinking this story is nearing completion, but it never is. Maybe actual, on field football will help.
 COLLEGE FOOTBALL ATTENDANCE PROBLEM. If you've ever been to a sporting event and thought the announced attendance was significantly higher than the actual number of fans in the stands, you were probably right.
Over-reported attendance has become a problem in college football, as teams fight to sell tickets, improve national perception and win recruits.
From the Wall Street Journal:
College football has an attendance problem. Average announced attendance in football's top division dropped for the fourth consecutive year last year, declining 7.6% in four years. But schools' internal records show that the sport's attendance woes go far beyond that.

The average count of tickets scanned at home games—the number of fans who actually show up—is about 71% of the attendance you see in a box score, according to data from the 2017 season collected by The Wall Street Journal. In the Mid-American Conference, with less-prominent programs like Central Michigan and Toledo, teams' scanned attendance numbers were 45% of announced attendance.
I get the thought behind fudging the numbers – it's really easy to do, makes you look a lot better, and it can't really get you in much trouble. But if you're going to do it, at least make it someone believable so you have plausible deniability.
Coastal Carolina's numbers were off by over 70,000 people last season. The university reported a total season's attendance of 89,754, but only 15,248 tickets were ever scanned. That's not really a discrepancy you can explain away with counting hotdog vendors and equipment staff.
But it's not just them, everyone does it.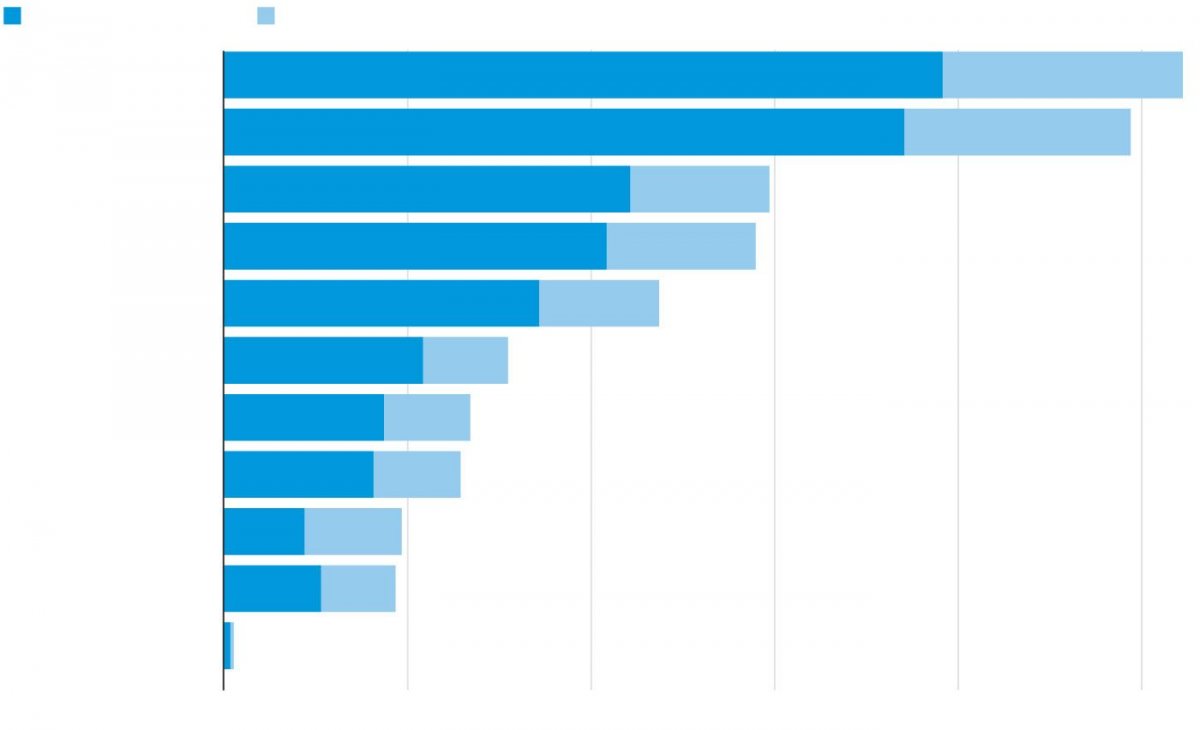 I guess that's how the Schottenstein Center gets its attendance figures.
 TWO VERY GOOD FOOTBALL PLAYERS. Heading into the 2018 season, the Buckeyes have two players NFL.com's analysts rate as top-15 players in the country. And unfortunately for opposing quarterbacks, they play on the same defensive line.
From Daniel Jeremiah and Bucky Brooks of NFL.com:
#1 Nick Bosa, DE

Bosa is a dominant D-lineman and he plays with flawless technique. He's the most complete player in college football.

...

#15 Dre'Mont Jones

Jones flashed on tape last year, and I'm optimistic he'll take the next step this fall. The ability is there. Now it's time for the production to arrive.
It's honestly unfair that these guys get to play right next to each other. And it's even more unfair that they'll be joined by Predator from the 1987 film Predator.
 THOSE WMDs. A lifelong MLB dream achieved, then washed away... The nastiest feud in science... Alex Rodriguez may be in the hunt to buy Sports Illustrated... Nanobots could provide cancer treatment free from side effects...