I liked Star Wars as a kid, when I could barely control my bowel movements, but now I just feel tired at all the hype, which is seemingly year-round.
If you need me, I'll be cold chilling with my boy the Grinch, talking about how the way things used to be and refusing to move forward with the harsh new realities of life.
ICYMI:
Word of the Day: Surreptitious.
 TROJANS HAVE SAME VIEW. Ohio State is excited to play USC. They've said as much. 
It's a mutual feeling, according to USC, whom the committee also snubbed. One Trojan says he'd rather play the Buckeyes than anyone in the country.
From dailynews.com:
"Ohio State has for many years been one of the top-echelon teams," cornerback Iman Marshall said, "and having the opportunity to compete against them, and see where we're at, and where we place ourselves, is a great opportunity."

Since Urban Meyer was hired as their head coach in 2012, the Buckeyes have won 72 of 80 games. Only Alabama has more victories during that span.

"They're a great program, USC's a great program," defensive lineman Rasheem Green said.

"I would rather play [Ohio State] than anybody in the country," Hawkins added.
"Careful for what you wish... You might just get it." – Warren G. Harding to his bookie in Dec. 2002, moments before laying down $10,000 on a three-team BCS parlay that CULMINATED with Ohio State money line vs. the most worthless member of the Caine family.
I wouldn't rather play USC than anybody else (as if anybody asked me, right?).
Clemson will remain No. 1 on the Dumpability Index until I get video of Savage Tiger passed out in a puddle of his own tears of Miller Lite-tinged piss after Dabo Swinney falls to Urban Meyer shortly before absconding to Tuscasloosa.
Oklahoma is No. 2, though they'll plummet as soon as Baker Mayfield gets drafted. They could go back up if the Browns abduct him in the first round and he fails to meet their ransom demands. If he leads them to the Super Bowl, though, they'll never appear on the index again.
No. 3 is Alabama. Enough said.
USC is No. 4. I don't think about them a lot, but when I do, it's about the Trojans smashing the Buckeyes in '08, Matt Barkley doing the damn thing in 09, and Pete Carroll "admiring" the 9-11 truther moment... which wrecks my mental health for the day.
Beating USC would go along way to assuaging the playoff snub. On the other hand, a three-loss season would move the season to bitter disappointment—even with a (diluted, let's be adults living in 2017 and not 1967) Big Ten title.
 OK, MAN, LIKE, WHATEVER. Ohio State sold a ton of beer this season. We know this because the university netted $1.35 million in revenue from suds sales.
But as for a specific number of units moved, well, sorry, those state secrets will remain classified.
From dispatch.com:
When asked for total beer sales from this season, Ohio State provided a total net revenue figure of more than $1.35 million. When asked specifically for the gross sales information, Ohio State spokesman Ben Johnson said the information was not public under its contract with its food and beverage vendor.

"In accordance with our contract with Levy Restaurants, gross sales information is not public," Johnson said in an email last week.

When questioned by The Dispatch about entering into a contract that would potentially violate Ohio public-records laws, Johnson said Ohio State hadn't done so.

"Public entities like Ohio State cannot enter into contracts that supersede Ohio Public Records law," Johnson said in an emailed statement. "The university has not done that here, nor would we ever attempt to use contracts to avoid fulfilling our obligations under the public-records law."
Well, I guess that settles it? It makes me wish I was a billionaire so I could fund frivolous lawsuits. We fans deserve to know how many beers we drank! This ritual goes back to kegs at high school parties, where people routinely inflated their beer count by 30%.
 GOOD PAY IF YOU CAN GET IT. My favorite thing about bowl games are the the executives in suits more expensive than my rent waving to the crowd during their 15 seconds of fame.
Judging by the crowds at these things, I'm not alone. Every year, hundreds of thousands of Americans migrate to bowls and millions more watch at home to catch a glimpse of these majestic figures.
Without them... well, nobody would come. Sponsorships would dry up. Could you imagine watching a bowl game without an executive? I just threw up in my mouth imaging the chaos that would reign.
Thankfully we have heroes willing to do this public service for hundreds of thousands of dollars.
From Brent Schrotenboer of USA TODAY: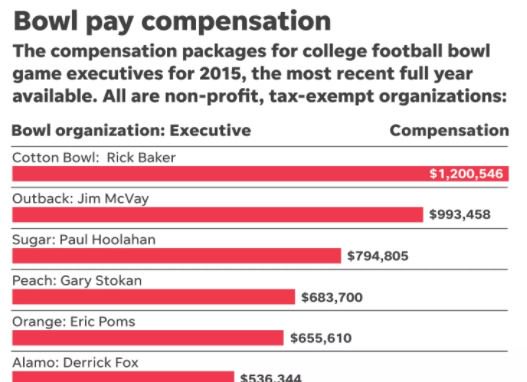 As much as I respect these captains of industry, I must say: I WILL DO ANY OF THESE JOBS FOR A 1/3RD OF A PRICE. I KNOW YOU PRODIGAL IDIOTS THINK ONLY A GUY NAMED ERIC, DERRICK, OR JIM CAN DO A JOB OF THIS MAGNITUDE, BUT PLEASE, I PASSED ALGEBRA II ON ONLY MY SECOND TRY. 
 DAWGS' DAY IN COURT. Georgia linebacker Natrez Patrick will probably play against Oklahoma after a district attorney dropped the marijuana possession charge pending from a Dec. 2nd traffic stop in which a Barrow County sheriff's deputy arrested Patrick and reserve receiver Jayson Stanley for a D.U.I. after he smelled marijuana emanating from the vehicle.
Heres a photo of the pot discovered in Georgia LB Natrez Patricks seat, which led to his arrest on Dec. 3 pic.twitter.com/STPMn27ULK

— Mark Schlabach (@Mark_Schlabach) December 14, 2017
This led to jokers ironically asking, "Where's the pot?" on Twitter, which reminds me of an all-time classic:
police also found a small bag of weed weighing 95 lbs. Some would call it a large bag but to me, the coolest reporter alive, its no big deal

— Mike F (@mikefossey) February 12, 2014
Still, an arrest in that situation seems outrageous. Patrick's probably thankful they didn't charge him with distribution.
 MONOPOLISTIC MEDIA MERGERS. While sports fans spent the last 12 months throwing dirt on the grave of ESPN for not broadcasting exactly as they specifically wanted, the World Wide Leader got a big ol' pick-me-up yesterday morning.
From espn.com:
The Walt Disney Company reached an agreement with 21st Century Fox on Thursday to acquire the entertainment giant, including its 22 regional sports networks.

The deal is worth $52.4 billion in stock, plus $13.7 billion more in net debt that Disney is assuming.

The sports networks include the YES Network in New York, Prime Ticket and Fox Sports West in Los Angeles, and networks that carry 44 professional teams in Major League Baseball, the NBA and the NHL.

Disney also will acquire 21st Century Fox's film-production businesses plus its television-production units. It also includes FX Networks, National Geographic Partners, Fox Networks Group International, Star India and Fox's interested in Hulu, Sky plc, Tata Sky and Endemol Shine Group.
The cryogenically frozen corpse urn containing the ashes of Walt Disney is our overlord now. I'd just like to say I enjoyed Mickey Mouse as a child, and I can't wait to pay $200 a month to stream ESPN and its regional channels.
 THOSE WMDs. What it's like to have testicular cancer... Belgium's lavish energy usage sheds light on more than just roads... The comedy wildlife photos are back... How the elderly lose their rights... Decade since recession: Thriving cities leave others behind... Saving a ranch from fires.