Every team that makes a postseason bowl game gets perhaps something even more important than ending the season with a win: getting extra reps in practice for its younger players. 
The Buckeyes welcomed one of the top recruiting classes to Columbus in 2017, but only a handful of them played significant reps for Ohio State's Big Ten title team. 
Ohio State senior offensive tackle Jamarco Jones said Friday that bowl practice gives younger players a chance to focus on the Buckeyes' playbook rather than the opponents. 
"During the season, it's like a lot of scout-team work, so they're running other teams' offenses and defenses, especially those young guys, just trying to give us looks, they don't really work on our stuff as much," Jones said. "So this is a good chance for them to get to go through our plays and work on fundamentals and techniques and stuff."
There are a number of young Buckeyes who could, and likely will, benefit from Ohio State's preparation for the Cotton Bowl against USC, but this upcoming stretch of practices could be even more beneficial for some than others. 
We ranked the top five Buckeyes that could benefit the most from the extra practice time. 
5. Demario McCall – Sophomore H-Back

McCall has been in the Ohio State program for two seasons now, but has spent most of it on the scout team or with the backup skill players offensively. The issue for McCall doesn't appear to be talent; injuries, however, have kept him sidelined for most of the season. 
While we don't know for sure, one would assume McCall has gotten healthier as the season has gone on. He has not played since Ohio State's 62-14 win over Maryland on Oct. 7, but if Parris Campbell leaves early for the NFL Draft, it would be easy to assume McCall would be the next man up to replace him in Ohio State's offense. 
Veteran wide receiver Terry McLaurin said Friday that McCall's ability has him excited to see what the North Ridgeville, Ohio native will do in 2018. 
"It's tough, but when he kind of accepted his role on this team, special teams or even just getting the defense ready, he's going full-speed and I'm really excited for his future," McLaurin said. "Because that mentality is going to take him far going into this next spring, when he's really going to compete for a spot to play."
4. Isaiah Pryor – Freshman Safety

Pryor appeared in 10 games this season, but mostly in mop-up duty, and was among the one defensive unit that didn't rotate this season, limiting his game reps. 
With Damon Webb's eligibility running out at the end of the Cotton Bowl, Pryor is the top candidate to replace him. In limited game reps and special teams work, Pryor still managed to collect 13 tackles in his rookie year, even collecting a sack against UNLV. 
Fellow freshman Brendon White – who participated in bowl prep with Ohio State last season – figures to be Pryor's top competition for the job next season, though White has also spent time practicing with the wide receivers this season. 
3. Thayer Munford – Freshman Offensive Tackle

Munford filled in briefly against Michigan and made a key block (that may or may not have been a hold) on J.T. Barrett's touchdown run against the Wolverines on Nov. 25. He has earned some meaningful reps this season, but for the most part, has spent his freshman season with the second-team offense. 
While Munford won't likely get a ton of reps with the first team during bowl prep, the extra practice time could be beneficial as the former Massillon Tiger is a candidate to start at tackle next season, especially if Isaiah Prince decides to leave early for the NFL Draft. 
Munford's top competition for either tackle spot next season would likely be Branden Bowen and converted defensive tackle Josh Alabi. Alabi has been the first tackle off the bench this season to replace Jones this season since the season-ending injury to Bowen. 
2. Baron Browning – Freshman Linebacker

Browning earned significant playing time early in the season with the Buckeye defense, but as Ohio State's schedule stiffened and Chris Worley got healthy again, his reps gradually declined.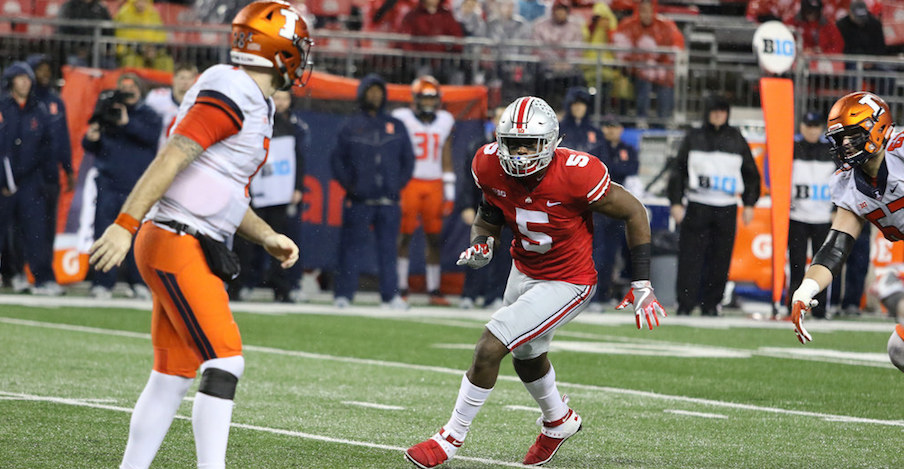 With Worley's eligibility running out, Browning has a good chance to push Tuf Borland for the right to start in the middle of Ohio State's defense next season. These extra practices will be critical for Browning, who missed a good portion of the spring with a shoulder injury. 
Fellow freshman linebacker Pete Werner also deserves a mention, but Werner is further down the depth chart than Browning, so we give the nod here to Browning. 
1. Tate Martell – Freshman Quarterback

Martell went from Gatorade Player of the Year to fourth-string clipboard holder in less than a year, which makes bowl practice that much more important for him. 
Dwayne Haskins had all of last year to be the scout team quarterback, and this year he likely earned a number of first-team practice reps – especially during Wisconsin week – further separating himself from the pack to be named the starter next season. 
If Martell wants to close the gap between him and Haskins (and yes, Joe Burrow too), then the next few practices will be critical for him. He will likely be forced to play USC quarterback Sam Darnold in practice, but if you play the part of a future top-five draft pick well, it might be enough to get you back into the conversation to get reps with Ohio State's first-team offense in 2018.