After years of shunning the medium, I joined Twitter yesterday. Looking forward to getting started over there! Follow me on Twitter dot com, please.
ICYMI:
Word of the Day: Seraglio. 
 TIME IS A FLAT CIRCLE. On another timeline, Texas redshirt senior quarterback J.T. Barrett prepares with first-year Horns coach Tom Herman, who first tried to recruit Barrett as an offensive coordinator at Ohio State, to face Missouri in the Texas Bowl.
But Mack Brown, whose quarterback evaluation skills crumbled like a saltine cracker in his late years, failed to offer him. Instead, on this timeline, Barrett prepares for the last game in his storied career... which of course will come in Texas.
From cleveland.com:
"I never played in Cowboys Stadium, even in high school," Barrett said. "So the last time for me playing a football game in Texas was in high school. I think it will be good to be in the atmosphere and going against a team like USC, it will be good."

Barrett isn't going to oversell the moment. He's not prone to hyperbole, even if this is something cool.

If the game was in Idaho, he'd still be playing.
Aside: I've joked about Idaho (who hasn't, other than some Idahoans?), but if you ever get the chance for a free trip to Idaho, take it. All states are beautiful, but Idaho scenes may be some of the most underrated in the country.
It's cool Barrett is getting a chance to play in Jerry World, which on television seems to be an arena built around the largest jumbotron in the world (how could you NOT watch it if you attended a game?) It must be special for a Texan.
For all the debates and takes, I hope he plays the best game of his career. Beating USC for the first time in a generation would be unique notch on his belt.
 TO TRANSFER OR NOT TO TRANSFER? Lost in the ascension of Dwayne Haskins has been Joe Burrow, the last quarterback Herman recruited at Ohio State. 
Entering the season, Haskins and Burrow battled for the right to backup Barrett. Then disaster struck for Burrow when he broke a bone in his throwing hand. When he returned from the injury, Haskins had already locked up the position.
Haskins' play at Michigan almost seemed to cement the pole position in the 2018 quarterback Derby. It leaves Burrow in an interesting place.
From The Athletic ($):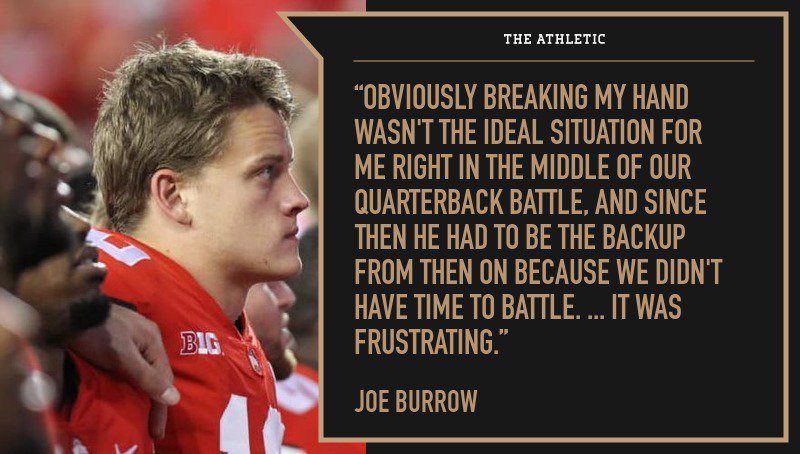 Burrow is obviously all-in until he makes a decision like that, which I think he will. People will predict landing spots like Ohio University or Cincinnati. I think he'll have better options than that.
It'd be sad to see Burrow go, and it'd be understandably so.
 TROJAN ESCAPES CHARGES. Redshirt defensive end Liam Jimmons will be with USC when it faces Ohio State on the 29th. Jimmons escaped the legal system Tuesday after Washington State police wanted him charged with a felony for leveling a Wazzou fan after the Cougars upset the Trojans back in September.
From latimes.com:
USC defensive lineman Liam Jimmons won't be charged after video captured the redshirt freshman knocking over a Washington State supporter after the Cougars upset the Trojans in Pullman, Wash., on Sept. 29.

Vicki I. Podberesky, the attorney for Jimmons, said she received a letter Tuesday from the Whitman County prosecutor's office declining to file charges.

Last month, the Washington State University Police Department recommended second-degree felony assault charges against Jimmons.
I see both sides. On one, Jimmons clearly and intentionally leveled that fan. On the other, people are insane these days, and if I just lost in Pullman (land where the wild things roam) and fans mobbed the field, I'd be looking to protect my personal space as well.
Felony was extreme regardless. It's not like Jimmons crow-hopped and sucker punched the guy. 
 TAGGERT TO FSU. Coach news: After weeks of playing coy and denying a move everybody saw coming, Oregon coach Willie Taggart left Eugene for Florida State on Tuesday.
From orlandosentinel.com:
Taggart will be introduced as new FSU coach on Wednesday, after agreeing to a 6-year deal worth $30 million, according to multiple reports.

Taggart, a Palmetto native and former USF head coach who has worked under Jack and Jim Harbuagh, became one of the hottest available coaches in the country after his final season with the Bulls in 2016, earning the Oregon job this season.

Now, Taggart will be tasked with replacing Jimbo Fisher, who won a national title in 2013 and was introduced as Texas A&M's new coach Monday after agreeing to a 10-year deal worth $75 million guaranteed.
I hate that hire, and by that I mean it's a great hire for Florida State. Not sure I'd leave Oregon for Tallahassee, yet the home-state pull is understandable.
In other news, Arkansas found its man to replace the legendary Bert.
Chad Morris will be be named the head coach at the University of Arkansas. #wps

— Trey Biddy (@TreyBiddy) December 5, 2017
Could only imagine the cold sweats to which Morris will wake up this week at the mere specter of filling Bert's shoes. 
 THOSE WMDs. The accidental getaway driver... Bitcoin could cost us our energy future... In the name of the father... Student loan debt not as big as U.S. junk market... Wayne's World.