Former Ohio State wide receiver Terry Glenn was honored during a memorial service at the Fawcett Center on Tuesday afternoon, giving Glenn's family, friends, former teammates and others from his hometown of Columbus an opportunity to celebrate the life and share their memories of Glenn, who died last month in a car accident.
Glenn, a 1995 All-American and Biletnikoff Award winner at Ohio State who went on to play 12 seasons in the NFL, was remembered by those who attended Tuesday's ceremony as a kind, generous person who loved his seven children, his dogs and had rebuilt his life after overcoming adversity, including the death of his mother when he was a child, earlier in his life.
"He was in a really, really good place," said Gregg Miller, who coached Glenn at Brookhaven High School and spoke at Tuesday's memorial. "Accomplished what he wanted to accomplish."
Many of Glenn's former teammates reconvened in Columbus to pay their respects to Glenn and his family on Tuesday, including Eddie George, Joey Galloway and Buster Tillman, the latter of whom spoke during Tuesday's ceremony.
"I will always respect him for being true to himself," Tillman said of Glenn. "Terry never gave up on himself. He sure had an impressionable life that not many can live."
George said before the ceremony that Glenn had "a personality that could fill up a room."
"He was a wonderful man," George said. "A caring person, loving father, a great teammate. Just overall good person, with a big heart, and a great smile."
Jamal Luke, an Ohio State wide receiver from 2000 to 2003, also attended and spoke at Tuesday's memorial, crediting Glenn with being his inspiration for walking on to the Buckeyes, like Glenn did to begin his Ohio State career.
"Thank you, Terry," Luke said. "Terry gave me the courage, coming from the inner city of Columbus … to walk on as a wide receiver here. I wasn't highly recruited, ended up playing my freshman year at Tiffin University and I made a decision, Christmas break my freshman year, that I wanted to be like Terry Glenn. That I could walk on and play wide receiver at The Ohio State University, which was always my dream growing up here as a kid."
Other speakers during Tuesday's ceremony included Jimmy Gould, who served as Glenn's longtime agent; Marvin Whiting, who also coached Glenn at Brookhaven; and numerous other family friends, including relatives of fellow former Brookhaven and Ohio State player Jayson Gwinn, who was killed in a car accident while still playing for the Buckeyes in 1993.
Gould, who also represented deceased former Ohio State and NFL offensive tackle Korey Stringer, said he will miss Glenn but never forget him.
"I will never, ever forget what he brought to my life," Gould said of Glenn. "He taught me courage. He taught me faith. And he taught me how to understand people better than I could ever have learned from any other people but him."
Anthony Gwinn, who also played with Glenn at Ohio State, said he was inspired of the way Glenn raised his children as a father.
"The biggest thing that is hard for me to accept is the kids that Terry left," Gwinn said. "My nephew asks me what Jayson was like, and that just tears my heart out, because one of the biggest things that I appreciate about Terry was him being the great father that he was, and he never even knew who his father was."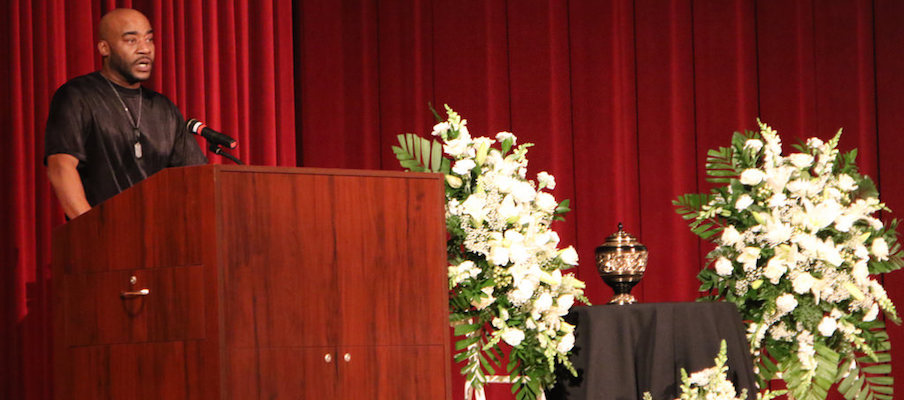 Whiting, who spent decades at Brookhaven coaching multiple sports, said Glenn was the best athlete to ever come out of a high school that also produced MLB player Paul O'Neill, WNBA player Helen Darling, Olympic sprinter Moushaumi Robinson and fellow NFL players Marlon Kerner and Jeff Cumberland, among others.
"Any of those guys could be considered, at any other school, the best athlete that ever came out of that school," Whiting said. "But you know what, of all those names I mentioned, no one was the 360-dunking, high-flying, through the air, like a puff of smoke: that's what Terry was an athlete."
"I will never, ever forget what he brought to my life. He taught me courage. He taught me faith. And he taught me how to understand people better than I could ever have learned from any other people but him."– Jimmy Gould, Terry Glenn's longtime agent
An urn holding Glenn's remains stood alongside the speakers who took the podium at the Fawcett Center on Tuesday, along with photos of Glenn from each of the four collegiate or professional teams he played for – Ohio State, the New England Patriots, Green Bay Packers and Dallas Cowboys – and a photo, which also adorned the cover of the program for the memorial service, taken just weeks before Glenn's death of the former Ohio State receiver holding a golf ball after hitting his first-ever hole-in-one.
Cover photo from the program for Terry Glenns memorial service at Ohio State this afternoon was just taken just a couple weeks before his death, after Glenn had hit his first hole-in-one. pic.twitter.com/fT92SVKhIr

— Dan Hope (@Dan_Hope) December 5, 2017
Guests at Tuesday's memorial service were encouraged to keep Glenn's legacy alive by donating to the 83 Kids Foundation, a foundation created by Glenn – who spent much of his childhood in foster care following his mother's death – to benefit children who are currently in foster care.
"Now it's up to us to carry on his legacy," said Clifton Spinner, president of the 83 Kids Foundation. "The 83 Kids Foundation is something that all of us want to continue … we need your support, and we need your help."