We've waited 371 days for this game, and vengeance is finally upon us.
Penn State fans spent all week trashing Ohio State's alternate jerseys. That's like me nailing a 10,000-word critique to the door of an Armani fashion show while wearing a Waffle House shirt and sweatpants.
Frankly, I'm ecstatic the Big Ten's fluoride conspiracy theorists are riding into Columbus on a high horse after beating Michigan for apparently the first time in school history.
It's odd, though, considering their second-rate team got snubbed from the playoffs as the Big Ten champs and fumbled the bag against a mediocre USC team (redundant, I know).
That would never happen to a one-loss Ohio State team, as will be proven in exactly one month's time. And therein lies the difference between the two programs.
Where I'm from, the brilliant City of Kings, we call them Pinstripe State for how jazzed they were just two years ago for the sorry-ass Pinstripe Bowl: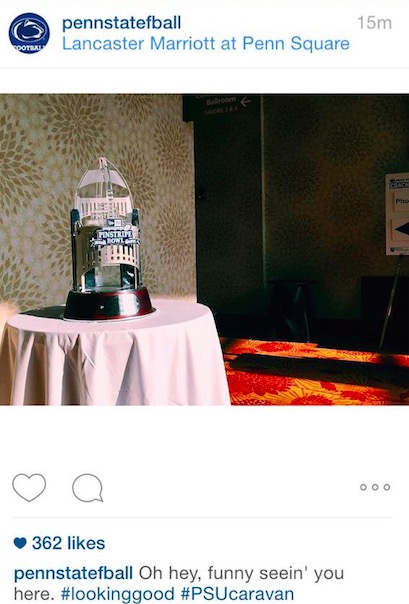 That picture is pathetic on so many levels, right down to that free continental breakfast medallion of a trophy. Funny seein' you here, indeed.
Deep down, Penn State fans feel the gap between the two programs in their souls. That's why they spent the week lining up excuses about John O'Neill having the fix in for the Buckeyes. (Prior to this week, I couldn't have named a Big Ten official for $20,000,000.)
They should be thankful I'm not the mayor of Columbus. I'd make it illegal for any lodging establishment within the 270 outerbelt to house the Nittany Lions. They'd be forced to rent a trailer park in West Jefferson and have to avoid potholes during their game day walkthroughs. Then, and only then, would they know what it's like to visit State College.
The local team will humble Penn State tonight. Bet the rent on that.
And stay tuned after the game, too, as we may witness James Franklin morph back into a pumpkin right before our eyes. His time is over.
10/28 SLATE

| TIME (ET) | GAME | FAVORITE | CHANNEL |
| --- | --- | --- | --- |
| 12:00 | RUTGERS at MICHIGAN | UM (-LOL) | BTN |
| 12:00 | #5 WISCONSIN at ILLINOIS | UW (-27½) | ESPN |
| 12:00 | #11 OKLAHOMA STATE at #22 WEST VIRGINIA | OSU (-7½) | ABC |
| 3:30 | #3 GEORGIA vs. FLORIDA | UGA (-14) | CBS |
| 3:30 | #4 TEXAS CHRISTIAN at #25 IOWA STATE | TCU (-7) | ABC |
| 3:30 | #14 NORTH CAROLINA STATE vs. #9 PURPLE BRIAN KELLY | PURP (-7) | NBC |
| 3:30 | #16 MICHIGAN STATE at NORTHWESTERN | MSU (-3) | ESPN |
| 3:30 | UCLA at #12 WASHINGTON | UW (-17½) | ESPN2 |
| 3:45 | HOUSTON at #17 SOUTH FLORIDA | USF (-11) | ESPN2 |
| 7:20 | DUKE at #13 VIRGINIA TECH | TECH (-16½) | ACCNE |
| 8:00 | GEORGIA TECH at #7 CLEMSON | CLEM (-14) | ABC |
| 8:00 | TEXAS TECH at #10 OKLAHOMA | OU (-20) | ABC |
| 9:30 | #15 WASHINGTON STATE at ARIZONA | WSU (-2½) | PAC12 |
| 10:45 | #21 SOUTHERN CALIFORNIA at ARIZONA STATE | USC (-3½) | ESPN |
| 11:15 | SAN DIEGO STATE at HAWAI'I | SDSU (–9½) | ESPN2 |
Obviously, that 3:30 slate is loaded. For me, the only other game I care about today is the FOIA bowl. LET'S GET IT, KNIGHTS.
From the masterful Tom Orr:

Word of the Day: Tyrannize.
 THE NITTANY DOSSIER. Here's everything you need to know about tonight's opponent, the Nittany Lions of Penn State:
Be sure to follow 11W, Dan Hope, Andrew Lind, and James Grega on Twitter for updates live from the Horseshoe.
 COACHES BACK BUCKS. We obviously tab the local team to win the big game this afternoon. But we're biased.
What do coaches say? Well, they back our big bet.
From Pete Thamel of Yahoo.com:
A majority of the coaches picked Ohio State, based on the location of the game and caliber of their players. "Personnel wise, they're the best team in our league," said a coach who has studied both extensively. He made a "Space Jam" reference to prove his point. "If the rest of the league is the Tune Squad, Ohio State is the Monstars."

The coach noted no big scheme adjustments in Ohio State defensively since Oklahoma quarterback Baker Mayfield torched them for 386 yards passing. "Nothing has really changed, they are who they are. They just had some busts in the Oklahoma game, things were out of character."
Keep that Monstar juju away from me, anonymous coach. They lost in the end of the movie. Plus, Michael Jordan plays for the Buckeyes. I get the overall point, though.
Check that article out for coaches breaking down Ohio State and J.T. Barrett's evolution (among other things).
 OH NEER. Let's hope ol' Brutus Buckeye doesn't celebrate the big win tonight by drinking 82 IPAs, stealing Buck-I-Guy's convertible, and getting a DUI on 670.
From wvalways.com:
The current West Virginia University Mountaineer Mascot has been arrested for driving under the influence, according to the Monongalia County Sheriff's Department.

Troy Clemons, 22, of Morgantown, was speeding on Stewartstown Road, and when he was pulled over, the deputy smelled alcohol on his breath, according to court documents.

Clemons failed multiple field sobriety tests, deputies said, and his blood alcohol content was 0.126.
Sometimes the jokes write themselves.
 #PERTINENTSOPRANOS. These heathenistic schleppers encroached upon our turf, and unfortunately they won't show decorum unless forced.
PROPHECY: 35-24, local team.
 THOSE WMDs. When "stan" became a verb... Your pumpkin pie is a lie... 3D printing will revolutionize how the Marine Corps fights... Felony charges refiled against Penn State Beta Theta Pi brothers... In Florida's Seminole County, three victims of a mysterious killer.