Another day on the march to UNLV–Ohio State. Shame it's Thurday and not Friday, though.
ICYMI:
Word of the Day: Investiture.
 WE MOST PROTECT THIS PASS. J.T. Barrett has born the brunt of criticism facing the Ohio State offense. Such is the peril of playing quarterback at an elite footballing university.
But there is plenty of blame to go around. While the receivers are probably second in line, the offensive line hasn't been perfect, either.
From @CFBFilmRoom: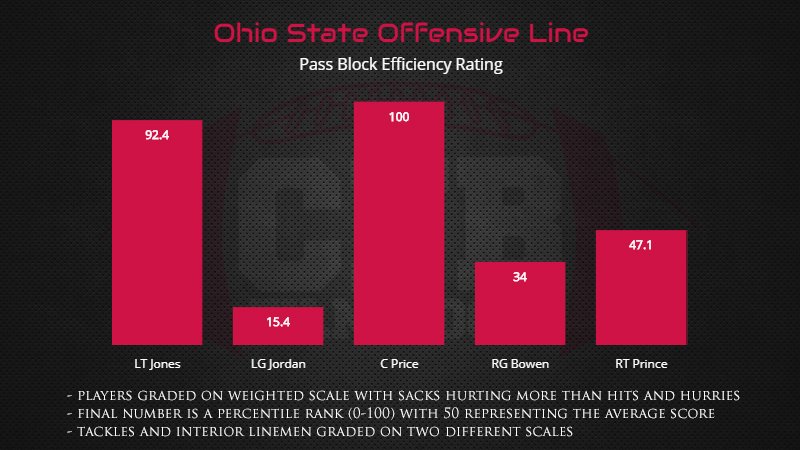 Jamarco Jones and Billy Price leading the way is the least surprising thing ever.
Isaiah Prince being slightly below average is a marked improvement on last season.
Also worth noting: I.Prince had the lowest rating we've scored last season. Jumping up to 47th percentile this season is a huge improvement

— CFB Film Room (@CFBFilmRoom) September 19, 2017
Jordan being ranked below Bowen is a bit surprising, considering Bowen has only played the position for a month.
For comparison, here's how Okalhoma's looks: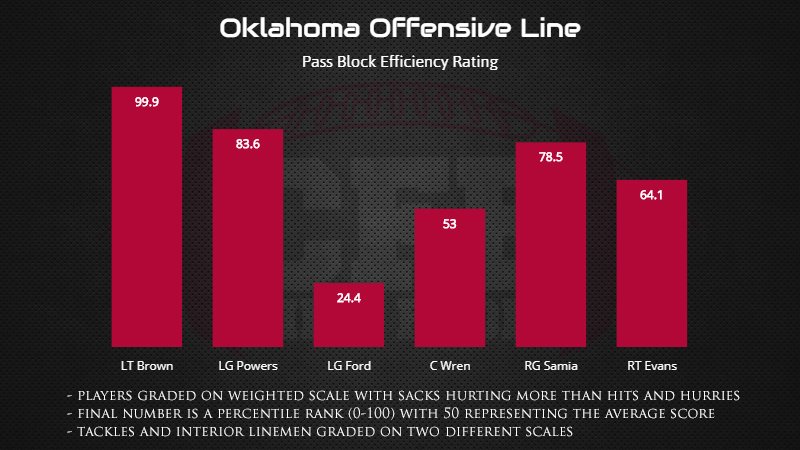 Obviously, Ohio State has some room for improvement.
Speaking of improvement, here's what J.T. Barrett's passing chart looks this season:
Also via @CFBFilmRoom: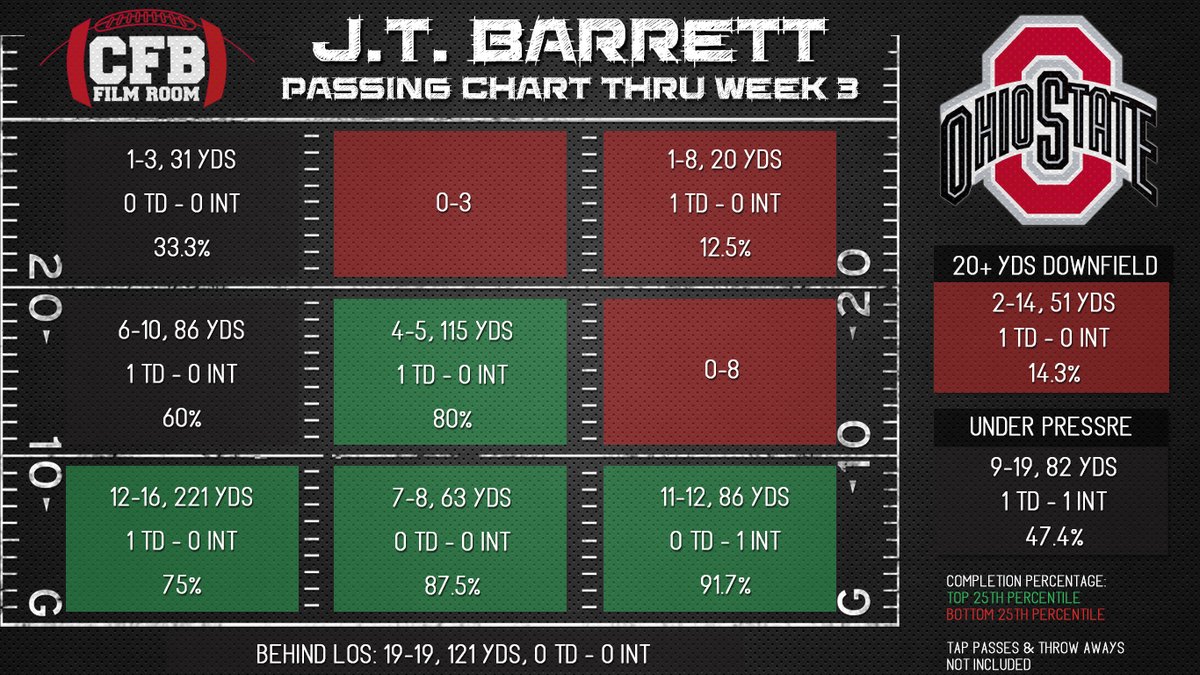 Inconsistent pass blocking and poor deep ball performance is a recipe for disaster against elite teams. Let's at least hope the offense gets better at hiding Barrett's passing flaws when Penn State rolls to town.
 DEPTH ISSUES. Ohio State will likely beat UNLV on Saturday because it's the better football team with a higher quantity of elite athletes.
Credit to Rebels coach Tony Sanchez, he knows what he's up against.
From lasvegassun.com:
As Sanchez has said several times throughout training camp and the first two weeks of the season, UNLV has a handful of players who can play on any college team in the country, and the fans know who they are: wide receiver Devonte Boyd, quarterback Armani Rogers, running back Lexington Thomas, defensive tackle Mike Hughes and a few others. The thing is, Ohio State's roster is packed with four- and five-star athletes at nearly every position, with some spots going two or three deep.

[...]

It's a lot of talent, and the sheer numbers can seem overwhelming from UNLV's perspective.

"That's probably the biggest concern you have when you're a non-Power 5 playing a Power 5 team of that stature," Sanchez said. "We're going to rotate six, seven defensive linemen into the course of the game; they're going to rotate eight, nine, 10, 11. They're going to play multiple guys up front. They're just going to have a lot of depth in a lot of areas, so it's hard to really wear down a defensive front like that when they're constantly rolling guys in."
I don't envy Sanchez's job for trying to stonewall a unit like the Buckeye defensive line. However, I would gladly tackle it for ½ of his base $510,000 salary.
Let's just hope nobody gets injured.
 SCOUTING ARMANI. UNLV will be outmatched Saturday, but that doesn't mean they'll be defenseless.
Quarterback Armani Rogers, a three-star freshman from Los Angeles, will look to to spearhead a historic upset in Columbus.
From theozone.net:
~ Armani Rogers is a Dual Threat Quarterback ~
Another interesting name for UNLV, true freshman quarterback Armani Rogers is listed at 6'5″, 225 pounds, and has averaged close to 7 yards a carry when running the ball.  Rogers is coming off a game against Idaho where he set a UNLV school record with a 94-yard touchdown play to wide receiver Devonte Boyd. He has thrown for 413 yards this season and rushed for 168 yards. He has rushed for 82 yards and 86 yards in UNLV's two games this season.
Rogers will obviously be prone to freshman mistakes, but there's no denying he at least looks the part (in this video that misspelled his name).
Should be a good sparring partner before the local team dives into Big Ten play next week against Rutgers.
 BEER WE GO, HAWKEYES. While Ohio State dines on a cupcake this weekend, we'll start to get answers about other contenders.
Penn State heads to Iowa for a primetime tilt in Kinnick. Despite recent mediocrity, the Hawkeyes are always a different kind of opponent under the lights.
From sportingnews.com:
That's what the Hawkeyes have heading into this game. Jewell and the defense will have to be lights-out against one of the best offenses in the FBS. Wadley might need to start trending again. The Hawkeyes will need something to hit that extra gear, but Ferentz expects the same "electric" atmosphere he's used to at night.

He just can't explain the phenomenon. 

"I'm not sure I can give you an answer," he said. "Maybe our guys, it brings the high school in them. It's kind of like when you played high school on Friday nights that was exciting, and any time you can play on Saturday night that's a good thing."
I'll be cheering for the Hawkeyes, who have won four of the last five in Iowa City.
On the other hand, if Penn State wins, they'll be stronger when Ohio State plays them, making a win that more impressive. It's a win-win for Buckeye fans.
 PURDUE PETE BACK. The other Big Ten game that excites me is Michigan's trip to Purdue.
It's always been fun watching Purdue, but it switched this year in that the fun comes from the Boilermakers being good and exciting instead of bad and boring.
Amazing what a former XFL quarterback can do for a program.
From sbnation.com:
5. Big Ten, beware: the Boilermakers will likely only get better as the season progresses.

So far they've identified both tight ends and slot receiver Jackson Anthrop as key weapons, but they may find more as Blough becomes increasingly comfortable. Their offensive line can also get better, with a young left side that depends on a redshirt freshman at left tackle.

Brohm has gotten players up to speed in his basic philosophies and found some real weapons. The biggest challenge on defense in college football is getting linebackers and safeties up to speed on both run fits and coverage matchups against a wide variety of offenses. Against Purdue, they'll face a balanced team that employs a lot of misdirection and TEs that are involved in both the run and the pass. It's a unique mental challenge that often concludes with the need to cover, beat, or tackle a 6'4, 240-pound human being with momentum.

That part alone isn't new in the Big Ten, but it's been a long time since Purdue's arrived at it creatively.
Michigan losing to Purdue would be hilarious, and I'm entirely here for it. It'd be cool to see Brohm bag some iconic wins before a bigger program inevitably buys him out.
 THOSE WMDs. Eddie Lacy is more than a meme... The lonely road back from a very public injury... Jake LaMotta: What I've learned... Malware author uses same Skype ID to run IoT botnet and apply for jobs... How to deal with your bacteria hotbed of a sponge.