The Chase is finally over.
Its memories are now in permanent syndication, allowing you to enjoy the immortal 2014 Buckeyes indefinitely. Over the weekend we were treated to a scripted series finale for one of the most unforgettable college football seasons in history.
For all the hype, it was the adventure's second-least memorable chapter. You win again, Hokies.
Like Jerry Seinfeld getting thrown in jail, the Sopranos abruptly going dark in a diner and whatever the hell happened at the end of Lost - Ohio State's farewell was every bit of the schmaltzy, largely unsatisfying sendoff that so many great runs receive. It's a long tradition; we just aren't very good at letting beloved things go.
This often happens whenever we say goodbye to something against our will: It sucks. Even festive, celebratory farewells are somber occasions.
The irony of Ohio State's national championship celebration Saturday was as cold as the stadium air: A team praised all season long for its audacious selflessness, tireless work ethic and utter lack of individualism, vanity or ego was lauded by a parade of politicians.
A group of players who put themselves in front of nobody was now seated behind a cavalcade of bureaucrats. Their stage time occupied almost two-thirds of Ohio State's championship celebration. This is why you dressed in layers.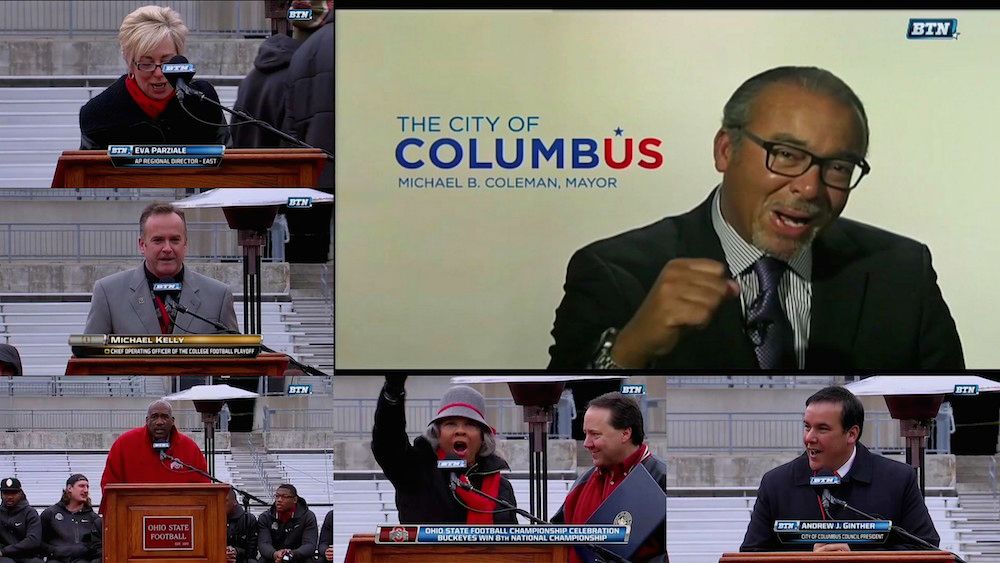 "We love you here in Columbus and we love you in Washington!" screamed Rep. Joyce Beatty (D) from Ohio's 3rd District (hey - that's you, Columbus). Beatty once held the same job at Ohio State Jim Tressel had at Akron - VP of Outreach and Engagement - back when Tressel was coaching the Buckeyes. Fun little fact: Her government income is currently higher than the president's.
Beatty was joined on stage by TBDBITL alumnus and fellow Rep. Pat Tiberi (R) from Ohio's 12th district (hey - that's you, uh, whole bunch of gerrymandered towns). Tiberi has a job for life in that it is virtually impossible for him to lose an election in his carefully-redrawn district. Perseverance comes in many shapes and sizes.
Reps Beatty and Tiberi preceded a taped video message from Columbus Mayor Michael Coleman who announced the unveiling of The Undisputed Way, because if there's anything politicians from all parties and eras can do together quickly, it's renaming streets - though usually after themselves.
The frigid celebration docket - this season finale and public goodbye to the immortal 2014 Ohio State Buckeyes - featured four politicians, two university administrators, AFCA executive director Gary Darnell (whose coaching tree sprung TCU's Gary Patterson) (zing) AFCA managing director and former Baylor coach Grant Teaff (double zing), the Amway North America managing director, College Football Playoff COO Michael Kelly and finally, Eva Parziale, the Associated Press Bureau Chief for Ohio and Michigan.
It was a veritable who's-who of people you had no interest in seeing or hearing. Though to be fair - those types generally love seeing and hearing themselves, so it's not as if there were no winners Saturday.
I felt obligated to provide some basic information about the superfluous pencil-pushing majority of Saturday's fête because it went completely ignored by Eleven Warriors. The Dispatch only wasted one sentence on it. The Plain Dealer spent two. USA Today pretended it never happened. 
This often happens when WE say goodbye to something We love. It sucks.
The bulk of Ohio State's 2014 finale was the type of uninteresting filler that tends to infect most championship celebrations in order to instill some artificial sense of the title being official. That charade was rendered unnecessary the moment the Buckeyes finished smothering the Ducks. Urban Meyer hoisting the trophy on stage made it official enough.
The football season that just closed with Ohio State on top of it provided a bounty of memories and lessons, among which was the cautionary tale of the conspicuous administrator: Even casual followers of college athletics knew who Dave Brandon was because his hubristic vision for Michigan was matched by both his predictable incompetence and his penchant for proudly putting his name on it.
Brandon was finally removed from his position on Halloween, but the long and raucous journey to his demise revealed shared feelings across the country beyond Michigan alumni and stakeholders: Administrator fatigue. Their necessary behind-the-scenes endeavors on behalf of the people we actually want to see need to stay there.
Platitudes about amateurism aside, college football is about players, coaches and fans. So on Saturday, as the season which included the highest-profile administrative termination in amateur athletics history concluded, it felt slightly more unnerving than usual to see a dozen administrators take the stage ahead of the most fascinating and improbable champion of the current century.
Put another way: The Buckeye fans who ventured to Ohio Stadium would have rather listened to Evan Spencer talk about this team at Castro-lengths in sub-freezing temperatures than hear a bureaucrat's brief opinion of the Buckeyes on a warm beach.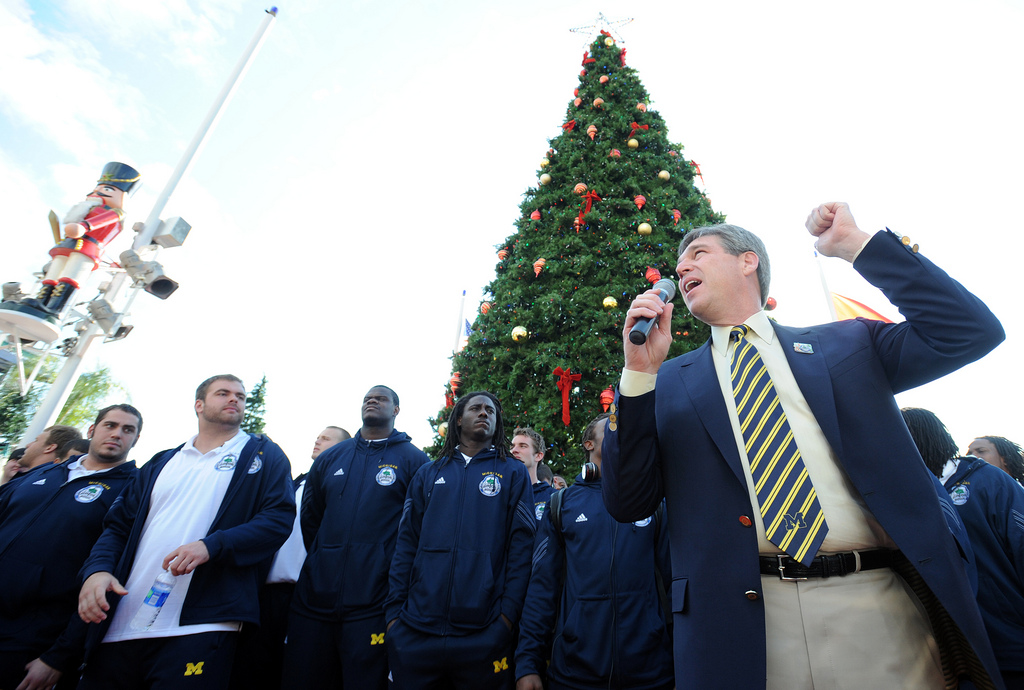 That said, it was inspiring to see both Gene Smith and Dr. Michael Drake shine among the dignitaries Saturday as they barely said anything yet made their brief appearances count: Smith graciously thanked the players' families for trusting Ohio State with their sons and Drake made only a couple of poignant comments before ceding the stage to the only reason fans braved the elements.
While the university's two administrative representatives were humble, brief and unobtrusive, fans were anxiously pining for the show's Cie Grant moment up until Meyer was finally allowed to take control of the festivities. 
Only after all of that was Ohio State's quarterbacking triumvirate - which literally sacrificed an arm and a leg en route to the national title - duly recognized along with future physician Nic Sarac, Ezekiel Elliott, Joey Bosa, Spencer and their teammates in what Meyer called the most selfless group of players and people he had ever been around. 
That all said, it's strangely fitting that even up to and through its national championship celebration, the 2014 Buckeyes continued to put others ahead of themselves.
After all, that's how they ended up on top of the world.
---
Please refer to 11W commenting policy before attempting to make any references to politics or religion.