LeBron James is coming home. That's fantastic news for the city of Cleveland, but also pretty good news for Ohio State.
For starters, LeBron (and to a lesser extent, Johnny Manziel) bring cachet to Cleveland and the state of Ohio. After taking body blows for the better part of two decades, Cleveland is hot again. It's the epicenter of the sports world right now.
James and Manziel give the state juice and preemptively counter the argument from neckbeards in other parts of the country that Ohio is boring—that nothing happens here. Not with an ESPN satellite truck permanently parked in the 216.
Here's LSU coach and former Michigan Wolverine Les Miles openly expressing his Ohioness:
From one Ohio native to another, welcome home @KingJames. LM

— Les Miles (@LSUCoachMiles) July 11, 2014
That's the LeBron bounce.
Ohio State, understandably, is eager to tap into what James can offer to the school's basketball and football programs:
@KingJames Welcome home my friend. See you this fall!!! pic.twitter.com/6rj8uwiHCp

— Urban Meyer (@OSUCoachMeyer) July 11, 2014
While James made the leap directly from Akron's St. Vincent–St. Mary straight to the NBA, his affinity for Ohio State has never been questioned. He has said he would have gone to Ohio State had the NBA's one year of college rule been in place when he graduated and Ohio State returned the favor by honoring his No. 23, giving him a locker and plastering his name and logo all over the school's new basketball facility.
Yesterday, Urban Meyer said LeBron had "an open door" and spoke about how James had spent time with and spoken to his team on several occasions. Thad Matta was even more effusive, telling cleveland.com, "For me, it's one of the greatest things for the state of Ohio, because you have the greatest basketball player in the world in our state. And all the people in Ohio that are going to get to watch him play more now, it's a great thing for basketball here."
Two of the best in the business! Coach Matta and @KingJames #GoBucks pic.twitter.com/wbugIAy1Mh

— OSU BASKETBALL (@OhioStateHoops) July 11, 2014
LeBron's presence on the sideline of football games adds and extra jolt to an already electric environment. He was there for the Wisconsin game last season and no doubt helped make that one of the program's best recruiting weekends of the year. With five primetime games on the schedule this season, expect to see much more of James now that he's just a couple of hours down the road from Ohio Stadium again.
If you're a five-star prospect planning official visits, why not schedule a trip that comes with a decent chance of meeting the most popular athlete in America?
Here's freshman Johnnie Dixon, one of the nation's top wide receiver prospects in the 2014 class and product of Florida power Dwyer High School:
@KingJames apart of dream14 now lol

— Johnnie Dixon (@MakeHistory_JD) July 11, 2014
Jerome Baker, who, depending on who you're asking, is either the state of Ohio's top- or second-rated prospect, committed to the Florida Gators Friday morning. Meyer and his staff were already expected to pursue Baker up to National Signing Day, but you have to think the four-star talent is already having second thoughts about life in Gainesville.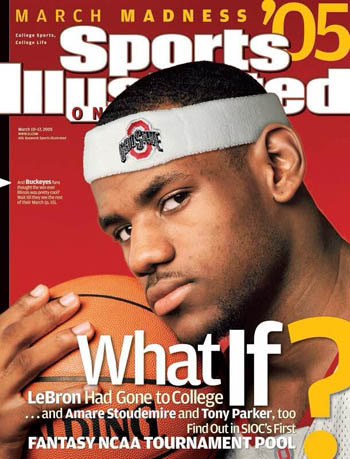 Braxton Miller, like Terrelle Pryor before him, have each felt the LeBron bounce on Twitter while at Ohio State. How is that not enticing to a prized recruit?
And what if LeBron begins to participate in offseason workouts in Columbus, along with Mike Conley, Jared Sullinger, Evan Turner and other former Ohio State basketball players? Think that helps Thad Matta a little bit?
Near the top of Matta's recruiting wish list is V.J. King, the class of 2016 phenom from St. Vincent–St. Mary, which just so happens to be the school that LeBron emerged as a prep superstar. Wonder if James will help on that front?
None of this is to say that James' affiliation with Ohio State will lead to football and basketball recruits choosing the Buckeyes simply because he may show up for a football game or take part in an open gym, but all things being equal, the LeBron bounce could provide a slight edge and often, that's all Thad Matta or Urban Meyer need to close the deal.