Few families have made as big a name in wrestling as the Jordan clan of St. Paris, Ohio. Returning All-Americans Bo and Micah Jordan may be the lynchpin to Ohio State's NCAA title aspirations this season - and they came up surprisingly short in Sunday's home opener versus Arizona State.
Redshirt junior Micah started the season as the fifth-ranked 157-pounder in the country, coming off a fourth-place 149-pound finish at last year's NCAA tournament. Redshirt senior Bo opened with a third-place ranking after a controversial loss to Penn State's Mark Hall in the championship match.
The expectations for them this year, in other words, are sky high.
"We know what we've got in the Jordan Brothers. We've got resilient, tough, committed hard-working, passionate people who love the sport."– Buckeye head coach Tom Ryan
For the elder Jordan, Sunday's match was expected to be tough, as Arizona State's Zahid Valencia is the top-ranked wrestler at 174 pounds this season. While Bo was pinning unranked opponents at the Princeton Open in the season's opening weekend, Valencia was avenging his NCAA semifinal loss to Hall at the NWCA All-Star Classic, and followed it up with a win over No. 4 Myles Amine of Michigan when the Sun Devils visited Ann Arbor for their first dual of the season.
With that momentum on his side, Valencia rode into St. John Arena ready to take care of business against a third-consecutive top-four opponent. 
"There is no one having a better start to his season than Zahid Valencia," FloWrestling's Ryan Holmes put it, as Flo named Valencia their Wrestler of the Week. "[His] incredible start to the season...already includes wins over the Nos. 2-, 3-, and 4-ranked wrestlers in the country."
Jordan came out shooting, knowing that he was facing perhaps the stiffest competition he'll see until the Buckeyes travel to Penn State in February. The challenge, it seemed, was finishing those shots and getting points on the board.
"Valencia wrestled a fantastic match, so credit to Valencia," Buckeye head coach Tom Ryan said after the match. "We had a couple of chances to score and didn't."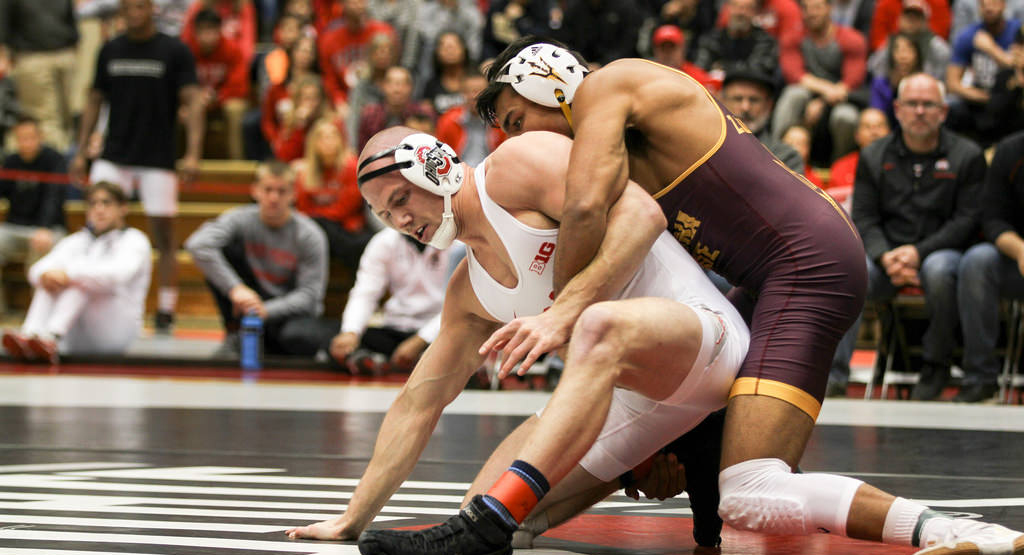 Ryan said he wasn't worried about his senior leader, one of a trio of three-time All-Americans on his roster. The match was a good match, and Jordan will rebound and be fine in the most important stretch of the season.
"I'm not a big fan of pushing really hard really early," Ryan explained. "Unlike many sports, where if you lose early in the year your chance of having success later in the year diminishes, that's not the case in the sport of wrestling."
With the younger Jordan brother, on the other hand, fans were likely surprised to Micah upset by No. 12 Josh Shields. Like his brother, Micah went to work early, scoring a takedown in the opening seconds, but Shields was not cowed by the aggressive approach, and the first period closed with a score of 4-4.
Over the final two periods, however, Shields simply ground down Jordan, and earned the 7-4 decision.
"I'm going to take that one a little bit," Ryan said of the younger Jordan's loss. "Micah came out with two great takedowns, was up 4-1 I think, but he felt some of the things that Shields was doing wore on him a little bit, so we can change that. When you've got a guy with the mindset and the work ethic of Micah, we can change those things."
Ryan praised both Jordan brothers for their toughness, saying he wasn't worried about the early-season upset at all.
"We know what we've got in the Jordan Brothers. We've got resilient, tough, committed hard-working, passionate people who love the sport. We know we've got that. They'll rebound."