Jeff Sagarin was cooking with gas long before the rise of advanced analytics.
Jeff has been kind enough to mathify rankings and provide a sciencey view on how teams stack up for decades. He graduated from MIT but has an unhealthy relationship with sports. Jeff is one of us.
Sometimes his team rankings mystify me - but what am I going to do, argue with him? Sir, you may hold a degree in mathematics from the most prestigious technical college on earth, but my Big Ten English Literature degree and I have a beef with your results. Then I'd call him a nerd and run away.
Trust the experts is the sturdiest pole keeping every decision-making tent from flying off into space, no matter the topic. But there's no penalty for doing your own research. Unemotional computer force-rankings that quantify the qualitative and hyper-emotional human eye-humping 130 college football teams over 14 consecutive hours while carrying a measurable BAC can and should coexist.
Having a hot opinion is the primary obligation of the miserable fan. I've still never stopped attending the church of Sagarin, despite frequenting services at the SP+ temple and consuming every bit of semi-cerebral college football decomposition imaginable.
Here's how Ohio State currently measures up against its opponents in Jeff's head and SP+.
OHIO STATE vs. FIRST FOUR 2022

| FOOTBALL PROGRAM | SAG SCORE | SAG RANK | SP+ RANK |
| --- | --- | --- | --- |
| OHIO STATE | 95.26 | 3 | 3 |
| NOTRE DAME | 81.34 | 23 | 18 |
| ARKANSAS STATE | 62.89 | 105 | 113 |
| TOLEDO | 66.61 | 84 | 65 |
| WISCONSIN | 84.87 | 13 | 15 |
Our brains all process advanced information differently. Mine tells me Notre Dame is basically Catholic Wisconsin and Toledo and Arkansas State definitely earned their respective paychecks.
There's as much distance in Jeff's calculations separating Ohio State (3) and Oklahoma (4) as there is separating Oklahoma and Clemson (11). Same gap between Clemson and Cincinnati (27). Sagarin and SP+ math both suggest college football is top-heavy this season!
That tracks with me, a guy who can barely add single integers together without staring at both hands and sweating. Speaking of heavy and sweaty, here's Wisconsin's story thus far.
WISCONSIN vs. FIRST FOUR 2022

| FOOTBALL PROGRAM | SAG SCORE | SAG RANK | SP+ RANK |
| --- | --- | --- | --- |
| WISCONSIN | 84.87 | 13 | 15 |
| ILLINOIS STATE | 55.25 | 141 | N/A |
| WASHINGTON STATE | 76.17 | 40 | 59 |
| NEW MEXICO STATE | 45.80 | 176 | 130 |
| OHIO STATE | 95.26 | 3 | 3 |
We should note that SP+ FBS rankings only go to 131 because that's how many FBS programs there are. Sagarin blends all of the football divisions, showing which FCS teams outrank their bigger, wealthier siblings. Wisconsin went slumming and scored big last week.
The Badgers also lost to the only non-corpse on their schedule, with both Illinois State and New Mexico State barely qualifying as paycheck opponents. A high double-digit spread for this weekend's meeting between Ohio State and Wisconsin seems fair, if not conservative.
As we found out on opening night, Ohio State is capable of playing whichever type of football it chooses, should Wisconsin try to run out the clock after the opening kickoff. Okay fine, it's out of scope but I can hear your brain begging for it - here's what you want to see.
MICHIGAN vs. FIRST FOUR 2022

| FOOTBALL PROGRAM | SAG SCORE | SAG RANK | SP+ RANK |
| --- | --- | --- | --- |
| MICHIGAN | 88.35 | 5 | 4 |
| COLORADO STATE | 56.12 | 137 | 120 |
| HAWAI'I | 50.32 | 162 | 128 |
| UCONN | 46.59 | 173 | 126 |
| MARYLAND | 75.00 | 44 | 39 |
In case you already forgot:
SP+ FBS rankings only go to 131 because that's how many FBS programs there are.
Jeff and SP+ both have Arkansas State going 3-0 against Michigan's non-conference schedule. They both also have Michigan going 4-0 against Michigan's September slate, so enjoy your chuckles before the Terps get their lumps.
Badgers on deck! Let's get Situational -
OPENER | FAMILY AFFAIR
We have reached the ignominious anniversary of the K'Vaughn Pope Incident.
It took place during Ohio State's 56-7 disposal of the Akron Zips last season at the end of September. The Buckeyes had rested C.J. Stroud for Kyle McCord and were shuffling in numerous other backups when Pope unsuccessfully tried to enter the action.
This led to him departing the program mid-game and publicly issuing his version of vaya con dios.

Check the timestamp, friends. Right in the middle of the damn game.
Ohio State had previously lost to Oregon while looking lost on defense, and now Pope was the second linebacker to exit the program in a week. Very few of us are certified football doctors but we can still recognize the symptoms of an unwell unit. Two linebackers peacing out in late September sure seemed like critical condition.
The cracks in last year's locker room came to mind while seeing Houston players fight each other while hosting Kansas on Saturday. I thought about how much more cohesive and aware the 2022 Buckeyes appear to be than their immediate predecessor, from obligations to the program to their places in the scheme and all along the depth chart.
Then I saw this photo an old friend took on Saturday night.
When people say sports is a "brotherhood" this is what they mean. Such a cool thing to see. pic.twitter.com/DUBLOvXEDg

— Jeremy Birmingham (@Birm) September 18, 2022
That's Dallas Gant - the first linebacker to depart a year ago - receiving quite the homecoming. He made a business decision, didn't burn any bridges and ultimately preserved some sweet friendships while thriving - and playing! - at Toledo.
So it wasn't as bad as we thought in the locker room. It was as bad as we thought on the field. Still, a dude from an historically mediocre unit rage-quit the team on national television and then introduced fucc into the lexicon. Over-diagnosing that situation was ripe with potential.
INTERMISSION
The Solo
I always believed this song was about someone with a drinking problem facing their reality and checking into the Betty Ford Clinic. Betty when you call me you can call me Al felt like 5th grade nuance, and so I jumped to that conclusion.
Then recently I got curious about the kick-ass whistle solo and needed to find out if it was a tin whistle or a penny whistle being played, since closure about the inconsequential is one of my fetishes. That research uncovered that You Can Call Me Al is not about Betty Ford. It's about a mid-life crisis. You just can't assume anything.
Gotta be honest, I liked my interpretation better. It features a penny whistle solo. Let's answer our two questions.
Is the soloist in this video actually playing the penny whistle?
Every instrument in this video is pretend-played by Chevy Chase at the peak of his powers or Simon, who holds the penny whistle. There is no documented evidence he knows how to play it, and Graceland liner notes credit sax and clarinet legend Morris Goldberg. VERDICT: No.
Does this penny whistle solo slap?
First let's acknowledge this was probably the most important non-Michael Jackson video of the 1980s. Second, let's recognize Chevy Chase was a) in a college band with the future members of Steely Dan, which means he's more musically literate than this video makes him out to be, and b) was born Cornelius Crane Chase, an elite name and initials.
I'm actually mad it wasn't a Fletch alias. And finally, the bass solo is the only recording palindrome I've ever heard of - they laid it down, flipped it and reversed it. Will music technology ever regain its 1980s peak? I would not bet on it.
VERDICT: Slaps. Also, Poon is Chinese, not Comanche-Indian. You just can't assume anything.
The Bourbon
There is a bourbon for every situation. Sometimes the spirits and the events overlap, which means that where bourbon is concerned there can be more than one worthy choice.
Wisconsin's coming to town, which led me to think about consumables that are fat, sturdy, affable and not quite as good in reality as they should be. There's a bourbon for that.
The most annoying thing about the Badgers is you've seen everything they can do for the past 30 years. They're always good enough to almost be good enough; whenever they actually ascend to the top of the dogpile it's because something better let its guard down, or got wrapped around the axle with a dumb tattoo scandal. The greatest Wisconsin teams are always just good.
Single barrel 1792 is lighter than the standard issue, which appeals to me because the latter tries way too hard while being forgettable. Conversely, Single Barrel feels effortless, like its mother was an obscure Pinotage and its father was Tracy McGrady. Easy, light and unassuming.
That said, 1792 loses points across the board because of the wide bottle, which takes up the same real estate on a crowded bar as two bottles. It has an annoying fat ass. Beat Wisconsin.

CLOSER | FORBIDDEN KINGDOM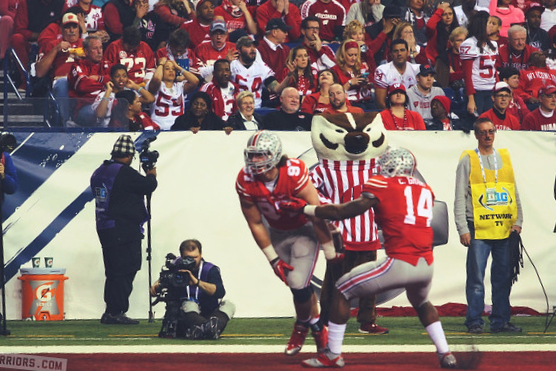 The road to modern B1G football titles is paved with Wisconsin's predictably shattered dreams.
Imbalance has dominated for a decade, with the West still not on the board for a single ring. Eleven championship games going back to their inception in 2011, and the Badgers have appeared in more than half of them, just like the Buckeyes.
But Wisconsin only has two titles to show for it, and both were as Leaders Division reps with one of them gifted to the division's 3rd place finisher with the first two ineligible. Since then, the Badgers have built every bit of their reputation by bullying the children's table.
Wisconsin has been the Final Boss ahead of Ohio State's conference championship endeavors half of the time. They have been the perfect Scooby Doo villain, masquerading as some wicked, calculating bad guy before ultimately being unmasked.
WISCONSIN'S DRY STREAK ENTERS ITS SECOND DECADE

| SEASON | DIVISION | B1G TITLE GAME | VS. OHIO STATE | STREAK VS. OSU |
| --- | --- | --- | --- | --- |
| 2011 | LEADERS (1st) | W 42-39 vs. MSU | L 29-33 (A) | 0-1 |
| 2012 | LEADERS (3rd) | W 70-31 vs. NEB | L 14-21 OT (H) | 0-2 |
| 2013 | LEADERS (2nd) | N/A | L 24-31 (A) | 0-3 |
| 2014 | WEST (1st) | L 0-59 vs. OSU | L 0-59 (N) | 0-4 |
| 2015 | WEST (2nd) | N/A | N/A | 0-4 |
| 2016 | WEST (1st) | L 31-38 vs. PSU | L 23-30 OT (H) | 0-5 |
| 2017 | WEST (1st) | L 21-27 vs. OSU | L 21-27 (N) | 0-6 |
| 2018 | WEST (2nd) | N/A | N/A | 0-6 |
| 2019 | WEST (1st) | L 21-34 vs. OSU | L 21-34 (N) 7-38 (A) | 0-8 |
| 2020 | WEST (3rd) | N/A | N/A | 0-8 |
| 2021 | WEST (3rd) | N/A | N/A | 0-8 |
Ohio State has a long way to go to match its longest unbeaten stretch against Wisconsin, which was from 1960 until early in the Earle Bruce era. Earle had success against every Big Ten opponent except UW, which never won more than seven games in a season during his tenure - but still had a winning record against the Buckeyes. Every coach has his kryptonite.
Our favorite streak ended last November. This one must be defended at all costs.
Thanks for getting Situational today. Go Bucks, beat Wisconsin.