While Ohio State's 59-7 win over Akron was mostly free of suspense on the field, there was no absence of drama on the Buckeyes' sideline.
That drama unfolded during the second quarter of Saturday night's game at Ohio Stadium, when Pope appeared to try to enter the game when he wasn't supposed to. Pope then began walking to the Ohio State locker room. Director of player development C.J. Barnett brought Pope back to Ohio State's sideline, but after what appeared to be a heated exchange with Ohio State linebackers coach Al Washington, Pope threw his gloves into the crowd and was then escorted back to the locker room by Barnett.
Pope took to Twitter shortly after the incident to send two tweets – one of which was deleted soon after, but not before it was widely circulated on Twitter – that made clear his displeasure with Ohio State's coaching staff.
good lucc to my teammates

— KVaughan Pope (@VonP04) September 26, 2021

Ryan Day declined to comment specifically on the incident after Saturday's game, saying he wanted to gather all of the details on what happened before commenting further. Day did say, though, that he did not believe the Pope situation – which came just three days after fellow fourth-year linebacker Dallas Gant entered the transfer portal and in the midst of what's been a bumpy first month of the season for the Buckeyes – was indicative of any larger cultural issues within the team.
"What it really is is just I think a lot of guys, they want to play, and you can't play everybody, and then their frustration kicks in," Day said. "I don't really want to comment too much on that particular situation, but I certainly think it's very isolated."
Although it seems unlikely that Pope will remain with the Buckeyes following Saturday's incident and his subsequent tweets, Day said he was not prepared to comment on Pope's status with the team in the immediate aftermath of Saturday's game.
Pass rush breaks through
Ohio State had just four sacks in its first three games of the season against Minnesota, Oregon and Tulsa. They more than doubled that total against Akron.
Following a week in which Ohio State defensive line coach Larry Johnson made it clear that the Buckeyes' lack of pressure up front was unacceptable, the Buckeyes sacked Akron's quarterback nine times on Saturday night, with all nine of those sacks coming from Ohio State's defensive line.
To be more specific, eight of those nine sacks came from Ohio State's defensive tackles. Senior captain Haskell Garrett, who had just two career sacks going into Saturday's game, had three quarterback takedowns against the Zips. True freshman Tyleik Williams followed up his first career sack against Tulsa with two more sacks against Akron. Fellow defensive tackles Antwuan Jackson, Jerron Cage and Ty Hamilton each had one sack against the Zips, while true freshman defensive end Jack Sawyer also scored his first sack on Saturday night.
Those nine sacks were tied for the fourth-most in a single game in Ohio State history.
Ohio State was supposed to dominate in the trenches against Akron, so it will need to prove in upcoming weeks that it can continue to generate pressure against better competition as Big Ten play resumes. Nonetheless, Saturday's performance by the defensive line can certainly give the unit a much-needed boost of momentum and confidence after a disappointing start to the year.
"Coach J said it early in the week, we had to get more pressure," Jackson said after the game. "He put all the pressure on us this week, so we showed what we can do."
A big night for true freshmen
Ohio State's freshman class of 2021 was well-represented against Akron on Saturday night.
Four true freshmen started the game for the Buckeyes – quarterback Kyle McCord, running back TreVeyon Henderson, defensive end J.T. Tuimoloau and cornerback Denzel Burke – marking the first time since 1944, during World War II, that a quartet of freshmen started a game for Ohio State.
@BuckeyeNotes
On October 1, 1944 four freshmen started against Missouri:
Robert Brugge
Ollie Cline
Richard Flannagan
Thomas Snyderhttps://t.co/U3L1Yai0h4

— Matt Gutridge (@RemyBuckeye) September 26, 2021
McCord became just the fourth true freshman to start a game at quarterback for Ohio State, joining Art Schlichter, Terrelle Pryor and Braxton Miller. McCord and Henderson became the first-ever true freshman quarterback/running back tandem to ever start a game together for the Buckeyes. 
McCord threw two touchdown passes while Henderson had two touchdown runs in Saturday's game. Tuimoloau and Burke each had two tackles.
Beyond those four starters, many other members of the 2021 class also made their mark on Saturday's game. Williams and Sawyer combined for three sacks, as aforementioned. Evan Pryor had five carries for 35 yards, including a 12-yard touchdown run, in his Ohio State debut. Emeka Egbuka, Marvin Harrison Jr. and Jayden Ballard all made their first career catches, with Egbuka taking his 85 yards. 
Reid Carrico had two tackles while Mike Hall and Jakailin Johnson each had one in their Ohio State debuts on defense. Jordan Hancock and Jantzen Dunn also made their debut in Ohio State's secondary, while Donovan Jackson played his first snaps on the offensive line. Even a walk-on true freshman saw playing time as Toby Wilson lined up at center with the second-team offensive line.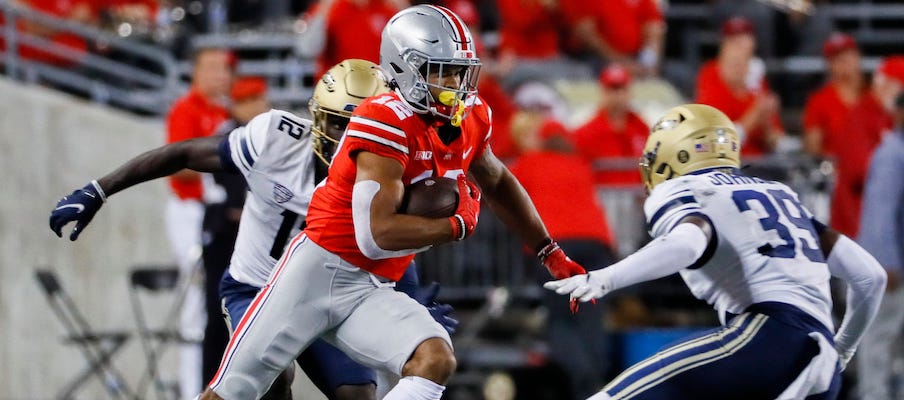 Attendance improves
After a 50-year low of only 76,540 fans attended Ohio State's second home game of the year against Tulsa, there was reason to wonder whether there would be many empty seats in the Shoe once again on Saturday night. The allure of a night game ended up drawing a significantly larger crowd for the Buckeyes' third home game of the season, though, as 95,178 people were inside Ohio Stadium for at least part of Saturday's game against Akron.
While Saturday's attendance still fell short of 100,000 fans, a number Ohio State hit for every home game but one between 2003-19, it was an encouraging step in the right direction for OSU amid declining attendance throughout college football.
Day appreciated the energy the crowd brought to Saturday night's game.
"They were having fun out there, they were loud and it was great to have just about a full stadium, so really appreciate everyone's support there," Day said.