With a top-three matchup between Ohio State and Michigan in the 118th edition of The Game, there will be quite the scene on campus in the hours leading to kickoff.
Skull Session, FanFest, College GameDay and Big Noon Kickoff, TBDBITL's entrance into the Horseshoe and Ohio State football's Senior Day activities are among the many events that will take place before noon on Saturday.
To help make navigate all the commotion, we've created a Game Day Timeline that can act as morning itinerary for your trip to campus for the Buckeyes' battle with the Wolverines.
Game Day Timeline
5 a.m. – Parking Lots Open
Click here for the 2022 Ohio State football parking map.
Ohio State uses each of its on-campus lots and garages for gameday parking, sold on a day-of-game basis only. The lots and garages closer to Ohio Stadium are called "proximity lots" and marked in red on the downloadable map are priced at $30. In contrast, the ones located further from the stadium are called "non-proximity lots" and marked in green are $25.
All day-of-game parking is sold on a first-come, first-serve basis on Saturdays, meaning there are no presales to park in the lots and garages. All parking sales are cashless, and lot attendants will only accept debit cards, credit cards and smartphone payments.
8 a.m. – Skull Session Doors Open
In 1932, Eugene J. Weigel enhanced the band's performances by having its members memorize music before games each week. The legendary leader of The Best Damn Band in the Land called his final rehearsals before game time the "Skull Session," allowing members to think through the upcoming show. They would practice in a rehearsal hall with a few hundred seats.
When St. John Arena was built in 1957, the band eventually moved the Skull Session to the athletic venue to accommodate the growing crowds that overflowed their previous rehearsal hall with people. It still takes place at St. John Arena today.
Skull session starts appoximately one and a half to two hours before kickoff of every home football game. It is a popular concert/pep rally, with over 10,000 fans in attendance. Seats for skull session are in high demand and it is not unusual for dedicated fans to arrive up to two hours before the band.
The Skull Session before the Michigan game is scheduled to start at 9:40 a.m. The marching band will play a short list of songs for those attendings. The football team is also expected to do its traditional walkthrough, including speeches from Ryan Day and an assortment of coaches and players.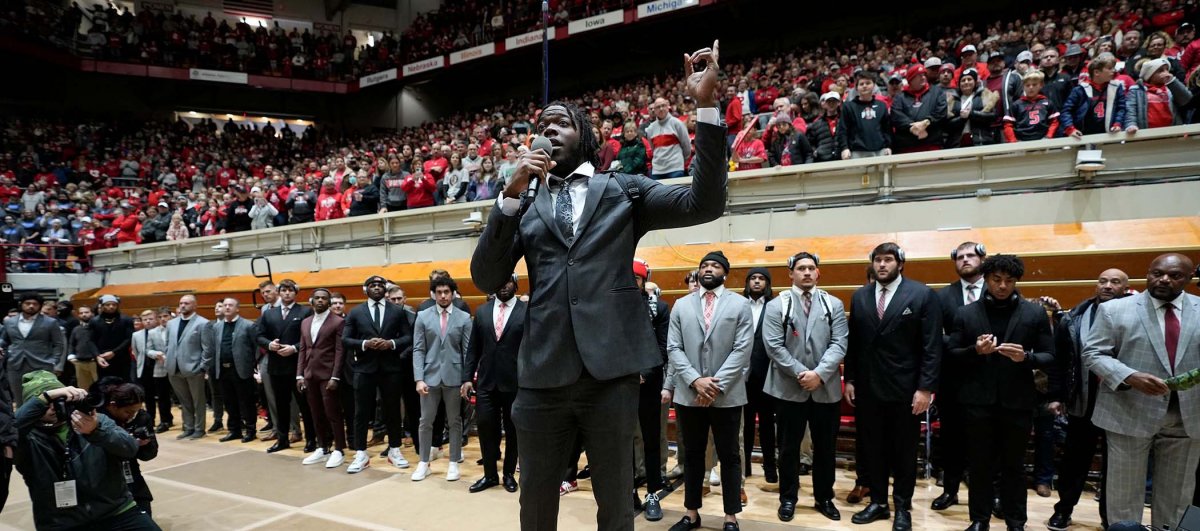 8 a.m. – Ticket Office Opens
The Ohio Stadium ticket office will open at 8 a.m. for fans needing assistance with mobile ticketing. The office is located outside Gate 5 on the stadium's south side.
Earlier this week, the Ohio State athletic department instructed fans where and how to purchase tickets for The Game to keep people from purchasing fraudulent tickets before Saturday. Here is the full release:
The Ohio State Department of Athletics firmly encourages fans to protect themselves from potential ticket fraud leading into the game Saturday between No. 2 Ohio State and No. 3 Michigan.

The Ohio State Athletics Ticket Office, Ticketmaster, and Buckeyes Ticket Exchange are the only authorized sources for tickets to Ohio State Athletics events.

All mobile tickets must be presented with a dynamic (moving) barcode or on your phone's digital wallet using tap-n-go technology.  QR codes and screenshots are NOT valid for entry into Ohio Stadium.

Fans purchasing tickets from unauthorized sources (including StubHub, Vivid Seats, CraigsList, EBay, and ticket brokers) assume the risk that tickets purchased are counterfeit or the barcodes have been invalidated. Any fan attempting to enter Ohio Stadium with counterfeit or invalid barcodes will be denied entry.
9 a.m. – FanFest Opens
FanFest is the place to be if you're looking for a tailgate open to the public on Saturday. The tailgate is located on the south side of St. John Arena and across the street from Ohio Stadium. There will be live vendors, lawn games and live music and other fun activities set to start three hours before kickoff.
9 a.m. – ESPN's College GameDay and FOX's Big Noon Kickoff Open
With a top-three matchup on tap between Ohio State and Michigan, ESPN's College GameDay and FOX's Big Noon Kickoff will both be in Columbus on Saturday.
Here is everything you need to know about both pregame shows:
College GameDay
GameDay will be live from the south side of St. John Arena, as it was for Ohio State's season opener against Notre Dame. Fans are welcome to arrive as early as 5:30 a.m. on Saturday, but keep in mind the broadcast will not start until 9 a.m. It will run for three hours up until kickoff at noon, with the final hour of the program taking place inside Ohio Stadium.
As always, a panel including Rece Davis, Desmond Howard, Kirk Herbstreit, Lee Corso, David Pollack and Pat McAfee will provide pregame coverage for Ohio State vs. Michigan and the rest of the weekend's slate of games. There will also be featured guests on the broadcast, including a guest picker that has not yet been announced. Day is also expected to appear on the broadcast at an undisclosed time.
FAQs about GameDay:
What is the ESPN policy for pit participants?

The following items are prohibited in the pit: bags (of any kind), food and drinks, pens, pencils, markers or dry-erase boards and signs on sticks. Throwing objects is strictly prohibited in the pit. A number of sign regulations are required as well.

How do I get selected to stand in the pit during the live broadcast?

Students and fans have the opportunity for up-close view of the show by standing in the pit immediately adjacent to the stage. Selection is on a first-come, first-serve basis for all fans. Students admitted to the pit are encouraged to wear school colors and should have a numbered wristband. Participants are subject to ESPN security procedures and policies.

What are the College GameDay sign regulations?

One of the most beloved traditions associated with College GameDay is the making of signs. No vulgar signs, .com, .net, .org, political or religious signs are allowed. For fans entering the pit, signs cannot be on poles or oversized. All signs brought to Saturday's taping will be inspected before entry and must abide by College GameDay's sign policies or will be removed.
For those who want to keep track of Corso's headgear picks, we have you covered with that also:
Corso will be making his 22nd visit to Ohio State this week; he's picked the Buckeyes in 17 of those visits and is 14-7 in headgear picks. Of the previous visits to 'The Game' Corso has a split pick of 4-4 and is 5-3 with those picks.
Corso has correctly picked all eight games this season and, dating back to last season, has won his last 12 headgear picks.
Corso has donned the Brutus headgear 36 times – the most of any team – and is 25-11 with those picks. His very first headgear pick in 1996 was also Brutus in Columbus.
Big Noon Kickoff
Like GameDay, Big Noon Kickoff will also be in the same place it has been from earlier this season – outside the RPAC on Ohio Stadium's southeast side.
Fans are welcome to arrive earlier than 9 a.m. to participate in the experience. In fact, it may be encouraged, as the first 200 fans to enter "The Pit" will receive free t-shirts and a chance to win an Xbox Series X, Playstation 5, gift cards and other prizes.
A panel of Rob Stone, Reggie Bush, Brady Quinn, Matt Leinart and former Ohio State head coach Urban Meyer will provide pregame coverage for Ohio State vs. Michigan and other matchups from around the College Football landscape. If you watch Big Noon Kickoff from home, keep your television locked onto FOX, as The Game will be broadcast on that network starting at noon.
---
For those looking to experience both College GameDay and Big Noon Kickoff on Saturday, the setups are only located 0.3 miles from each other – approximately a seven-minute walk.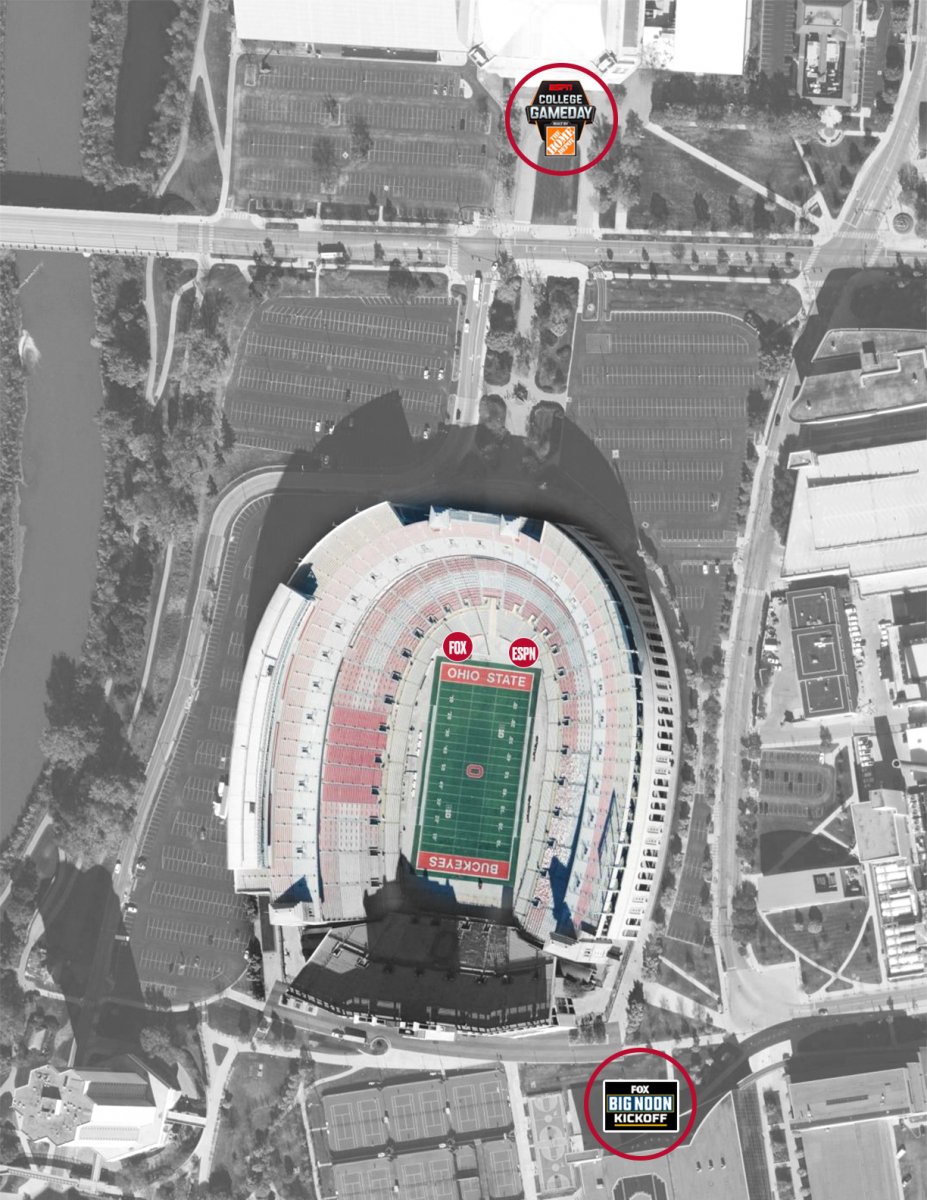 9:40 a.m. – Skull Session Begins
As mentioned above, the Skull Session will begin at approximately 9:40 a.m. The marching band will play a few songs and the football team will walk through St. John Arena, with Ryan Day and a combination of coaches and players expected to address the fans in attendance with brief speeches.
10 a.m. – Ohio Stadium Gates Open
The Ohio Stadium gates will open at 10 a.m. If you can reach your seats fast enough, you can welcome the Buckeyes into the Horseshoe as they make their walk from St. John Arena through the stadium and into the locker room.
11:40 a.m. – Band Ramp Entrance
The Best Damn Band in the Land will make its entrance into the Stadium to the tune of "Buckeye Battle Cry" and "Across the Field" around 11:40 a.m. The marching band will then welcome the football team onto the field as they draw closer to kickoff.
11:50 a.m. – Senior Day Recognition Begins
Not every Buckeye will run onto the field at the same time on Saturday. Twenty-three Ohio State players will be honored during Senior Day festivities before Saturday's game.
Senior Day Participants

| No. | Pos | Player |
| --- | --- | --- |
| 0 | WR | KAMRYN BABB |
| 3 | LB | TERADJA MITCHELL |
| 6 | DT | TARON VINCENT |
| 8 | DE | JAVONTAE JEAN-BAPTISTE |
| 9 | DE | ZACH HARRISON |
| 10 | WR | XAVIER JOHNSON |
| 14 | S | RONNIE HICKMAN |
| 15 | S | TANNER MCCALISTER |
| 21 | LB | PALAIE GAOTEOTE |
| 24 | RB | MARCUS CROWLEY |
| 26 | CB | CAMERON BROWN |
| 34 | TE | MITCH ROSSI |
| 41 | S | JOSH PROCTOR |
| 42 | CB | LLOYD MCFARQUHAR |
| 42 | LS | BRADLEY ROBINSON |
| 54 | DE | TYLER FRIDAY |
| 55 | RG | MATT JONES |
| 60 | OL | RYAN SMITH |
| 76 | OL | HARRY MILLER |
| 79 | OT | DAWAND JONES |
| 86 | DT | JERRON CAGE |
| 95 | K | NOAH RUGGLES |
| 96 | P | MICHAEL O'SHAUGHNESSY |
Notable players on the list include Ronnie Hickman, who announced on Tuesday that he will declare for the NFL draft after this season, and Marcus Crowley and Harry Miller, who will both walk on Senior Day even though both of them retired from football during the offseason for medical reasons.
12:14 p.m. – Kickoff
Just a few minutes after noon Saturday, it will officially be time for war.