Sixty-one years after they ended their war with each other, Michigan and Ohio played a football game.
The Wolverines scored 34 points while the Buckeyes scored none. Michigan took a 1-0 lead in a new series against a non-rival and never looked back. Its season-ender and program measuring stick was the Chicago Maroons; Ohio State was little more than mid-October schedule filler back then.
And filler might be generous. The Buckeyes were shut out in 11 of the first 15 meetings and scored just 21 points total in that span. Michigan scored 371. To put that in perspective, Rutgers has scored more points against Ohio State since joining the Big Ten three meetings ago than the Buckeyes scored against the Wolverines in their first 15.
The Buckeyes close the gap; the Wolverines widen it. Michigan HAS always OWNED a commanding lead.
An entire World War began and ended without the Buckeyes winning that game even once. But then Chic Harley arrived and Ohio State won a few Michigan games. They even mustered a winning record against That Team during The Great Depression (sunshine in the darkness, so to speak).
Then Francis Schmidt showed up and had the audacity to suggest the Buckeyes could look their aspiration in the eye without blinking, upsets be damned. Four meetings into his tenure, his teams were 4-0 in The Game.
By the time America shifted from global depression to yet another global war, the Buckeyes had accumulated 10 wins to the Wolverines' 25. That gap from the first 15 refused to go away. It had actually grown larger. Ohio State was trying harder than ever to catch Michigan and yet running to stand still.

The Graveyard of Coaches was established and curated mid-century, and the careers of Woody Hayes, Earle Bruce, John Cooper and Jim Tressel each entered, thrived and then took up residence in its mausoleum. Michigan's lead in the series had ballooned to 19 when Woody arrived in Columbus after Don Faurot turned down the opportunity. When he couldn't go for three in the 1968 rout, he had reduced the deficit back to 13 games.
It was at 13 again when Earle was abruptly fired (then 12 later that same week). Coop took the helm and 13 seasons later Tressel inherited a 21-game gap, the widest in series history nearly 100 years after it all began. He then siphoned Michigan's lead as no Ohio State coach had ever done previously.
Urban arrived as the fifth Ohio State coach in 100 years to carry a 13-win deficit against what's now long been their arch-rival, with the Maroons no longer the Wolverines' analog. Thirteen games put him in the same position in this series as Dr. John Wilce 99 years earlier. It's where Earle was when Ed Jennings called him into his office in 1987.
That's also the same gap Schmidt faced in 1936 when he turned a regional Texas colloquialism about everyone putting pants on the same way into Ohio State's reason to believe. Thirteen. The Buckeyes invested everything their program was about into catching Michigan for 100 years, and yet they kept ending up in the exact same place.
Five Ohio State coaches spanning 100 years have assumed 13-game series deficits against Michigan.
Sixty-one years after losing the Toledo War, Michigan won its first football game against Ohio State and has never looked back. It has maintained its upper hand for well beyond a century. The Buckeyes catch up, the Buckeyes fall back. Win or lose, the Wolverines always lead. Michigan may have lost the Toledo War, but that's it. They've always been winning this one.
The series currently stands at 49-58-6, a deficit of nine games. This is the closest the Buckeyes have been since they were still winless against the Wolverines in 1908, that period when Ohio State had no business being anywhere on Michigan's schedule, let alone mid-October.
It's an era we all missed on account of arriving here too late. We can only read about those first 15 games, which makes them even easier to write off since a national power clobbering a club team shouldn't continue to anchor the series record over a century later.
We've justified the gap against Michigan by suggesting those games mean nothing. We could not be more wrong. They mean absolutely everything.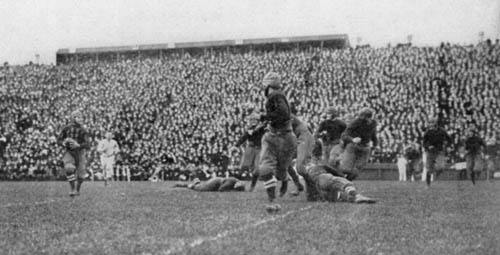 Michigan was the standard-bearer for Ohio State football at its genesis. The aspiration to meet and exceed Michigan's excellence berthed the Gold Pants tradition. At the height of World War II and at peak national unity in our country's history, James Thurber wrote We Don't Give a Damn for the Whole State of Michigan. Ironically, it's our most patriotic song.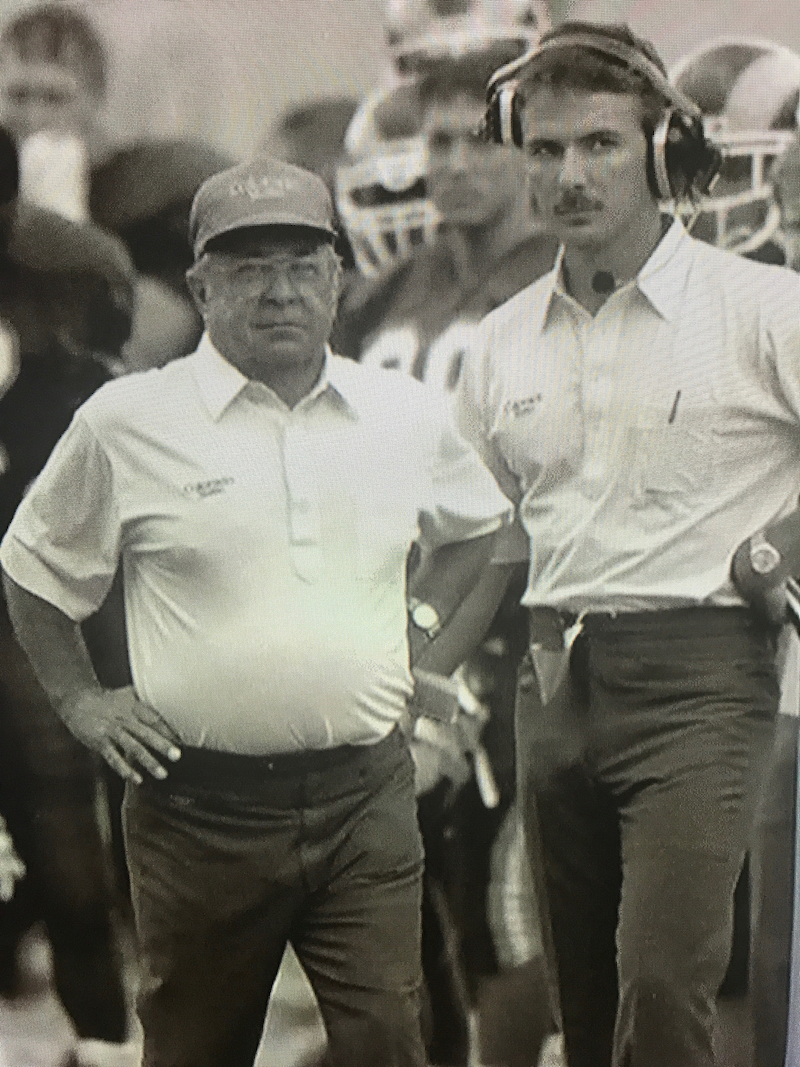 Our oldest song was written about Michigan. The Ohio Stadium rotunda is an homage to Michigan. Football seasons and coaches are defined and graded on how the Buckeyes fared against the Wolverines. That aspiration became our culture only after the Buckeyes got their asses handed to them by Michigan for the better part of their two first decades of existence.
Beating Michigan is an obsession that has been passed down for five generations, and it was created by the one incapable of doing it. Ohio State is still chasing an ideal its deceased ancestors were unable to achieve. It's now 2017 and the Buckeyes still haven't come close to catching the Wolverines in 120 seasons. 
One hundred and eighty-one years after they ended their war with each other, Michigan and Ohio State will play another football game this Saturday. The Buckeyes are favored to win, which happens more often these days. But Michigan is still the ideal.
It's hardwired into the Buckeye football program, regardless of how well they're doing at the present. The entire culture was founded on it. So if they someday erase that gap in the series and even take the lead, it won't change anything.
Ohio State will continue to chase a ghost it could never catch. And beating Michigan won't ever cede importance to anything else.