When you hear Kerry Coombs say it, your ears can't help but perk up.

"We have the most depth that we've had at the position since I've been here," Ohio State's cornerbacks coach said on Wednesday afternoon at the Woody Hayes Athletic Center, four days after the Buckeyes held their annual Spring Game to close spring drills.
"I'm extremely excited about the totality of the room," he said.
Ohio State is eight days away from watching at least two — probably three — defensive backs get drafted in the first round of the 2017 NFL Draft. Malik Hooker, Marshon Lattimore and Gareon Conley are the names, and two of them locked down defenders on the outside of the Buckeye defense for Coombs at corner in 2016.
And yet, the man who coached them believes he has more depth to work with now than last year when he considered Conley, Lattimore and junior Denzel Ward all starters. What about last year, when Eli Apple with 10th overall in the Draft? Or Doran Grant in the fourth round in 2015? Bradley Roby in the first round in 2014?
"We have more depth than we've had, yes," Coombs reiterated.
Coombs isn't one to sugarcoat things — he has never been that way since arriving at Ohio State ahead of the 2012 season with Urban Meyer. A dynamite recruiter and technician at the cornerback position, Coombs raised the bar among his peers in recent seasons. Larry Johnson is keeping pace on the defensive line and before he left to take the head coaching job at Cincinnati, Luke Fickell did it at linebacker.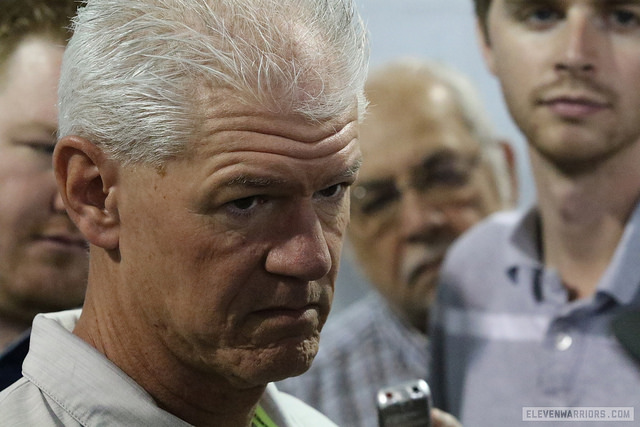 It is now on Billy Davis to push the envelope, and he has the potential for at least one draft pick in Jerome Baker coming in 2018, should the junior elect to turn pro after this coming season. Greg Schiano's work with Hooker last season speaks volumes, as the latter is a likely top-10 pick next week.
All of that is fantastic on paper — and has become the expectation at Ohio State, a program where championships are expected annually. And as the coaches make it sound, building the kind of depth that Coombs spoke of is also necessary because of the recent trend of offenses in college football.
"Maybe there used to be a box where you said, there's three linebackers and they're going to play. I think when the no-huddle hit everybody, I think everybody went to multiple rotations because you have to," Davis said on Wednesday. "To keep your guys in shape and tuned in. It just opened up everything."
Davis spoke about Dante Booker, arguably the most physically imposing and athletic linebacker he currently has in his room to illustrate the point. Booker had his junior season taken away from him with a knee injury and the impending rise of Baker. It resulted in a redshirt. There just wasn't room for Baker to play.
Now healthy, he is line to start this fall at outside linebacker for Davis, even though many thought he could be the natural replacement for Raekwon McMillan in the middle at 6-foot-3, 240 pounds and with incredibly long arms. Instead, Davis tapped Chris Worley, who is a tad shorter, a bit stockier and maybe not quite as explosive, to roam the middle. Worley played outside linebacker last season.
"Tell me the receiver that's going to block Dante out there on the bubble screen," Davis said. "It takes a whole game out of it. 'OK, here comes a sweep to Dante.' Who is the receiver that's going to block him and make him stop from setting that edge from getting outside? Then in coverage, if Dante is our fastest or one of them, then he's got the best matchup for the coverage of the people that they split out. There's a lot of reasons that Dante's body-type fits.
"I'm a believer that the long, fast athlete, it used to be bad to be too long. It's not that way anymore."
Those types of athletes are all that Coombs recruits these days. If you watched the Spring Game on Saturday, you saw freshmen and early enrollee corners Jeffrey Okudah, Shaun Wade and Marcus Williamson all experience some growing pains, as well as junior college transfer Kendall Sheffield. But you also couldn't deny their length and speed.
"We don't recruit 50 kids to go into that room. Because 50 kids can't do what they do," Coombs said. "There's a handful across the country that have the ability to do year in and year out what those guys do."
Okudah, Wade and Williamson could have signed with another Power 5 school (even one in the Big Ten) and started right away. The best Coombs could say about them at the end of spring practice is they are "in the mix" for playing time this fall. Ward is the team's unquestioned No. 1 corner, then Coombs mentioned Damon Arnette, Rodjay Burns, Sheffield and Amir Riep as other corners he expects to compete for playing time. Along with the other freshmen.
"I can take a defensive end and put him at three-technique and rush the passer. Put a guy at nose guard. I think that's what makes them really special. They can all move up and down the line of scrimmage. When you do that, you can get the right matchups you want."– Larry Johnson
The Buckeyes always say they want to rotate three if not four corners in an effort to keep them fresh throughout the season. It happened last year. Coombs believes it could happen on a larger scale this season, though Ward and Arnette are really the only names listed above to have big-game experience.
"I'd be disappointed if the young corners don't play," Coombs said.
In Johnson's case, the man responsible for exporting a wealth of talent to the NFL first at Penn State and now in Columbus with Joey Bosa as his poster child believes the Buckeyes could expand their rotation from eight to 10 guys in 2017. Why? Because not everyone is the same player who can do the same things.
"If you've got a guy that can do something, really a specialist that can do more than just one position — take Dre'Mont [Jones], take Jashon Cornell. They both came in as defensive ends and are both three-techs now," Johnson said. "That adds to what we're doing and allows you to go get another guy to bring in without changing the chemistry of the room. Because they can do multiple things."
Coombs said he truly only knows that Ward has one starting corner spot locked down. Schiano said the same at safety, where returning starter Damon Webb took a huge step this spring. Johnson has dealt with questions on rumors of a potential five-man defensive front after Meyer said earlier this month that he wants to see four defensive ends — Nick Bosa, Sam Hubbard, Tyquan Lewis and Jalyn Holmes — on the field at the same time as Jones, a tackle.
Taking a page out of his NFL experience, Davis considers the SAM and WILL linebackers interchangeable, just like his predecessor. Defensively, Ohio State enjoys an embarrassment of riches not many programs have. But it is needed if you want to compete at the highest level against the top offenses in college football, where teams are trying more and more to burn out defenses with tempo and speed. That is what Meyer wanted when he hired Kevin Wilson in January to run his offense, after all.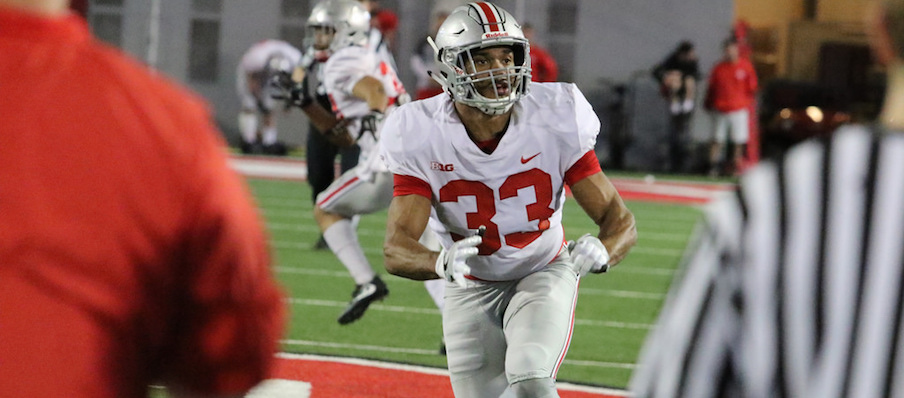 "Here's where it makes you better: I don't have to take the next SAM and put them in. I can take the next-best linebacker in and put him in," Davis said. "I may have to move two spots but at the end of the day, we're going to get the best linebackers on the field at once."
"I can take a defensive end and put him at three-technique and rush the passer. Put a guy at nose guard. I think that's what makes them really special," Johnson added. "They can all move up and down the line of scrimmage. When you do that, you can get the right matchups you want."
And above it all is Schiano, the man tasked with leading a defensive unit trying to improve on its staggering success of a year ago when it allowed only 296.1 yards and 15.5 points per game while returning seven interceptions for touchdowns.
We're a long way from fall, but the Buckeyes feel they can do that and more with their personnel. And with depth.
"I think we have as deep a defensive line and as talented a defensive line as anybody in the country. When you have that, it gives you the ability to do other things," Schiano said. "In the secondary, we have a lot of guys to replace but we feel like we have some guys to do the job. But until they do it, it's all conjecture."