The idea of unfinished business is an oft-discussed topic among college athletic programs that fall short of a goal the previous season. Especially when it happens on a national stage and the team's leaders subsequently elect to return to school.
Ohio State made the 2016 College Football Playoff with the youngest team in the nation. Things ended about as terribly as they could have, though, as eventual national champion Clemson bludgeoned the Buckeyes 31-0 at the Fiesta Bowl. In the two weeks following, six members of that team decided to enter the NFL Draft as underclassmen.
A handful of others — namely captains Billy Price, Tyquan Lewis and J.T. Barrett — all chose to return for a fifth season. With Ohio State back on the practice field Tuesday and Thursday this week following spring break, Urban Meyer and his staff will increase the intensity. It will be those seniors to lead them to the push through the final 12 practices before the program's annual scrimmage on April 15.
"I think when the winter workouts came and the grind came, it was about the guys," Barrett said recently. "I think my class, we love Ohio State. We love this team."
Barrett is in line to be the man at quarterback when Ohio State takes the field for its season opener for the third time in his career. He stepped in for an injured Braxton Miller in 2014 and started all 13 games a year ago. In 2015, he eventually beat out Cardale Jones for the job too. The Buckeyes visit Indiana on Aug. 31 to kick off their 2017 slate.
"We want to do the best for Ohio State and make sure we end the season on top. I think that's our focus."– J.T. Barrett
Lewis and Price will be captains yet again and are also multi-year starters. And even with James Clark's decision to move on from the program after he earns his degree this spring, there is still set to be seven fifth-year seniors on Ohio State's roster.
The others: linebacker Chris Worley, defensive tackles Tracy Sprinkle and Mike Hill and tight end Marcus Baugh. The seven is much more than normal in the Meyer era.
"They my boys. For a long time — me, J.T., Tracy — we came in early together. Worley and Marcus — we've all been tight since freshman year," Lewis said. "It's a bonus for us. We're all close still."
Lewis, Barrett, Price and running back Mike Weber were all recognized at an Ohio State men's basketball game in January after earning national recognition in 2016. Barrett was named Big Ten Quarterback of the Year and shared the Silver Football with Penn State running back Saquon Barkley while Lewis was named the Big Ten's Defensive Lineman of the Year. Price was named a first-team All-American and Weber was the conference's freshman of the year after rushing for more than 1,000 yards.
The upperclassmen all have different reasons for why they returned to school but one overarching theme stood above all when they spoke with reporters either that day or in the months since. How last season ended was not the final mark they wanted to leave at Ohio State.
"I just think there was unfinished business with a lot of guys. None of us liked the way we went out. You can't leave on a mark like that," Price said. "You leave your legacy with your last game playing with Ohio State and just the way we went out is not acceptable to a lot of the guys who are coming back."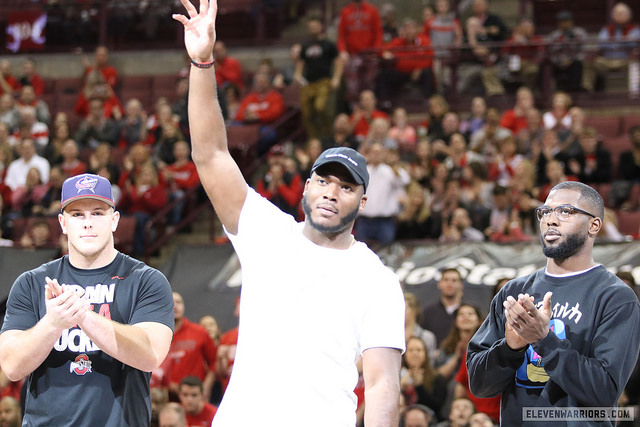 "Had a real, real bad feeling in my stomach and it was just, that game just didn't sit well," Lewis added.
So while the Buckeyes could have a draft class that steals headlines once again, the focus in Columbus is on those leaders that stayed. Meyer knows this is a critical spring for what he dubbed a refresh of his program heading into year six of his tenure. It's on Barrett and Co. to lead it — especially now that spring break is over.
"We're very strong at the top, we're very strong at the bottom and now we gotta squeeze it to make sure everybody's productive and provides value," Meyer said. "You do that, you'll have a very fine team. If you don't, you won't."
Barrett is someone who knows his college football resumé is missing one very distinct thing. The 2017 season is his final season to get it, and the last shot for his classmates to go out on a winning note.
"Years past, there haven't been a lot of fifth-year guys but I think the guys that are here now are committed to this team," Barrett said. "We want to do the best for Ohio State and make sure we end the season on top. I think that's our focus."