The G.O.A.T. Game Tournament, Eleven Warriors' quest to crown the greatest game in Ohio State football lore, continues with the old school bracket that includes iconic victories from 1890 to 1945.

Let's meet the regular season bracket:
#1 IOWA PRE-FLIGHT 1942 vs. #8 MINNESOTA 1945: Ohio State secures first national championship vs. Ohio State proving it can win on the road.
#4 OHIO WESLEYAN 1890 vs. #5 MINNESOTA 1939: The first win in program history vs. a win that gave the Buckeyes their highest ranking in program history.
#2 1916 NORTHWESTERN vs. #7 1949 MISSOURI:  First Western Conference Title vs. First televised game in the Horseshoe.
#3 1916 OBERLIN vs. #6 1950 IOWA: Chic Harley wrecks an old OAC rival vs. Vic Janowicz running wild on the Hawkeyes.
Let's vote.
#1: 1942 — Iowa Pre-flight AT No. 3 OHIO STATE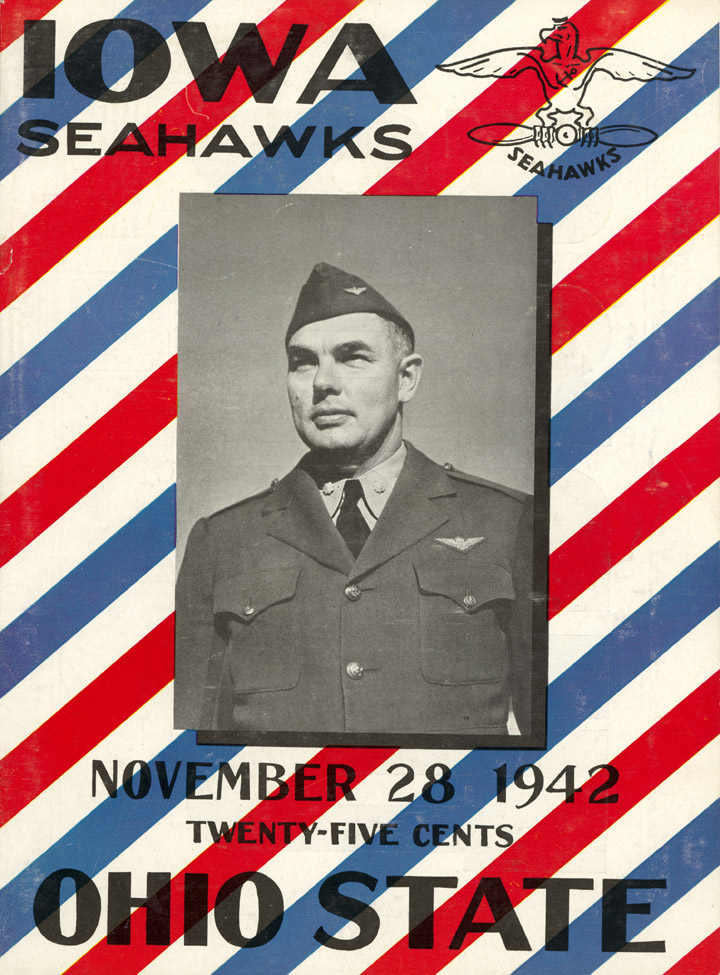 The United States Navy commissioned pre-flight schools at colleges around the country in 1942 after America entered World War II.
Cadets were given "three months of rigorous physical instruction" before graduating to the Pacific Fleet. Sports were particularly stressed at these schools as the Navy thought they prepared young men for the rigors of military life.
Iowa's roster included Buckeye halfback Dick Fisher, a two-sport star and member of Ohio State Varsity "O" Hall of Fame, as well as former Buckeye Don Langhurst. 
On Nov. 28, 1942, Iowa Navy rolled into Columbus for a date with No. 3 Ohio State. The Buckeyes had trounced Michigan the week before to win the Big Nine title in front of 75,000 fans. 
Curiously, only 27,259 fans came to the Horseshoe that day to watch Ohio State's backfield stable led by Les Horvath, Paul Sarringhaus, and Gene Fekete. 
Paul Brown's men out gained Iowa Navy 277 to 200. Their overall team speed was too much for the Seahawks to handle as the Buckeyes rolled to a 41-6 win.
No. 1 Boston College and No. 2 Georgia Tech lost that same day, giving Ohio State its first national championship in school history.
#8: 1945 — No. 12 OHIO STATE at No. 5 Minnesota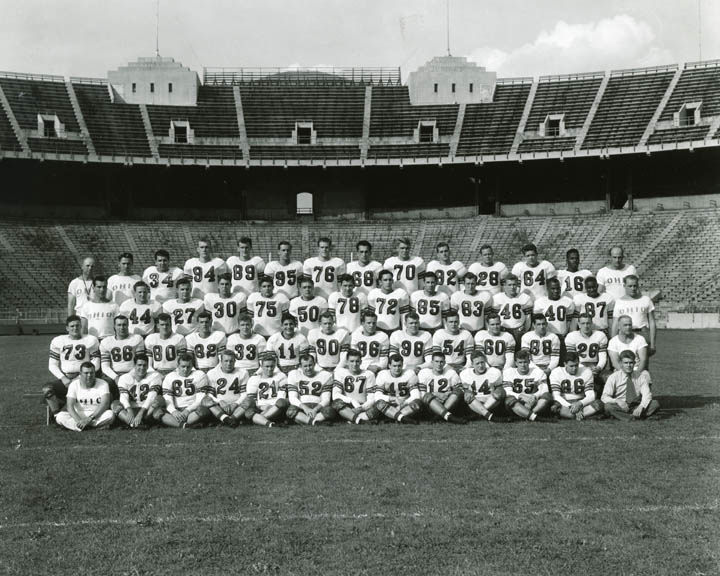 Entering a Week 5 contest at Minnesota, the Buckeyes were coming off a 35-13 loss in Columbus to No. 9 Purdue and hadn't won in Minneapolis since a 23-20 victory back in 1939.
It would be the eighth time Ohio State had faced a ranked opponent on enemy soil. Its record in the previous seven contests stood at 1-5-1.
However, Ohio State stunned 56,040 Minnesota fans on the day by rolling to a 20-7 victory. The win broke the Gophers' back, as Minnesota lost its next four contests by a combined score of 121-31.
#4 1890 — OHIO STATE AT Ohio Wesleyan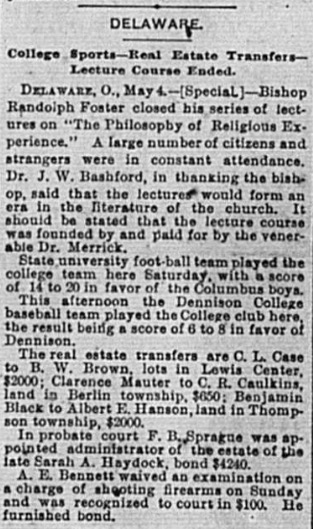 This entire tournament would not be possible without Ohio State's first ever win, which it achieved in the spring of 1890 when it took the 23 mile trip north to Delaware and dumped Ohio Wesleyan, 20-14.
The result of such a trivial sport warranted a small paragraph buried into a dispatch from Delaware in the student paper.
#5: 1939 — No. 10 Ohio State at No. 5 Minnesota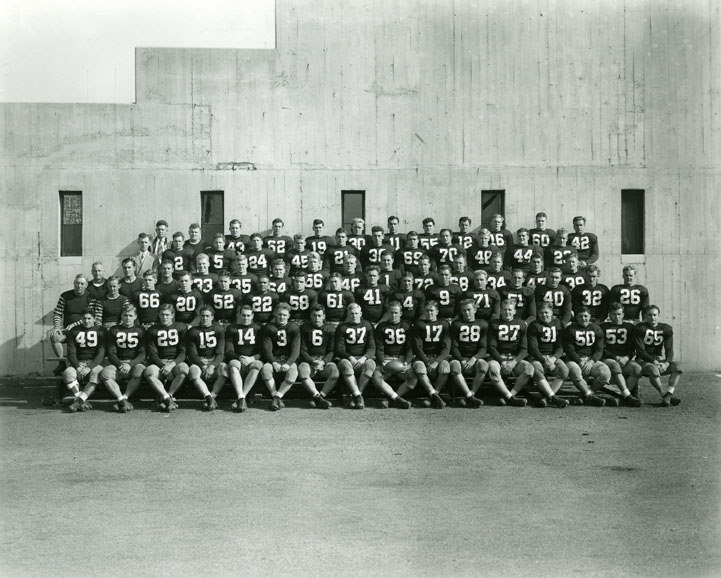 Ohio State had not played Minnesota for eight years. In that time, the Gophers won three national championships and compiled a record of 35–5. A win would add to the program's burgeoning national profile. 
The game was full of turnovers, bad punts, and penalties — usually a recipe for bad football; however, in in this game, it added to the drama.
Minnesota received the second half kickoff, and its drive ended with a fumble. Don Scott took advantage of the turnover and threw his third touchdown of the day to put the Buckeyes up, 23-14.
Early in the fourth quarter, Minnesota scored to make it 23-20. Buckeye Jack Graf ended the comeback bid by intercepting Minnesota's Harold VanEvery at the Ohio State five-yard line as time wound down.
The win pushed the Buckeyes to No. 4 in the AP Poll, the program's highest rating to that point.
#2: 1916 — Northwestern at Ohio State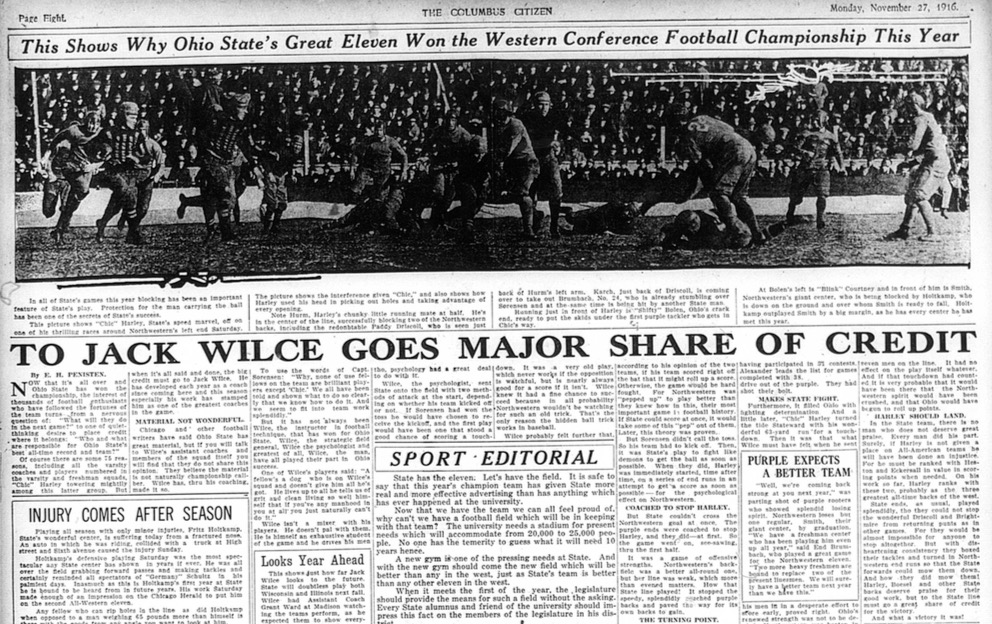 In 1912, Ohio Athletic Conference champion Ohio State jumped to what became the Big Ten and hadn't enjoyed similar success. The Buckeyes finished sixth, fourth, and third in their first three swings at the conference championship.
That changed in 1916 when future All-American Chic Harley stepped first on campus. The Phi Gamma Delta man and head coach John Wilce led their team to a 7-0 season — its first since 1899 — in which it outscored opponents by a combined score of 258-29.
The Buckeyes captured their first Western Conference title in school history with a 23-3 drubbing of Northwestern at Ohio Field.
#7: 1949 — Missouri at Ohio State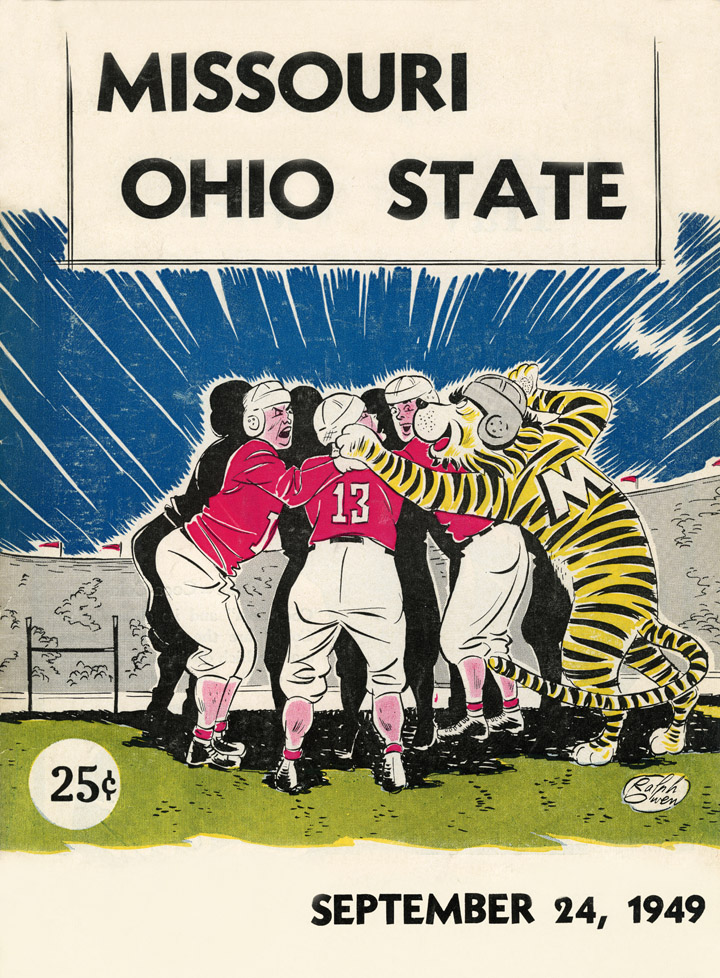 Ohio State fans know weekly football games as the multimillion dollar productions they are today. That transformation started in 1949 when WLCW-C TV (now NBC4) televised the Buckeyes' season opener against Missouri.
The two teams played a barnburner for its new at-home audience, trading leads and ties to the final whistle of Ohio State's 35-34 victory, aided in part when Missouri missed a game-tying PAT late in the fourth quarter.
#3: 1916 — Oberlin AT OHIO STATE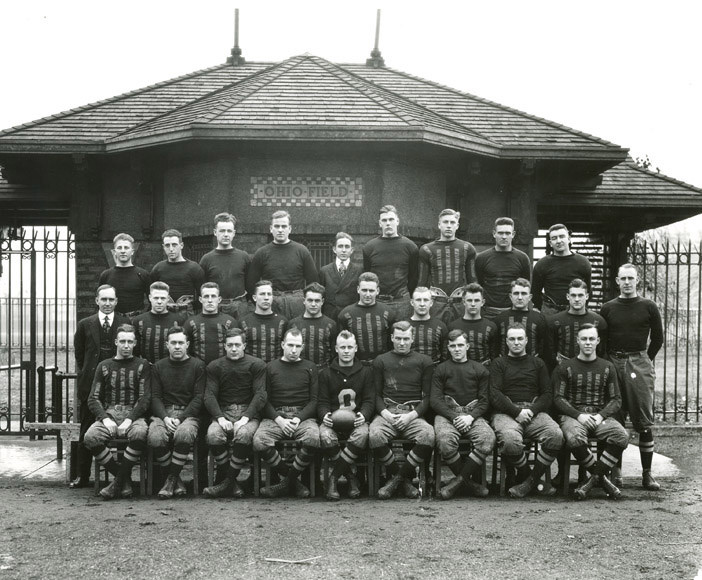 People forget Oberlin, a program founded by John Heisman, used to be an Ohio Athletic Conference rival of Ohio State, going 10-13-13 against the Buckeyes before burgeoning enrollment propelled OSU into the Western Conference. The Yeomen were also the last Ohio team to defeat the Buckeyes, which it did in 1921.
None of that mattered on Oct. 14, 1916, when the Yeomen took the 110-mile journey to Columbus to battle the Buckeyes on Ohio Field.
OSU, having defeated Ohio Wesleyan, 12-0, the week prior, ravished Oberlin to a school-record margin of victory, 128-0, behind a steady diet of freshman sensation Chic Harley. The Buckeyes scored on their first two plays and led 67-0 at half.
The margin-of-victory record stands to this day and will likely never be topped.
#6: 1950 — Iowa at No. 6 OHIO STATE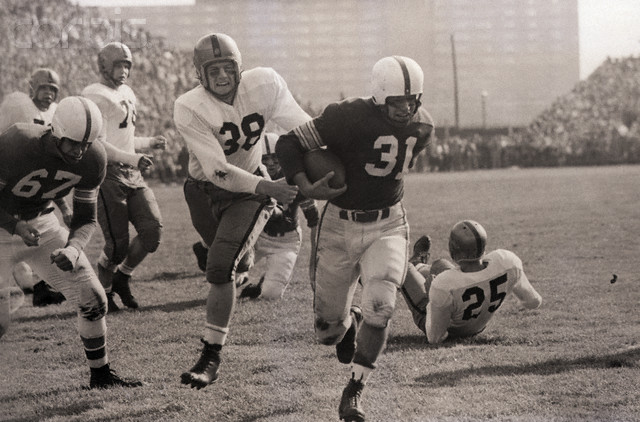 Wes Fesler's sixth-ranked Ohio State team put on a clinic against Iowa in Ohio Stadium. Vic Janowicz returned a punt 61 yards for a touchdown, scored on an 11-yard touchdown run, threw a 12-yard touchdown pass, recovered two fumbles on defense, blasted two kickoffs out of the end zone and made three extra points against the Hawkeyes — all within the first five minutes of the game.
Janowicz finished with four touchdowns and made a Big Ten record 10 extra points. The Buckeyes scored 55 points in the first half and defeated Iowa 83-21 — the most points scored against a Big Ten foe in school history.