Standing near midfield at Spartan Stadium, the Heisman frontrunner lined up in the shotgun with backs on either side of him.

But as is often the case, this time C.J. Stroud wasn't surrounded by five-star talents. While most of Ohio State's offensive skill players are so highly touted that fans of the program know their names as high school sophomores, the two teammates flanking the star QB in this instance were relative unknowns, despite having already earned their bachelor's degrees.
Mitch Rossi, a 5th-year former walk-on tight end and the closest thing Ohio State has had to a traditional fullback in a decade, lined up just a few feet to Stroud's right. On his left was Xavier Johnson, a fellow 5th-year senior and special teams ace who was a complete unknown for many fans until his late-game touchdown catch in the opener against Notre Dame.
As was the case against the Irish, when he replaced an injured Jaxon Smith-Njigba at slot (H) receiver, Johnson was pressed into duty thanks to an injury to one of the Buckeyes' more well-known players. True, TreVeyon Henderson saw the vast majority of OSU's carries against Michigan State, but with Miyan Williams nursing an injury, the Buckeyes suddenly lacked depth at the position with true freshman Dallan Hayden the only true backup available.
With Smith-Njigba still in street clothes, Ohio State's seemingly unending parade of talent was suddenly lacking in depth. But although the Buckeyes took a couple of quarters to adjust when their All-American receiver went down in week one, they were far more prepared to let one of their stars catch his breath this time around.
Enter Johnson, who walked on in Columbus after a stellar prep career that saw him score touchdowns five different ways his senior year (rushing, receiving, punt return, kickoff return, & interception). Though he only lined up at tailback on a couple of occasions, which included him taking a toss sweep around left end, his assignment was symbolic of Ohio State's entire game plan last Saturday afternoon.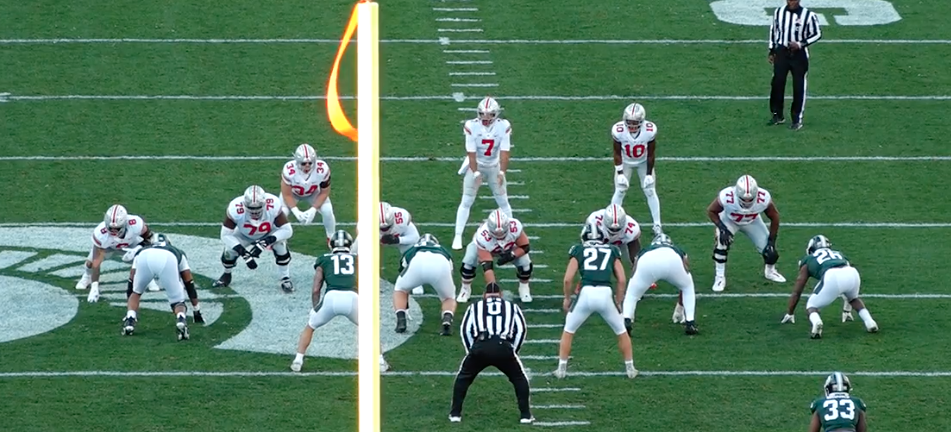 One of the downsides of having an offense as successful as Ohio State's is that it gets studied. A lot. Not just by writers like this one, but by coaches at every level. Everyone wants to learn from what Ryan Day, Kevin Wilson, and co. show each Saturday in the fall, in hopes of replicating even the smallest bit with their own offense.
But that intensive study can also help opposing defenses. Over time, the Buckeyes' tendencies become more well-known and easier to slow down (at least, in theory). In a certain personnel group or formation, OSU is more likely to run one concept over another, and if they've done their homework, the defenders should be better prepared to stop it with a corresponding personnel group or play call.
This year, however, it's evident that Ohio State's offensive brain trust has made it a priority to break such tendencies and throw off scouting reports, by doing things like running toss plays from the shotgun or throwing the ball more often from pistol sets. With a depleted depth chart against the Spartans, the task of disguising their intentions almost seemed to become easier, as Day and his staff put on a master class in deception.
Since Urban Meyer took over a decade ago, the Buckeyes' base personnel has been 11 personnel (1 running back, 1 tight end). But over the past few years, they have employed more 12 personnel (1 RB, 2 TE) formations and accompanying concepts.
With Henderson lined up in the backfield, one would easily be led to believe that OSU would prioritize using him as a ball carrier and spelling him only when the running back was a decoy. Yet on the opening drive, Emeka Egbuka came in motion from the slot and took a handoff around the left edge as Henderson acted as his lead blocker.
This was not a new concept for Ohio State, though, as it mimicked the base, outside zone run that was seen throughout the afternoon. The only difference this time was Henderson effectively replaced Rossi as the second tight end, as OSU ran the concept from their 11 personnel group instead of 12.
Later in the game, OSU would execute the exact same concept, but this time an 'empty' personnel group, except instead of using five receivers, three of the eligible receivers were tight ends. As they lined up, Cade Stover was in his familiar spot at the end of the line with Gee Scott next to him as a wing, while Rossi took Henderson's spot next to Stroud. 
After initially lining up out wide to the opposite side, Johnson came in motion and took the handoff behind a train of big bodies blocking on the edge.
This mix-and-match approach to personnel wreaked havoc on the Spartan defense, forcing them to stay in their base 4-2-5 look and sit back on their heels for much of the afternoon.
When Ohio State appeared to run the same end-around concept as seen above with Henderson taking the handoff this time, the Michigan State safeties were caught flat-footed as Julian Fleming caught a deep post off the play-action fake, scoring on that route for the second straight game.
The headlines from the 49-20 OSU victory mostly mentioned Stroud and his performance through the air, bombing the Spartans for 361 yards and 6 TDs. Half of those went to Marvin Harrison Jr., who once again proved unguardable in man coverage, but the longest such throw went to Emeka Egbuka, who ran right down the seam for a 69-yard score following an MSU mistake in coverage.
Yet while Egbuka's receiving stat line might have been gaudy, it failed to capture all the dirty work he was asked to perform in this game. 
In an effort to stay unpredictable in the run game this season, the Buckeyes have employed a number of wrinkles that complement their foundational zone runs. It's here that the impact of new line coach, Justin Frye, can be seen, as one of the concepts Chip Kelly (Frye's former boss) has used at UCLA was seen in Spartan Stadium.
Known as a zone windback, the concept is a cross between a split-zone run with an off-ball player running across the formation to seal the backside edge and a counter play. 
While the offensive line blocks like inside zone, executing vertical combination blocks at the line before working up to the linebackers, the back takes a step in one direction before coming back across and taking the handoff.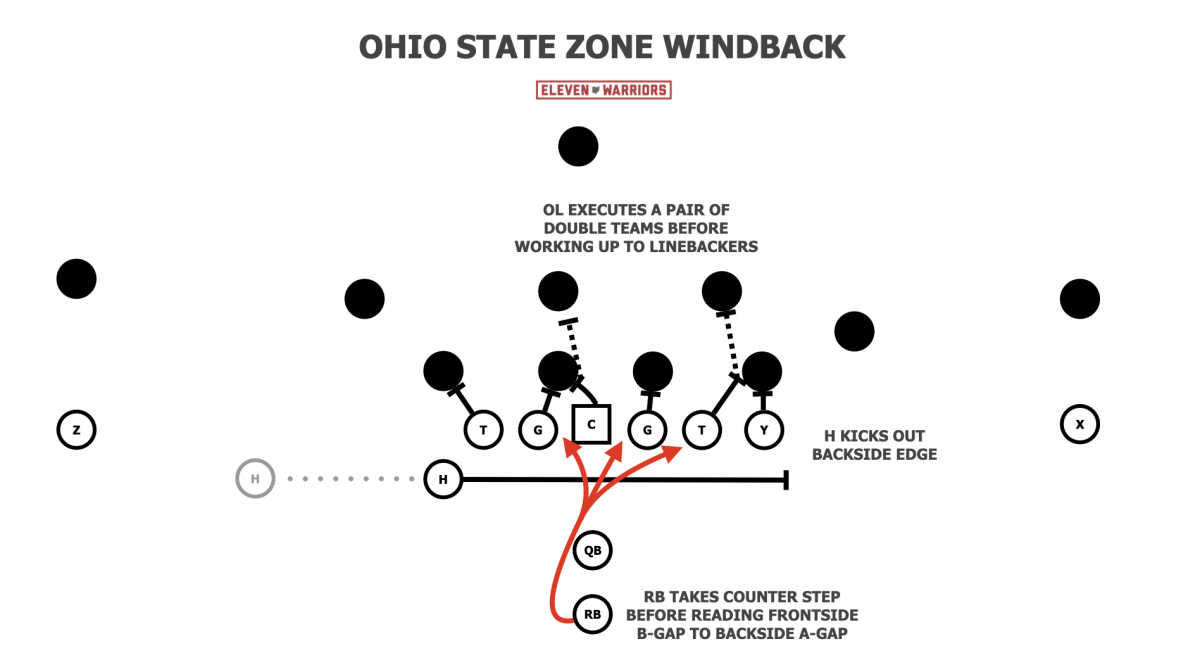 The value of such a concept is that it gets seven blockers in front of the runner, but can be executed from 11 personnel. All the receiver has to do is get a piece of the edge defender and keep him from crashing down to blow up the play.
Finding new ways to run the ball seemed to be a priority for the Buckeyes this week, as windback was not the only new wrinkle shown against the Spartans. For instance, we saw them line up in a strong-I with Rossi as the fullback and run an outside zone toss sweep reminiscent of the late-90s Denver Broncos.
Author's note: Cheers to the commenter(s) who will inevitably feel inclined to share that they wish Ohio State ran more plays like this.
But if there was one moment that brought a tear to Jim Tressel's eye, it came in the third quarter with the game no longer in doubt. As the Buckeyes looked to run the clock without getting Henderson killed, they brought in 13 personnel (1RB, 3TE) and ran an old-school Dave (Power) play.
As was the case in the later Tressel years, the play picked up only a meager gain and set up 2nd & long. But now it's on tape, included in the scouting report for every GA on Ohio State's remaining schedule to draw up and for every insane defensive coordinator to have to spend time thinking about how to stop it.
Such is life for the nation's top offense, one that has found the end zone twice as often as it has had to punt or kick a field goal through six games. No longer is the goal simply to beat the opponent in front of it, but also the ones that are yet to come, even when some of its biggest contributors are missing.