Throughout the offseason, we heard the stories of Jim Knowles' particular proclivity for sending pressure. 
"​​It's gonna be aggressive," Tanner McCalister, who transferred from Oklahoma State to continue playing for Knowles, said last winter after arriving in Columbus. "A lot of defenses react to what the offense likes to do. I think Coach Knowles wants them to react to what we like to do." 
Let's be honest, any time a new defensive coordinator is introduced at the FBS level, he tells the fans and local media that his philosophy includes the same, tired tropes of wanting to be aggressive while still keeping it simple for the players, and in this regard, Knowles was no different. Through two games, however, the veteran coach appears to be living up to his promise.
On the very first play from scrimmage of the 2022 season, Knowles sent his boundary cornerback on a blitz. Yes, that pressure forced safety Josh Proctor to make a tackle that he ultimately missed, resulting in a 54-yard gain that felt all too familiar for those who had watched this defense closely over the past two seasons.
But that one play has accounted for just over 10% of the total yardage Knowles' troops have given through two full games. Since that missed tackle, the OSU defense appears to be playing at a different level than years past, including the 2019 vintage that featured Chase Young and finished first in the nation in total yards allowed.
While that team relied on individual talent to win along the line of scrimmage and in the secondary, this iteration of the Silver Bullet defense looks to dictate the flow of the game, keeping opponents off-balance and often going backward.
For instance, while hosting Arkansas State last Saturday in Ohio Stadium, the Buckeyes seemed to be the ones caught on their heels after Denzel Burke bit on a double-move and surrendered a 58-yard catch-and-run, setting up the Red Wolves in the red zone. But rather than sit back and hope their opponents screwed up after a penalty made it 2nd & 15, Knowles' defenders turned up the heat, sending a six-man pressure that pinned ASU back even further.
The pressure was familiar to those that study 4-2-5 defenses, like the ones Knowles has long led. The most famous such system, developed by Gary Patterson at TCU, called these blitzes that sent a safety from the field and the middle linebacker with pure man-coverage (Cover 0) behind it his Dog package, as it attacked the D-gap outside.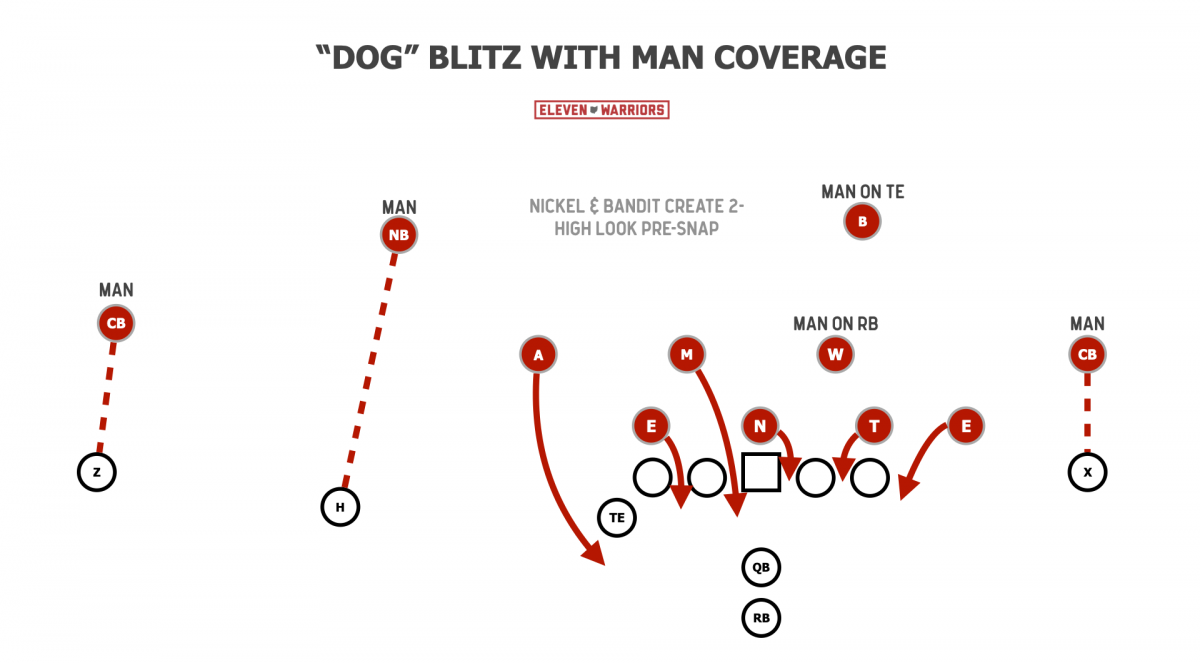 This particular pressure was seen throughout that sunny Saturday afternoon in the 'Shoe, shutting down the Red Wolf run game repeatedly.
While Matt Barnes introduced more run blitzes after taking over coordinator duties around this time last year, Knowles' playbook is far deeper. Not only is he willing to take more chances by pairing his pressures with pure man-coverage (no deep safety help), but he can send that pressure from all angles. 
For instance, on an early 3rd down against Notre Dame, Knowles sent middle linebacker Tommy Eichenberg, safety Ronnie Hickman, and cornerback Cameron Brown all on a blitz from the same side in an effort to overwhelm the left side of the Irish offensive line. While both the right guard and tackle double-teamed Taron Vincent after the snap, Eichenberg was able to run through untouched for a momentum-changing sack.
"It just puts a lot of pressure on the offense to execute, and when you have that in your arsenal, they have to plan for it," Knowles said this past week of his philosophy behind sending these 6-man blitzes. "There's risk-reward to it. I've become more comfortable with it throughout my career because I know it's important to the structure of your defense to have that be something that is always there, where you can get after someone. It changes the game."
While the Buckeyes have given up a few big plays through the air, as already noted, those same gaffes have not been repeated when trying to stop the run thus far. Through two games, Ohio State has given up just four runs of 10+ yards and none of 20 or more.
Of course, Knowles relies on much more than blitzing to net such results. The Buckeyes have mixed in an array of fronts that keep opposing play-callers guessing as to where the weak spot in the defense may lie, such as using Jack Sawyer as a stand-up Jack linebacker with a three-man line.
Good look at the Odd Front with the Mugd Jack LB.

Mug LB creates a 4th Level to the defense in-between the DL and LB.

Reads the strong side guard.

Guard blocks play-side-Jack inserts.

This demonstrates how the Jack LB creates a clean run thru foe the LBs pic.twitter.com/fd9K67TTFK

— Devin M. Radcliff (@Coach_Radcliff) September 15, 2022
But the unit is still far from a finished product. Against the Red Wolves, Knowles gave early playing time to a number of backups, hoping to identify who can be counted on as the season rolls on and conference play begins. 
While some second-stringers like Lathan Ransom have thrived in this new system, others still appear to be getting the hang of its finer points. For instance, on another 3rd & short, Knowles sent WILL linebacker Steele Chambers on a blitz that left the secondary responsible for any action outside the tight ends.  
But when the QB pulled to throw a quick swing pass, young DBs JK Johnson and Cam Martinez failed to keep proper leverage on the ball carrier, as both defenders looked to force the runner back inside as 'contain' players rather than one playing inside-out and making the tackle to force fourth down.
Knowles, for his part, acknowledged there was still work to be done in this area, as a number of defensive backs missed open field tackles against Arkansas State.
"I think it can be better," he said. "We had some missed tackles in the last game. Again, it's a habit." 
Despite the unit's early success, it's clear that the players echo their coach's view that there is still work to be done. 
"It's really nice knowing we're able to keep teams to such low points," Chambers said of the defense's play so far this season. "At the same time, there is so much we can improve on; there are so many mistakes we're still making out there."
Despite some hiccups in technique, the unit's approach to stopping the pass has been nearly as sound as its efforts on the ground. While the Red Wolves may not have impressed anyone with a 2-10 record last season, they still featured the 11th-best passing game in FBS by averaging 313 yards per game last fall.
With James Blackman returning at QB this season, the passing game was expected to be a strength for ASU. But when they absolutely needed to move the ball through the air in the Horseshoe on Saturday, there were very few yards to be found.
"When you look at third-down conversions, I believe we were 5 out of 20," ASU head coach Butch Jones said following the game. "You're not going to win very many games if you don't possess the football."
The Buckeyes have improved mightily on 3rd downs under Knowles so far, allowing opponents to convert just 24% of them. That number is a massive drop from a year ago when OSU struggled to get off the field and allowed 42% of opposing 3rd downs to move the chains. 
To achieve this feat, Knowles isn't relying solely on sending pressure. Rather, he has continued to create a cloudy picture for his opponents by sometimes feigning pressure before dropping into a conservative zone coverage and relying on just his front four to create pressure, such as this Tampa-2 look below.
"I think your defense starts to believe in making plays, and your defense starts to believe in 'playing offense' on defense, and no matter what the situation is, you can set [the offense] back, get them behind the chains, and create an advantage."
While all the early returns appear to be positive for the new leader of the Buckeye defense, he's not reveling in his own accomplishments quite yet.
"When it all comes together, it's a beautiful thing to watch," Knowles said of his progress with the Buckeye defense so far. "When it comes together it's satisfying, but I don't get much time to enjoy it."