Like Ohio State, Utah's defense operates out of a 4-2-5 structure. Unlike the Buckeyes, however, the Utes have managed to field a nasty, physical unit that plays fast and produces results from such an alignment.
Ironically, OSU's Rose Bowl opponent plays the kind of defense Ryan Day likely had in mind when he brought in Jeff Hafley and Greg Mattison to run things on that side of the ball upon his elevation to head coach in 2019. While the Buckeyes found success early with this approach, finishing tops in the nation in total defense that year, the Utes were able to sustain the pattern after finishing second that season by finishing 12th in the category this past fall. 
The Utes play a lot of single-high coverage in the secondary, asking the front six (the four down linemen and two linebackers) to play the run aggressively, which has led to the unit finishing eighth in the nation in tackles-for-loss. Thanks to a pair of athletic linebackers who only recently learned the position, the Utes attack blocking schemes with both speed and physicality. 
Watch below as linebackers Devin Lloyd (#0) and Nephi Sewell (#1) immediately recognize the counter play being executed by Oregon, quickly shuffling over to attack the pulling guard and tight end. Not only do they beat the blockers to the gap, but Lloyd is the one who initiates contact, occupying them both and allowing Sewell to say free to wrap up the runner.
"Devin is a special football player, he's the best defender that's ever come through the University of Utah, at least in the modern era," Utah head coach Kyle Whittingham said of the Pac-12 defensive player of the year and consensus All-American. "There may have been someone in the 30s or 40s, or whatever that I don't know about but in the modern era, he is going to be most likely and I think without a doubt the highest-drafted defensive player that we've had."
But Lloyd's playing style may have been best summarized by NFL Network analyst Daniel Jeremiah last week:
I've been studying Utah LB Devin Lloyd tonight. He's an angry missile with long arms.

— Daniel Jeremiah (@MoveTheSticks) December 21, 2021
Lloyd's explosiveness at 6'3" and 235 lbs allowed him to finish second in the conference in solo tackles with 62, a staggering 22 of which came behind the line of scrimmage. What makes this all the more impressive is the fact that Lloyd had never played a snap at linebacker before coming to Salt Lake City. 
"He is a guy that was a self-made guy who came to us as a safety and a wide receiver out of high school," said Whittingham. "We projected him at linebacker and just through sheer hard work and determination. He's one of the top linebackers in the country. His versatility allows us to use him at the inside backer spot which is where he is most comfortable. We can also bring them off the edge, he's done a lot of a pass rush for us in the sub-packages and he's a guy that really can do it all. He's got the size, the strength, the speed, the agility that all the big-time players have. He's meant the world to us."
But Lloyd's linebacking partner has emerged as a playmaker on his own, finally stepping out of his brothers' shadow. Nephi Sewell is actually a year older than his much more famous brother, Penei, and may be less known than his youngest brother, Noah, who gave Ohio State plenty of problems from his own linebacker spot for Oregon back in September.
After starting his career as a safety at Nevada, this Sewell brother transferred to Utah as a walk-on in 2019, earning a scholarship and a starting job last season. Though not as big as Lloyd, he still made enough plays to earn a spot alongside him on the AP's all-conference team this fall.
"I think Nephi [Sewell] may be the most underrated player in the conference," Whittingham said earlier this season. "All he does is make play after play and doesn't get a whole lot of notoriety or recognition. He just quietly goes about his business and makes very few mistakes."
Lloyd and Sewell are clearly well-coached, quick to diagnose their opponent's play-calls and react accordingly, rarely getting caught flat-footed. It certainly helps that they play behind a talented, albeit young, defensive line that doesn't just rush upfield, but rather slants or twists on nearly every snap. 
Two of the four starters are freshmen, including Pac-12 defensive freshman of the year Junior Tafuna (#58), who has 4.5 sacks this season from his interior, 3-technique spot. However, the most productive player of the bunch is junior Mike Tafua (#42), who leads the conference with 9.5 sacks as a stand-up end.
Though the Utes typically employ a traditional four-man front, coordinator Morgan Scalley has begun experimenting with some new looks, such as lining up in a 5-1 "Tite" front with three linemen covering the center and guards while Sewell and Tafua line up on the edges, all keeping Lloyd protected as a free hitter in the middle.
Unlike the Leo role found in new Ohio State coordinator Jim Knowles' system, Tafua does not move around the formation from this position. He will, however, drop back into coverage while Lloyd and the nickelback come on an Overload Fire Zone blitz from the opposite side, which is a staple concept seen every week in Scalley's game plans as a means of stopping the run: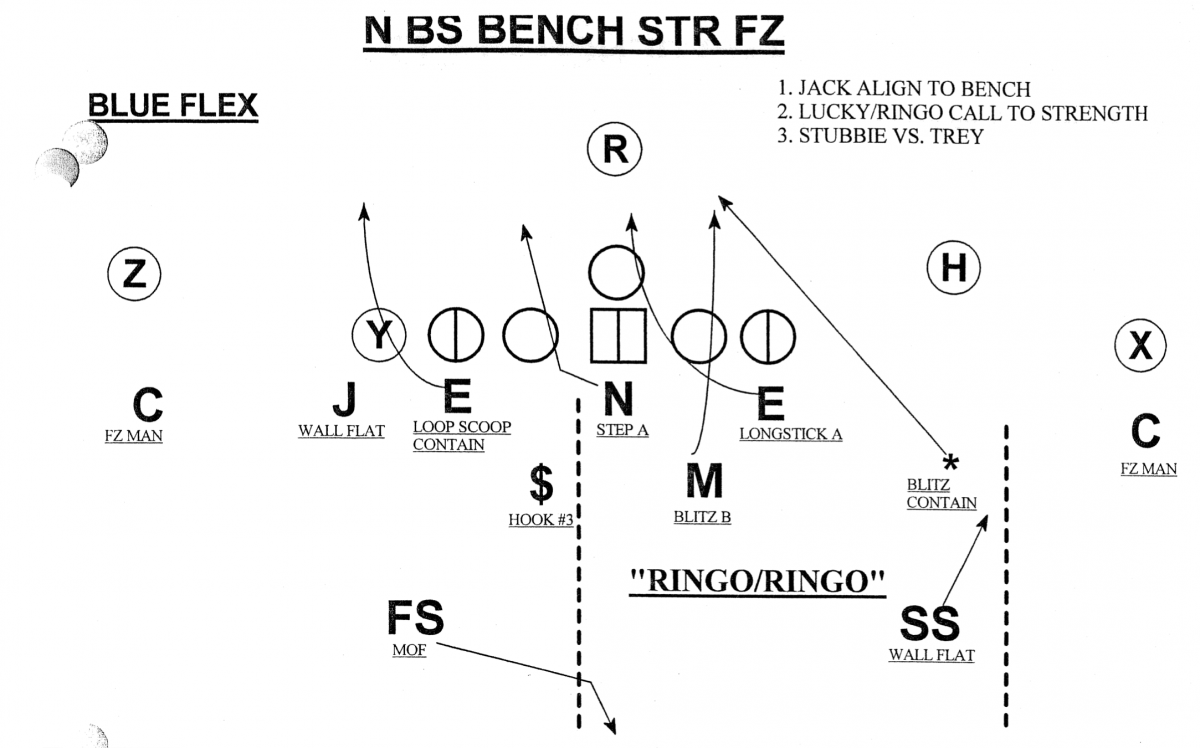 As mentioned, Scalley likes to play with just one deep safety on early downs, employing a great deal of Cover 1 (man) and Cover 3 (zone) against the threat of a run. In clear passing situations, however, that philosophy changes, as the Utes like to play a soft, two-deep zone that keeps everything in front of the secondary. 
As a whole, the philosophy is clear: attack run plays on early downs by funneling runners back inside toward the playmaking linebackers, hoping to create a negative play. Then, with the offense facing 3rd-&-long, the defense creates an umbrella of coverage downfield which allows the pass rush to get home.
While their formula has been a very successful one this season, there are still areas in which the Utes are weaker and can be attacked. Luckily for Ohio State, those areas match up well with the Buckeyes' own strengths.
For example, with the Utes playing a lot of soft, Cover 3  in the secondary, that means the underneath zones outside the numbers (aka 'the flats') are often left exposed. This means quick-hitters that get the ball out to those edges (like wide receiver screens) can hit for big yardage, as long as they initially pose the threat of an inside run to hold Lloyd and Sewell inside.
Another way to attack those edges is one we've seen countless times from C.J. Stroud and his talented receivers this year. Pre-snap "access" RPOs - in which the QB makes a decision to handoff to the back or throw a quick pass outside based simply on the cornerback's cushion outside - were one of the few ways Oregon was able to consistently move the ball in both matchups with Utah this season.
Many readers may recall from the past few years of seeing this scheme from their Ohio State's defense, but when an offense runs vertical routes against any single-high coverage, the defender effectively has to play man-to-man outside, regardless of what coverage was actually called. As such, that corner is left all alone on the outside and will often play with an extra big cushion in order to avoid giving up a big play over the top.
Few opponents on Utah's schedule had the talent to expose this flaw in its scheme, but USC's Drake London had himself quite the day when facing the Utes back in October. London tallied 16 catches for 162 yards, with many coming on vertical routes outside against the Utah corners.
When those corners gave him too much cushion out of fear of getting beaten deep, London broke off those routes into deep comebacks, something we've seen many times from Chris Olave and Garrett Wilson.
Finally, while the Utes love their Overload Fire Zone blitz on early downs as a means of stopping the run, it can also be beaten.
Against 3x1 formations, the middle linebacker (Sewell) is forced to go a long way to help cover the #3 receiver inside, leaving a wide-open window into which the ball can be thrown. It's not hard to see Jaxon Smith-Njigba catching a slant like the one below and turning it into big yardage after the catch.
As has been the case for both teams all year long, though, this battle may ultimately be won in the trenches. Last week, we showed that Utah features the kind of physical running game on offense that can hold the ball for long stretches and dominated Ohio State in both of its losses this season.
But both teams have had similar stories this season: if they can establish a running game of their own and keep the opponent from doing so, they win. If not...
Average Yards-Per-Carry on Both Sides of the Ball in 2021 (Defense in Gray)

| Team | Avg. YPC in Wins | Avg. YPC in Losses | Avg. YPC Allowed in Wins | Avg. YPC Allowed in Losses |
| --- | --- | --- | --- | --- |
| Ohio State | 5.97 | 3.15 | 2.63 | 7.16 |
| Utah | 5.85 | 4.65 | 2.93 | 5.27 |
While the Utah offense isn't quite as skewed in this direction as Ohio State's, having had more trouble throwing the ball in all three of its early-season losses, the story is certainly true on the other side of the ball. BYU, San Diego State, and Oregon State all won the line of scrimmage in their matchups with Utah, each racking up 200 rush yards or more.
However, Lloyd, Sewell, and company seem to have found a new gear over the second half of the season, shutting down good running games from UCLA and Oregon (twice), and only allowing opponents an average of 2.6 yards-per-carry over the final five games of the season. If Ohio State wants to come back from Pasadena with the Leishman Trophy in hand, it will have to avoid falling into the same trap as it did in its most recent contest.
If Ohio State is able to run the ball early on, it will open up the entire playbook on offense, something few teams in America have proven capable of slowing down. If, however, Stroud and his teammates on offense are kept on the sideline for long stretches are forced into only throwing the ball, they will be in trouble, just as they were in week two against the Ducks as well as in Ann Arbor.
For this reason, I see only two possible outcomes for this contest. On one hand, the Buckeyes may come out and execute early on offense, using a balanced attack to keep the Utes on their heels and turning the game into a track meet that ultimately isn't very close. If however, Lloyd and co. stuff the run early, giving the ball quickly back to Utah's ball-control offense, it may quickly turn into the kind of game Ohio State fans were hoping they would avoid in the new year.