Coach Tucker is saying all the right things.

"People tell me, Coach, for you this is really like year one," he said during his opening remarks last month at Big Ten Media Days. "No, it's not year one. It's year two. We got to get this thing moving."
After nearly a quarter-century of coaching, Mel Tucker finally got his "dream job" when he returned to the place where his coaching career began, this time as head coach. But given the timing of Mark Dantonio's retirement, one week after signing day in February 2020, it's hard to view Tucker's first season back in East Lansing objectively.
Yes, the Spartans went 2-5 last season. Yes, the offense stunk. Yes, Ohio State beat them at home by 40 in an ugly game full of botched snaps, missed assignments, and ultimately, the best athlete on the field leading the visitors to an easy win.
But while everyone had to deal with the limitations on practice and interaction due to COVID-19, Tucker had to do so without even having met many of his players before. Not only were Tucker and his staff unable to manage the roster in ways that better fit their system, but they were also very limited in what they could install as Spring Practice was canceled before it ever began.
The transition was supposed to be an easy one, at least on the defensive side. Tucker, of course, joined the MSU staff in the fall of 1997 as a graduate assistant for Nick Saban and Dantonio, then the defensive coordinator. 
After brief stops at Miami (OH) and LSU with Saban, Tucker moved back to his home state of Ohio in 2001 to coach defensive backs on Jim Tressel's staff alongside Dantonio. There, the Cleveland-area native made a name for himself as a recruiter by starting a pipeline from Glenville High School to the Woody Hayes Athletic Center that ran for years.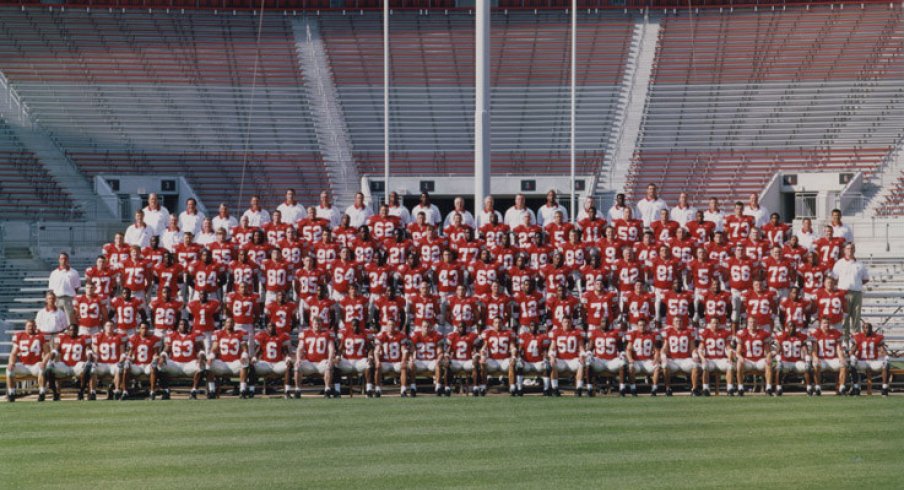 But Tucker stood out as a teacher as well, mentoring two-time All-American Mike Doss at safety and turning a lanky wide receiver named Chris Gamble into a first-round pick at cornerback. After just three seasons in Columbus, with a national championship ring in tow, Tucker took the next step in his career by joining Romeo Crennel's staff with the Cleveland Browns.
Thus began a journey throughout the NFL that took Tucker to Jacksonville and Chicago, where he gained valuable experience as a coordinator, even though his teams never advanced to the postseason. And so, after a disappointing stint with the Bears, Tucker did what all coaches do in this instance: they go work on Saban's staff in Alabama.
Back with his mentor, Tucker took over the Crimson Tide secondary and helped it win another national championship in his first season in Tuscaloosa. But his stay in the Yellowhammer state would be a short one, as he'd follow Saban's top assistant, Kirby Smart, to the University of Georgia, where Tucker was hired to coordinate the Bulldog defense.
Though Tucker has been exposed to a variety of defensive philosophies and schemes, he's spent much of his career working within the coaching tree(s) of Saban and his ideological peer, Bill Belichick. At Georgia, it was no different, as Smart and Tucker virtually copied Saban's playbook and distributed it to the 'Dawgs on day one.
Much has been written about the structure and different coverages found within this expansive system (I recommend this excellent breakdown from Cameron Soran for anyone looking for more details on the topic), but the easy way to think about it is it includes two entirely different approaches that can be deployed based on the situation. 
On early downs or short-yardage situations where the offense is more likely to run, Saban and Smart like to employ a three-man front in a Tite alignment with the defensive ends on the inside shoulders of the offensive tackles and a nose tackle over the center. Behind them, the safeties will start in a two-high look but will rotate down to a single-high alignment at the snap, making either a Rip (right) or Liz (left) call to signal the direction of the spin and provide an extra body closer to the line to defend the run.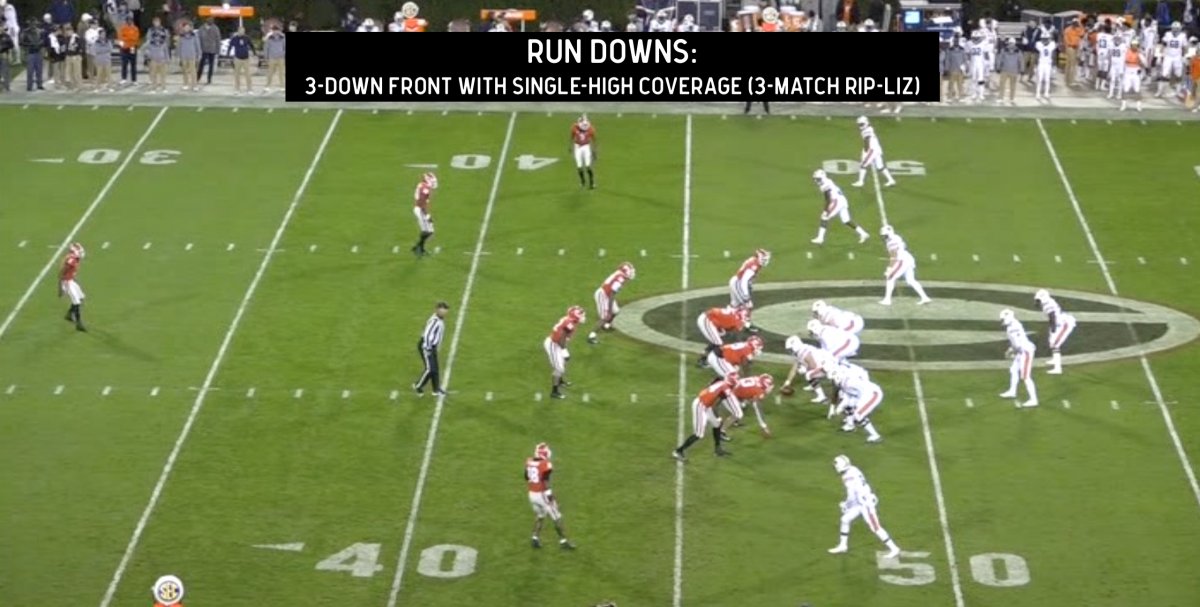 With just one safety in the middle of the field, the defense will often run one of two coverages: Cover 1 (Man) or Cover 3-Match, which is a three-deep zone that employs pattern-match principles and often looks like man-coverage to the naked eye. 
When the offense is more likely to pass (not including RPOs), the defense will switch its approach entirely, replacing the Sam linebacker with a nickel back (known as the Star) and make the other outside linebacker (known as the Jack), put his hand in the dirt and create a traditional 4-2-5 look with two deep safeties.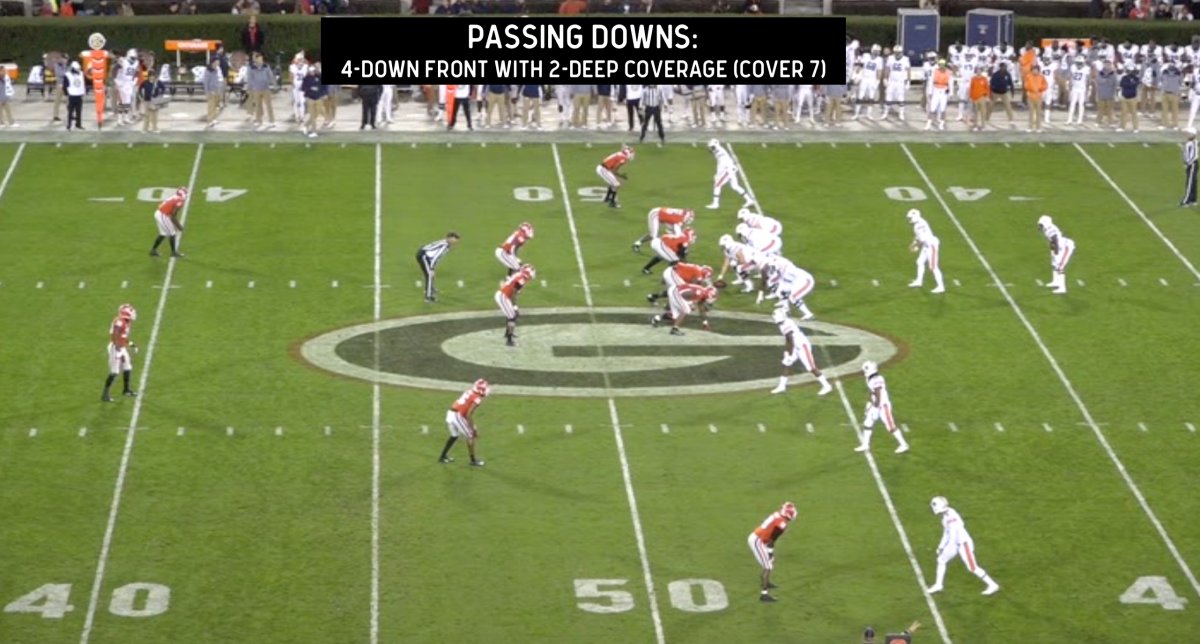 Now, running a nickel package on passing downs is hardly unique. What sets the Saban/Smart units apart is the fact that once they get in this look, the coverage structure changes entirely. While both Alabama and Georgia are known to run Cover 1 out of this alignment and will often send a blitz on third down, the secondary most often employs Saban's schematic opus: Cover 7.
Cover 7 is less a single scheme and more a philosophy, encompassing numerous individual tactics that many coaches spend years trying to perfect on their own (again, Soran's breakdown is a great resource for those looking to learn more). In short, it splits the field in half to run a number of Quarters coverage variations. But given that each side of the defense has the ability to run something unique, man-coverage and Cover 2 concepts are often included as well.
The goal of carrying so many concepts and adjustments is to be able to get into the perfect call on every play, and for three years at Georgia, it was Tucker's job to ensure that took place. Through meticulous game-planning and communication, Tucker's Bulldog defense rose to national prominence, peaking with a sixth-place finish in total defense among all FBS schools and coming just a few plays short of winning the College Football Playoff in 2017.
Finally, after over two decades as an assistant, Tucker earned his first head coaching gig and took over the program at the University of Colorado. Almost immediately, his time spent with Saban and Smart was apparent, as the Buffaloes immediately began employing elements of that system. It didn't hurt that the previous regime had recruited for a 3-4 system, allowing Tucker to easily run the Tite three-man fronts on run downs.
There were growing pains, however. Given the personnel on hand, the Buffaloes struggled to implement four-down fronts in passing situations, and the unit failed to create much of a pass rush, finishing 10th in the Pac-12 in sacks that season. 
Behind them, however, mistakes abounded early on as the defense attempted to perfect the intricacies of the Cover 7 system. The scheme only works if all seven pass defenders are perfectly in sync, and, well...
2019 Colorado Defense by Month

| Month | Games | Yards-Per-Game |
| --- | --- | --- |
| Aug/Sept | 4 | 466.5 |
| October | 4 | 507.3 |
| November | 4 | 352.0 |
But there were reasons for optimism by the season's end. After struggling early to slow down opponents, including a pair of 500+ yard performances from conference heavyweights Oregon and USC, the Buffs looked like a different team by November as the defense became more comfortable running Tucker's elaborate scheme.
Though the Buffaloes finished just 5-7, that late-season growth was a major reason why Michigan State looked his way after Dantonio's sudden retirement. That, and his understanding of the culture that already existed around the program.
"When you think about Michigan State, think about Michigan State football, you think of tough, hard-nosed, physical, meat and potatoes, not a lot of French pastries, all-weather football," he said this summer at his first real Big Ten media event. "That's what Michigan State football is all about. Rugged, lunch pail, it's a working program. It's for the people. It's for the fans. There's a certain brand of football that's expected at Michigan State. We recruit to it. We coach to it. That's our culture."
But while Dantonio's program may have embodied much of that culture in the past, the cupboard was left pretty bare for his successor, especially given that Tucker had no recruiting period to supplement the roster with players that fit his vision. Unlike at Colorado, where he had a full offseason training program, 15 spring practices, and an uninterrupted fall camp in which to install his defense, Tucker was forced to implement what he could with the pieces that were leftover.
Instead of the multiple front defense that carries a coverage check for every situation, Spartan fans instead saw a strange hybrid between the two regimes. Though Dantonio was also impacted greatly by his time spent working for Saban in the 90s, he had never implemented all the same elements of the system, leaning mostly on a four-down Quarters system instead (which stymied the Buckeyes on more than one occasion).
Thus, Tucker was forced to run a 4-2-5 scheme on nearly every down. But even though he clearly wasn't able to install everything, he at least had the team running 3-Match Rip-Liz concepts on early downs.
Despite such limitations, the Spartans still managed to finish a respectable 7th in the Big Ten in total defense last fall. While the Buckeyes rolled up 521 yards of offense in what looked more like a high school contest than a Big Ten conference game, it's worth recognizing that 104 of those yards came from Justin Fields' legs as escaped the pocket on multiple broken plays. 
As Tucker looks forward to 2021, one can only imagine how excited he must be to finally get to implement the defense he desires, taking everything he's learned from past mentors and employing it as he sees fit. Additionally, he's finally had the chance to revamp the roster, welcoming 34 new scholarship players, including 15 from the transfer portal, to fit the needs of his system.
But he shouldn't have to emphasize effort, at least not on the defensive side of the ball. Just as we've seen in the past, the Spartans still showed signs of fight, regardless of scheme.
Safety Angelo Grose is a perfect example. Shown below playing the Star position as a true freshman last fall, the Mansfield, OH native who had originally committed to play for Dantonio fights through a block to blow up a bubble screen entirely on his own. 
Any coach looking to establish a real culture isn't going to rely on scheme or talent alone but on effort like this. And while Tucker's ability to resurrect the moribund Spartan offense may truly end up defining his time in East Lansing, there's ample evidence to believe that the defense will be back among the league's elite before we know it.