"What did we, we threw it 25 times in the first half? That's pretty aggressive for us." - Ryan Day

Nine games into Ohio State's 2019 campaign, the Buckeyes still have yet to face a true test. Quarterback Justin Fields has finished just one contest under center, the 34-10 win over Michigan State, often watching from the sidelines as backups Chris Chugunov and Gunnar Hoak have attempted 32 passes this fall to go with countless handoffs and more than a few kneel-downs.
Last Saturday's 73-14 thrashing of Maryland in Ohio Stadium was no different, as Fields saw only two quarters of work before giving way to Chugunov and Hoak as the Buckeyes took a 42-0 lead into halftime. While other Heisman candidates like Joe Burrow and Jalen Hurts put up big numbers in their games the same day, Fields' stat line looked almost pedestrian with only 200 yards and three touchdowns through the air.
But anyone who thought Fields was anything but explosive in that first half would be mistaken, as the Buckeye passing game bombed away, throwing the ball at a pace few expected.
"I would challenge the pass game this week," Ryan Day said after the game. "And I thought that we came out aggressive. What did we, we threw it 25 times in the first half? That's pretty aggressive for us. That would be on pace for 50 in a game. That was good. We challenged the protection. We challenged the routes. We challenged everybody involved with it, the decision-making. And I thought, if you look at the first half, he was 16-for-25 for 200 and three touchdowns. Is that accurate? I think that's right. That's a pretty good half. So if you double that, that would be a game."
It wasn't just that Day called for so many passes against his overmatched opponents, but the manner in which he did so which was surprising. The Buckeyes weren't simply looking to complement their run game, which would tally an impressive 383 yards on its own that day, looking instead to attack the seams of the Terps' predictable zone coverages downfield.
Though his mentor, Chip Kelly, often relied on the popular 4-Verticals concept both at Oregon and in the NFL, Day has been hesitant to do so since moving to Columbus. As Maryland consistently showed soft Cover 3 and Cover 4 (Quarters) shells throughout the first half, Day gave Fields the call on multiple occasions to attack the seams with a version of 4-Verts called Go from 3x1 formations.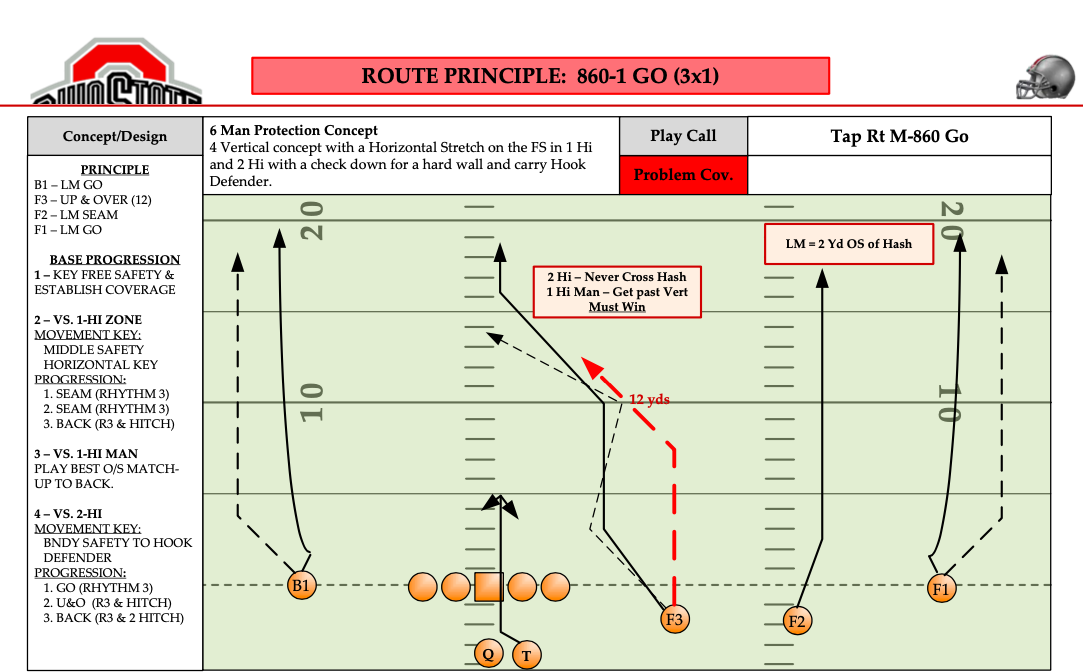 Fields was given a simple read on the play, watching the free safety to see if he cheated too far over toward the three-receiver side, and allowing tight end Jeremy Ruckert to bend his vertical route into a deep crosser right underneath. If the safety doesn't cheat to help in the three-deep zone coverage, then the #2 receiver would be wide open, as Hill was in the second example above.
The Terrapins often transitioned from three-deep coverage to Quarters on third down, meaning they had all four vertical routes covered. Yet it also meant that Fields could use his athleticism to easily pick up yards with so few defenders underneath.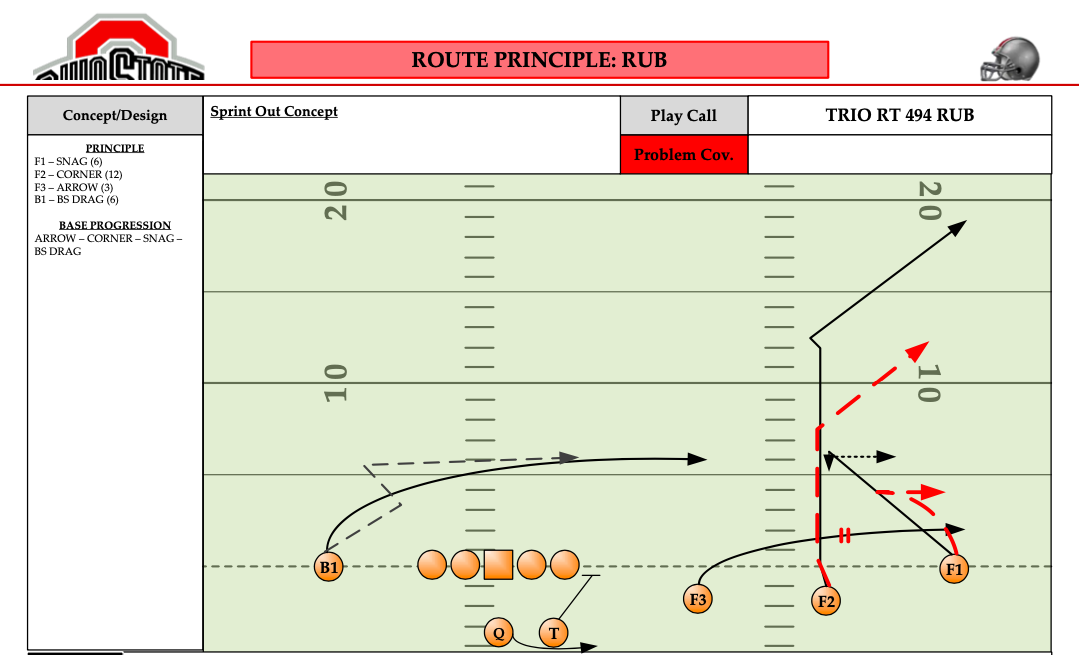 With the Terrapins rarely blitzing or employing man-coverage, Day didn't need to go deep in the playbook to find concepts to keep his team on the attack.
The classic Snag/Spot/Triangle concept (called Rub by the OSU staff) sprang open thanks to some outstanding route-running from Hill in the slot, influencing the safety with an inside release before breaking on the corner route.
But Day also showed why he's considered such a hot commodity in NFL circles, as he, Kevin Wilson, and Mike Yurcich continue to design pass concepts that attack the weakest points of an opposing scheme. Expecting a Quarters look on third-and-long, he called for a stick-post route combination that attacked the outside linebacker (sometimes known as Houston).
Responsible for walling off the inside (#2) receiver to his side, the OLB sat down on the tight end's stick route, just as he was supposed to. But on the outside, the corner lets the soft post go inside, as he's not responsible for crossers. Meanwhile, the safety is far too deep to recover in time, leaving the post wide open over the middle.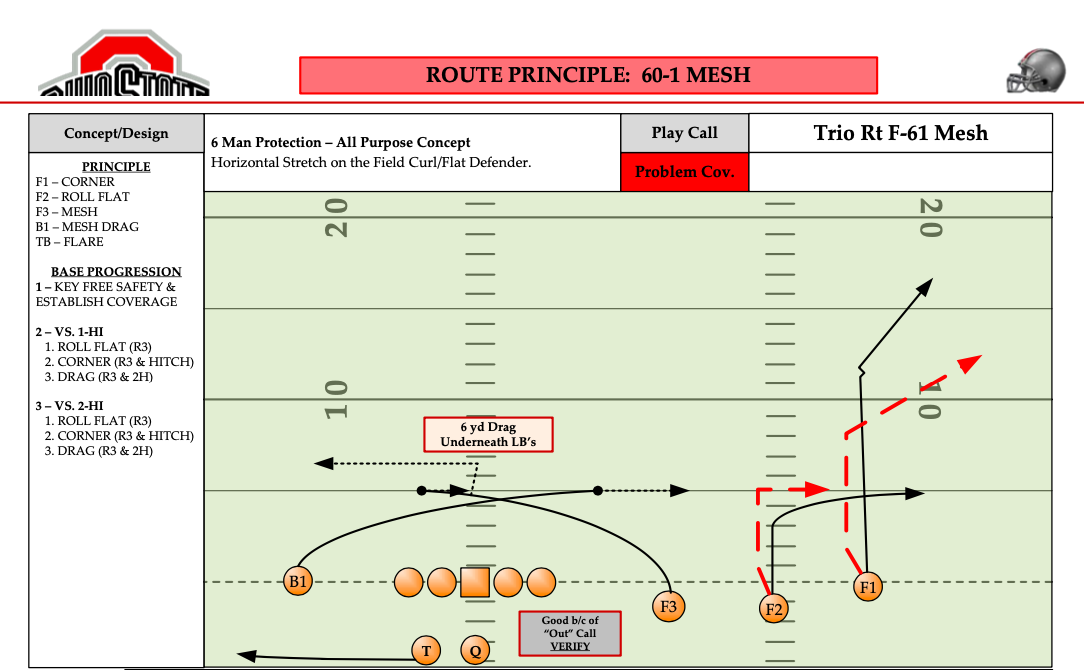 Finally, Day ensured that his signature crossing routes made their way into the game plan, though this week's version was reminiscent of the original Air Raid variation which made it famous, attaching a high-low read on the outside before coming back to the crossing routes over the middle. 
As the flat defender chases Hill on a speed out, there is no one in zone coverage able to corral Binjimen Victor as he comes across the formation.
Thanks to a simple swing pass touchdown to Hill later in the first half, the Terps were distracted by his motion later in the game when the Buckeyes approached the goal line once again. As all eyes drifted toward the seeming play side while Fields sat in the pocket behind seven-man protection, Chris Olave simply drifted behind the distracted defense for an easy crossing route TD.
With so much talent at his disposal, it's no surprise that Day's offense lit up an inferior defense to the tune of 705 total yards. But while some questions had lingered about the Buckeyes' ability to throw the ball compared to other CFP contenders, Ohio State certainly tried to answer them last Saturday, even if only for a half.