Presented by Able Roofing
Ohio State knows it's about to face its toughest challenge of the 2023 season so far when it plays Notre Dame on Saturday night. The Buckeyes are embracing that challenge head-on.
The Buckeyes did what they needed to do in their first three games of the season, taking care of business against overmatched opponents with a 23-3 win over Indiana, a 35-7 win over Youngstown State and a 63-10 win over Western Kentucky, but it's all been building up to this. While Ohio State was heavily favored to win each of its first three games, the sixth-ranked Buckeyes are expected to face a four-quarter battle against the ninth-ranked Fighting Irish as they hit the road for the second time this season to play in South Bend in primetime.
#9 Notre Dame
Fighting Irish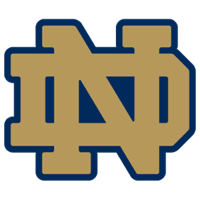 Notre Dame's offense will be the first Ohio State has faced this season that poses a major test for the Buckeyes' defense in both the passing and running games, while its defense is much more capable of matching up with Ohio State's offense than Western Kentucky was a week ago. But the Buckeyes say they're taking a confident, aggressive mindset into this week's game as they look to finish their first month of the season with a signature non-conference win.
"It's definitely our toughest test yet, but I think everybody's risen to the occasion this week because obviously, we know what's on the line on Saturday," Ohio State quarterback Kyle McCord said Wednesday. "With the work week that we've put in so far, I think that everybody will have the confidence to go out there on Saturday night and just let it fly."
As two of college football's most storied programs face off against each other for only the eighth time ever, the eyes of the nation will be watching to see who comes out on top in college football's game of the weekend. That makes this game more than simply just one step in Ohio State's quest toward its larger goals, as the opportunity to play in games like this is a big reason why many of the Buckeyes chose to play at Ohio State in the first place.
"This is why you come to Ohio State to play in this big of a game. Primetime game with a 7:30 kickoff, top-10 teams going at it," wide receiver Marvin Harrison Jr. said. "So it should be fun."
The Headlines
A More Dangerous Notre Dame Offense
Notre Dame scored only 10 points against Ohio State last year, but this year's Notre Dame offense will present a different challenge than the one the Buckeyes faced in Week 1 a year ago. 
Four games into the season, Notre Dame is averaging over two touchdowns more (46 compared to 31.8) and over 100 yards more (508.8 compared to 396.2) per game than last season. 
After averaging only 207.1 passing yards per game in 2022, the Fighting Irish have thrown for at least 253 yards per game in all of their first four games this year as Wake Forest quarterback transfer Sam Hartman has made an immediate impact on Notre Dame's downfield passing game. Led by standout running back Audric Estimé and one of the nation's best offensive lines, Notre Dame has also averaged more than 200 yards per game rushing the ball.
While Ohio State has been successful at stopping both the run and pass so far this season, the Buckeyes have yet to face an opponent who is as balanced and well-rounded offensively as Notre Dame is. The Buckeyes' passing and rushing defenses will be tested simultaneously this week, which means they'll have to be sound in all areas since they won't be able to consistently stack the box or drop extra defenders into coverage.
"Anytime you deal with a pro-style run game, you're dealing with run and play action. And I think they want to establish the run, it's clear, you can tell that. I think Estimé's running really well, he's running hard. And then once that happens, it opens up things down the field," Ryan Day said. "So that's a good challenge for our defense … we gotta be able to rise to the challenge."
Kyle McCord's First Big Test
McCord enters this game with a 4-0 record as a starting quarterback, but he hasn't yet faced a team like this. Notre Dame's defense – particularly its pass defense – is much better than those McCord faced in his first start against Akron in 2021 and his three starts so far this season.
The Fighting Irish currently rank fourth in the nation in passing yards allowed per game (126.8) and second in the nation in opposing completion percentage allowed (44.3). With five interceptions by five different players, they've proven capable of capitalizing on opposing quarterbacks' mistakes, and Saturday will be both the biggest game McCord has started as a Buckeye as well as the toughest road environment he'll have played in yet.
Notre Dame's passing statistics are bolstered by the fact that it started the season by playing a triple-option offense (Navy) and an FCS opponent (Tennessee State), and the Fighting Irish haven't faced anyone like Harrison or Emeka Egbuka yet this year. Still, McCord's decision-making and accuracy will be put to the test as he's likely to face more pressure in the pocket and tighter coverage windows than he did in any of Ohio State's first three games.
The Buckeyes could look to establish the run early to take some weight off of McCord's shoulders and attempt to open things up downfield, but the Fighting Irish have been stout against the run too, holding opponents to an average of just 2.9 yards per carry. So while keeping the offense on schedule will be a big priority for Ohio State this week, it's unlikely to earn a win in South Bend without McCord making some key plays with his arm.
"He has to go play the game, and we have to do whatever we can to win the game. That's the bottom line, whatever that looks like," Day said of McCord. "We want balance. There's certain times where, like last year, we ran the ball a ton down the stretch and were good with making five or six yards or a carry. But then there's also times where you gotta throw it more because of what they're doing and how the game's playing out, so we have to be able to pivot either way, whatever it takes to win the game."
A Chance to Make An Early Statement
Notre Dame is just the first of several big tests on Ohio State's regular-season schedule, which is also headlined by an Oct. 21 home game against Penn State and a Nov. 25 road game against Michigan, the two games that will likely determine whether or not the Buckeyes win a Big Ten title. But the Buckeyes can certify themselves as a College Football Playoff contender and finish their first month of the season with a big résumé-booster if they can come home from South Bend with a road win over a top-10-ranked team.
Considering how last season ended with back-to-back losses to Michigan and Georgia, this game serves as the Buckeyes' first real chance since then to make a statement and show that they can get the job done on the big stage.
"That's been circled on my list since the beginning of the season," cornerback Denzel Burke said of playing Notre Dame. "We got a couple more games circled up, but this is a big one. It's gonna test us and we're ready. "
Of course, Notre Dame is just as hungry to earn a statement win of its own. The Fighting Irish haven't beaten Ohio State since 1936, and they'd propel themselves into the thick of the CFP conversation if they can beat the Buckeyes to improve to 5-0. Add in the fact that Notre Dame will be playing in front of its home crowd and wearing its green jerseys – which have often been reserved for big games – and the Buckeyes can expect the Fighting Irish to be extra-motivated to end their 87-year drought against OSU.
"We're excited about the chance to go against a top-tier opponent, for sure. And we're excited about just the atmosphere," Notre Dame coach Marcus Freeman said. "We expect to see a lot of green in that stadium, and I think it's going to be a really cool opportunity, a great opportunity on Saturday night to play a great opponent in Notre Dame Stadium."
Keep An Eye on These Guys
QB Sam Hartman
As aforementioned, the most obvious difference for Notre Dame this season compared to last season is how the addition of Hartman has ignited its passing attack.
Four games into Notre Dame's season, Hartman has been one of the most efficient quarterbacks in the country, completing 71.1 percent of his passing attempts for 1,061 yards and an FBS-best 13 touchdowns with zero interceptions. His 217.8 passer rating is the nation's third-best behind only USC's Caleb Williams and Oklahoma's Dillon Gabriel.
A sixth-year senior who was already a four-year starter at Wake Forest, Hartman has quickly turned Notre Dame's weakness from 2022 into a strength. His wealth of experience could prove particularly valuable in big games like this one, and Ohio State knows its pass defense will have to be sound to defeat him.
"He's smart, he's efficient, he's experienced," said defensive coordinator Jim Knowles. "When you have a lot of experience as a quarterback, it helps you figure things out, get rid of the ball. He has great vision."
RB Audric Estimé
While Hartman has stolen many of the headlines for Notre Dame this season, Estimé has been just as good running the ball. The junior running back from New York currently leads the entire FBS with 521 rushing yards this season while averaging a whopping 8.3 yards per carry.
At 5-foot-11 and 227 pounds, Estimé pairs the size and power to run through tackles with the speed to run away from defenses for big plays. He currently leads the nation in runs of 10-plus yards (15) and 20-plus yards (six) this season, including an 80-yard touchdown against N.C. State and a 50-yard run against Tennessee State.
Going back to last season, Estimé has averaged at least 5.5 yards per carry in 14 straight games.
Ohio State hasn't yet faced a running back like Estimé or an offensive line like Notre Dame's, so their ability to get off blocks and make sound tackles on run defense will be put to the test in a big way on Saturday.
"When you have an offensive line that works well together and they're physical and they push it to the point of attack, he's a guy who can get behind that," Knowles said. "Strong runner, but also elusive. He can also make the cuts. So I think it's a real challenge for us to play behind our pads and play downhill because you're going to have to put your face in the fan."
CB Benjamin Morrison
A freshman All-American in 2022, Morrison will play a vital role in Notre Dame's efforts to slow down Harrison and Ohio State's passing attack. 
The 6-foot, 185-pound cornerback allowed just 22 catches for 296 yards and one touchdown with six interceptions on 51 targets in 2022, according to Pro Football Focus. He's continued to play at the same level so far this season, allowing only four catches for 37 yards and one touchdown with one interception on 10 targets, per PFF.
With all the weapons Ohio State has on offense, the Fighting Irish will need more than just Morrison to stop the Buckeyes' passing attack. Day said Ohio State isn't planning specifically for Morrison to cover Harrison, and Harrison said he isn't focused on matching up with just one player. But both of them are aware of Morrison's ability to be a defensive game-changer for the blue and gold.
"We're gonna just do what we do, but at the same time, he's a very good corner," Day said. "Good cover skills, competitive, good change of direction, runs well. He's very talented."
Game Week Talk
"We're gonna go as hard as we possibly can and not look up at the scoreboard until the fourth quarter. And at that point, we'll figure out where we're at. But it's about going after it, being aggressive, going into a hostile environment and getting a top-10 win on the road."– Ryan Day
Since Ohio State's loss to Michigan last season, Day has talked about his team needing to play aggressively and loosely to play up to its potential in big games. That's the approach he's taking into this week's game, saying the Buckeyes are "gonna let it rip."
"The villain mentality you kind of have when you're going on the road, I just really enjoy."– Marvin Harrison Jr.
While Harrison said he loves playing in front of Ohio State fans, he prefers playing on the road sometimes because of the opportunity to play spoiler. Harrison's top performances on the road last year included a 131-yard, three-touchdown game at Michigan State and a 10-catch, 185-yard day at Penn State.
"Sometimes you get so focused on doing everything else that you don't really think about that, but if you do sit back and take a breath and think about that, 10 years ago, you'd be like 'God, I'd kill to play in this game.' Now you're here."– Ohio State tight end Cade Stover
An Ohio native, Stover grew up dreaming of playing in games like this for the Buckeyes, but says he's been so focused on doing his job that he hasn't thought much about the pageantry of playing Notre Dame this week. He says "it's definitely a good feeling" to have that opportunity, but that his message to his teammates will be that "it's the same game we played since we were 6 years old growing up in the backyard."
Projected Starters
Ohio State
Pos
Notre Dame
OFFENSE
KYLE MCCORD
QB
SAM HARTMAN
TREVEYON HENDERSON
RB
AUDRIC ESTIMÉ
MARVIN HARRISON JR.
WR
JAYDEN THOMAS
JULIAN FLEMING
WR
TOBIAS MERRIWEATHER
EMEKA EGBUKA
WR
CHRIS TYREE
CADE STOVER
TE
MITCHELL EVANS
JOSH SIMMONS
LT
JOE ALT
DONOVAN JACKSON
LG
PAT COOGAN
CARSON HINZMAN
C
ZEKE CORRELL
MATT JONES
RG
ROCCO SPINDLER
JOSH FRYAR
RT
BLAKE FISHER
DEFENSE
JT TUIMOLOAU
DE
JAVONTAE JEAN-BAPTISTE
TYLEIK WILLIAMS
DT
RYLIE MILLS
MIKE HALL
DT
HOWARD CROSS III
JACK SAWYER
DE/VYPER
JORDAN BOTELHO
STEELE CHAMBERS
WLB
MARIST LIUFAU
TOMMY EICHENBERG
MLB
JD BERTRAND
SONNY STYLES
NB/ROVER
JACK KISER
DENZEL BURKE
CB
BENJAMIN MORRISON
DAVISON IGBINOSUN
CB
CAM HART
JOSH PROCTOR
S
XAVIER WATTS
LATHAN RANSOM
S
DJ BROWN
Get Smart
Ohio State has won its last five consecutive games against Notre Dame, all of which have been played since 1995. Notre Dame won its only two previous meetings with the Buckeyes in 1935 and 1936.
Notre Dame is Ohio State's first ranked opponent of the season. It's the fifth straight time Ohio State and Notre Dame have met with both teams ranked in the top 10 of the AP poll.
Both teams' rosters include players who played for the opposite team last year. Javontae Jean-Baptiste is now a starting defensive end for the Fighting Irish after five years at Ohio State, while Lorenzo Styles Jr. is now a cornerback for Ohio State after starting at wide receiver for Notre Dame against the Buckeyes last season.
Notre Dame's roster features 10 players from Ohio including starting center Zeke Correll and starting tight end Mitchell Evans.
Ohio State graduate assistant James Laurinaitis was a graduate assistant at Notre Dame last season. Ohio State tight ends coach Keenan Bailey is a Notre Dame graduate while running backs coach Tony Alford and director of sports performance Mickey Marotti also previously worked at Notre Dame.
Notre Dame head coach Marcus Freeman is a former Ohio State linebacker (2004-08). Notre Dame defensive line coach Al Washington was Ohio State's linebackers coach from 2019-21.
This will be the first Ohio State game televised by NBC since the Buckeyes last played at Notre Dame in 1996. The Buckeyes, who will play at least twice on NBC this season, are 10-9 all-time in games televised by NBC.
For the second year in a row, ESPN's College GameDay will be in attendance for Ohio State vs. Notre Dame. It will be GameDay's 57th broadcast from an Ohio State game (most of any school). The Buckeyes are 38-18 all-time in contests GameDay attended.
How It Plays Out
Line: Ohio State -3, O/U 55.5
Ohio State and Notre Dame combined to score only 31 points last year, but there's reason to expect a higher-scoring game on both sides this year. Both teams have had time to find their rhythm offensively since they're playing in Week 4 instead of Week 1, and Freeman said this week that his team will play more aggressively this year after making a conscious effort to limit Ohio State's offensive possessions by holding the ball last year.
More Ohio State vs. Notre Dame Coverage
The more important question than how many points will be scored is which team will come out on top on Saturday, and the answer to that question could easily go either way. There are still plenty of unknowns about both teams, given that neither has played a marquee opponent to this point, but what is known is that both teams will be tested on both sides of the ball in ways they haven't yet been so far this season.
Ohio State's offense must prove that its improvement against Western Kentucky last weekend was real and not simply taking advantage of a bad defense, and Ohio State's defense must prove that it can continue to limit big plays when it has to defend both the pass and run equally against an opponent with more comparable talent.
Notre Dame enters this game with the advantage of more experience at quarterback and on the offensive line, but the Buckeyes have more playmakers at receiver and more top talent on defense.
Saturday's game in South Bend is expected to be a four-quarter battle, and it could easily come down to which team can make one more play than the other with the game on the line. With that in mind, a majority of our staffers expect the game to be decided by only one score, though all of us are picking Ohio State to win.
Despite the unknowns going into the first big game of the year, a clear consensus emerged in our staff predictions for this game. Every staffer but one expects Ohio State to score between 30 to 35 points, while all 13 of our staff writers expect Notre Dame to score between 20 and 28 points.
Eleven Warriors Staff Prediction
31
 
24
Discover the best in exterior renovation when you schedule your roof replacement with Able Roof. With over 300,000 satisfied customers, you can be confident that your roof will last for years to come. Book your roof replacement now and save up to $1000 off your roof. Contact us today.