Before each Ohio State game, Eleven Warriors catches up with a media member who covers the opposing team to get his or her perspective on the Buckeyes' upcoming opponent.
On Saturday, No. 6 Ohio State will face its biggest test of the season, taking on No. 9 Notre Dame in South Bend.
#9 Notre Dame
Fighting Irish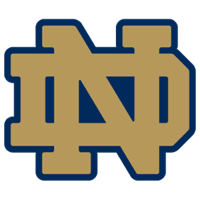 To help break down the monumental contest, we're joined by Tyler Horka from BlueandGold.com, who breaks down the impact quarterback Sam Hartman has had on the Fighting Irish, Notre Dame's running attack spearheaded by Audric Estimé and how the secondary will hold up against Ohio State's wide receivers.
Some answers have been slightly edited for length/clarity.
A monster of a matchup is coming on Saturday, with two top-10 teams facing each other. From your perspective, after chatting with Marcus Freeman and being around South Bend, what's been Notre Dame's mindset heading into this week?
Tyler Horka: I think the biggest thing that Marcus Freeman said this year, as opposed to last year when these two teams played, is that there are no limitations on game planning. Notre Dame isn't going into this game thinking, 'Oh, we have to do this different. Otherwise, we have no chance.' I think Notre Dame thinks it can be itself this year because being itself in 2023 means something completely different than being itself in 2022.
A lot of that has to do with Sam Hartman being the quarterback and the way he's playing right now. So an established quarterback and the defense is every bit as good as the one that limited C.J. Stroud to 21 points last year. Some of that had to do with the way Notre Dame went in thinking they had to make it a dirty trenches game and low scoring. It was. But they still couldn't win one of those, whereas this year it seems like they could win one of those if that's the way it goes, but they could also score a lot more than 10 points this year as well. 
It seems like Sam Hartman has been a revelation and a godsend for Notre Dame this year. How much more of a presence has he brought to the offense compared to what Notre Dame had against Ohio State last year?
Horka: Yeah, it's pretty crazy. It's not just with the offense, either. I asked defensive tackle Jason Onye after the home opener what Hartman does for this team, and he said, 'He'll tell me on the sideline go do this and that, and we believe in you.' Onye was stunned because he thought, 'That's Sam Hartman, a Heisman Trophy candidate. He doesn't need to be talking to a second-string defensive tackle, but he is.'
There's that element of being a 24-year-old sixth-year quarterback where he brings something that, quite frankly, Tyler Buchner did not, then later in the year, Drew Pyne did not. It's talent. You look at the two throws he made last week on a 75-yard touchdown to Tobias Merriweather and a 76-yard touchdown to Chris Tyree, that's something that those two other QBs I just mentioned didn't have. They also didn't have the overall presence and moxie that Hartman has as well.
Notre Dame is also balanced offensively, running for more than 200 yards per game and compiling 500 total yards of offense per game. It just seems it has a few different ways to beat you. How well has running back Audric Estimé and the Notre Dame offensive line complemented the passing attack? 
Horka: It's like a double-edged sword, pick your poison offense for Notre Dame. Which is what every elite team in the country wants. Audric Estimé is averaging 130 yards per game. I think that's second in the country through Week 3. He's played four games, so honestly, that's even more impressive to be right there with the nation's leaders in yards per game because things could have gone south, but they have not. He's a monster and running behind a monster offensive line and probably the best left tackle in the country in Joe Alt. They have a graduate senior at center in Zeke Correll, which always helps. He's played a lot of different positions and has been a staple on this offensive line in a lot of ways over the last three years.
Another element of that part of the conversation, and Ryan Day is like this too with Ohio State's trio of running backs, Marcus Freeman wants to run the football. Sam Hartman finally knows what it's like to be on a team that says we're going to line up and establish the run and then we'll let you start throwing it around. Hartman is good enough to where the pass can set up the run, too, but this Notre Dame team is set up for the run to set up the pass. I think that's benefited everyone involved.
Defensively, it looks like Notre Dame's secondary has held up well and is very talented. They'll face their toughest challenge this week, trying to cover Marvin Harrison Jr., Emeka Egubka, Cade Stover and all those other weapons. What do you make of the matchup with Notre Dame's secondary going against Ohio State's wide receivers? 
Horka: Honestly, I'm not completely sold on Notre Dame being able to do a bang-up job against those guys. They kind of did last year, but that's because Notre Dame completely changed its game plan and tried to control the ball even though Ohio State had more time of possession. But it wasn't really an air-it-out game for C.J. Stroud, and if it was, Notre Dame could have gotten in trouble. They can still get in trouble with Kyle McCord and the receivers and tight end you just mentioned.
Benjamin Morrison is one of the best cornerbacks in the country and has seven interceptions now since the midway point of last season. He's a threat to intercept you on every single possession. Cam Hart is a guy with length at the other cornerback spot, and a lot of people think he's an NFL guy based on stature and he plays really well, too. The corners are good, and the safeties have played well, but they haven't played a team that can throw the ball like Ohio State can. They could be susceptible to error situations with those guys. But they've played very soundly, albeit against lesser competition. I think Notre Dame fans are optimistic they can hold up against Ohio State, but you won't truly believe it until you see it. 
Possibly a more intriguing matchup on that side of the ball is the Notre Dame front seven against Ohio State's offensive line, which has inexperienced tackles and established guards. How do you see the battle up front going? 
Horka: I think shutting down the run game is the part that Notre Dame is really going to lean into. This is a Notre Dame front seven that, if you want to go into advanced analytics and look at pressure rates and all that stuff, Notre Dame has fared quite well. But if you look at total sacks, they're not there, and I think that's an indictment on what these guys have not done as opposed to what Marcus Freeman says in regards to 'We've pressured the quarterback enough to where he has to throw it away or throw an interception' or all the other bad things that can happen without having a sack. But at some point, you do have to take the quarterback down.
I think Kyle McCord will have some time to throw, so Notre Dame will have to lean on that secondary that we just talked about. If Notre Dame can stop the run, Ohio State has to force some things in the passing game, and that's when the secondary can show how strong it is. Stopping the run is going to be huge. Notre Dame hasn't faced a trio of backs like they're about to, for sure.  
Any players from Notre Dame that we haven't talked about yet that Ohio State fans should keep an eye out for Saturday?
Horka: There's actually a couple of freshman wide receivers that Ohio State wouldn't have seen last year. Jaden Greathouse has three touchdowns already. Rico Flores Jr. had a nice 42-yard touchdown catch last week. This is the type of game being national television, all eyes on this, it feels like every time that's the situation one of those freshmen step up. Those two wide receivers – and Ohio State has better wide receiver options than Notre Dame, for sure, and that could decide this game – but Sam Hartman has been spreading the ball out a lot, so look for a lot of different guys to catch the ball, not just those two.
Defensively, Ryan Day mentioned it in his press conference; he really likes Notre Dame's linebackers. JD Bertrand is going to be returning from a concussion, he didn't play last week but I think he's going to be really fired up and rested and ready to roll at middle linebacker. Marist Liufau is another graduate student linebacker that's having his best season. Everyone talks obviously about Tommy Eichenberg and Steele Chambers being two really good linebackers at Ohio State, but I think Notre Dame has some good ones as well. 
This game is in South Bend as opposed to Columbus last year, it's a different Notre Dame team and seems like they're a lot more evenly matched this season. How do you see this game going? Give us a score prediction if you have one.
Horka: First of all, I think it will look like Christmas in there with the number of Ohio State fans that will make their way over. It's Notre Dame's "Green Out" game, so everyone in the stands who's rooting for the home team will be wearing green – even the Notre Dame players will be wearing brand new green uniforms for this game. That right there tells you how unique and big this game is.
I think the way we started this conversation with Sam Hartman being a different dude, Ryan Day admitted that experience at the quarterback position will matter in this game, though I do agree with him that it's not the only thing that matters, I do think it could be a pretty important one. I think Sam Hartman distributes the ball well enough and doesn't turn the ball over. He'll do enough good things for the Fighting Irish to spring a bit of an upset. I think Notre Dame wins 32-28.