The first true test of Ohio State's season has arrived.
With no disrespect to Indiana, Youngstown State or Western Kentucky, none of those three teams presented a legitimate threat to defeat the Buckeyes without a lot going wrong for the scarlet and gray. The same can't be said of the team's fourth opponent.
#9 Notre Dame
Fighting Irish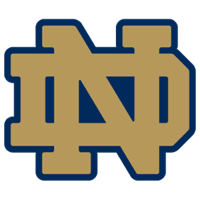 No. 9 Notre Dame poses a serious challenge to Ohio State on both sides of the football, and former Buckeye turned current Fighting Irish head coach Marcus Freeman would love nothing more than to use OSU as a springboard toward College Football Playoff contention. He'll get a chance to do that and take revenge for a 21-10 defeat in last year's tilt between the two sides on Notre Dame's home field Saturday.
Hartman accelerates ND's passing game
Quarterback play might have been Notre Dame's top kryptonite in 2022.
Tyler Buchner, now at Alabama, started the campaign against Ohio State but suffered a shoulder injury in Notre Dame's second game of the year and missed the rest of the regular season. He threw two interceptions and zero touchdowns in those games as the Fighting Irish fell to both the Buckeyes and a 9-4 Sun Belt team in Marshall.
Drew Pyne took over following Buchner's injury but still only managed a hair over 2,000 passing yards on the year in 11 game appearances.
That sent Freeman to the transfer portal this offseason, and he came back with a star from Wake Forest in Sam Hartman. Hartman brought close to 13,000 career passing yards with him to South Bend, including back-to-back 3,700-yard seasons in 2021 and 2022.
His efficiency numbers hit career highs last year, both in his completion percentage and yards per attempt, and that trend has continued into 2023. Four starts in, Hartman has completed 71.1 percent of his throws – eight percent better than any prior year of his – and amassed 11.8 yards per pass attempt. That's fourth-best in the country.
Hartman's already tossed for 1,061 yards, despite exiting multiple games early due to lopsided scoreboards, with 13 touchdowns and no interceptions. He's spread the ball to a variety of targets, with five Notre Dame pass catchers over 120 yards already this season but none over 220.
Ohio State's secondary got plenty of good looks against Western Kentucky signal-caller Austin Reed, who led the nation in passing yards in 2022. That experience will be invaluable in trying to slow Hartman's momentum.
Road-graders
Notre Dame is no stranger to producing high-end talent on the offensive line for NFL drafts, with three offensive linemen taken in the first three rounds of the 2021 selection meeting and the famed combo of guard Quenton Nelson and tackle Mike McGlinchey both taken within the first 10 choices of the 2018 NFL draft.
The Fighting Irish rank 13th nationally with 5.9 yards per carry so far this season and were 20th in rushing attempts per game in 2022. They complement Hartman's aerial antics with a downhill running game featuring Audric Estime as its feature back.
Behind an offensive line anchored by left tackle Joe Alt, who landed first-team All-American honors from the Associated Press, CBS Sports, PFF and ESPN in 2022, Estime has picked up 521 rushing yards across Notre Dame's four contests at a blistering rate of 8.3 yards per carry. That ticked him over 1,500 career rushing yards, and he's averaged 6.6 yards per tote over the course of his career in South Bend.
Center Zeke Correll and right tackle Blake Fisher return alongside Alt to give Notre Dame's front five plenty of experience around two new starting guards. Heading into the season, the unit was ranked among the nation's five best offensive lines by Lindy's college football magazine, and the group will be one of the toughest tests for Ohio State's defensive line in 2023.
No-sweat quartet
There hasn't been a lot of drama involved in Notre Dame's first four wins this campaign.
Thus far, the slimmest margin of victory for the Fighting Irish has been 21 points. That came in a road contest against the ACC's N.C. State in Week 2, a 45-24 win against a Wolfpack team fresh off an 8-5 season.
Central Michigan entered halftime trailing the Domers 21-14 Saturday, but it was a 20-3 drudging by Notre Dame from there for a 41-17 final. The Fighting Irish held their first two opponents to three points each while scoring 42 points against Navy and 56 against Tennessee State.
In total, the Fighting Irish have averaged 46 points per game to their opponents' 11.8.
Aerial attacks grounded
With preseason All-American cornerback Benjamin Morrison leading the charge, Notre Dame's defense currently ranks No. 4 nationally in passing yards allowed per game. Opposing offenses have managed just 126.8 yards through the air per contest against the team's secondary.
The Fighting Irish have capitalized on a number of mistakes in that department as well, intercepting five passes on the season with a different defender recording each. They've broken up an additional 15 throws.
On the whole, Notre Dame possesses the country's No. 15 scoring defense and No. 4 total defense, with a front seven anchored by linebacker Jack Kiser. Kiser has collected 26 tackles this season, most on the team by a nine-takedown margin.
Return of Jean-Baptiste
Freeman isn't the only additional former Buckeye player now in Notre Dame's program.
Javontae Jean-Baptiste, who played four seasons for Ohio State and collected four sacks in spot duty for the Buckeyes in 2022, starts at defensive end for the Fighting Irish. 
He's gathered 15 tackles with two tackles for loss in Notre Dame's first four games of 2023. In his four seasons in Columbus, Jean-Baptiste compiled 51 tackles with 10 tackles for loss and eight sacks.
Jean-Baptiste announced his transfer portal entry in January and selected Notre Dame as his destination a month later. Playing on the other side of the matchup in 2022, Jean-Baptiste made one tackle in Ohio State's victory over the Fighting Irish.
Former Ohio State linebackers coach Al Washington now serves as Jean-Baptiste's defensive line coach at Notre Dame.