For the second straight game, Kyle McCord showed plenty of improvement while continuing to develop and work on his efficiency.
In his fourth start as a Buckeye and third start to begin the season, Kyle McCord had his best performance of his Ohio State career to date in the OSU's 63-10 blowout win over Western Kentucky on Saturday while playing all of the Buckeyes' first nine drives against the Hilltoppers after he was named the full-time starting quarterback earlier in the week.
While completing 19 of 23 passes for a very efficient 82.6% completion rate, McCord threw for 318 yards and three touchdowns in just under three quarters of work, a yard short of his career high. The junior had a 241.8 quarterback rating while throwing to a number of different receivers all over the field. (Note: The passing chart is categorized by how many yards the quarterback threw the ball in the air past the line of scrimmage on each attempt and whether the ball reached its target inside or outside the hashes, though the stats listed include yards gained after the catch on each completion.)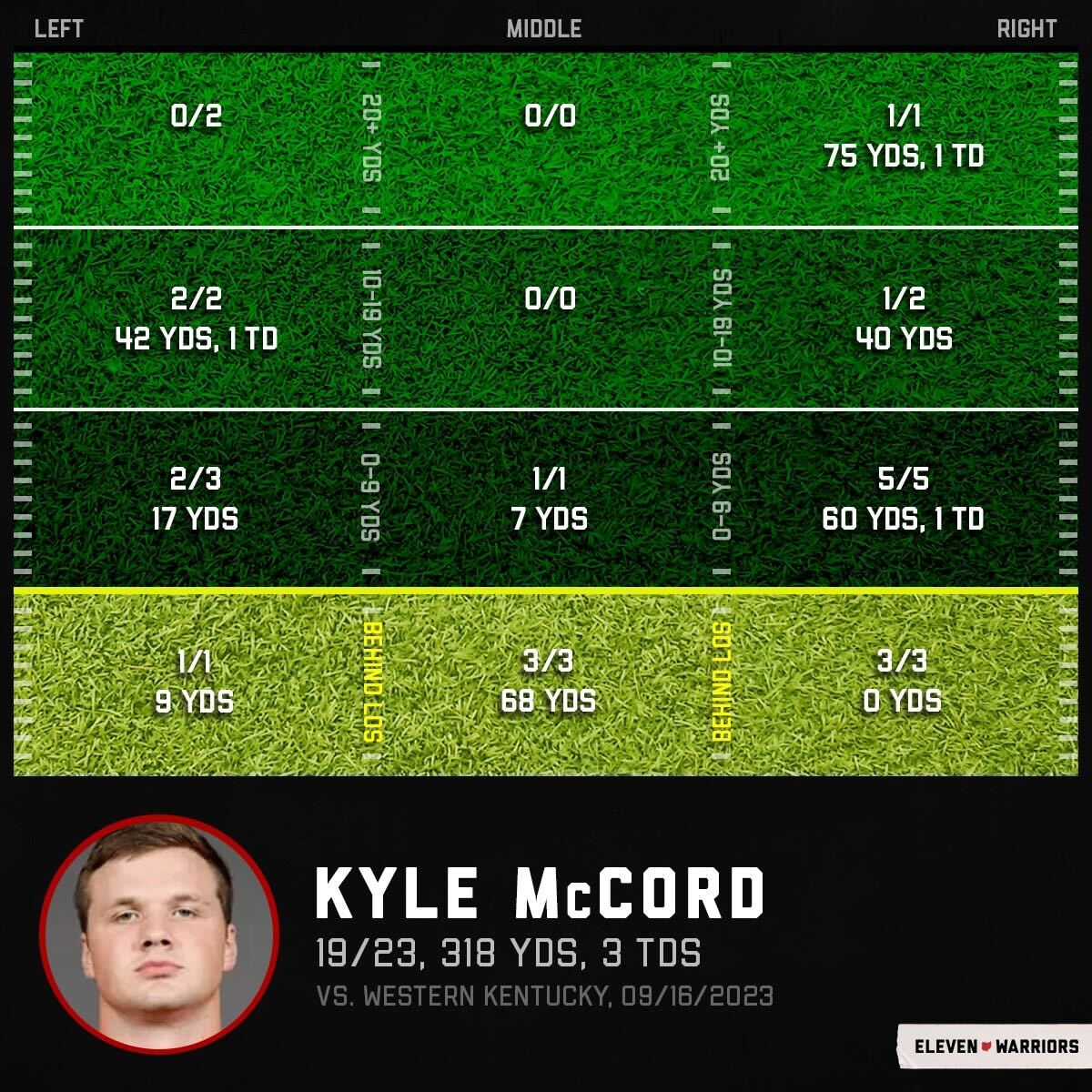 For McCord, he realized that practice and preparation were vital to Ohio State's success, something that came to fruition Saturday afternoon in Ohio Stadium.
"As an offense, we felt like there were times where we looked really good in Week 1 and Week 2, and then there were times where we kind of spun our tires. And we knew if we went out and we could put together a complete game, it would look really, really good," McCord said after the game. "If we were able to run the ball well, if we were able to pass the ball well, we would be one of the best offenses if not the best offense in America.
"So I think we realized that the level of preparation in practice maybe wasn't at the point where it needed to be early on in the season, and I think Coach Day really harped on that, and the guys responded, for sure. I think we had a really good week of practice, and that showed today."
With almost as many touchdowns (three) as incompletions (four) against Western Kentucky, there are far more positives than negatives to take from Saturday afternoon for McCord. With that in mind, we take a closer look at his two best throws of the day as well as one he would like to have back (even though Ohio State still scored a touchdown on the drive).
Best Throw: 75-yard touchdown to Marvin Harrison Jr.
One could say that completing a pass to the best receiver in college football when he is wide open shouldn't be considered an endorsement, but McCord was able to toss it 54 yards through the air while Harrison didn't lose stride after getting behind the defense with his superb speed for an easy touchdown.
MARVIN HARRISON JR.

There's just no catching the @OhioStateFB WR pic.twitter.com/M1kkQa9sA7

— FOX College Football (@CFBONFOX) September 16, 2023
Another great throw: 14-yard touchdown to Emeka Egbuka
Completing a pass from one hashmark to the opposite sideline takes accuracy and arm strength. McCord was able to do just that while finding an open Egbuka near the sideline halfway into the end zone for a touchdown.
Another one for Egbuka

The @OhioStateFB offense isn't holding anything back in this one pic.twitter.com/dg8zKVOul1

— FOX College Football (@CFBONFOX) September 16, 2023
Worst throw: A wide-open overthrow
McCord misses a wide open Julian Fleming on a comeback route, one that would have led to a first down on 3rd-and-5. He redeemed himself one play later by finding Emeka Egbuka for a first down. TreVeyon Henderson ran for a 21-yard touchdown a play after that.
For McCord, this will certainly be one that he can learn from. It's certainly nice to be able to still learn from a game where he threw for 319 yards, three touchdowns and just four incompletions with no interceptions.
A quarter of the way through the regular season, McCord has become more and more efficient, improving his completion percentage in each of the first three games of the season.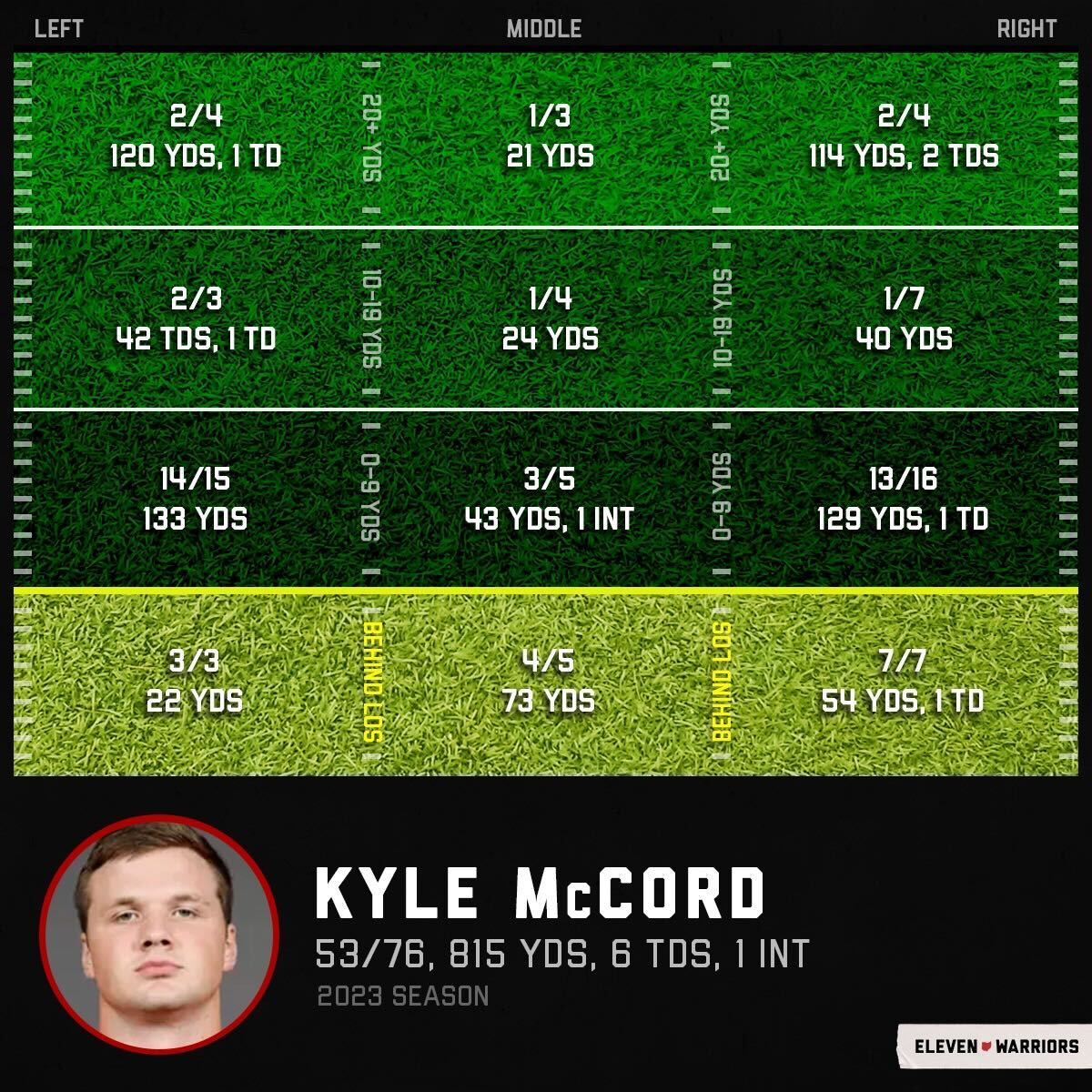 Most notably, McCord improved significantly on throws of 10-19 yards against Western Kentucky, completing three of his four attempts in that range after hitting just one of his 10 attempts of that distance in the first two games. For the season as a whole, McCord has now completed nine of 25 passes thrown more than 10 yards past the line of scrimmage – improving in that area with each game after going just 2-for-10 in that area against Indiana – for 361 yards and four touchdowns. 
His first true test will come Saturday night in South Bend as Ohio State will take on Notre Dame in a top-10 showdown in primetime.