In a blowout win for the Buckeyes, arguably the biggest fireworks of the game came midway through the fourth quarter.
With Ohio State leading 49-10, the Buckeyes were set to give Rutgers the ball with just over 10 minutes remaining in the game. Or at least that's what everyone thought was going to happen.
Jesse Mirco, Ohio State's rugby-style punter, saw a look that gave him an opportunity to fake the punt and run for a first down. It's what he was taught to do given the personnel Rutgers had on the field.
Following the game, Day said that Mirco told him that "no one was on him," which makes it seemed the reaffirm the part about running the ball if you can get the first down. Then again, it was a blowout already.
"We'll talk about that tomorrow," Day told reporters of his comments to his starting punter.
The fake punt paired with the late hit out of bounds and, well, that's when the fireworks began.
Fake pic.twitter.com/6SqWW5qzIa

— Big Ten Network (@BigTenNetwork) October 1, 2022
A fake punt in a 39-point game paired with the late hit was certainly going to lead to something. Greg Schiano came across the field, seemingly to help break up the scuffle and bring his players back to the Rutgers' sideline on the opposite side of the field. While doing so, the former Buckeye assistant had some choice words for Ryan Day as well.
Things are getting heated in Columbus pic.twitter.com/1ogLILcOKX

— FOX College Football (@CFBONFOX) October 1, 2022
Following those events, plenty of fans were looking forward to the postgame handshake between the two former assistants who were both part of Urban Meyer's staff in Columbus in 2017 and 2018. Fortunately, they handled it like adults and Day seemed to explain the situation and why the fake punt happened.
"No hard feelings," Day said after the game. "I have unbelievable respect for him."
Who knew a 39-point game would bring such drama with just 10 minutes remaining?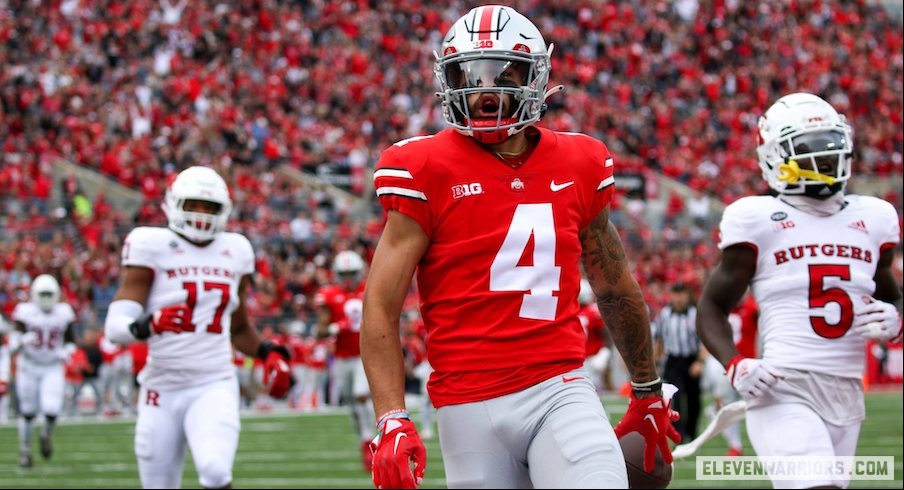 #3 Ohio State 49, Rutgers 10
Oct. 1, 2022 • Ohio Stadium • Columbus, OH