Chances are you don't reminisce much over the 1967, 2001 or 2013 Buckeyes.
And since none of us think about those teams too often, a refresher: The 1967 Buckeyes were 2-3 before Halloween. All home losses. Try to imagine how that would sit in 2022. If you think fans wanted Woody fired for that, well you would be right.
That season, Arizona and Illinois - both of whom were abysmal, as they are typically - beat Ohio State in the Horseshoe. Purdue at its historic peak also routed the Buckeyes 41-6 in Columbus in a manner that makes recent Purdue Harbor episodes seem merciful by comparison.
I can only speak for myself - I don't reminisce over the 1967 Buckeyes, partly because I did not exist during the 1960s and mostly because of what you just read about it. Contrast that indifference with the Ohio State team from the following season, which I can tell you about with intimate detail despite only learning about its existence 20 years after the fact.
We reminisce over Jim Tressel's introduction speech from 2001, but only because of how he nailed his Michigan game prediction in audacious fashion. That season concluded the Buckeyes' unplanned three-year sabbatical from being nationally relevant. That was the closest thing to The Dark Ages any Buckeye fan has ever experienced.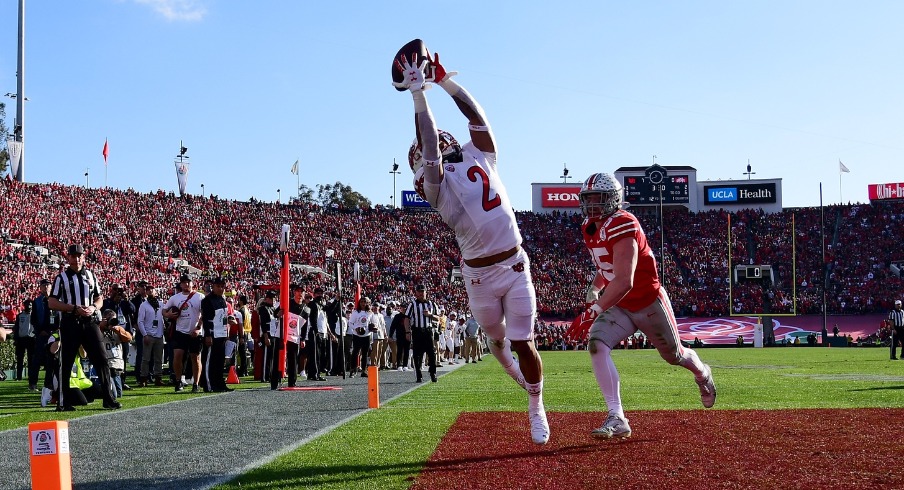 Try to imagine how three years in the abyss would sit in 2022. If you think fans wanted Coop fired for that, well you would be right (wanting him fired was an unfortunate ornament for most of his tenure). Tressel's first team finished a dismal 7-5, but it finally put Michigan in the proper column.
Add 37 wins and no losses to that, and it gives you Ohio State's record over the past four seasons, hashtag perspective. But Michigan is back in the wrong column. If you are only now realizing how losing to that single opponent alters our whole universe, you're what people older than me would call a whippersnapper.
I don't say that word. The tradition of idiomatic old people slurs for the youths ends with me.
Tressel's second team became the first in FBS history to ever go 14-0, and hey happy 20th anniversary to those guys whom we will all be re-celebrating as the 2022 season draws closer. If you are having trouble remembering any 20th anniversary festivities for the 2001 team, scroll back up to the dismal 7-5 section above and don't think too hard about it.
And then there's Urban Meyer's 2013 team, his first to be liberated from postseason bans. That story delivered a Cooper-adjacent plot and denouement; flawed perfection right up until the final two games, when the state of Michigan triumphed at Ohio's expense before the Buckeyes fell to a southern team over the holidays.
A rich nineties aroma no one missed, and therefore - we've passed on reminiscing it. The following season delivered the Buckeyes' most recent national title, which shoved 2013 further back in our mind's closet.
So those 1967, 2001 and 2013 seasons are blurry in part because of how frustrating they were, but mostly on account of what comes next. Three of the most important seasons in program history. It's hard to imagine 1968, 2002 or 2014 ever materializing without them.
It's hard to imagine the triumphs of 1968, 2002 or 2014 materializing without the disappointments of 1967, 2001 or 2013.
The oldest Ohio State fan you know - they probably still say whippersnapper, don't make it a big deal - will tell you, reluctantly, the Buckeyes always find ways to come up short when they are built and positioned to blast everything in their way into outer space.
Those nightmares are far easier to peel off than 1967 or 2001 (2013 was setting up to be one of those Foregone Conclusion seasons, but in hindsight it's hard to win a national title with literally no defensive backs). Most recently there's 2019, which I still have trouble discussing while maintaining any dignity.
There's the 2015 team, which should have waltzed back to the playoff but couldn't even get back to Indy. The 2010 team was absolutely loaded and tripped over Bert. The 2006 team didn't have anything left in the tank for an unprecedented third No.1 vs. No.2 clash.
The 2003 team had already been to the mountaintop, and that's what ended up toppling it. Well, that and not having the best running back in the country return for his sophomore season.
Let's stop there without venturing back into the Cooper era again, especially 1998. These teams all had championship engineering, but their fatal glitches would only be revealed at the worst possible moments.
What separates the 1968, 2002 and 2014 ones are two important elements. First, they all carried very recent patches and software upgrades to correct their previous versions.
The 1968 Buckeyes had little-known Bill Mallory in his first full season coaching defensive linemen and even less-known Lou Holtz making his debut in the secondary room. One season after allowing 41 points to Purdue, Ohio State shut out the No.1 Boilermakers, just a couple of weeks after they had put up 37 on the No.2 Fighting Irish. A dramatic improvement.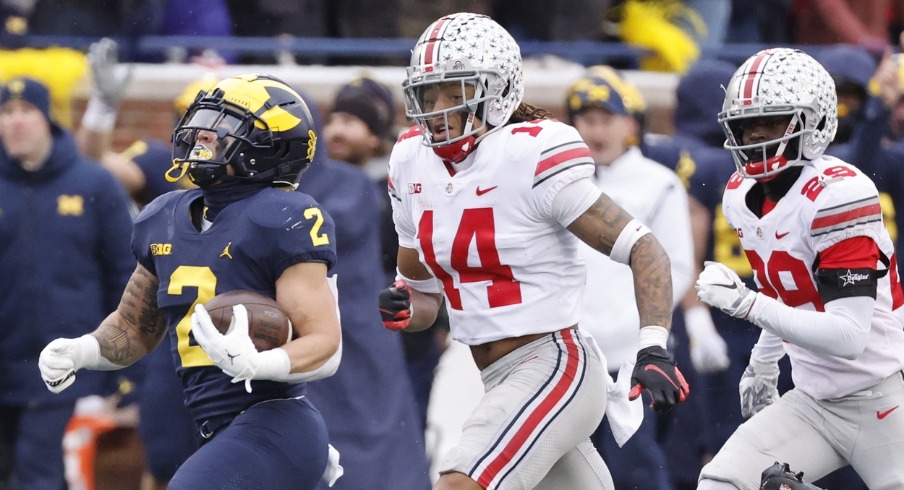 The 2002 Buckeyes had sophomore coaches all the way down, recalibrating the program and the defense for a new era. They allowed 21 points to Texas Tech only because of garbage time, and then didn't allow a single opponent to break 20 in regulation again.
A dozen seasons later, the Buckeyes brought in Chris Ash specifically to shore up the program's glaring weakness. Meyer made wholesale changes to the defensive philosophy two seasons in, acquiring a new defensive coordinator to re-engineer that side of the ball. A national title ensued.
Ryan Day began building the same type of monster shortly after the humiliation in Ann Arbor. He had seen enough. We had seen enough. He did this after 2018 and for the sake of my dignity we'll pass again on discussing why 2019 isn't immortalized in the north endzone.
Day has a seasoned team for 2022 with revamped defensive coaching and just as importantly, no Gold Pants, no division title, no B1G title and no CFP invitation. That's the second element this team shares with 1968, 2002 and 2014. They should have an edge, sense of urgency and not a single crumb of entitlement lurking amidst their wiring.
He also has second-year CJ Stroud to work with, which at risk of starting Internet fights should be an upgrade to first-year Justin Fields. Day's disappointing 2021 team won the Rose Bowl while the NFL-ready guys sat out with a *Clerks voice* we're not even supposed to be here vibe looming over the entire game.
They really weren't supposed to be there. The offense should have been in the CFP semifinal. That defense was barely good enough for San Antonio - and they know this. If you're the guy who says whataboutthedefense when the Buckeyes get a verbal commitment from another 5-star receiver, thank you for your service. Rest assured, they know.
It's just part of the fuel that should be burning hottest this season, which is why this team should be comprehensively nastier than last season's edition. If a national championship materializes for the loaded 2022 Buckeyes you'll be able to credit talent, development, scheme, culture, recruiting and coaching.
But you'll also be able to hold the 2021 Buckeyes in the same blurry esteem as the 1967, 2001 and 2013 Ohio State teams. Flawed, frustrating and foundational to what comes next.