How do you define a "coach," in the context of college football?
Most of us have had impactful sport coaches in our lives, at one point or another. At eight, competitively swimming for the first time, I was taught how to not care that it was already evident that I was going to lose 100% of my races for the next decade. A karate instructor once had our class of 10 year olds run barefoot around the adjacent strip mall parking lot for reasons I'm not entirely clear on, but it did teach me to avoid stepping on broken beer bottles. At 12, a friendly four-fingered baseball coach instructed me on the basics of leaning into pitches to get on base (and also how not to use a lathe).
These were all valuable life lessons that I still carry with me and plan to impart to my own son, but imagine a world where you could have a well-compensated coach for literally every possible scenario that you might encounter; an assistant yelling at you to CHEW HARDER when confronted with a particularly tough slice of ham, or a life coach helping you find the perfect comforting-but-light-hearted emoji to send when your significant other tells you that they stubbed their toe badly and think it might be broken but aren't sure, or an assistant screaming GO TO SLEEP in your ear when you need that extra kick to turn off Diddy Kong Racing and hit the sack.
And maybe Ohio State football already has that! You're of course aware of Ryan Day and company, but here's a list of some of the lesser-known Buckeye football staffers, which now total over 30 in number: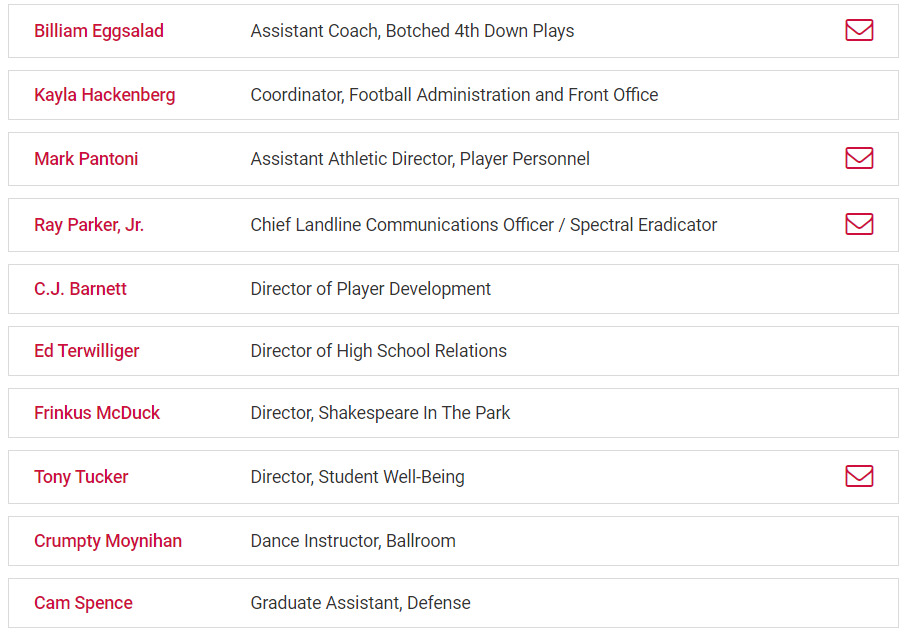 Frankly I'm not sure why Frinkus McDuck was hired if he's not going to produce results ("Two Gentlemen of Verona" was awful and C.J. Stroud was horribly miscast as The Duke of Milan), but I guess Ryan Day knows what he's doing.
In any event, even more coaches might be coming down the pike, according to reporting by Nicole Auerbach at The Athletic and Ross Dellenger at SI.com:
Several athletic administrators and college sports insiders discussed the Transfer Committee's concepts under the condition of anonymity. They include (1) eliminating scholarship caps on sports that offer only partial scholarships; (2) abolishing the limitation on the number of coaches per team; (3) expanding direct payments from schools to athletes; (4) reconfiguring the recruiting calendar; and (5) implementing closed periods in the NCAA transfer portal.
You might say that I'm missing the forest for the trees here; that "expanding direct payments from schools to athletes" and "implementing closed periods in the NCAA transfer portal" are probably bigger deals than expanded coaching rosters. But I disagree!
For one, any half-assed attempt by the NCAA to rope the out-of-control steer that is NIL is basically not even worth commenting on. The NCAA lacks the ability to control its institutions, something that it would probably sanction itself for if it was able, and that reality probably isn't going to change anytime soon.
And secondly, I will get a lot more entertainment trying to figure out which Big Ten team will win the bidding war to make The Weeknd an adjunct morale officer.
(My guess is that Ohio State will come out on top)
In reality, unlimited coaching power probably just means more recruiting assistants, retired old dudes drawing a paycheck to grumpily nod in the direction of a defensive playbook every couple of weeks, and maybe something actually useful, like a guy who's only job is to let Ryan Day know when Buckeye fans on Twitter thinks he's throwing the ball too much or not enough.
But think of the possibilities! We're talking about the some of the most athletically gifted individuals in the country. Frankly, it'd be a waste not to maximize the minutiae of every second of their entire lives with an unending litany of hyper-focused coaches micromanaging players' nitrogen intake, REM sleep cycles, and poorly-thought-out 5 a.m. texts to exes. An incredible burden on the already overtaxed student-athlete? Sure, but if that's what it takes to beat the SEC in the playoff, then that's what has to happen.
We've spent nearly a year wondering where the breaking point is for college athletics, but almost always in the context of too much freedom, too much money, too much change. NIL and the transfer portal has been the convenient scapegoat, but the expanded world of college football began a long time ago, and it didn't start with the players. From the looks of things, it doesn't appear that it will end there, either.