Now that this year's NFL draft is complete, it's time for our annual roster update of the All-Buckeye team.
Ohio State continues to be well-represented in the league, with a nice total of 69 players on active rosters around the league as of Sunday. That total includes eight new Buckeyes in the league who were either selected in this year's draft or signed free agent contracts after going undrafted: Garrett Wilson, Chris Olave, Nicholas Petit-Frere, Jeremy Ruckert, Tyreke Smith, Thayer Munford, Haskell Garrett and Master Teague.
With that in mind, it's time for us to ask the question once again: How good would an NFL team made up solely of players from Ohio State be?
Below, we've assembled a 53-man roster as well as a 16-man practice squad of NFL players who completed their college football careers at Ohio State.
As this is intended to be a reflection of how Ohio State alumni are represented around the league right now, only players who are currently on an NFL team's 90-man roster are included. Players like Billy Price, Jalyn Holmes and Nate Ebner who remain unsigned as free agents were not included. Players who began their college careers at Ohio State but finished them elsewhere, like Joe Burrow and Jameson Williams, were also not considered for inclusion.
Overall, the 2022 edition of the All-Buckeye team is loaded with talent once again, particularly at positions like wide receiver, defensive end and cornerback, where Ohio State's alumni team is loaded with elite NFL talent. There are a few positions where the All-Buckeye team doesn't have as much depth – and one where Ohio State doesn't currently have an NFL player – but at most positions, the roster compares favorably to that of an actual NFL team.
How successful would the All-Buckeye team be if it actually took the field this fall? We'll share our analysis of each position group and let you decide.
QB: Justin Fields
Quarterback play usually goes a long way in determining how successful an NFL team is, and the All-Buckeye team's hopes rest with Fields, who is entering his second season in the league. Fields' rookie NFL season came with growing pains, as he completed just 58.9 percent of his passes for 1,870 yards with seven touchdowns and 10 interceptions, but he'll have a lot more help around him – particularly at wide receiver and on the offensive line – with the All-Buckeye team than he does on the Chicago Bears.
Fields is now the only quarterback who finished his college career at Ohio State actively playing in the NFL after Dwayne Haskins' tragic death last month. That said, all of the former Buckeyes who will be playing in the NFL this season – especially those who were once teammates with Haskins – will certainly carry extra motivation as they look to honor him with both their play on the field and their actions off the field.
RB: Ezekiel Elliott, J.K. Dobbins, Trey Sermon
Although he hasn't been as productive over the past couple of seasons as he was earlier in his NFL career, Elliott still topped 1,000 yards last year and remains the Dallas Cowboys' feature back. As such, he remains the top running back on the All-Buckeye team, though he projects to split carries with Dobbins as long as Dobbins makes a full recovery from the torn ACL that cost him his entire second season in the league.
Sermon's NFL career got off to a slow start last season, as he ran for only 167 yards and one touchdown on 41 carries, but he got off to a slow start when he transferred to Ohio State, too. The 49ers will be hoping he can come along in his sophomore year in a similar fashion to how he broke through late in his only season at Ohio State, in which he rushed for 636 combined yards over the final three full games he played, and if he can get things going this year, the All-Buckeye team will have a running back depth chart that any NFL team would love to have.
WR: Terry McLaurin, Michael Thomas, Garrett Wilson, Chris Olave, Curtis Samuel, Parris Campbell, Noah Brown
The All-Buckeye team's wide receiver roster was already strong before this year's draft, but it's absolutely loaded now with the additions of Wilson and Olave, the first Ohio State wideouts to be first-round NFL draft picks in 15 years.
McLaurin, who's proven to be worth well more than the third-round pick the Washington Commanders used to select him, has established himself as a true No. 1 receiver after back-to-back 1,000-yard seasons. Thomas enters the 2022 season with something to prove after missing part of 2020 and all of 2021 with an ankle injury, but he was the NFL's leading receiver in 2019 and will look to reestablish himself as one of the league's elite wideouts this year.
Wilson and Olave should both be immediate starters for the New York Jets and New Orleans Saints as rookies, but with McLaurin and Thomas leading this depth chart, they have to battle for a starting job on the All-Buckeye team. Samuel's a factor in that conversation, too, as he's the most natural slot receiver on the roster, though he's also coming off an injury-plagued 2021 season.
Campbell has battled injuries throughout his first three seasons in the NFL, but he's flashed big-play ability when healthy. Brown also earns a spot on the 53-man All-Buckeye roster for his aptitude on special teams, where he's been a core contributor in Dallas while also seeing occasional playing time at wide receiver.
TE: Jeremy Ruckert, Nick Vannett, Luke Farrell
While Ruckert will likely begin his actual NFL career as a third-string tight end behind C.J. Uzomah and Tyler Conklin with the Jets, he's a candidate to start right away for the All-Buckeye team. At a minimum, he's already the most dynamic receiving tight end on this roster – though with all the talent it has at wide receiver, the All-Buckeye team won't need to throw to the tight ends much more than the actual Ohio State team does.
Vannett and Farrell have both established themselves in the NFL as role players who are better blockers than receivers. Altogether, this is a tight end group that's good enough to get the job done but won't scare NFL defenses, though the addition of Ruckert makes it more dangerous than before.
OT: Taylor Decker, Nicholas Petit-Frere, Thayer Munford, Isaiah Prince
Petit-Frere and Munford being drafted is a welcome boost for the All-Buckeye team at offensive tackle, which had been one of the squad's thinner positions in previous years. While Decker is the clear choice to start at left tackle, where he's been rock-solid for six years with the Detroit Lions, Petit-Frere steps in as an immediate starter at right tackle – a role he could also potentially play as a rookie for the Tennessee Titans.
While Prince was the Cincinnati Bengals' starting right tackle for their Super Bowl run last year, he'll go back to being a backup this year after struggling in most of his starts. Munford – who could also play guard in the NFL, though he's needed more at tackle by the All-Buckeye team – will also begin his career as a backup after falling to the seventh round of the draft.
G: Jonah Jackson, Andrew Norwell, Pat Elflein, Jamarco Jones, Wyatt Davis
Jackson and Norwell give the All-Buckeye team a rock-solid pair of starting guards. Jackson went to his first Pro Bowl last season after a strong second year with the Lions, while Norwell is set for his ninth year as an NFL starter after signing with the Commanders this offseason.
Elflein started seven games at center for the Carolina Panthers last year, but he's played all three interior line spots in the NFL and guard is his most likely path to playing time for the All-Buckeye team. Jones – who, like Munford, can play both guard and tackle – has also been an NFL spot starter and could potentially compete for a starting guard job in Tennessee this offseason after signing with the Titans.
Davis had a quiet rookie season in which he did not play any offensive snaps for the Minnesota Vikings, but he's another former Buckeye guard who could possibly compete for a starting job in the NFL this year after being selected in the third round of the 2021 NFL draft.
C: Corey Linsley, Josh Myers
The All-Buckeye offensive line is anchored by one of the NFL's best centers in Linsley, who earned second-team All-Pro honors in 2021 after earning first-team All-Pro recognition in 2020.
Myers battled injuries in his first season as the starting center in Green Bay, where he replaced Linsley after Linsley signed with the Los Angeles Chargers, but he's expected to retain his job snapping to Aaron Rodgers this year, giving the All-Buckeye team an excellent two-deep at the pivot spot.
DE: Nick Bosa, Joey Bosa, Chase Young, Sam Hubbard, Jonathon Cooper, Tyquan Lewis
The All-Buckeye team is so loaded at defensive end that there isn't even a roster spot available for fifth-round draft pick Tyreke Smith.
Led by two of the NFL's elite edge defenders in the Bosa brothers, the All-Buckeye team's defensive end depth chart would be the best in the league by far. Both Bosas made the Pro Bowl last year, while Young was also one of the NFL's best defensive ends as a rookie in 2020 before he tore his ACL last season. Hubbard rounds out a star-studded two-deep on the edge after playing a key role in the Bengals' AFC championship season last year.
Cooper defied expectations in his rookie season with the Denver Broncos, starting five games after falling to the seventh round of the draft, so he provides strong depth along with Lewis, who was off to a strong start to the year with the Indianapolis Colts last season before suffering a season-ending knee injury.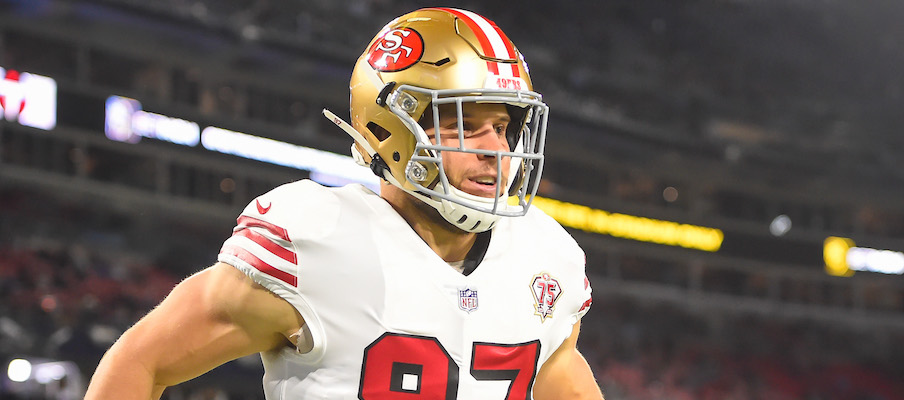 DT: Cameron Heyward, Johnathan Hankins, DaVon Hamilton, Dre'Mont Jones, Tommy Togiai
Opposing offensive lines can't focus all of their energy on blocking the All-Buckeye team's defensive ends outside because they also have to reckon with one of the NFL's most dominant defensive tackles in Heyward, who earned first-team All-Pro honors for the third time and made his fifth straight Pro Bowl in 2021.
While Heyward and Hankins are now two of the NFL's longest tenured Buckeyes, Heyward keeps getting better with age while Hankins remains a solid starting nose tackle for the Las Vegas Raiders. Jones and Hamilton have also been productive early in their NFL careers and figure to also see plenty of snaps in the All-Buckeye defensive tackle rotation.
Togiai didn't see a lot of playing time in his rookie season with the Cleveland Browns, but will look to earn a bigger role in year two.
LB: Jerome Baker, Pete Werner, Baron Browning, Malik Harrison, Raekwon McMillan
Baker leads the All-Buckeye team's linebacker corps after leading the Miami Dolphins in tackles for each of the last three seasons, totaling 330 tackles in the process. Werner joins him in the starting lineup after a strong rookie season in New Orleans, where he recorded 62 tackles as a rookie even though he was a backup in most games – which puts him in position to be a full-time starter for the Saints this year.
Browning – who could start in a 4-3 defense or be the top backup linebacker in a 4-2-5 scheme – also got off to a solid start as a rookie last season, starting nine games and recording 58 total tackles. Harrison was also a starter for the Baltimore Ravens before he missed most of last season after he was hit in the leg by a stray bullet. McMillan is a former starter for the Dolphins who will be competing for a role with the New England Patriots this year after missing all of last season with a torn ACL.
CB: Marshon Lattimore, Denzel Ward, Eli Apple, Bradley Roby, Jeff Okudah, Kendall Sheffield
There's no salary cap for the All-Buckeye team, which is a good thing considering Ward and Lattimore are now two of the NFL's three highest-paid cornerbacks. Both of them are true No. 1 cornerbacks who make life difficult for every wide receiver they face – pairing them together in the secondary, coupled with the pass-rush they have in front of them on the All-Buckeye roster, makes it difficult for any opponent to throw the ball downfield.
Apple goes from not even making last year's All-Buckeye 53-man roster to becoming the No. 3 cornerback on the All-Buckeye team after starting all year long for the Bengals last season. Roby, who has played both outside and inside in the NFL, slots in as a potential starter at slot cornerback.
Okudah's first two NFL seasons haven't lived up to expectations yet, but he'll look to change that in 2022 after missing most of 2021 with a ruptured Achilles. Sheffield, who was a starter for his first two NFL seasons but played only sparingly for the Atlanta Falcons last year, provides additional depth.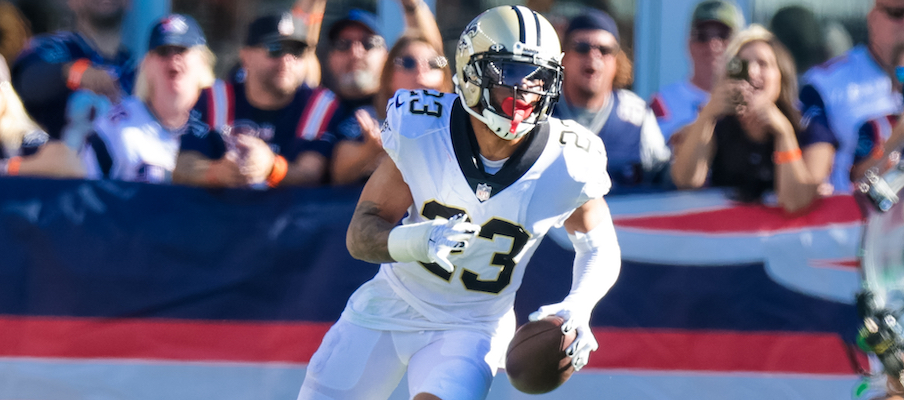 S: Jordan Fuller, Vonn Bell, Malik Hooker, Shaun Wade
Malcolm Jenkins' retirement is a hit to the All-Buckeye team's safety depth, but the Ohio State alumni squad still has an excellent pair of starting safeties in Fuller and Bell, who were both key leaders for their respective teams as their Rams and Bengals met in the Super Bowl last year.
Hooker is in line to be the Cowboys' starting free safety this season after a good first year in Dallas in 2021, giving the All-Buckeye team a strong top trio of safeties. Wade didn't play much as an NFL rookie and lined up at cornerback when he did, but with twice as many cornerbacks as there are safeties from Ohio State currently in the NFL, Wade's place on this roster comes as a backup safety.
K: None
While Ohio State is glad to have Noah Ruggles back for another year, the All-Buckeye team would have benefitted from Ruggles entering the 2022 NFL draft, as kicker is the lone position where Ohio State does not currently have an NFL player. The top option to assume kicking duties for the All-Buckeye team would be Blake Haubeil, who had brief stints with the Tennessee Titans and Carolina Panthers last year, but he is not currently on an NFL roster.
P: Cameron Johnston
The All-Buckeye team will hope it doesn't need Johnston to punt as often as the Houston Texans did last year, when he punted a league-high 88 times. He's a great field-flipping weapon for any team to have, though, as he remained as reliable as ever in 2021 with an average of 46.7 yards per punt that ranked 10th in the NFL.
LS: Jake McQuaide
McQuaide reprises his role as the All-Buckeye team's long snapper as he enters his 12th overall NFL season and second with the Cowboys. Ohio State could have two long snappers in the NFL this year after Liam McCullough recently signed with the Falcons, but McQuaide has a proven track record whereas McCullough has yet to span in an NFL regular-season game.
Projected All-Buckeye Team Depth Chart

| POS | First Team | Second Team | Third Team |
| --- | --- | --- | --- |
| QB | JUSTIN FIELDS |   |   |
| RB | EZEKIEL ELLIOTT | J.K. DOBBINS | TREY SERMON |
| WR | TERRY MCLAURIN | CHRIS OLAVE |   |
| WR | MICHAEL THOMAS | PARRIS CAMPBELL | NOAH BROWN |
| WR | GARRETT WILSON | CURTIS SAMUEL |   |
| TE | JEREMY RUCKERT | NICK VANNETT | LUKE FARRELL |
| LT | TAYLOR DECKER | THAYER MUNFORD |   |
| LG | JONAH JACKSON | PAT ELFLEIN |   |
| C | COREY LINSLEY | JOSH MYERS |   |
| RG | ANDREW NORWELL | JAMARCO JONES | WYATT DAVIS |
| RT | NICHOLAS PETIT-FRERE | ISAIAH PRINCE |   |
| DE | JOEY BOSA | CHASE YOUNG | TYQUAN LEWIS |
| DE | NICK BOSA | SAM HUBBARD | JONATHON COOPER |
| DT | CAMERON HEYWARD | DRE'MONT JONES |   |
| NT | JOHNATHAN HANKINS | DAVON HAMILTON | TOMMY TOGIAI |
| LB | JEROME BAKER | BARON BROWNING |   |
| LB | PETE WERNER | MALIK HARRISON | RAEKWON MCMILLAN |
| CB | DENZEL WARD | ELI APPLE |   |
| CB | MARSHON LATTIMORE | JEFF OKUDAH |   |
| CB | BRADLEY ROBY | KENDALL SHEFFIELD |   |
| S | JORDAN FULLER | MALIK HOOKER |   |
| S | VONN BELL | SHAUN WADE |   |
| K |   |   |   |
| P | CAMERON JOHNSTON |   |   |
| LS | JAKE MCQUAIDE |   |   |
Practice Squad: RB Master Teague, WR Austin Mack, WR C.J. Saunders, WR Binjimen Victor, TE Jake Hausmann, G Michael Jordan, G Malcolm Pridgeon, DE Tyreke Smith, DE Rashod Berry, DE John Simon, DT Jashon Cornell, DT Haskell Garrett, LB Tuf Borland, LB Justin Hilliard, P Drue Chrisman, LS Liam McCullough
While there weren't enough spots on the All-Buckeye 53-man roster for these 16 former Buckeyes, all of them are competing for roster spots with NFL teams this offseason, though it's likely some of them will end up on practice squads – which have been expanded to 16 players for the last two NFL seasons, though they could drop down to 14 players this year now that the NFL's COVID-19 protocols are no longer in effect.
Buckeyes on this list who should have a good chance of making actual NFL rosters this year include Jordan, who started 10 games for the Carolina Panthers, and Smith, who will look to outperform his draft position like Cooper did a year ago. Saunders, Berry, Simon, Cornell, Borland and Hilliard all made appearances in regular-season games last year, while Garrett and Teague will look to prove they belong on NFL rosters as undrafted rookies.
(Update: Teague was waived by the Chicago Bears on Monday morning, dropping the total number of Buckeyes on NFL rosters to 68.)